Mexico is a fantastic place to visit for so many reasons, from its gorgeous beaches, unique and exciting resorts to its incredible historical landmarks and immersive culture. But there's one more thing that gets travellers visiting Mexico and making it their favorite destination. It has nothing to do with a specific place; this beautiful country is also famed for its delicious cuisine, which is unique in the way it varies from region to region. But before we go on, please forget everything you know about Mexican food, as it is not just fajitas or nachos. There are a vast number of authentic Mexican dishes that everyone must try that you may never have heard of, and that we recommend visitors trying. Here's a pick made by our Mexican food curator (meaning he likes to eat a lot).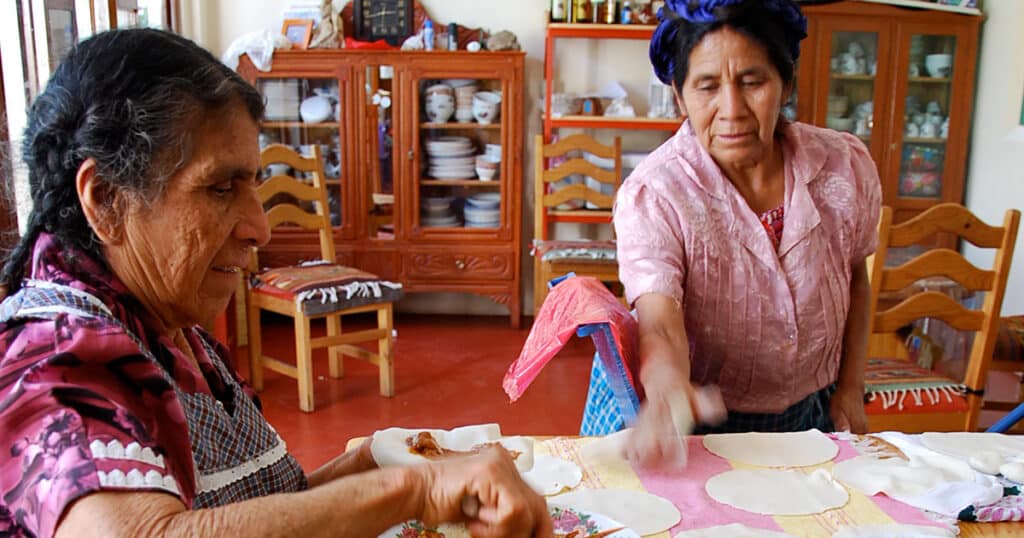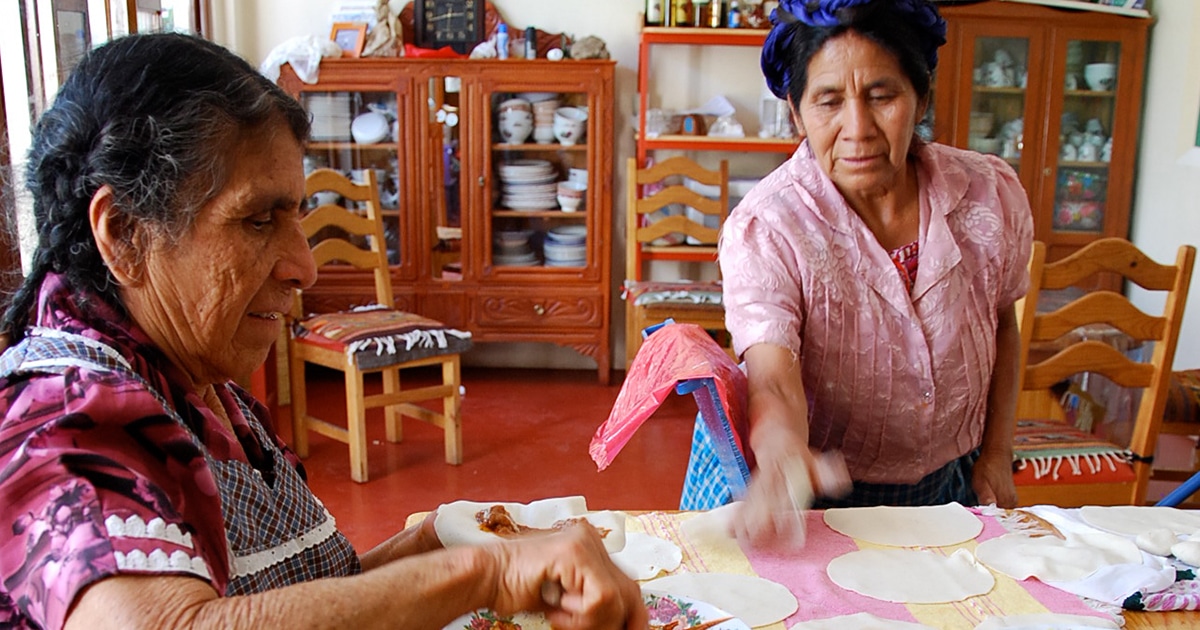 Pambazo
This scrumptious treat is made with a fluffy bolillo bread, dipped in guajillo chile sauce and stuffed with any combination of shredded beef or pork, fried potatoes, fried beans, cheese, and crunchy lettuce. It cannot be found in a fancy restaurant, so to try it, travellers need to venture into the streets, but it won't be that hard as Mexican street food is almost everywhere!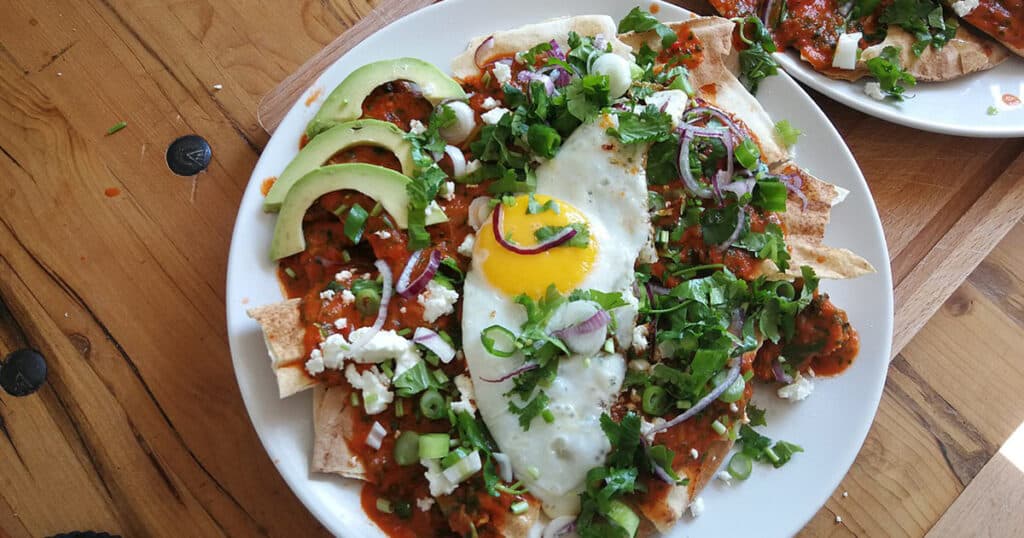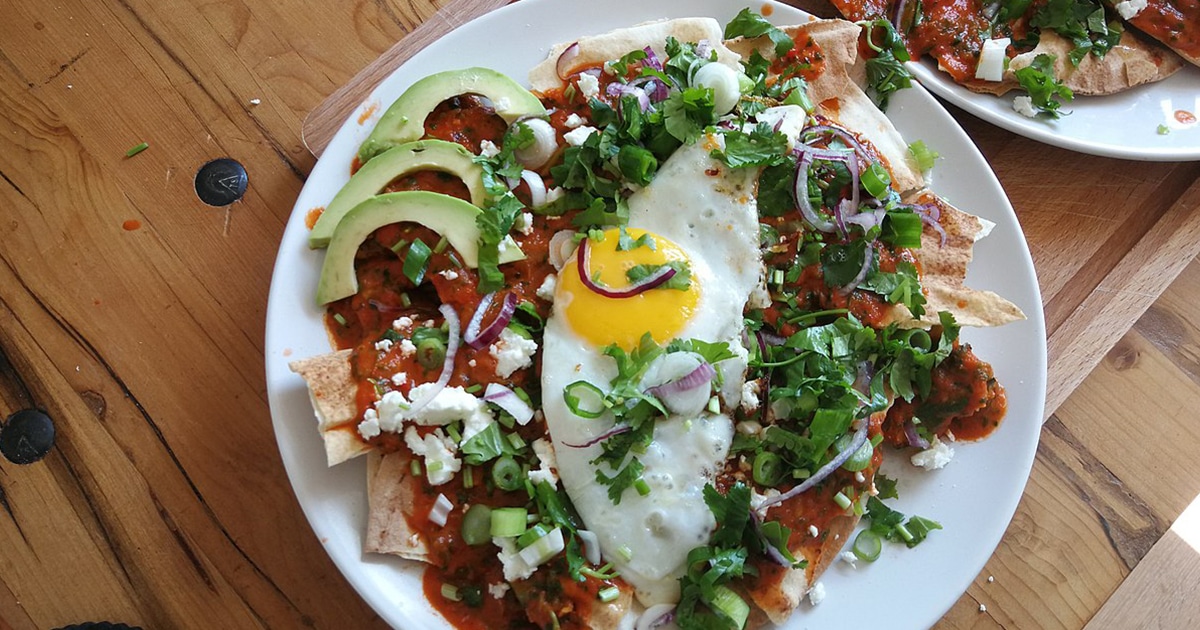 Chilaquiles
This breakfast dish is very popular in Mexico, and it's not difficult to see why! Lightly fried corn tortillas are cut into quarters and topped with freshly made green or red salsa. Eggs (scrambled or cooked depending on how you like them), pulled chicken, and a good dose of cheese and cream are added on top – making chilaquiles the perfect way to start the day! This dish can be found everywhere around the country. Pro tip: Chilaquiles taste better as an afterparty breakfast.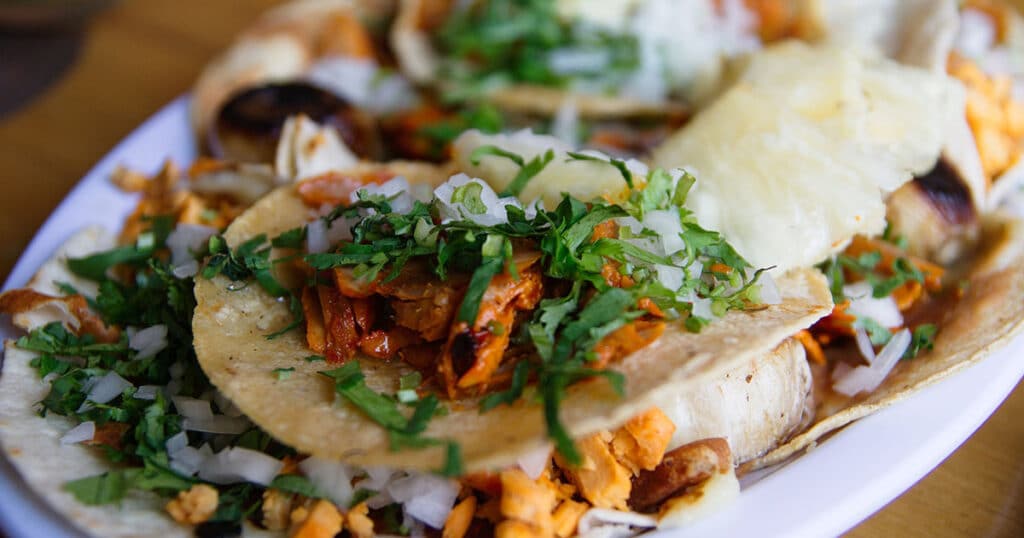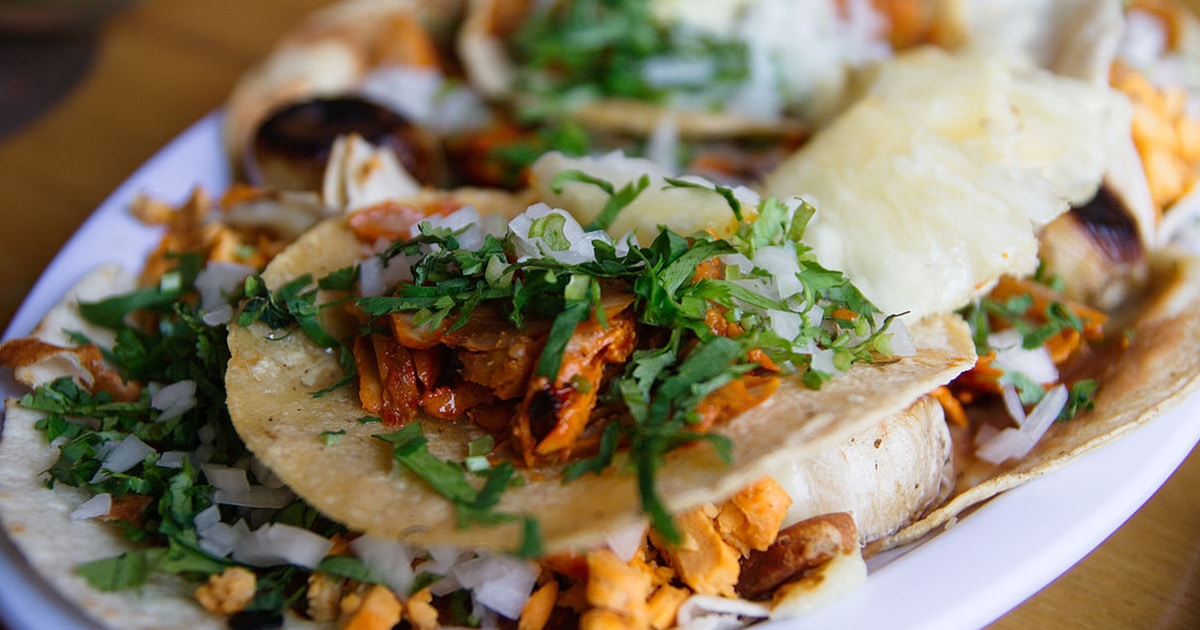 Tacos
Tacos are a dish that, even without visiting Mexico, travellers have probably tried at some point in their lives. Still, the ones served anywhere outside Mexico are often vastly different from the traditional Mexican tacos. Real tacos come in soft, warm tortillas, and are stuffed with anything, from meat, pork, chicken, vegetables and even fish! It is possible to find tacos almost in every corner of any city or town around Mexico, and the best news is that they'll always be delicious! We recommend first-timers and veteran visitors to try the most popular recipe: tacos al pastor, a delicacy made with marinated pork meat and slowly cooked directly to the flames, served with cilantro, onion, pineapple and lemon… similar to Kebabs but way more delicious.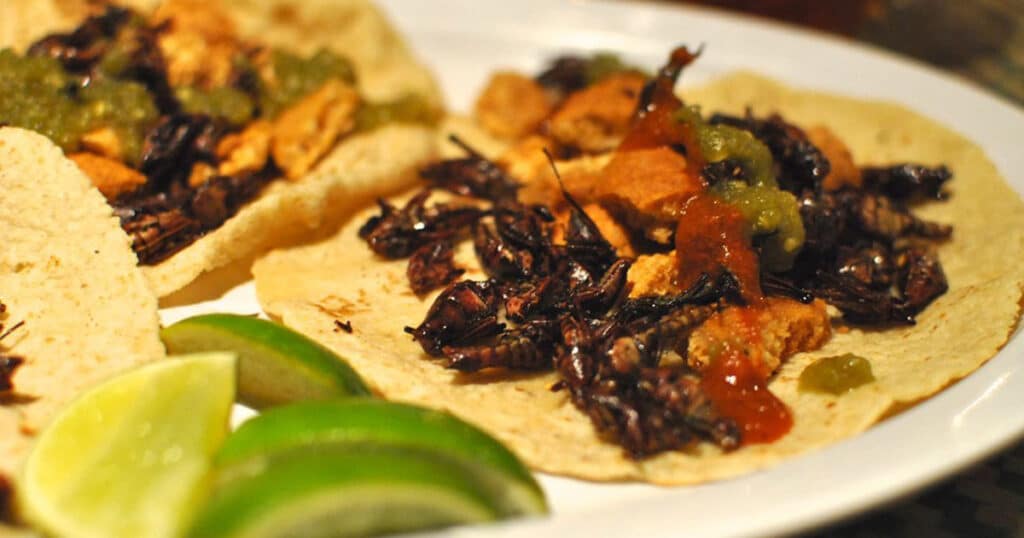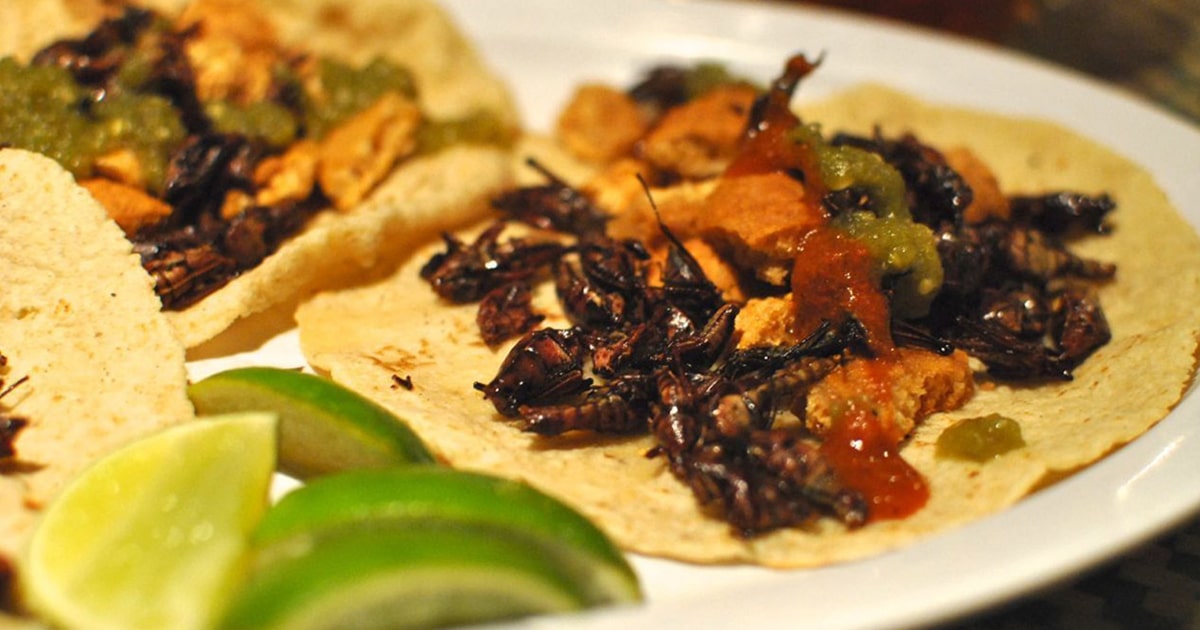 Escamoles and grasshoppers
Here's where it may get a bit weird; lots of prehispanic recipes include insects as the main ingredients, and we know you think that sounds ridiculous, but trust us, they are delicious! Native to Central Mexico, Escamoles are ant eggs, and they were once considered a delicacy by the ancient Aztecs. Escamoles go great in tacos or omelets or served as an incredible dish. They're most commonly pan-fried with butter and spices and have a slightly nutty taste. On the other hand, you won't believe how tasty roasted grasshoppers are; they taste fantastic with eggs, tacos, beef, and even as a delicious, very healthy snack. You won't find these treats anywhere else in the world and not even in every restaurant as they are considered a delicacy, so we recommend finding a nice restaurant to try them.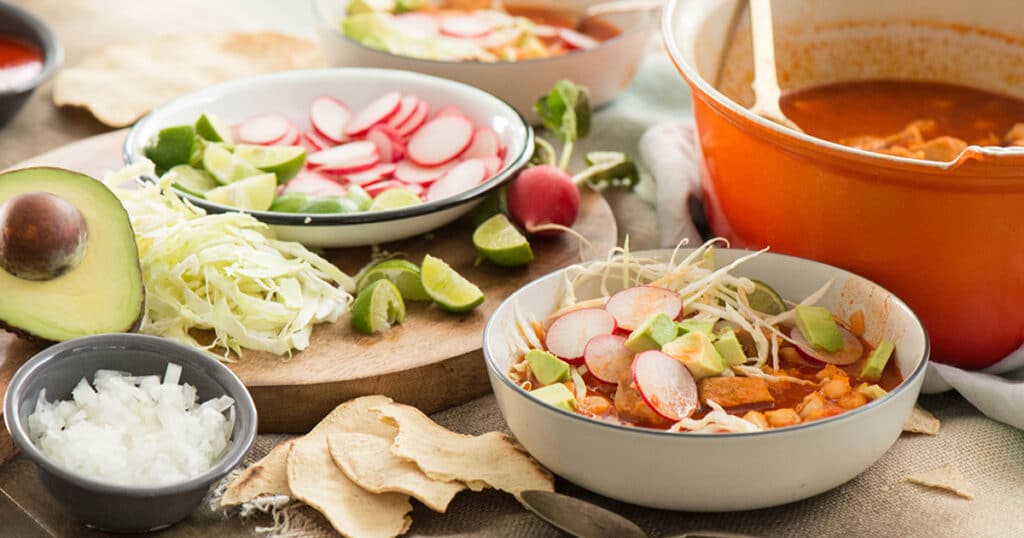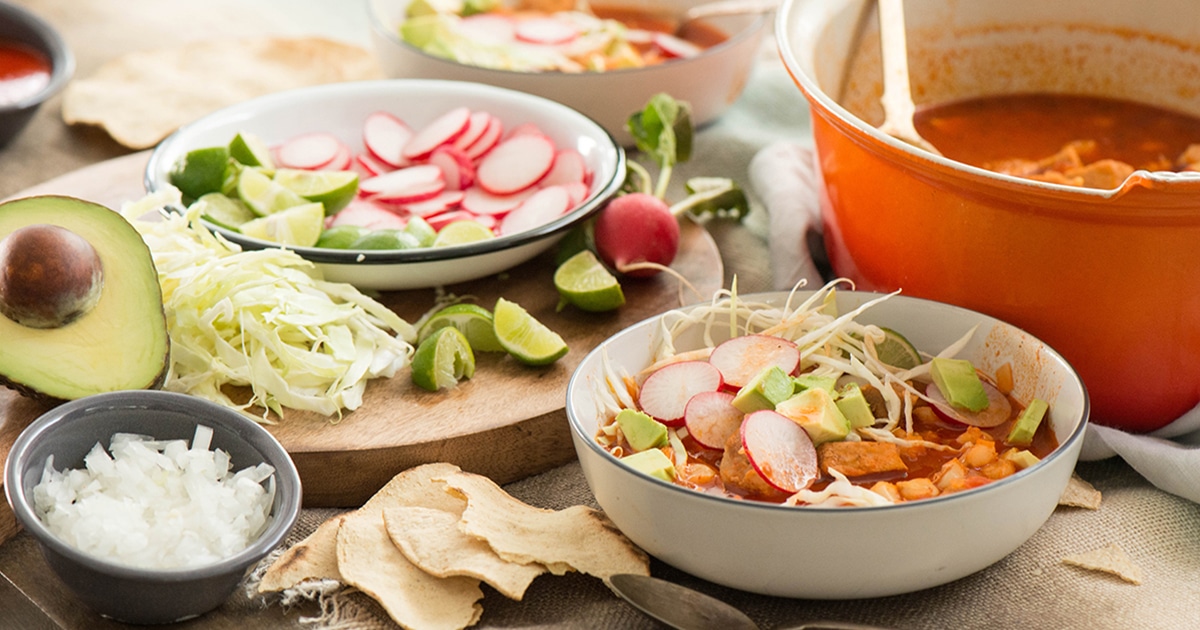 Pozole
If you're looking for something to warm you up on a chillier evening, pozole is a perfect choice. Chicken, pork, or vegetarian pozole is on the menu in many restaurants up and down the country. Traditionally stewed for hours on end, pozole is made from corn grain and a delicious combination of herbs and spices. It is then sprinkled with lettuce, radish, onion, lime, and chili. This recipe has been around for centuries and is one of the dishes served on special celebrations like Independence Day, but you can taste it any day.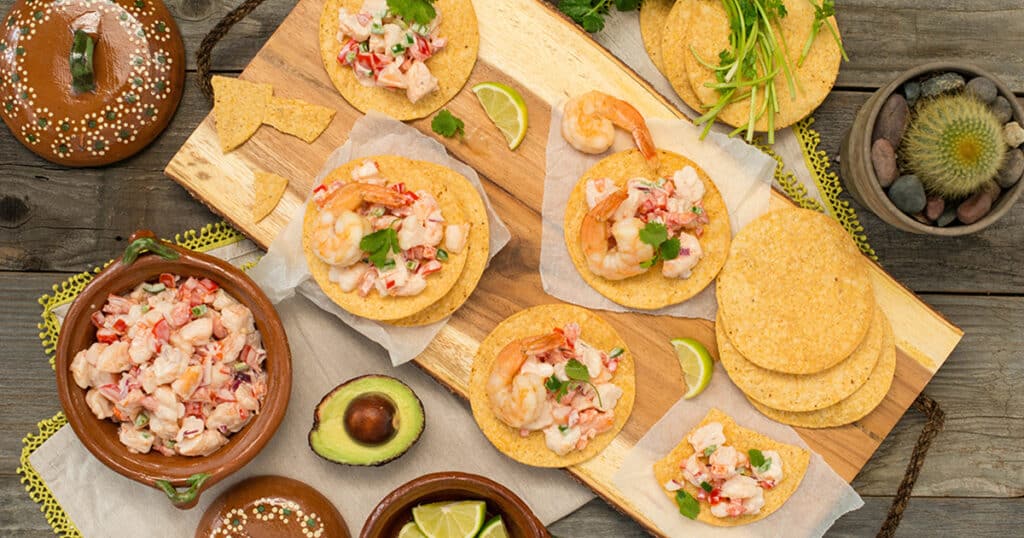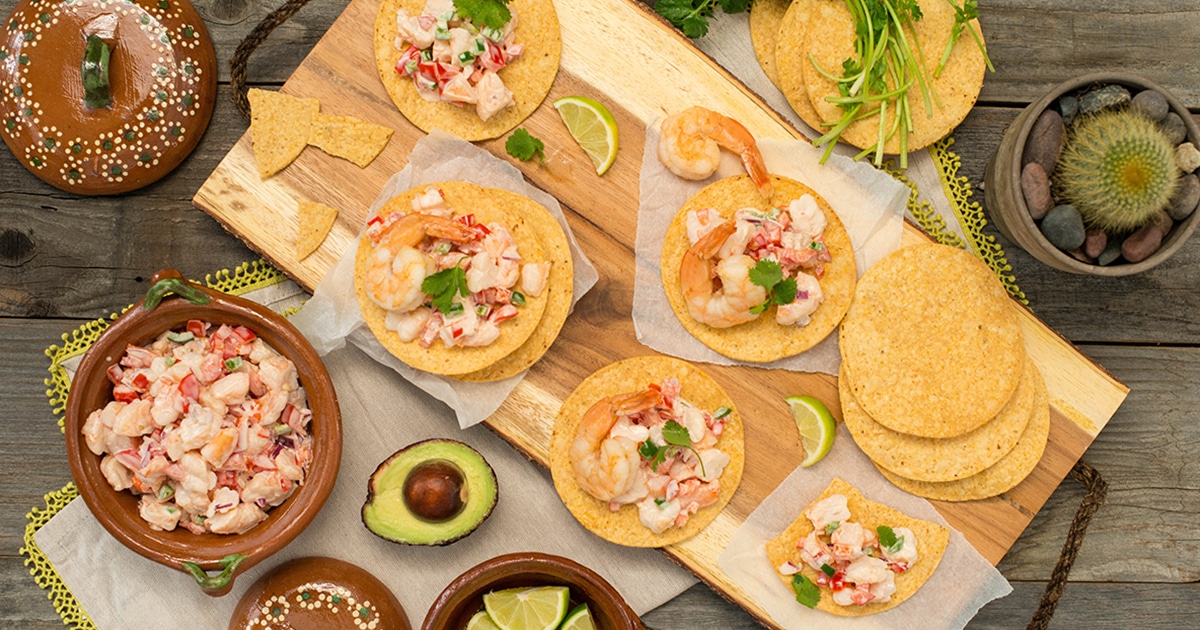 Tostadas
While stale tortillas may not sound appealing, tostadas are indeed a treat that should not be missed when vacationing in Mexico. The dish is a simple one, made of stale tortillas fried in boiling oil to make them golden and crunchy. They are adorned with an array of toppings, but the most popular are the ones topped with seafood.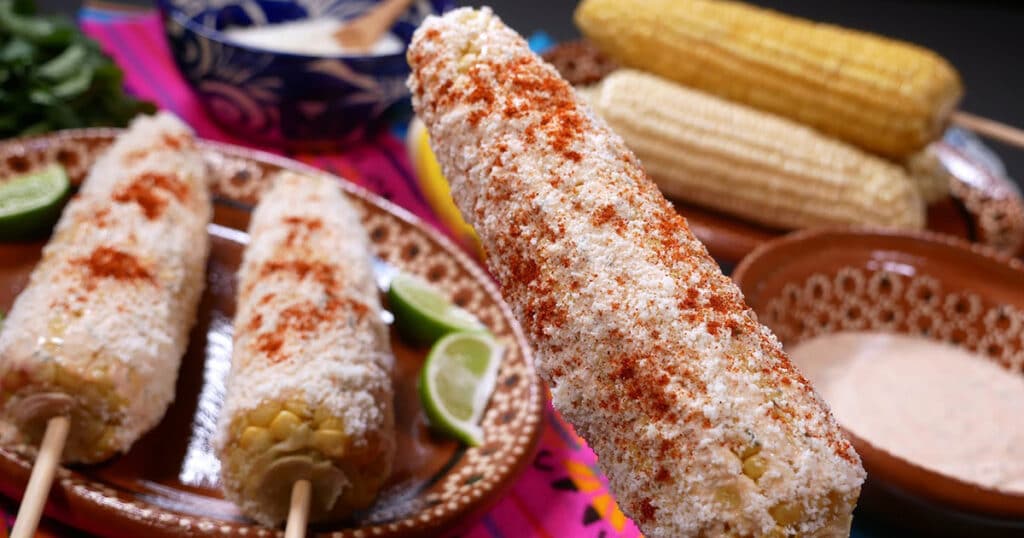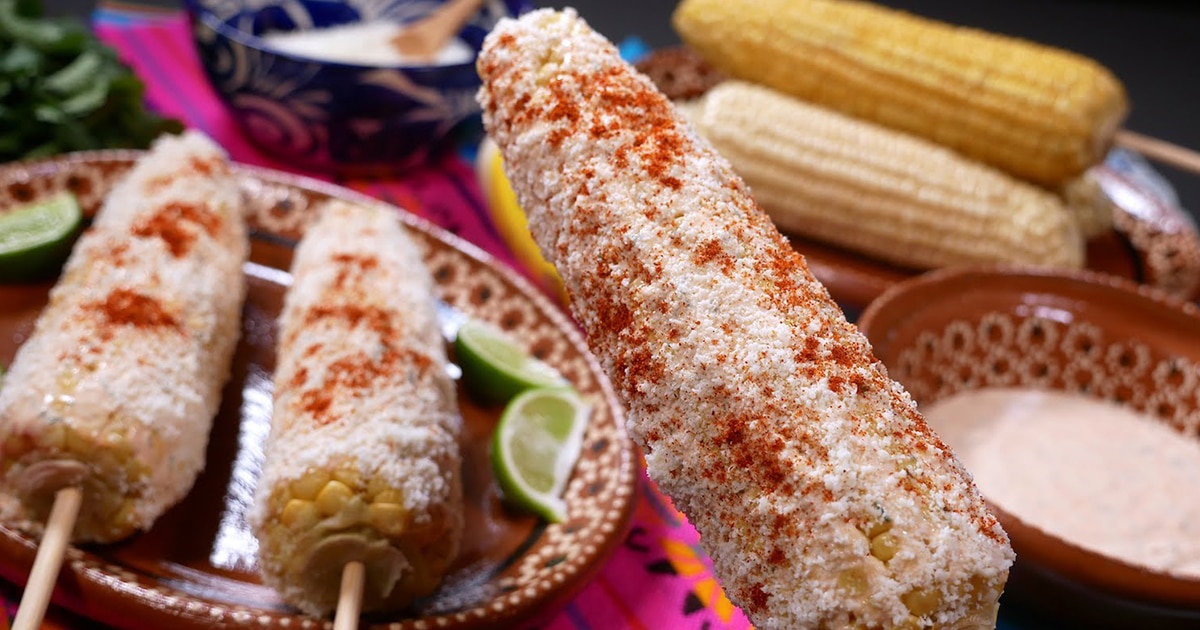 Elote
Travellers craving for some Mexican street food will find that elotes are a delectable treat to try at least once. Corn is traditionally boiled or fried and served on a stick, to be eaten like a lollipop. It is typically seasoned with salt, chili powder, cheese, lime, butter, and sour cream. The kernels can also be shaved off the cob and served in a cup with the same ingredients to create a whole new treat called Esquites.
Visitors can find elotes and esquites on the streets at night. They're juicy and spicy. Awesome!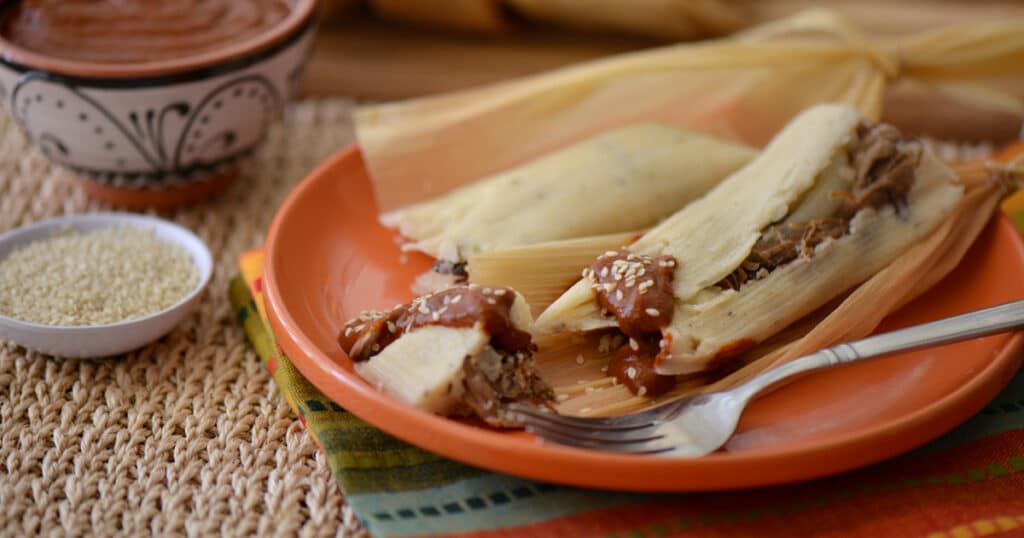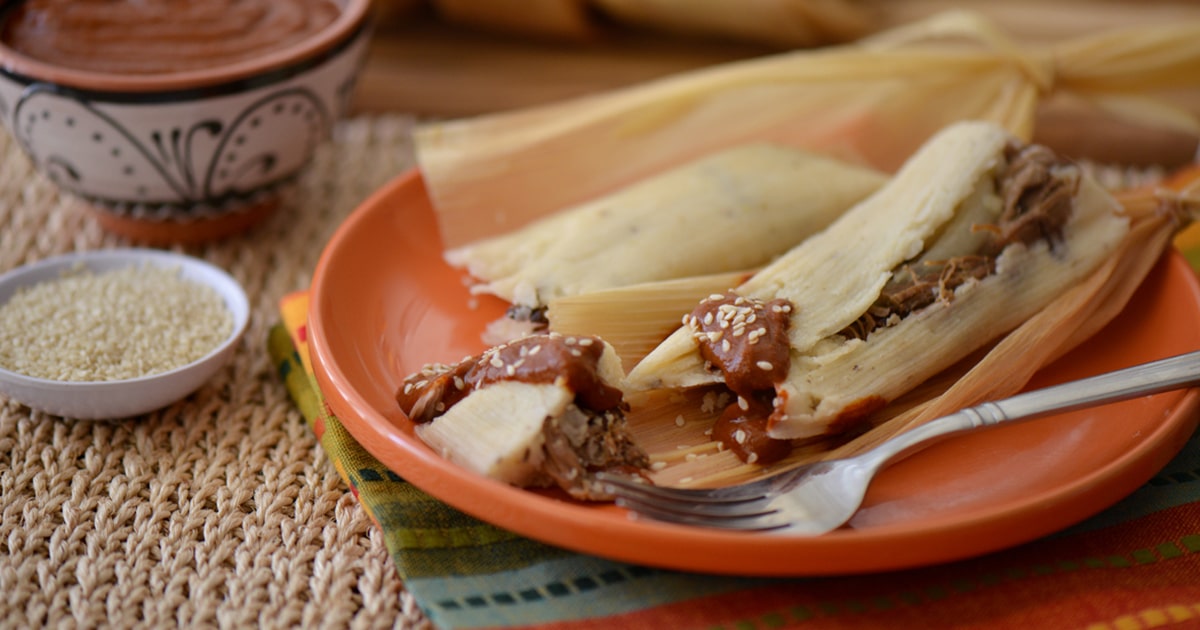 Tamales
Tamales are another ancient dish that has endured in popularity right up to the modern day. First developed by the Aztecs, Mayans, and even the Incas in South America as hearty nourishment to take into battle, they are still a popular dish in Mexico and beyond. Corn dough is stuffed with mouth-watering fillings, wrapped in cornhusks and steamed. Once again, the fillings can be pretty much anything you'd like – sweet or savoury! This delicious treat can be found on the streets very early in the morning or right before dusk (weird, right?)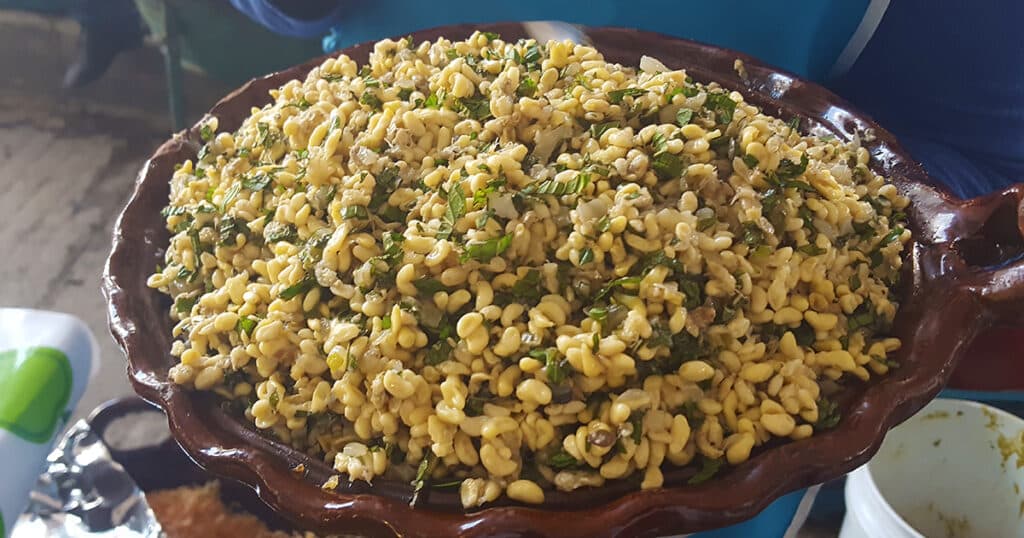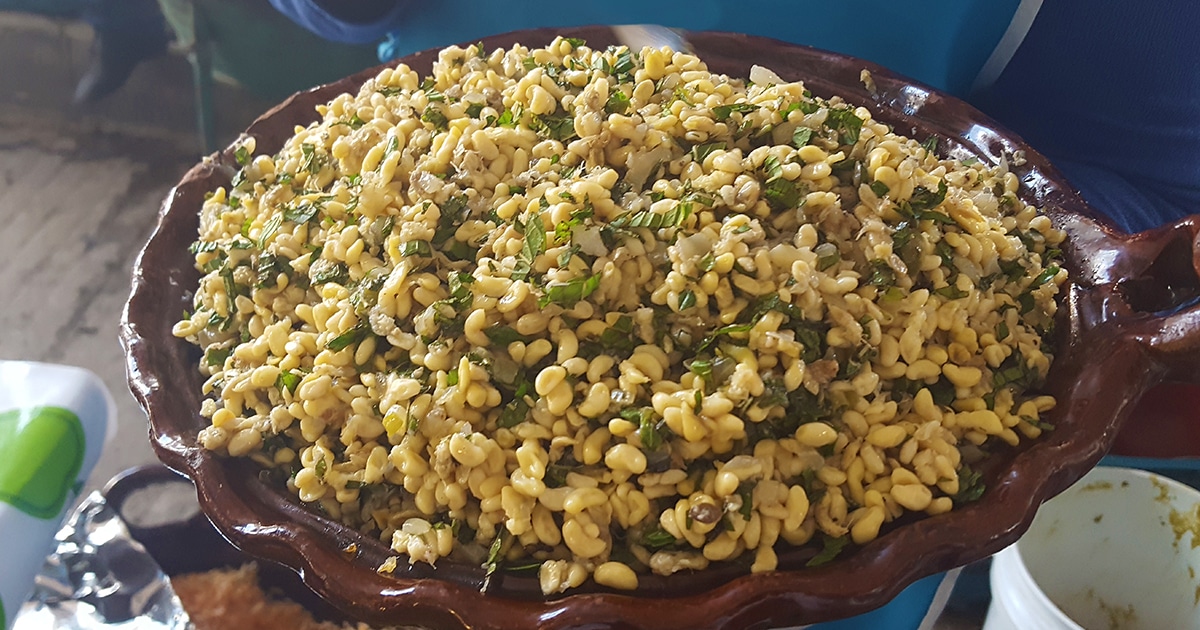 These are just a few examples of real authentic Mexican dishes that everyone must try but as we said earlier, travellers will find some unique dishes and recipes depending on the region of the country they visit. So, as you can see, Mexico is a great destination for adventure and cultural travel and an excellent alternative for living unique gourmet experiences.
Mexico is ready to welcome travellers from all around the world. Let Discova help you find the best travel experience in Mexico and other destinations around the globe.