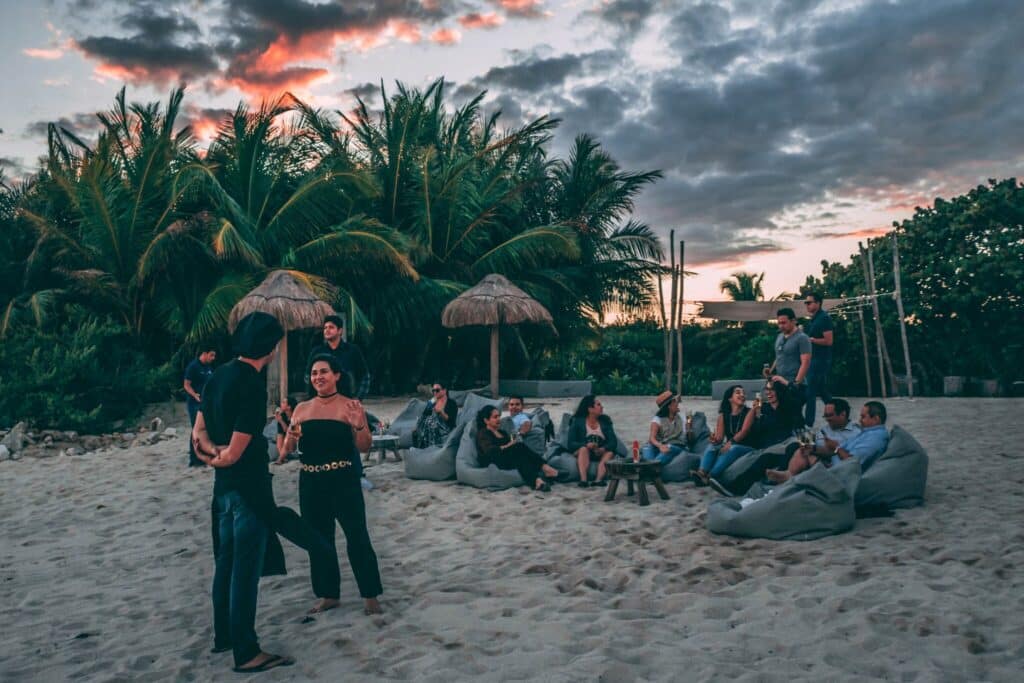 It's easy to wax lyrical about food. Across cultures, across class and national divides, no matter where we are, we find that food has that magical knack of bringing people together. It's one of a few universal truths that humans everywhere collectively celebrate with tantalising tastes and fantastic flavours.
At Discova, we believe that food is so much more than fuel – eating should be an experience, a learning opportunity offering a glimpse into a country's culture, a window into the soul of a nation. As such, in all of our destinations, we offer dining experiences that seek to develop meaningful connections with the host community.
One such experience is The Traveller's Table near Playa Del Carmen, Mexico, available exclusively to Discova guests on Monday evenings. Let's examine this culinary journey a little more closely.
The Traveller's Table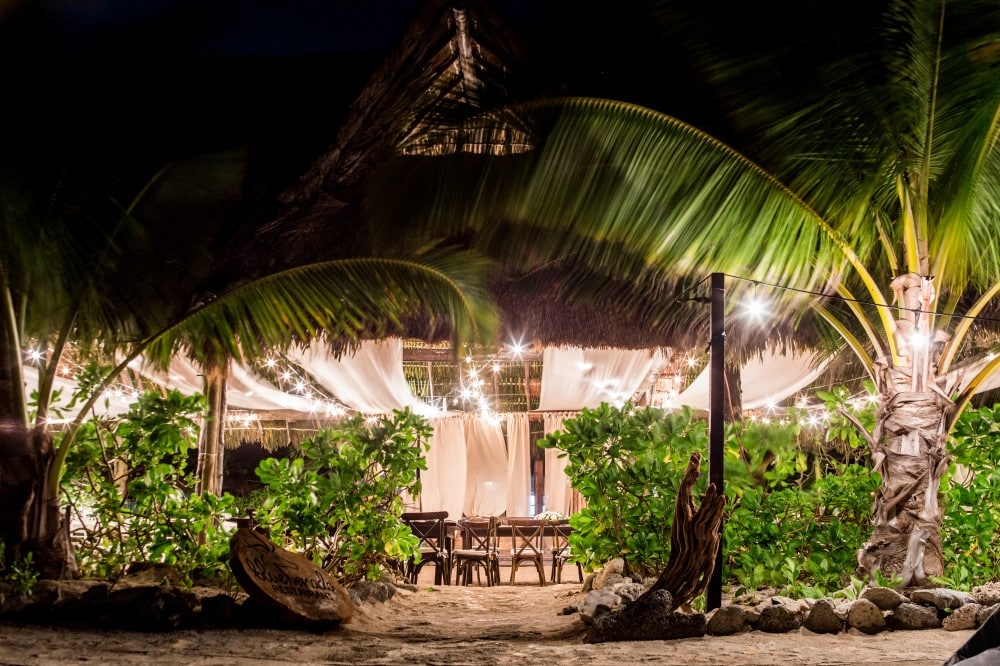 Set at the beautiful beach club of Punta Venado, The Traveller's Table offers visitors an opportunity to enjoy a 5-course meal while the ocean waves provide the calming backdrop to an evening of socialising. The essence of the trip is pretty simple; to transform the basic concept of a meal into a communal dining experience. The delicious food on offer forms only a fraction of the evening entertainment as travellers get to enjoy a variety of immersive experiences throughout the night.
Arrive before sunset for a sparkling wine reception on the sands of the glorious beach. Here, take time to appreciate the sunset and get to know the fellow diners – usually an eclectic mix of nationalities with their various interests and intriguing stories to tell.
First up is a hands-on activity to break the ice a little. Use that broken ice as an ingredient for the perfect Mayan mojito during the cocktail making class. Be guided by the host with expert tips on how to avoid the usual mistakes in getting this infamously difficult cocktail just right.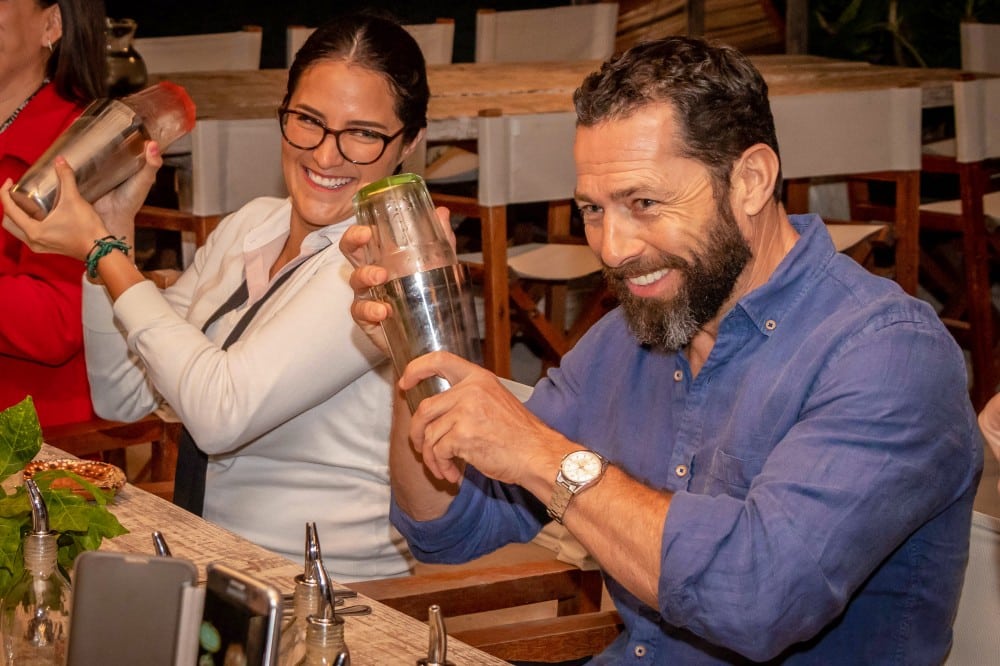 Having worked up an appetite, it's time to start thinking about the main feature – the exquisitely designed menu that celebrates Mexico's past while fusing flavours from international influences. The menu was created by Spanish Masterchef finalist, Eva Millan, and seeks to tell the narrative of Mexico through food.
This is expertly navigated by the host for the evening, Leon Lightman. Leon is a specialist in curating these dining experiences and has an impressive culinary CV spanning three continents. With his guiding hand, we learn about the rich Mayan influences and the impact of the Spanish arrival on the gastronomic journey of Mexico. Along the way, travellers also get an insight into the culture and traditions of the Chinantec people, indigenous Mesoamericans of north-western Oaxaca. Learn how their way of life affects modern Mexico through its food.
The Menu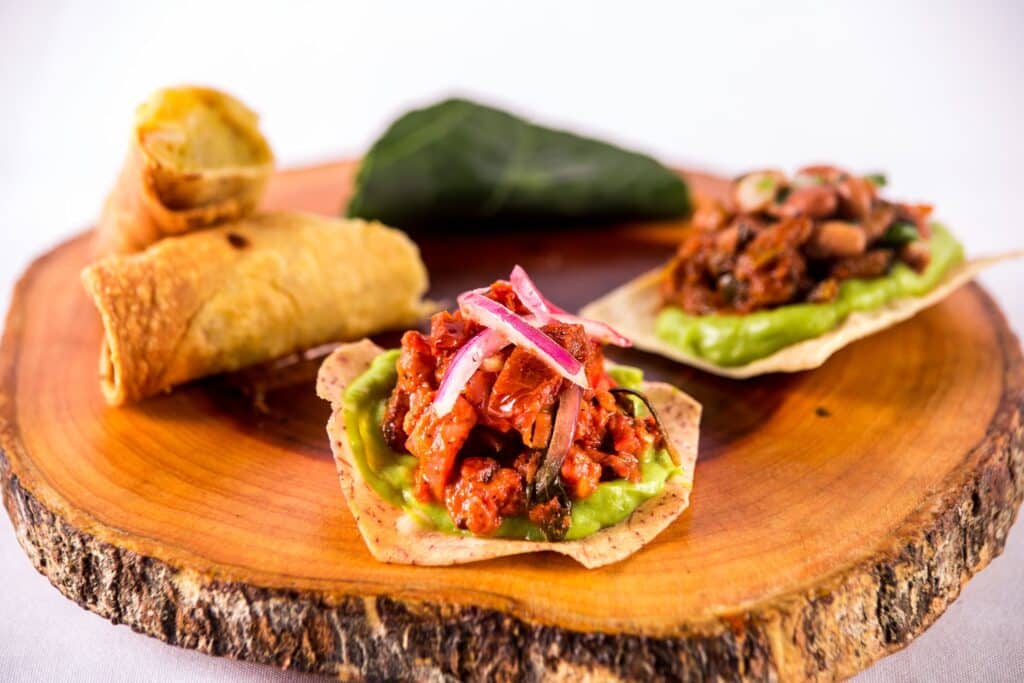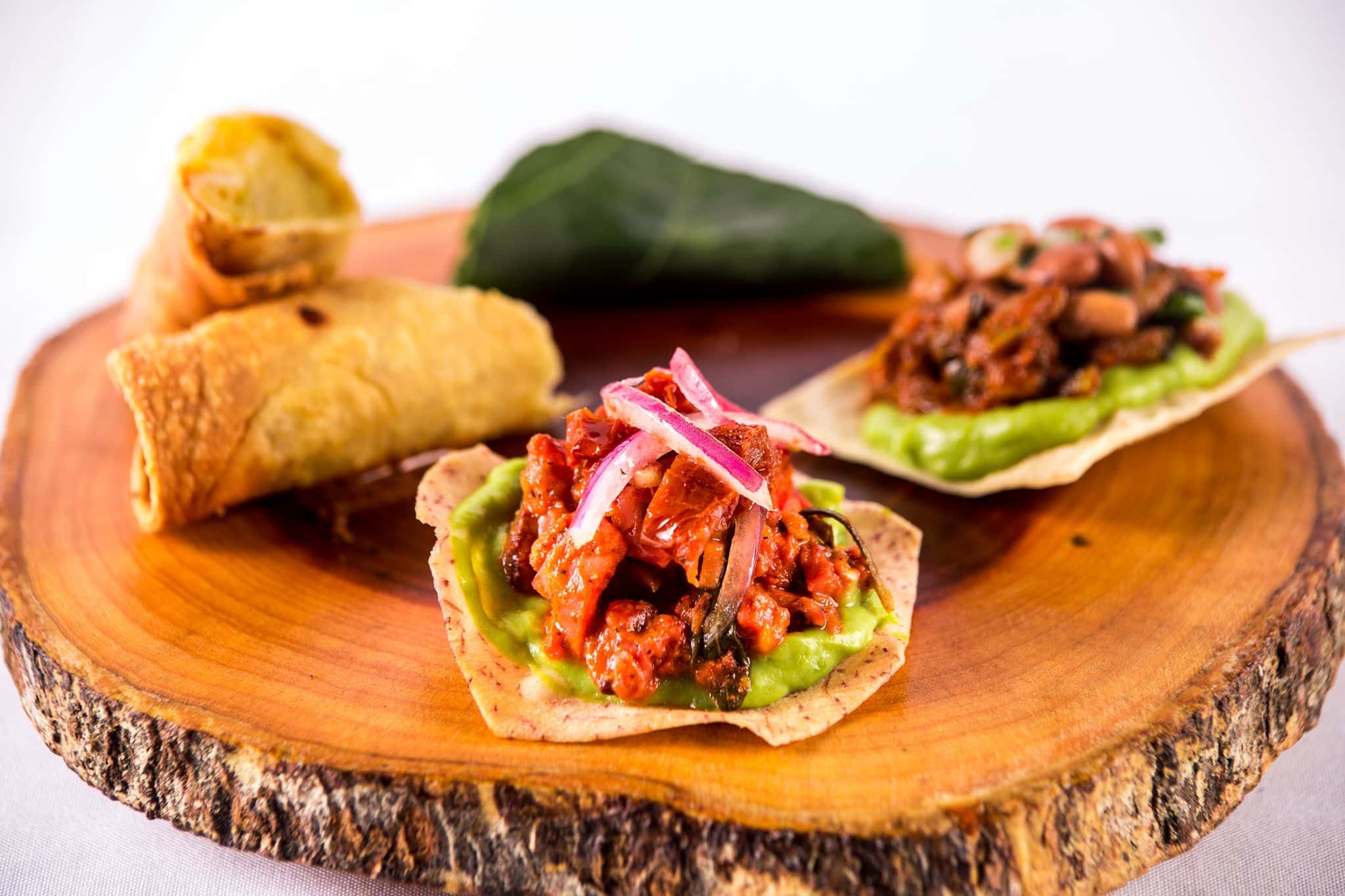 What of the specifics of this feast for the senses? The 5-course meal offers various options for diners, from classic Mexican dishes to intriguing twists on the usuals.
For starters, travellers can choose from a variety of tostadas. Go for a vegetarian choice served on a bed of avocado pure, calabasa, and a salsa of honey, chilli ancho and achiote. Alternatively, opt for octopus or cactus in those tasty tostadas. Those wanting a more meaty choice can go for slow-cooked orange-infused turkey tacos or wild rabbit sope. Whatever choice is made for starter, enjoy it paired with a Spanish rose made from 100% Garnacha.
Next, a 700-year-old soup recipe: frijol and onion soup served over fire-heated river rocks paired with a glass of local Mexican wine.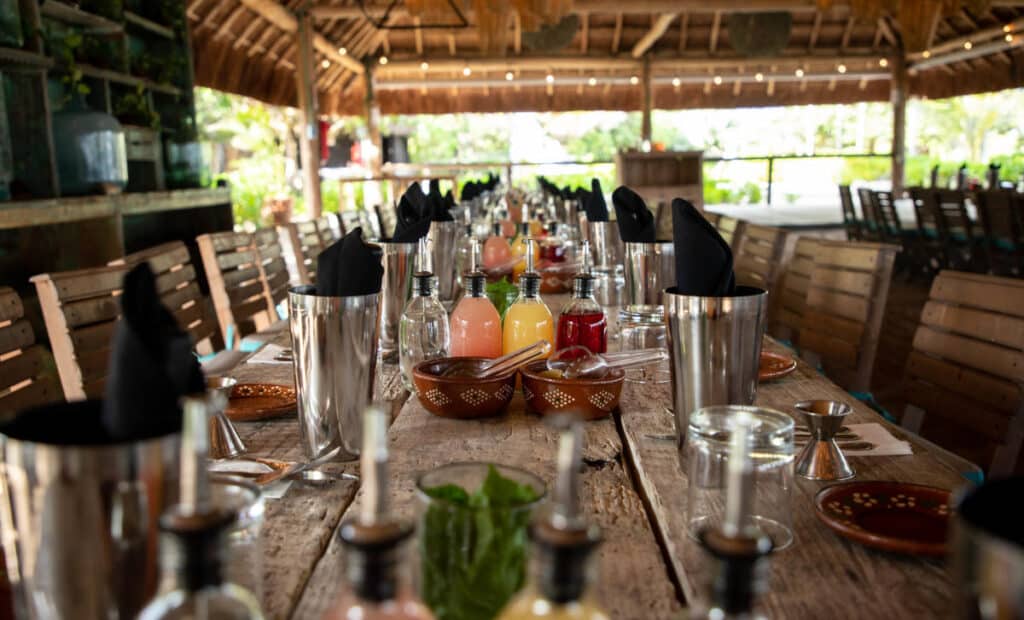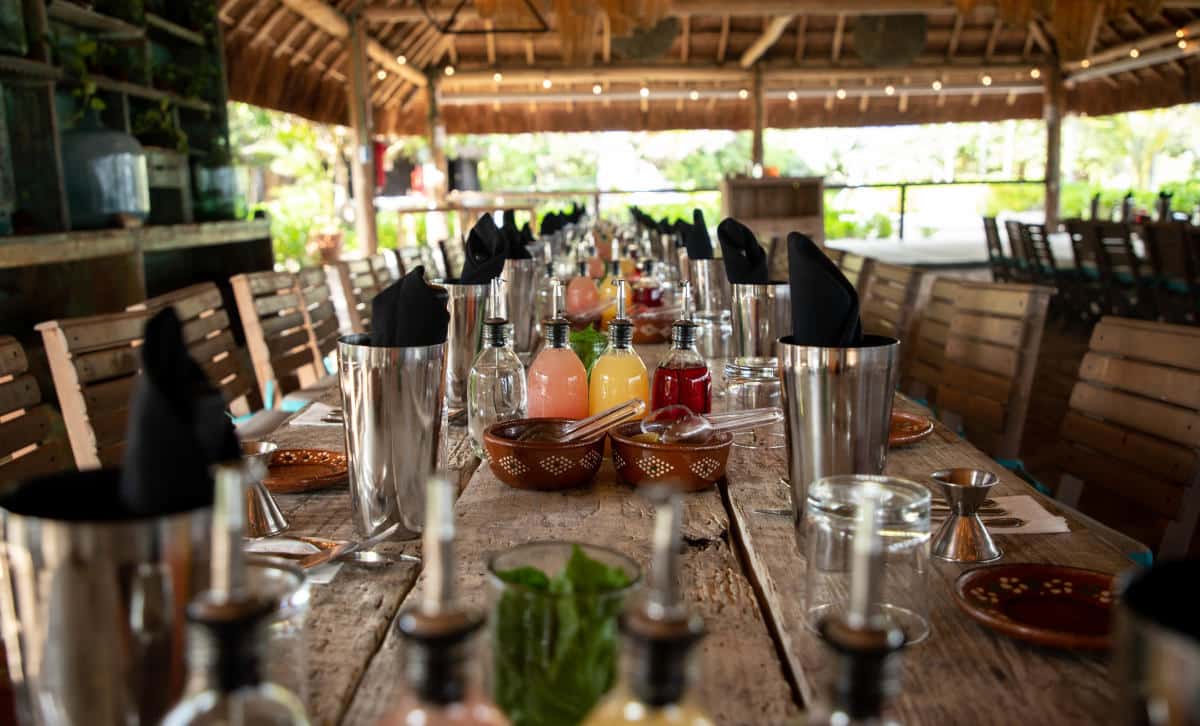 For mains, travellers are treated to elegantly prepared meat options. Braised beef in Recardo Negro is a particular highlight, slow-cooked and served with tabbouleh. Slow-cooked pork in Recardo Rojo, served with yucca pure and crunchy Edam cheese is also a favourite. Enjoy these meals with a delicate blend of tempranillo and Garnacha, full-bodied or medium-bodied, depending on your choice.
Finally, for those not quite satiated, it's a gift for those with a sweet tooth as they get to experience chocolate 5 ways. Dive into white chocolate, dark chocolate, milk chocolate, and chocolate brownie served with a tequila-infused chocolate ganache. Chocolate plays a significant role in the traditions of Mexico, particularly in indigenous culture. Our host will explore this connection as travellers revel in chocolate heaven.
Of course, there's a running theme here that cuisine is not just about food – an expertly paired alcoholic beverage is the perfect accompaniment to appreciate the dishes. Dessert is no different. During this course, travellers sip on a collection of artisanal tequilas and mezcals. These distilled spirits are homemade, exclusive delights. Along with all the wines from the evening, travellers won't find these select drinks in shops anywhere else.
A Resounding Success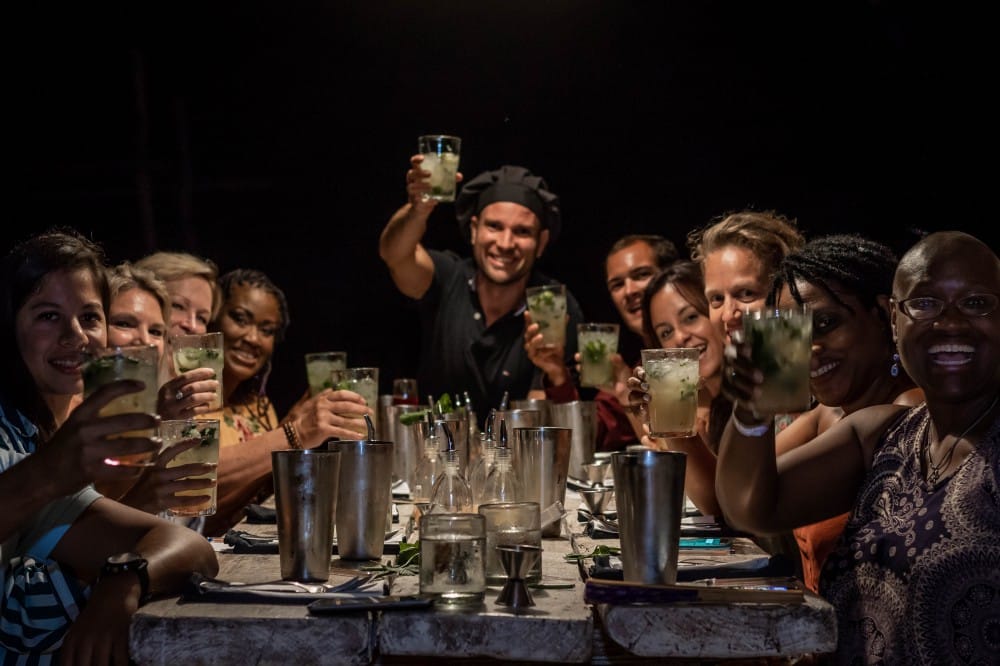 The aim for the evening is to leave travellers satisfied, and not just with the food but socially and intellectually too. Not only will travellers have tasted world-class gastronomy, but they should have made friends and learned a thing or two about Mexico in the process.
That's why this experience is consistently rated the number one dining experience in Riviera Maya on TripAdvisor, and our partners and travellers concur with this level of excellent feedback.
It's also why we are highlighting this type of our experience as part of our commitment to support activities that really provide value for the traveller. We strive for every experience to be one of discovery, of storytelling, and of connecting the traveller to local people. Why simply eat a meal when you can go on an exploratory journey into the local culture?
For more information on The Traveller's table experience with Discova, or to hear more about our other dining experiences elsewhere, don't hesitate to get in touch with our helpful, informative teams.