Veganism is on the rise. Around the world, the trends show that more and more people are becoming vegan. People are spending more money on vegan products while supermarkets and restaurants are reacting to these new demands. This means that when travellers are contemplating visiting Indonesia, for example, a growing number will be curious about vegan Indonesian food.
There's a growing presence online and in the media of a burgeoning vegan lifestyle gaining traction. The result is that, even if not everybody is willing to take the leap into full-blown veganism, vegetarian-leaning talking points are receiving widespread attention and consideration.
Whether it be the popularity of Veganuary, recent documentaries highlighting the problematic nature of meat industries, or indeed a growing awareness that vegetarian and vegan food is often simply downright delicious – the trend looks set to continue.
So, what does this mean for us in the travel industry?
At Discova, we recognise that a growing number of our travellers are conscious of what they eat – whether they be vegan, vegetarian, or pescatarian. In recent years, we have seen an increase in requests from tour groups and travellers looking for great options for restaurants reflecting their preferences. It's our responsibility to be knowledgeable of what's available across our destinations. Thankfully, since we live and work in these places and call them home, we've got everything covered! That means that when our teams are crafting perfectly tailored itineraries for travellers, food preferences can be taken into account and acted upon.
With this in mind, we thought we would run through some of our destinations, offering some recommendations for tasty vegan dishes to look out for and even suggesting a restaurant or two along the way. In this first piece, we look at Indonesia, with a specific focus on Bali.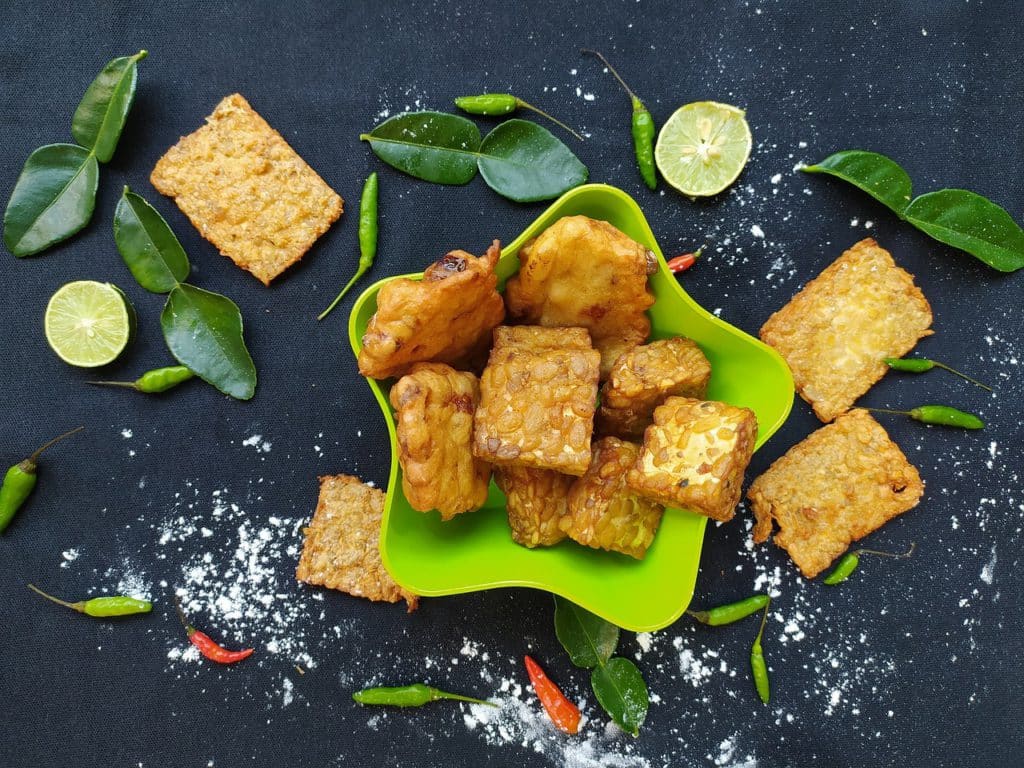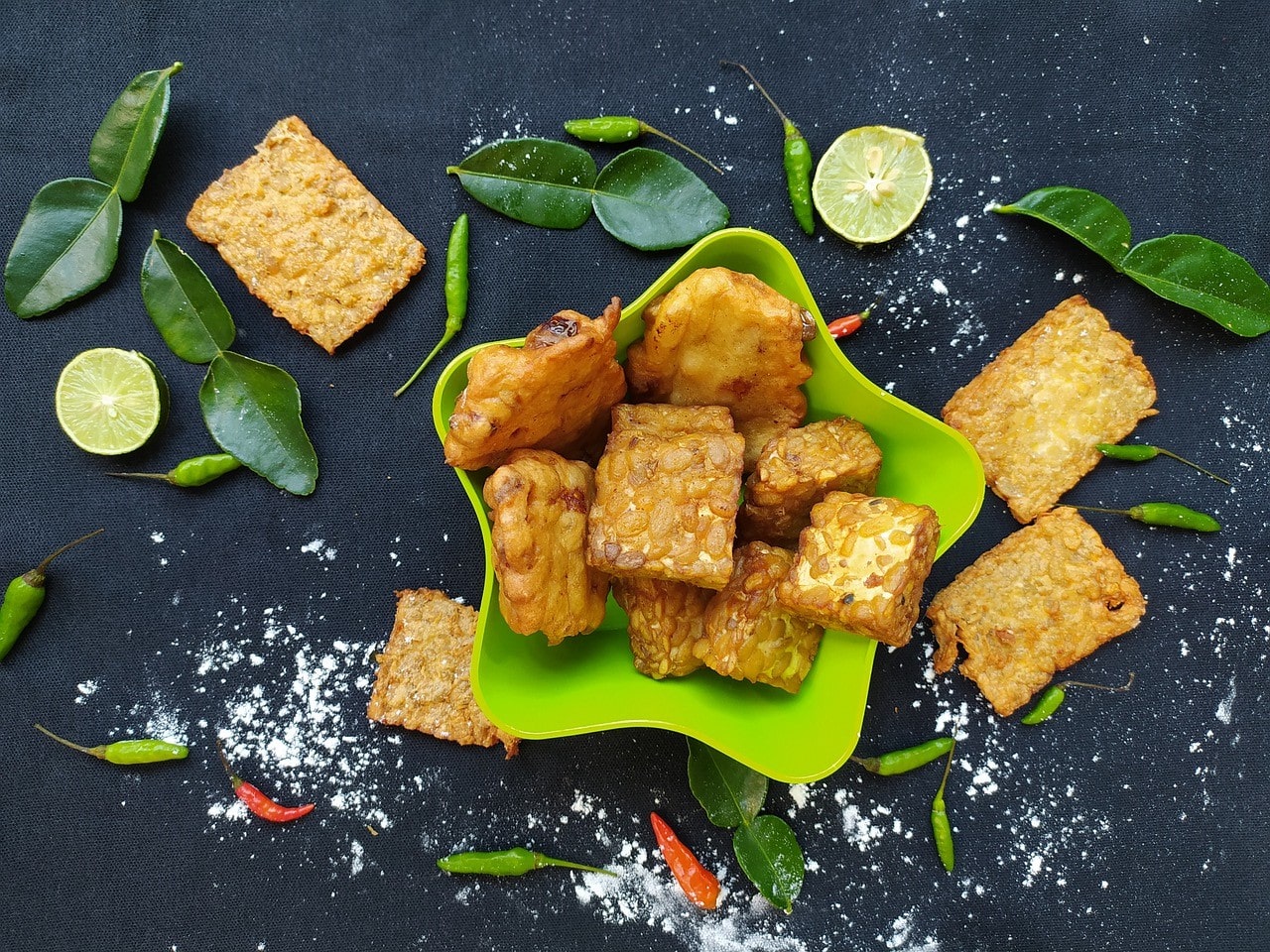 Vegan Indonesian Food
Indonesia is a great place for vegan and vegetarian travellers. It's easy to find options for vegan Indonesian food with the plentiful locally sourced fresh fruit and vegetables, making vegan-friendly meals affordable and accessible. The widespread use of soybean protein alternatives like tofu and tempeh also help give a choice to those looking for plant-based meals.
Many Indonesians do not specifically lead vegetarian or vegan lifestyles, and the choice to do so is a relative novelty. However, with a versatile cuisine with a prevalence for noodle and rice-based dishes, there are opportunities for plant-based meals in almost every warung – small Indonesian cafes and restaurants.
This is best exemplified in Bali, where the concept of health and wellness permeates every aspect of the island's draw. Long self-stylised as a mecca for holistic retreats, it logically follows that Bali should be a haven for vegan and vegetarian travellers – and it doesn't disappoint. Travellers are blessed with an array of options, from western-centric establishments to places specialising in vegan versions of local delicacies. Visitors are spoilt for choice
Let's have a look at some examples of vegetarian and vegan Indonesian food.
Dishes to Look Out For
Nasi Campur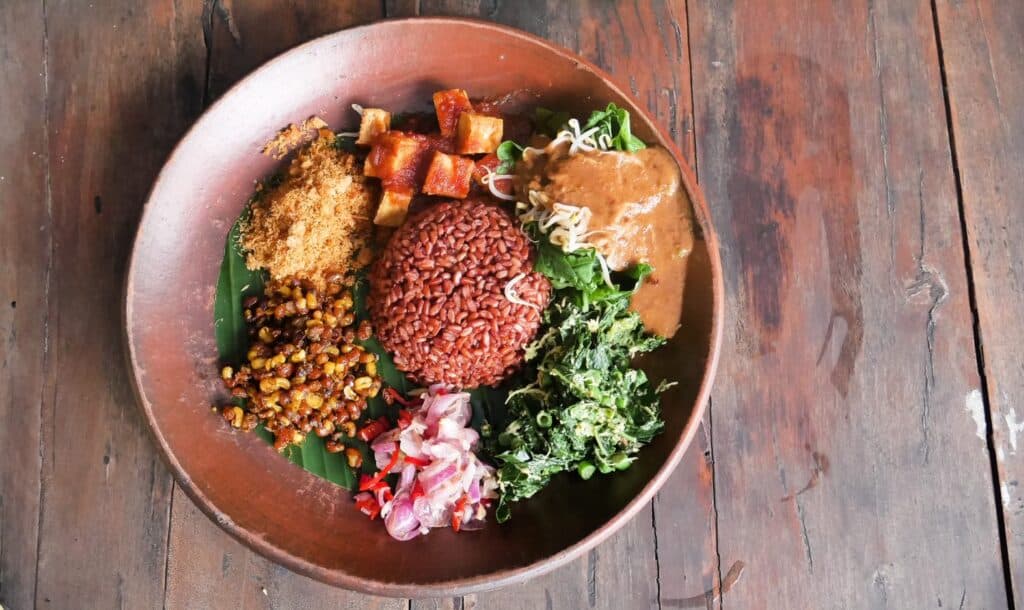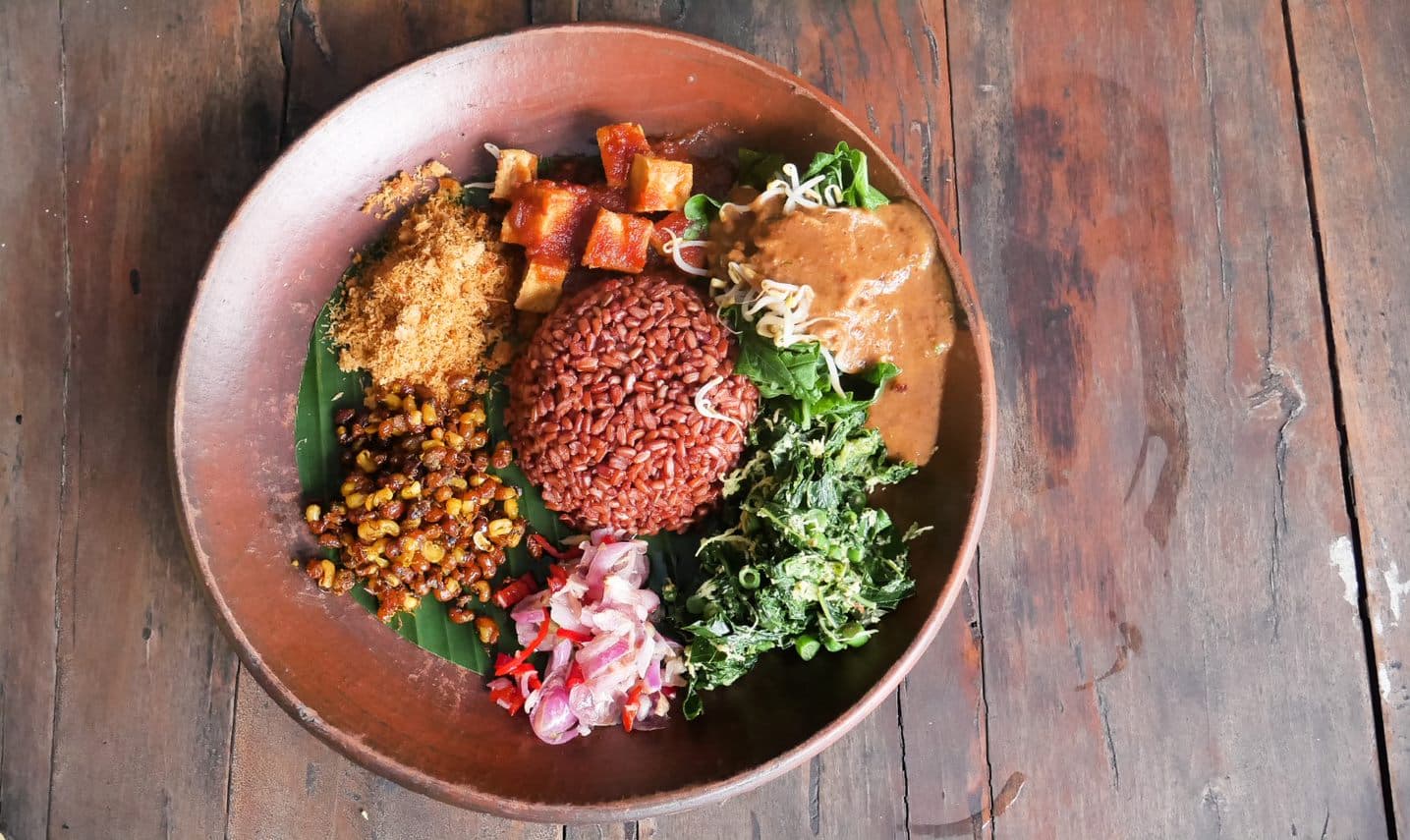 Roughly meaning "mixed rice", this meal actually consists of several side dishes piled onto one plate. It is an Indonesian version of tapas or antipasto, though eaten as a main meal as opposed to an appetiser, perhaps more in the fashion of thali meals in India.
The customer is presented with a range of pre-prepared side dishes to choose from. These will accompany the mound of rice already waiting on the banana-leaf topped plate, and diners are typically allowed up to 5 choices.
This DIY aspect is the beauty of the nasi campur – many dishes will include meat, but there will always be a broad selection of vegetarian options, too. Jackfruit curries, tempeh or tofu-based rice and noodle dishes, veggie fritters, papaya salads, and plantain satay sticks are all commonly found.
What's more, travellers around Indonesia will encounter regional variations to try. With up to several choices on one plate, this method of eating certainly caters to the curious cuisine enthusiast.
Mei Goreng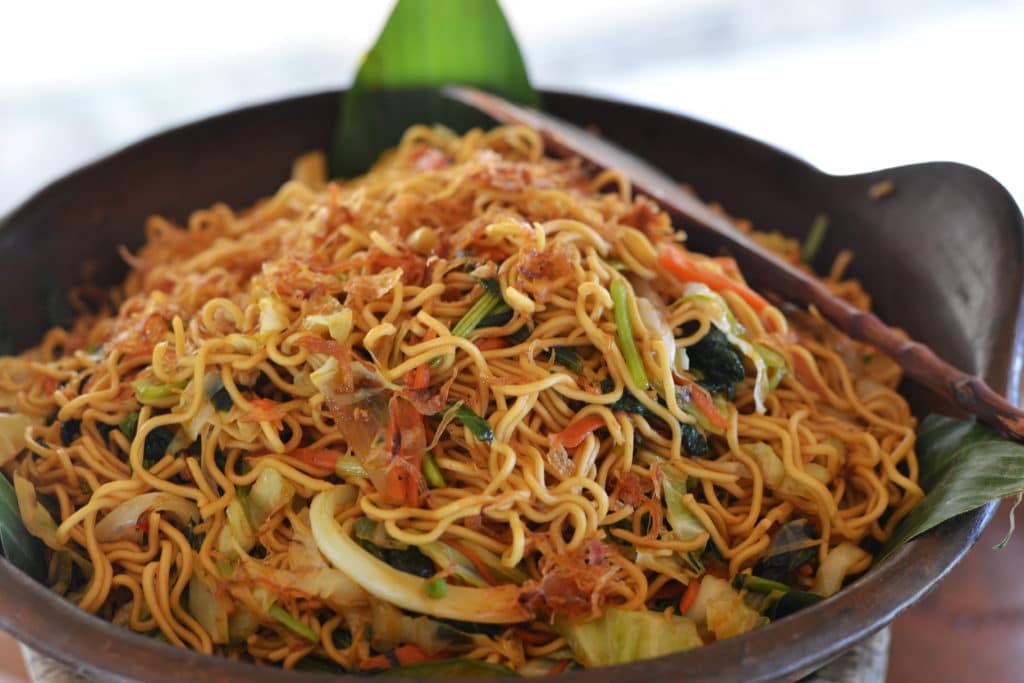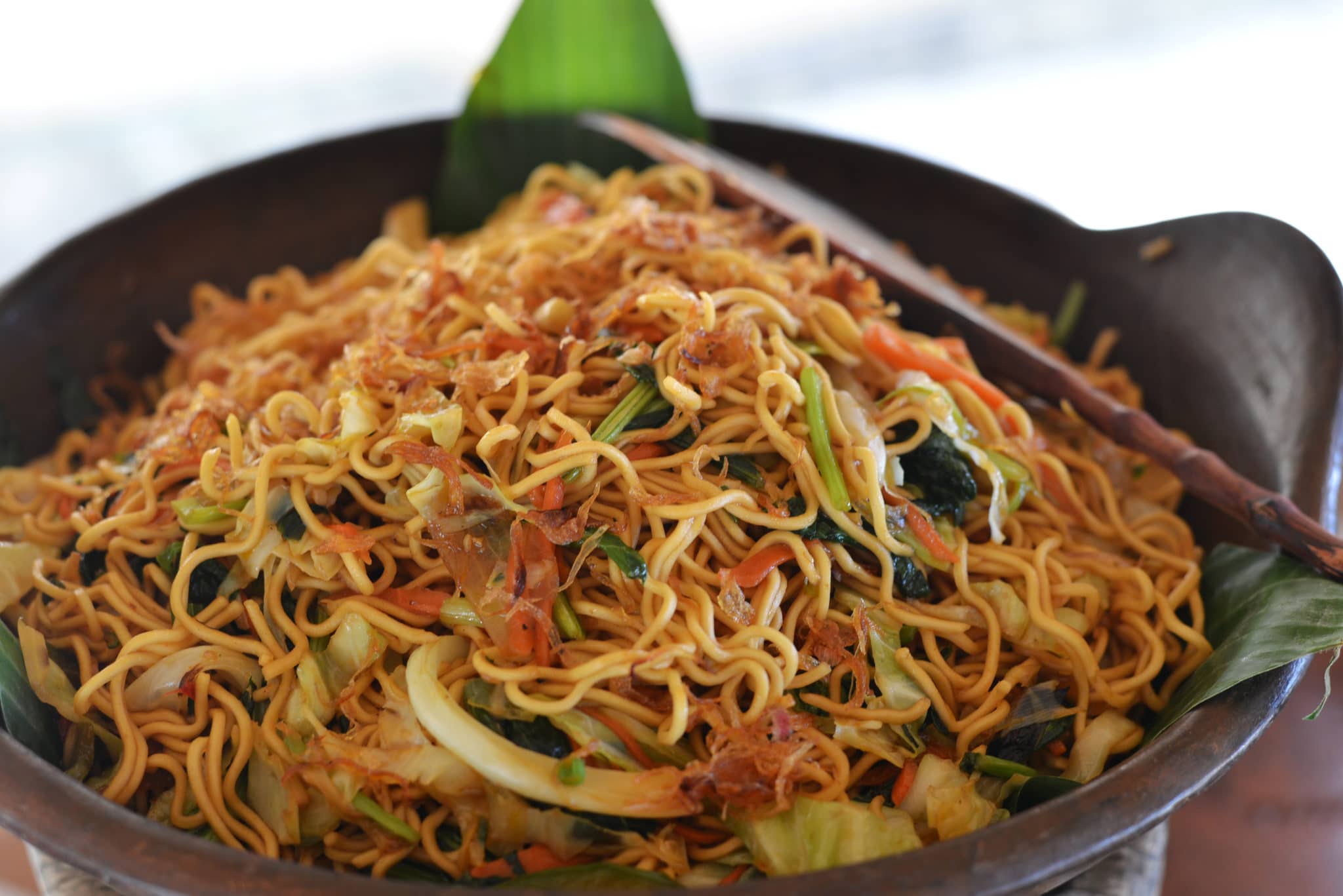 Mei Goreng is Indonesia's iteration of a fried noodle dish. It is another versatile dish, often coming with meat or egg noodles, so travellers should be clear on their preferences when ordering. The soft noodles go pleasingly with the crunch of the stir-fried veg.
The base is usually yellow noodles, stir-fried together with cabbage and whatever seasonal vegetables are to hand, and sweetened with delicious kecap manis – a syrupy sweet Indonesian soy sauce. This is balanced with the sour sprinkling of lime juice and heated with chilli. For protein, travellers can usually opt for tempeh or tofu to be added.
Mei Goreng can be found everywhere, from a $2 meal at the ubiquitous streetside vendors or at high-end gourmet restaurants – its adaptability means travellers will encounter many different variations on the essential elements.
Gado-Gado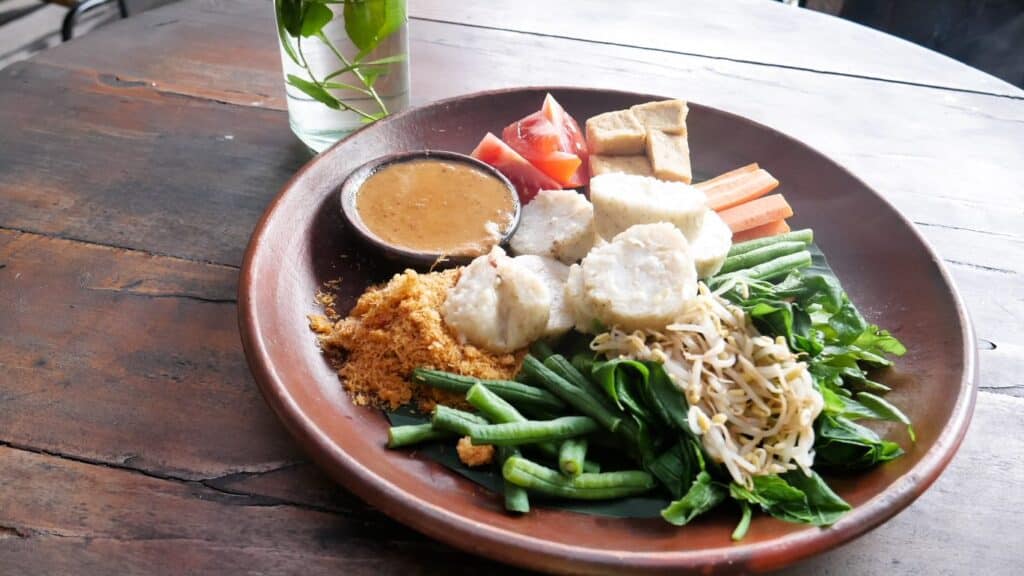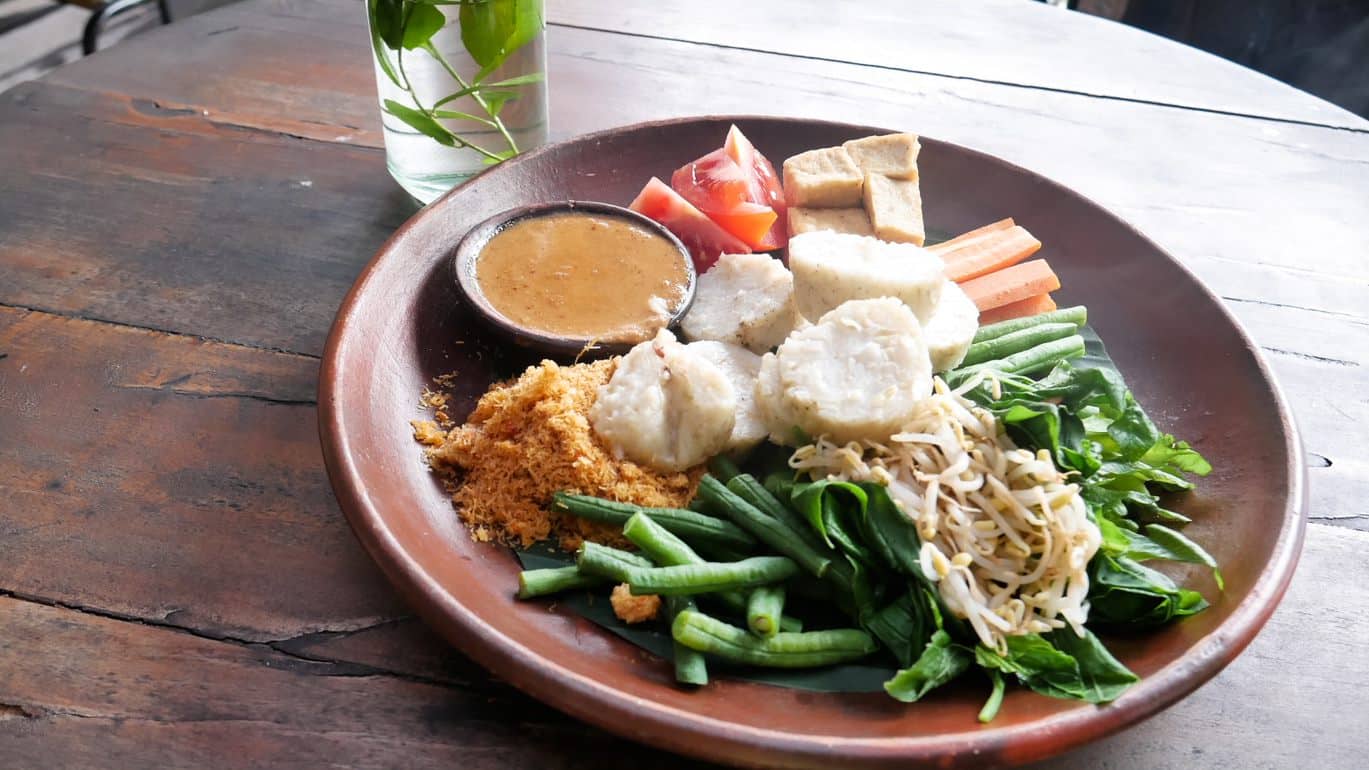 Literally meaning "mix-mix", gado-gado is a delicious Indonesian mega salad topped with a scrumptious peanut dressing sauce and often served with crunchy crackers. The salad bowl usually features cucumber, cabbage, beansprouts, potato, and green beans, raw, blanched or steamed, and tossed together with the dressing.
Regional variations are common, as well as different vegetables dependent upon the season. Egg is often added, so vegans should specifically request no egg. However, a theme is becoming apparent as diners can usually add tempeh or tofu as a source of protein if wanted.
The highlight is that rich peanut dressing, truthfully more of a sauce, with a creamy coconut milk base and heated with chilli – enough to make even a salad seem decadent.
Gudeg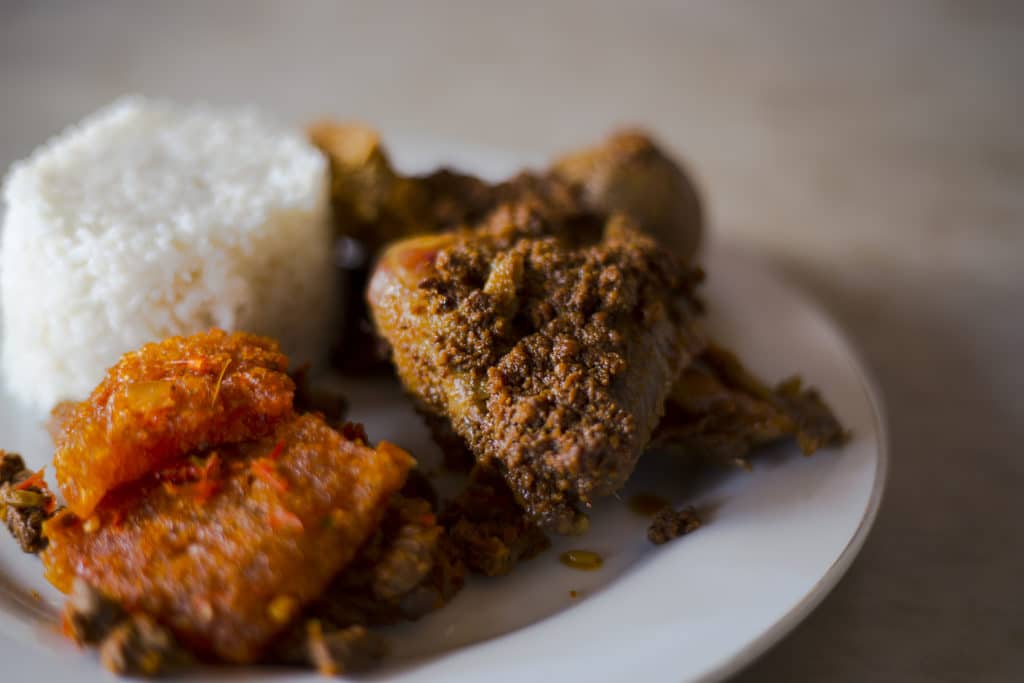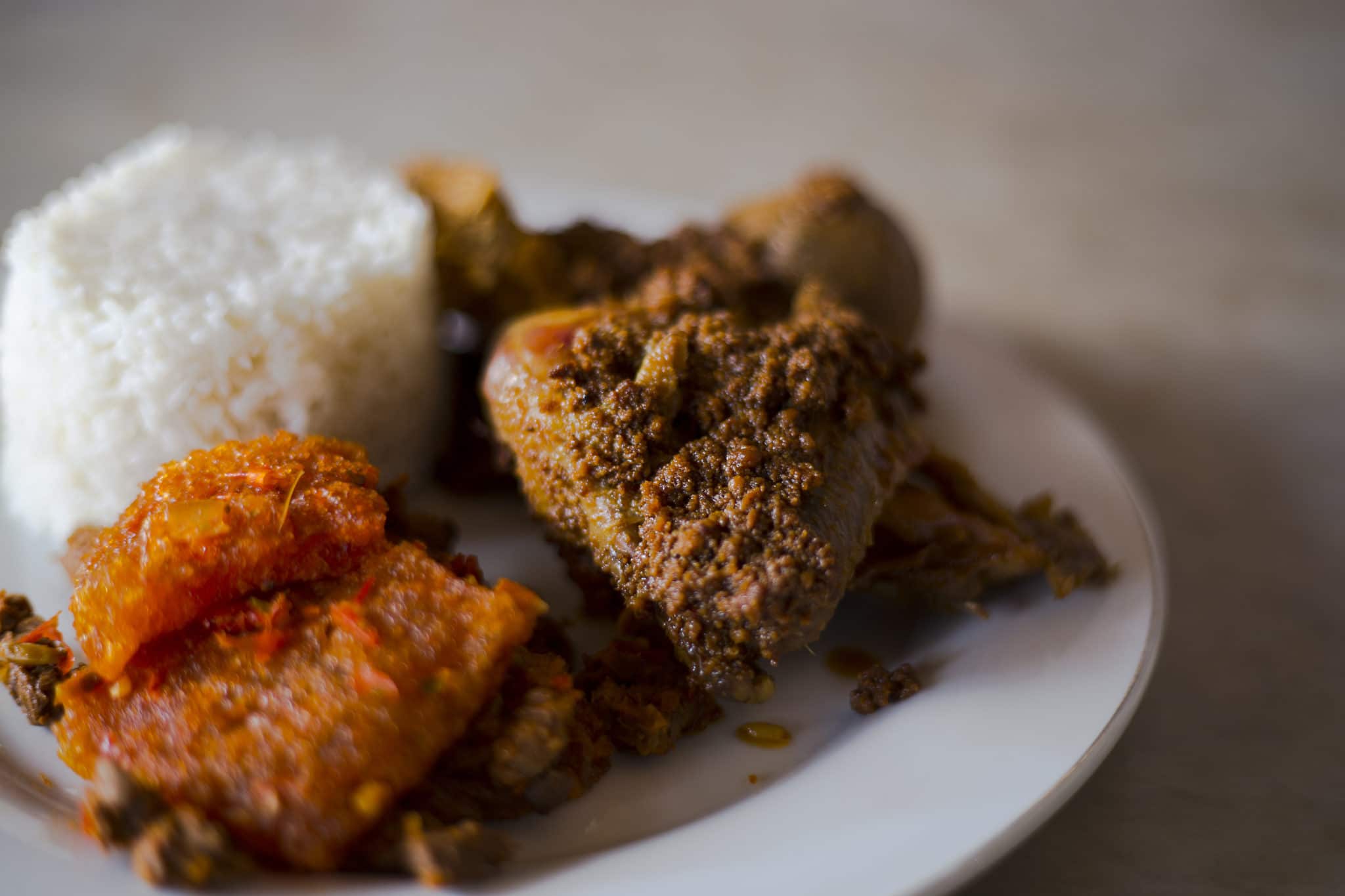 Originating in Yogyakarta in Central Java, gudeg is a delicious Indonesian curry made from young jack fruit. It contains coconut milk, palm sugar, and spices such as coriander, cumin, galanga, tamarind, and Indian bay leaves. The curry stews for hours Inits coconut milk base, sometimes overnight, to allow those savoury aromas to develop and meld together, resulting in a dish that is rich and bursting with flavour. Often, the curry will be served with an extra-spicy chutney to complement, as well as a standard serving of rice.
Gudeg is not exclusively a vegan dish, but the Javanese version with jackfruit is widely available. In many restaurants, they will also serve vegetarian versions with tempeh or tofu.
Tempeh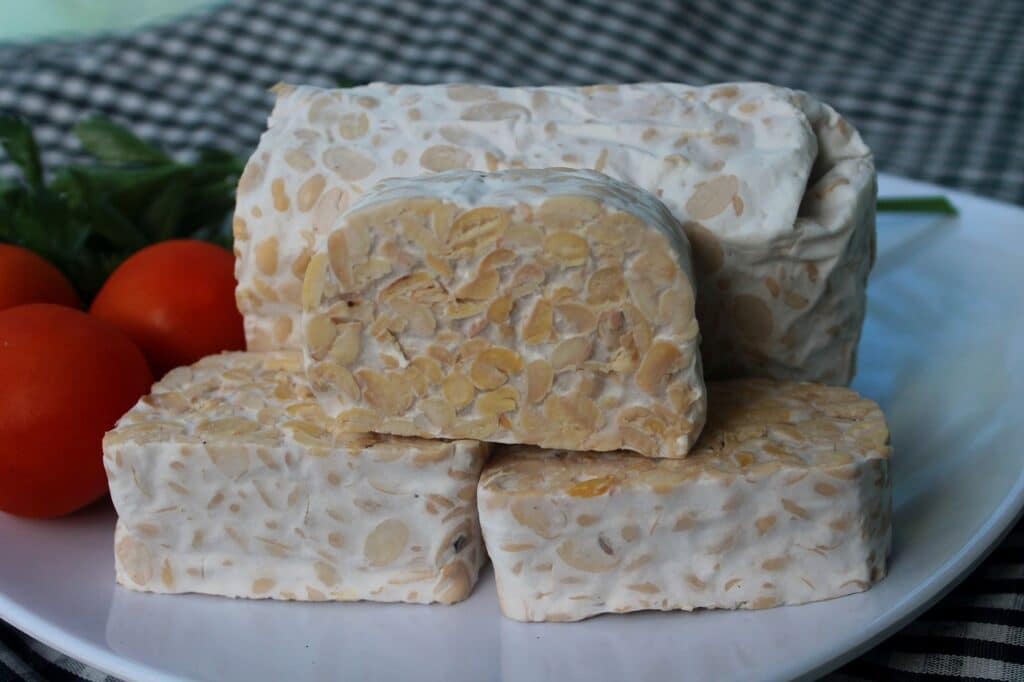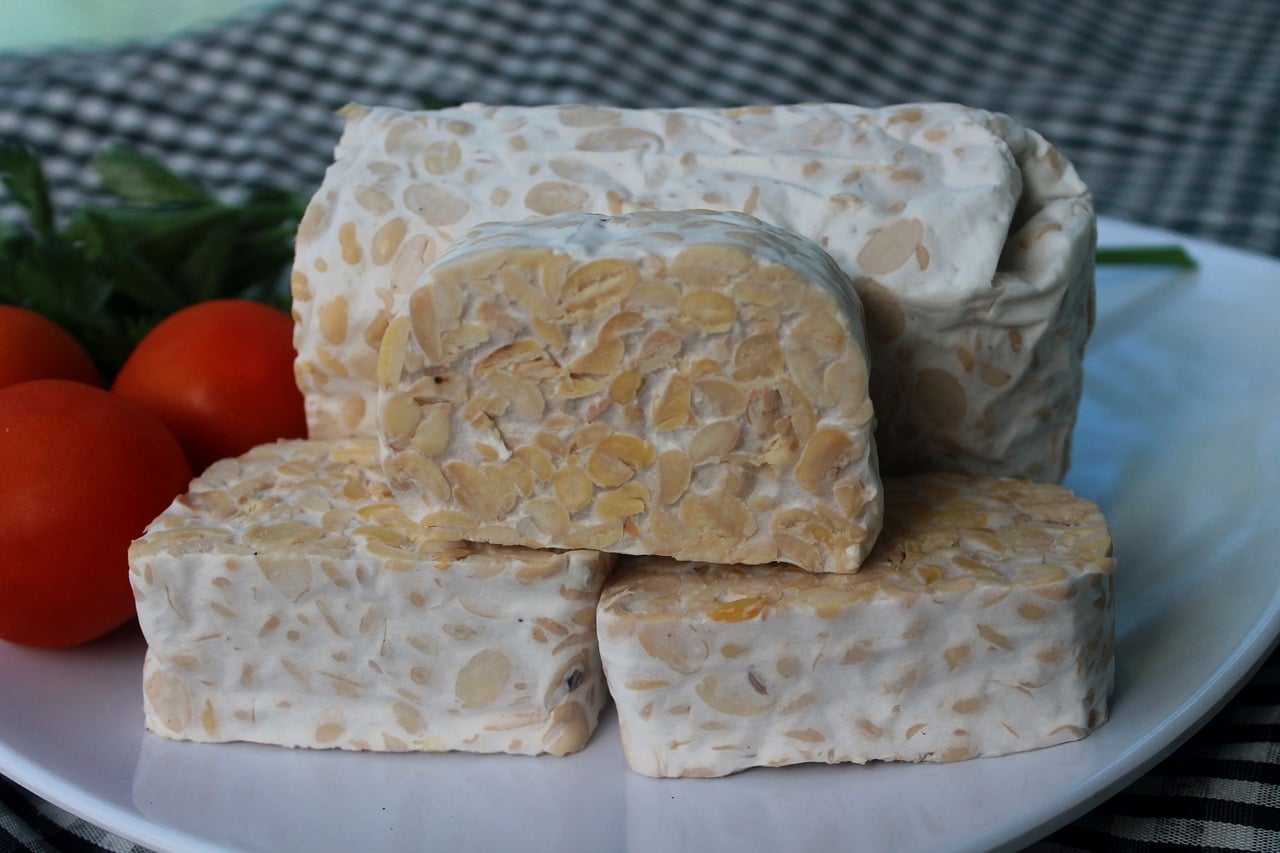 Tempeh has been mentioned a few times as a protein alternative, but many may not be familiar with the soybean product. It is made through a complex fermentation process that creates a solidified mass, traditionally wrapped in banana leaves. Like tofu, tempeh is made from soybean. However, tempeh uses the whole bean, meaning it has higher nutritional contents of protein and dietary fibers than tofu and a more pronounced earthy taste that intensifies as it ages.
Tempeh is readily available all over Indonesia and, as we have mentioned, restauranteurs and street food vendors alike are usually happy to use it as a meat substitute.
There are many other vegetarian and vegan-friendly dishes to try in Indonesian cuisine. As we have seen, the versatility of the dishes allows scope for variations that offer plant-based options, even where a meal isn't explicitly aimed at vegans or vegetarians. With the variety of excellent locally sourced plant-based products on hand and the Indonesian penchant for intriguing and inviting spice combinations, the meals are often packed with flavour without compromising freshness.
Let's focus on Bali and highlight some great recommendations for vegan restaurants offering both western-centric vegan meals and some of those Indonesian delights already mentioned. Most of these cafes and restaurants are highly stylised, with Instagram-able presentations and intricate eye-catching décor.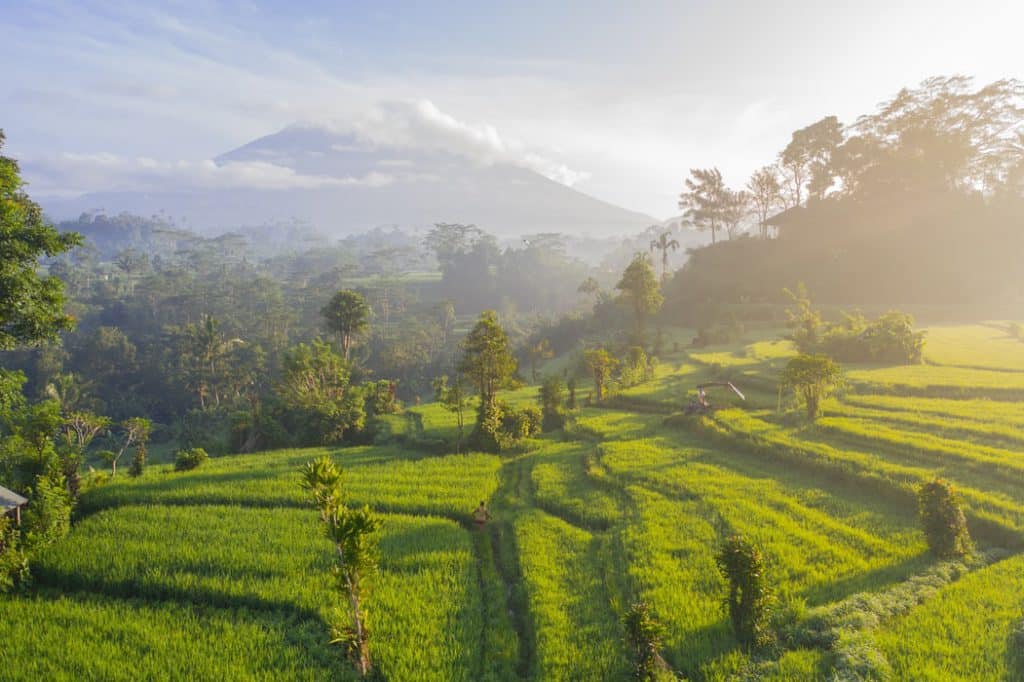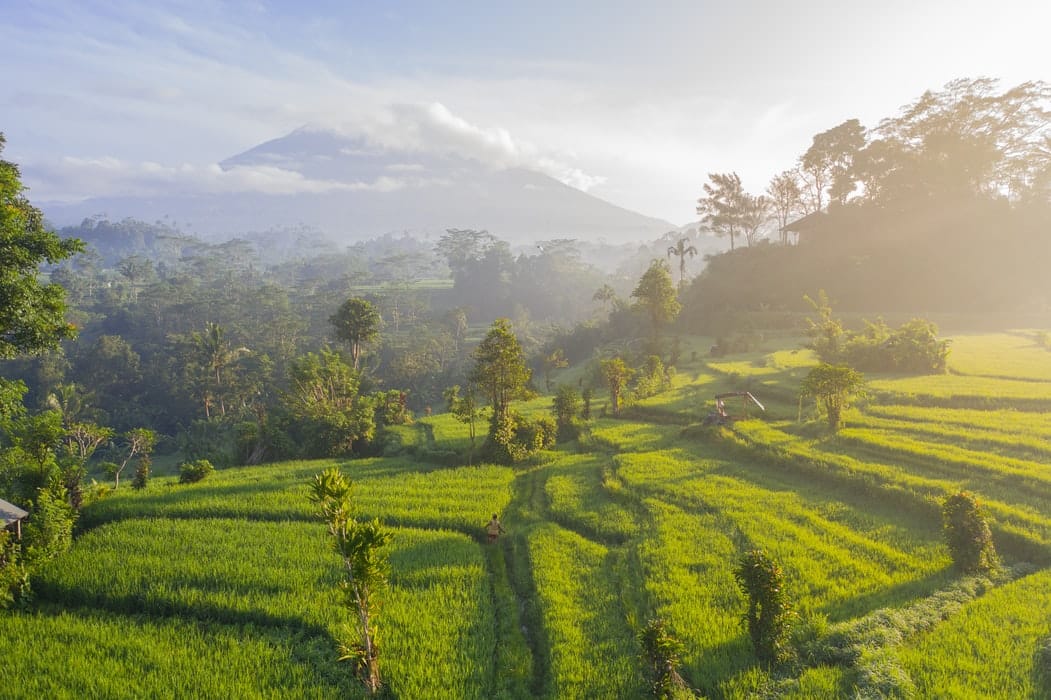 Restaurants
The Seeds of Life Café, Ubud
Unquestionably the hub of vegan cuisine in Bali, there are plenty of great choices for vegans and vegetarians in Ubud. The Seeds of Life Café is a raw vegan restaurant – another step that even some vegans are reluctant to consider. They offer raw takes on classic dishes, from pasta dishes like gnocchi and lasagne to raw takes on sandwiches and wraps.
As with many vegan establishments, the café takes an active role in educating and participating in the vegan community and offers various hints and tips on how to get into the lifestyle. The café is affiliated with Ashtanga yoga practices and provides a wide range of tonics and juices too.
Read reviews here.
Sayuri Healing Food, Ubud
At Sayuri Healing Food, the emphasis is evident in the restaurant's name – the establishment works on the concept that food has the power to heal. Their self-defined purpose is to help us "to activate ourselves to reach our full potential, to heal & balance our body, mind & spirit". They do this with a delicious selection of 100% plant-based food and drinks, mainly raw and gluten-free, "only lightly cooked when it is beneficial".
There is a connection between food and dharma teaching, hoping that food can be a vessel for fulfilment in our lives – travellers can also enrol in the Sayuri Healing food course if they wish. Besides these lofty ambitions, it also helps that they do a great vegan cheese plate, and all food is presented with creative pazazz.
Read reviews here.
Vinny's Warung, Canggu
The place to go try all those local Indonesian dishes with confidence – all meals here are entirely vegan. Here is a great place to try several different dishes in the nasi campur format. As with many vegan restaurants, this place gets top marks for its warm and welcoming feel with friendly and hospitable staff. Using high-quality ingredients and certified organic produce, Vinny's offers travellers healthy and balanced meals that offer genuine insights into Indonesian cuisine. Suppose diners don't fancy getting to grips with the local culinary delights. In that case, the restaurant also offers plenty of the usual western vegan treats like the ever-present vegan smoothie bowls available all over the island.
Read reviews here.
Peloton Supershop, Canggu
Featuring on this list for its unique combination of cycling and food! Again representing the trend of combining vegan food with a broader lifestyle choice, its mission is to preach the benefits of peloton cycling practices as well as plant-based meals. The menu features vegan western classics along with Indonesian dishes and features as a highlight a wide range of superfood shots.
Read reviews here.
Kynd Café, Seminyak
Kynd café is a 100% plant-based restaurant, bar, pizzeria, and ice creamery in Seminyak. The owners created Kynd to show the world just how good plant-based food really can taste – it is a running theme with vegan restaurants wishing to convince just those pesky omnivores that vegan food is the way forward, and this place certainly does a great job. The restaurant is a learning experience, with online courses and cookbooks designed to facilitate those wishing to take the plunge and lead a vegan lifestyle. The café has grown over recent years into a beautiful open space reflecting its popularity. Give the vegan chicken wings a try!
Read reviews here.
Seasalt restaurant, Seminyak
Seminyak being known as an upmarket area, this restaurant is one for the more high-end tastes. This beautiful beachside bistro serves up exquisite creative combinations for both vegetarians and vegans, but is not exclusively a vegan restaurant. There are various dishes based on a fusion of different influences, but it makes this list specifically for its delicious gado-gado salad. That's because the standard of the tempeh here just makes this dish stand out with its firm chewiness and a strong earthy mushroom flavour. In many places, the tempeh can take on the flavours of the ingredients it is mixed with, but here the tempeh brings a whole host of flavour on its own.
Read reviews here.
What Discova Can Do for Vegan Travellers
Our responsibility here is twofold. The first is to establish that travellers need not worry about finding vegan Indonesian food. We hope it is clear that vegan travellers will have no trouble in this regard. Our second responsibility is to remind our partners and travellers that, should veganism be a key factor in planning travel, we are here to listen and can organise itineraries to take this into account.
Whether it be simply recommending vegan restaurants or choosing suppliers with vegan-friendly options, there are avenues to explore for vegan travellers that, with our local expertise, will help provide viable solutions. If this is something you are concerned about, or if you want to hear more about how we can help, don't hesitate to contact our teams.