The Vietnam Tourist Board recently posed the following question to travellers: When you're ready to travel again, why not Vietnam? It's the slogan for a new campaign hoping to put Vietnam at the forefront of travellers' minds as a holiday destination when borders reopen.
In a 30-second video being given considerable airtime on CNN throughout Autumn, the campaign introduces Vietnam's stunning landscapes across the whole of the country, as well as the variety of opportunities for new and rewarding experiences. Over and above the possibilities for adventure, there is an emphasis that Vietnam is a safe place to visit.
It comes at a time when Vietnam has seen 47 days with no community infections, with domestic travel up and running, and businesses very eager to welcome back tourists. Danang, in particular, recently ran a campaign urging tourists to visit, insisting that normality could return to a destination that had seen a growing rise in visitors before the pandemic.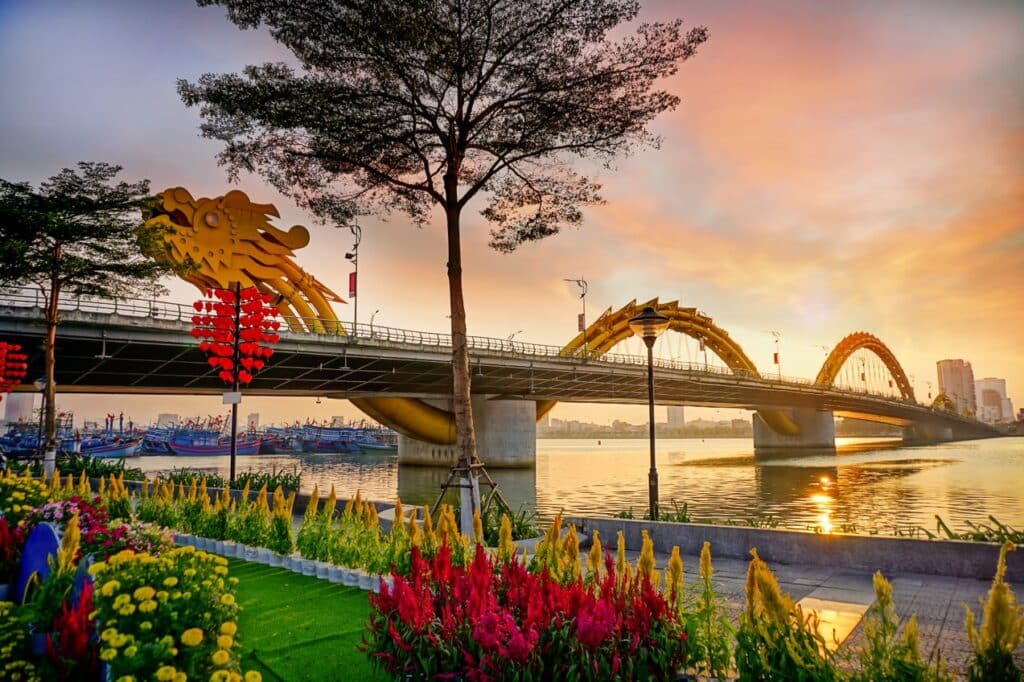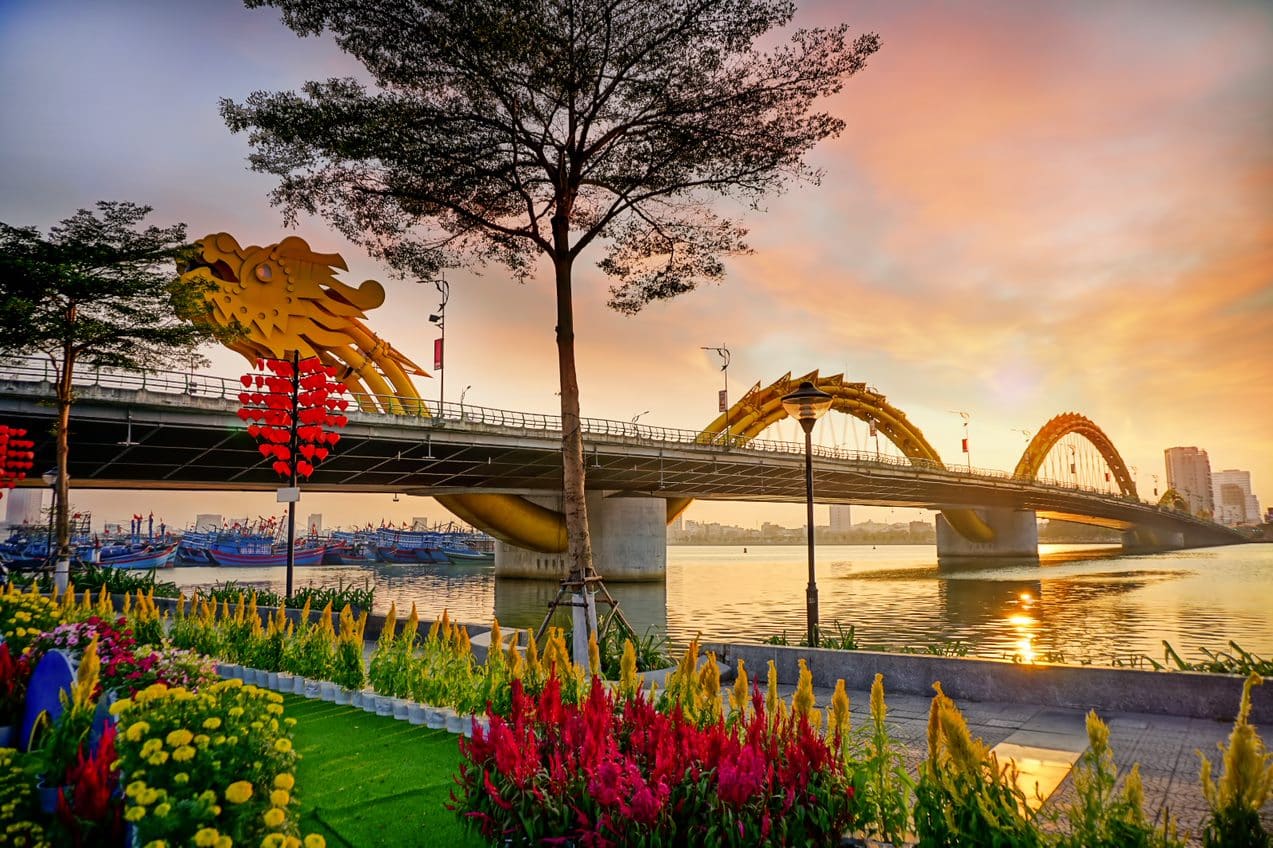 Other developments give hope that some movement may be imminent, with a visit from the Japanese Prime Minister and his entourage over the weekend of 18th October. The countries agreed to accelerate the process of reopening borders – though initially for business and long-term visa interests as opposed to tourists. However, the hope is that this may pave the way as the first step toward a broader relaxation as both countries look to put this crisis behind them.
With talks of expansion to include China, Thailand, Cambodia, and Laos within this travel bubble, the trend is undoubtedly encouraging for Vietnam's tourist industry.
So, Why Not Vietnam?
Since Vietnam is firmly placing itself as a viable and compelling tourist destination going into 2021, we thought we would have a go at answering the question 'Why not Vietnam?'. However, with the country being an incredible 1,650km long, there are several possible places to explore, each with convincing reasons to draw in would-be visitors. To properly do it justice, in this blog, we take a focused look at the city of Hanoi and the surrounding northern region, with a little help from our experts on the ground.
Hanoi
Vietnam's vibrant capital can be overwhelming for visitors who often have a story to tell about near-misses on the city's famously chaotic motorbike-laden streets. However, to focus on this would be misguided. The eclectic mix of fascinating histories, fragrant street food stalls, and French and Chinese influences make this an enchanting place to visit. Hanoi is the best place to dive into Vietnam's complex heritage with visits to the Ho Chi Minh Mausoleum complex, the National Museum, and the Military History Museum.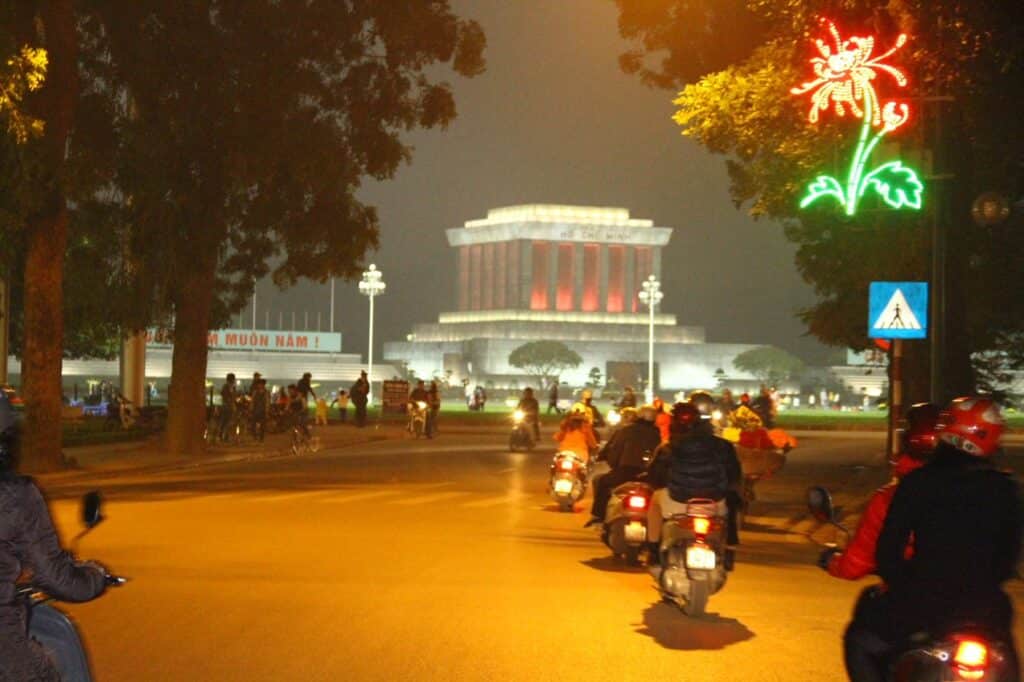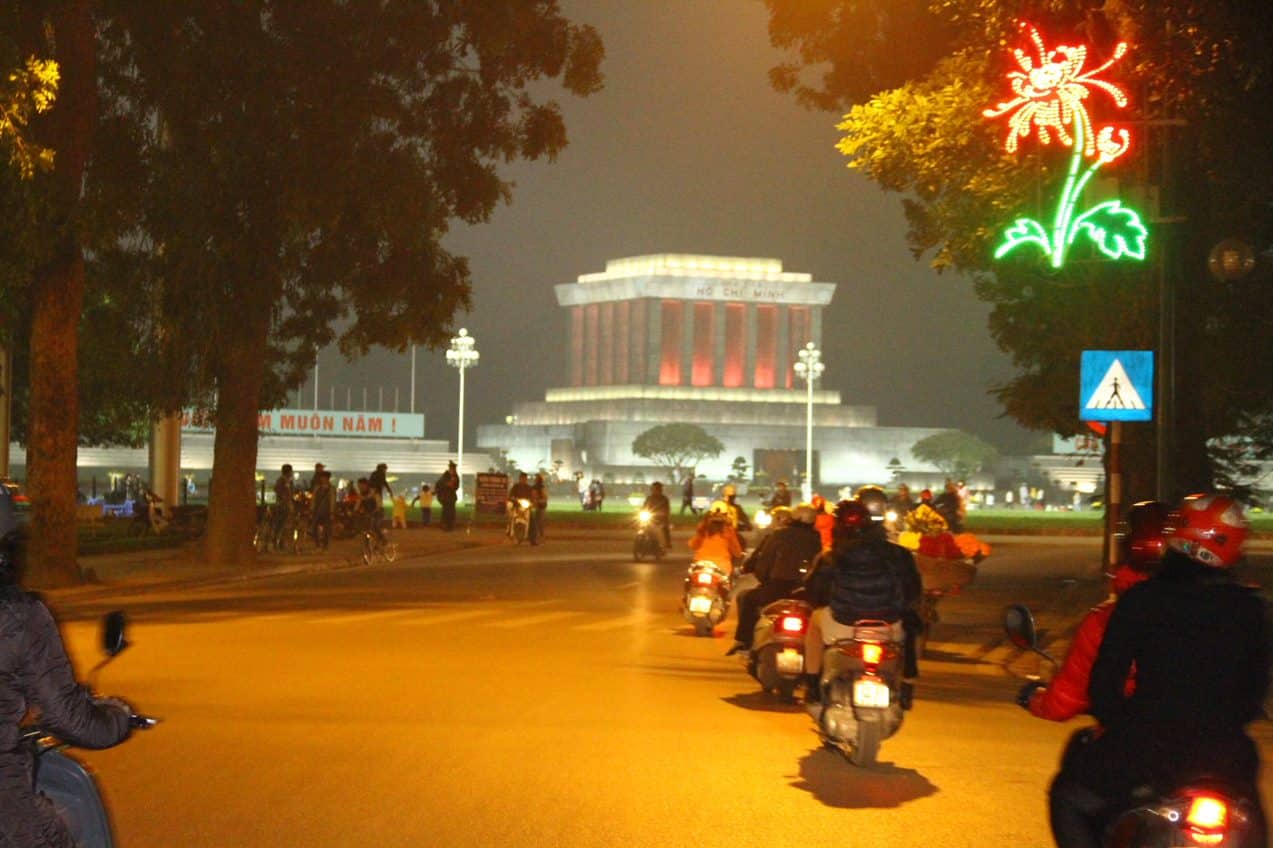 In the evening, appreciate Vietnamese culture further with an unforgettable traditional water-puppet performance by the serene Hoan Kiem Lake. After, explore the alleyways of the old quarter that come to life after dark – enjoy socialising in the bustling bars, eat banh mi or pho from the street food stalls, and appreciate the examples of French colonial architecture throughout the area. The old quarter of an evening is a labyrinth of enticing smells, roadside stools, live music, and raucous revellers – a joy to get lost in.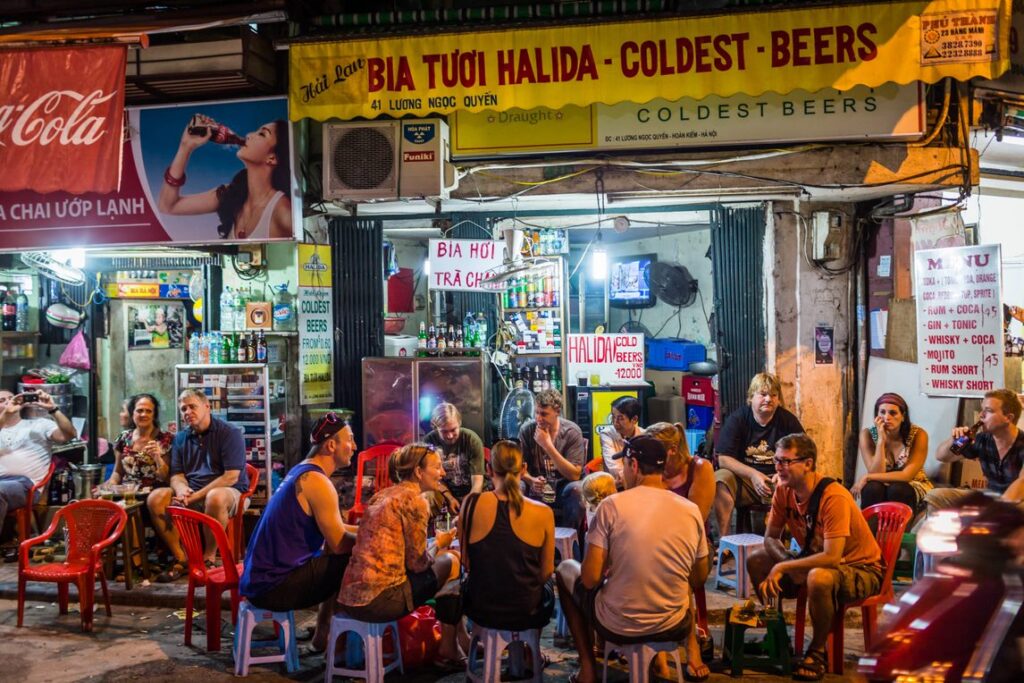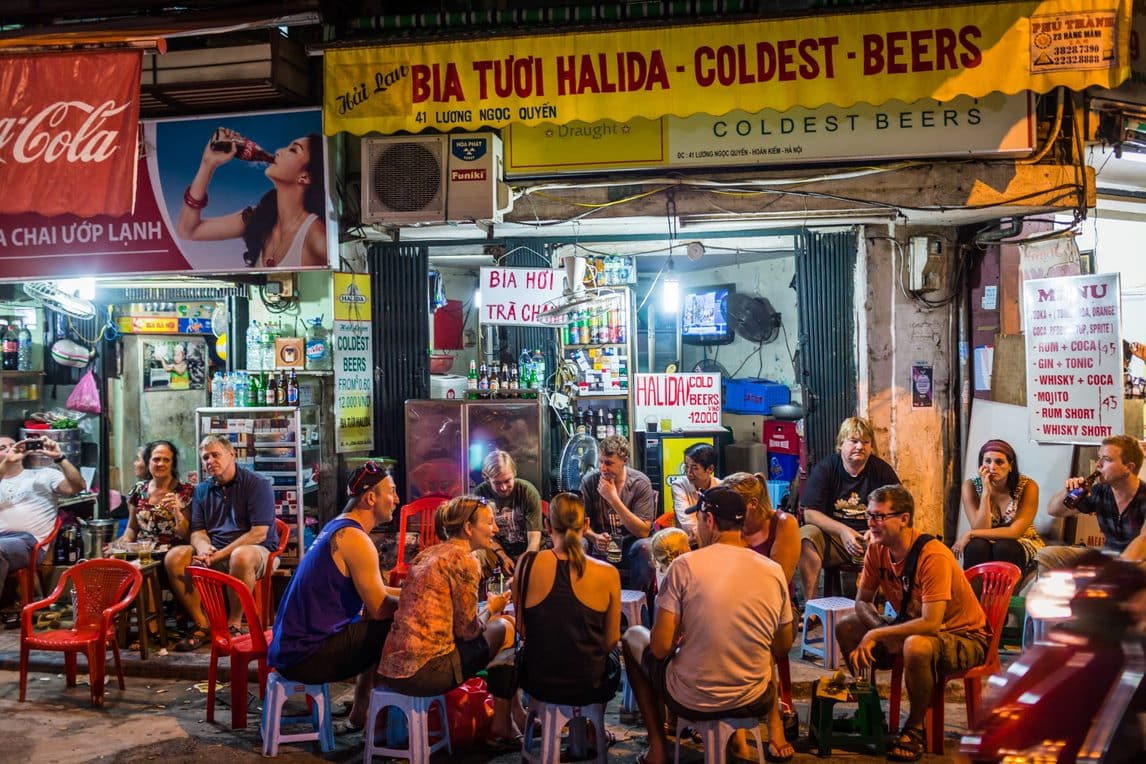 Insight From our Expert, Dinh Ha Ngoc Quynh, Asia Business Development Manager and Hanoi Resident
"My favourite spot in Hanoi is Hoan Kiem Lake. I love walking around the lake in the evening and enjoying the peaceful view of The Red Huc Red Bridge in the middle of the lake. Whether you are looking for a lively bustling city or a peaceful place to enjoy your weekend coffee, Hanoi has it all. Hanoi is a city of lakes and rivers (Ha means water, Noi means inside, so Hanoi means water inside the city)."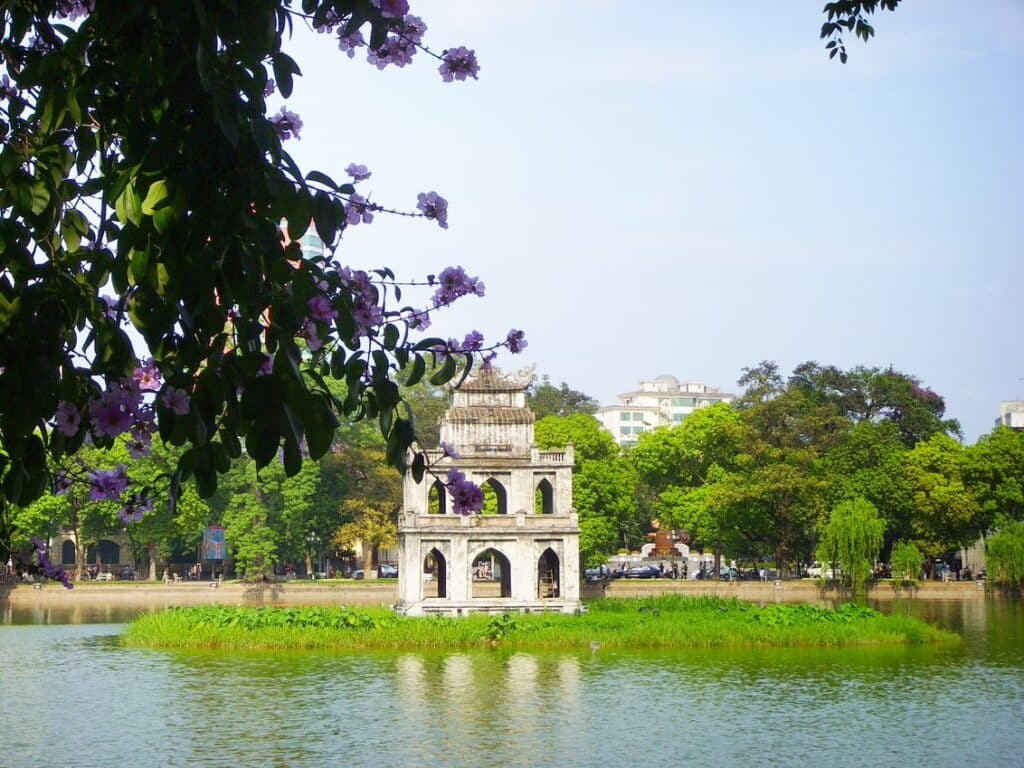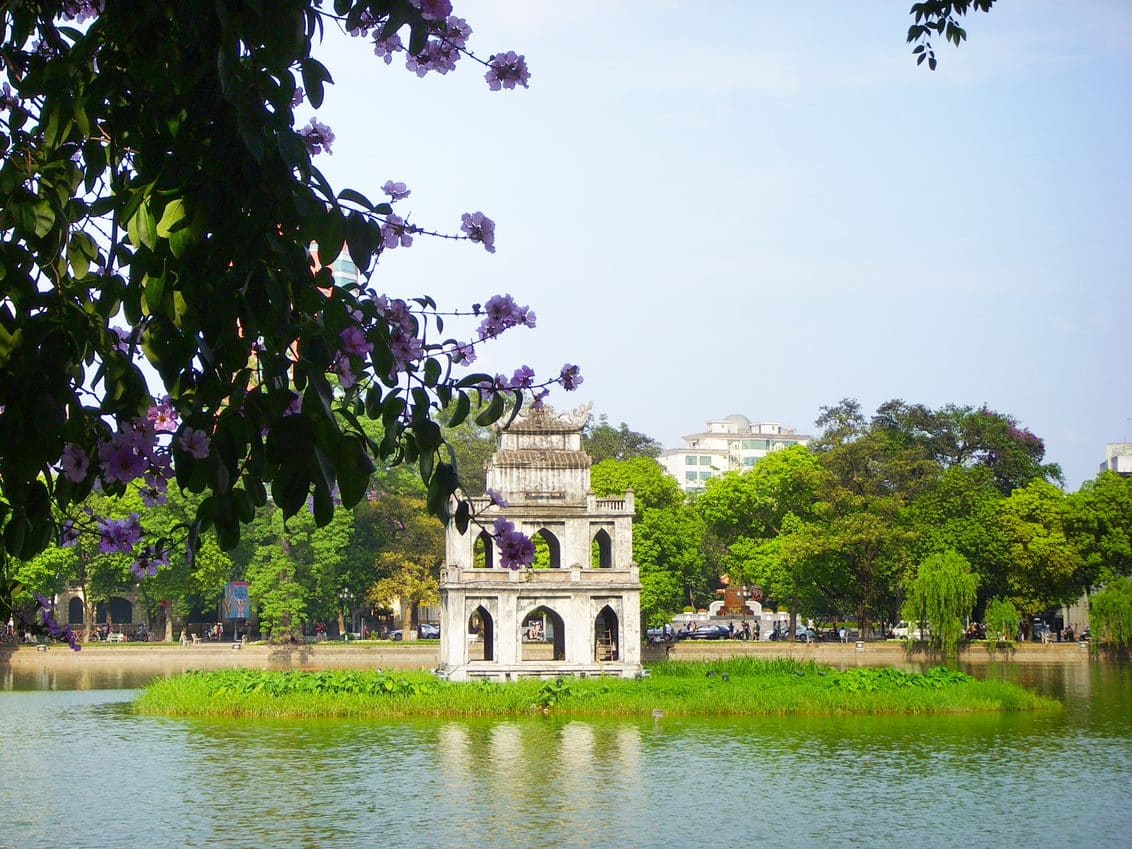 "If the West lake gives you an impression of a romantic Hanoi with lots of picturesque spots, Hoan Kiem lake brings you a modern Hanoi with its own characteristics. Not far from the West Lake is Long Bien Bridge. Drinking a coffee overlooking Long Bien Bridge and the Red River while the train passes by is such a special experience. My favourite thing to eat in Hanoi is nem (fried spring roll). Eating crunchy nem with some Vietnamese herbs could even heal a broken heart! My favourite time of the year in Hanoi is Autumn when evening drives in the fragrance of hoa sua (milk flowers)."
Ha Long Bay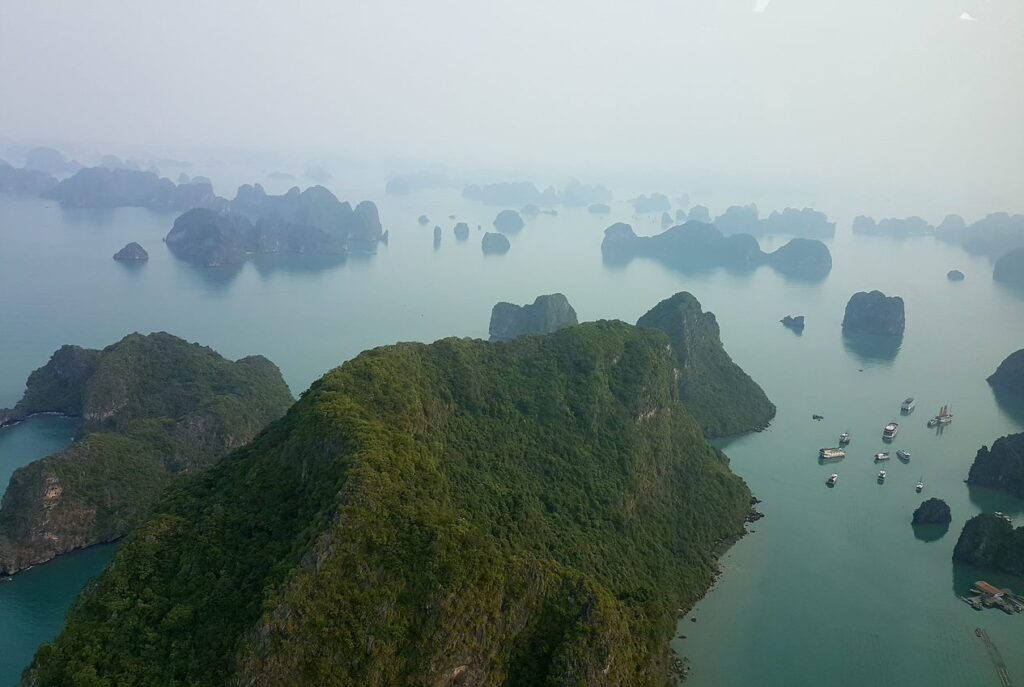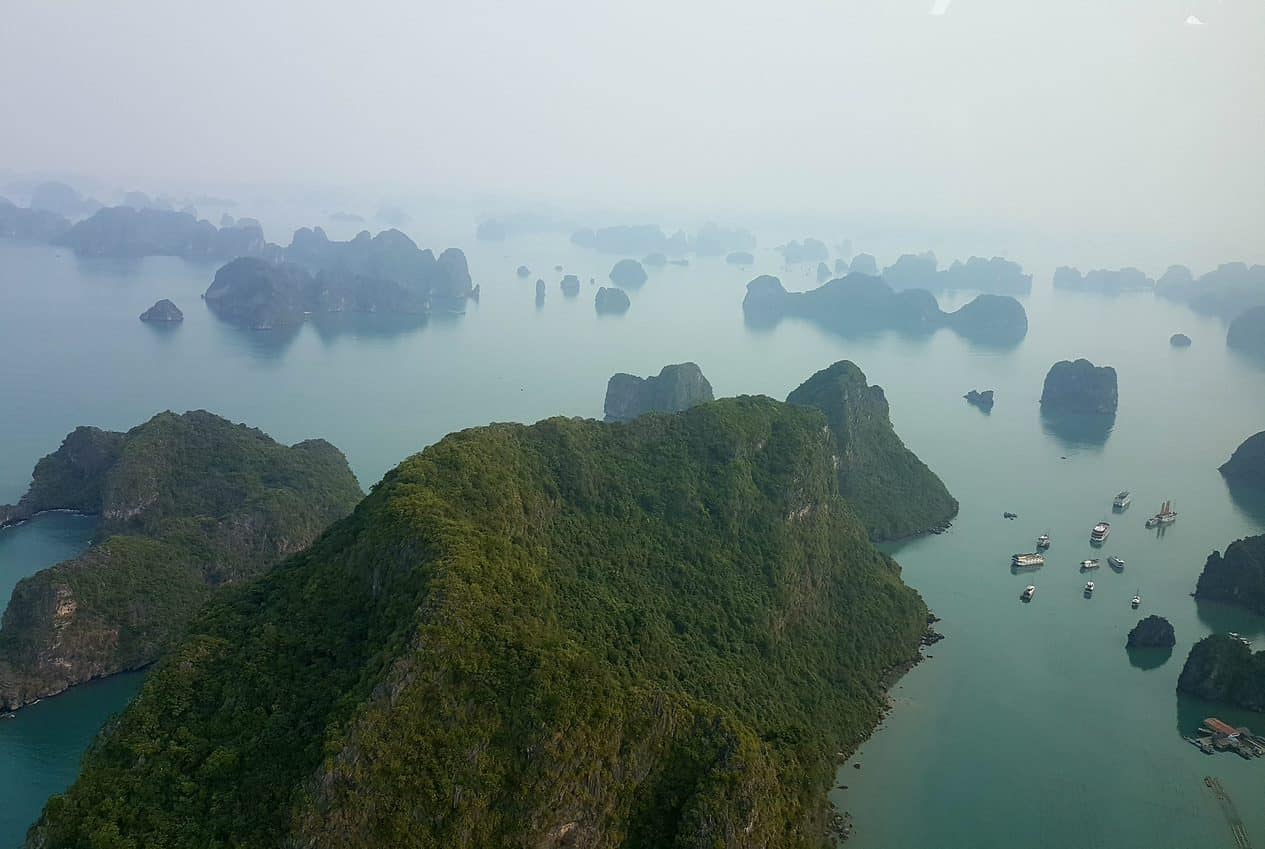 Head to the coast to take in one of the most spectacular natural wonders of the world in Halong Bay. The briefest Google image search of this iconic destination should serve to whet the appetite of any traveller. Cruise among the thousands of jungle-clad limestone islands aboard a luxury junk boat and settle into the tranquil atmosphere with a cocktail in hand. Kayak through emerald waters, learn the legends of stunning ancient caves or sunbathe on a pristine private beach – exploring this UNESCO World Heritage site is a treasure trove of incredible experiences, all with a backdrop that offers unlimited photo opportunities.
Away From Hanoi and Ha Long
Home to the highest peak on the Indochinese peninsula, Fansipan Mountain, Vietnam's North is characterised by its stunning natural scenery, vibrant hill tribe villages, and its iconic rice terraces. Nature-lovers are in for a treat anywhere they choose to explore in Northern Vietnam.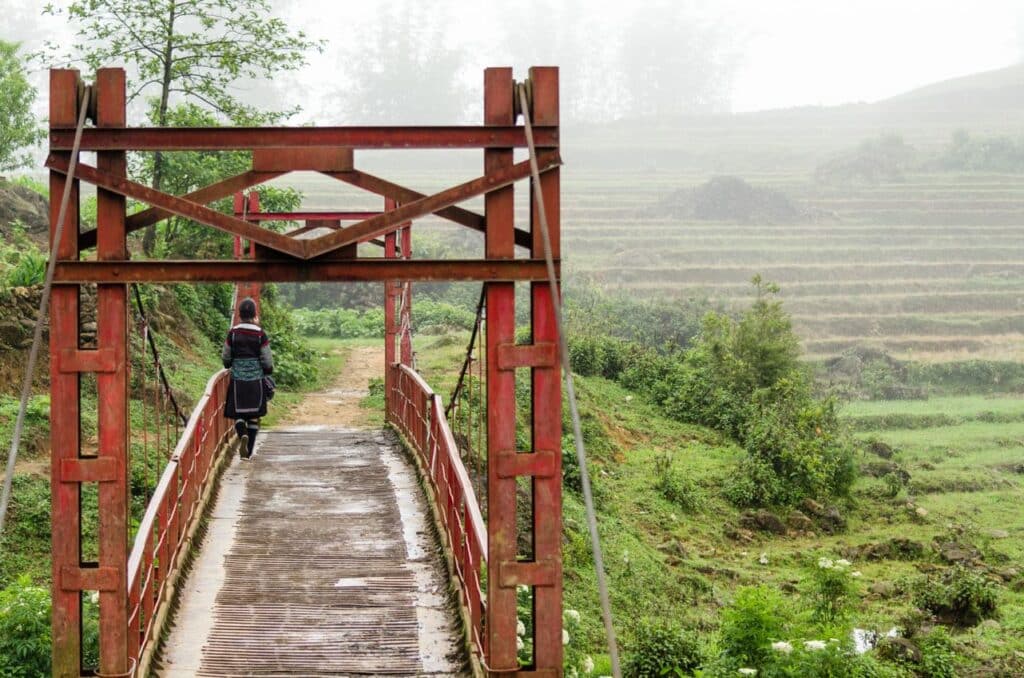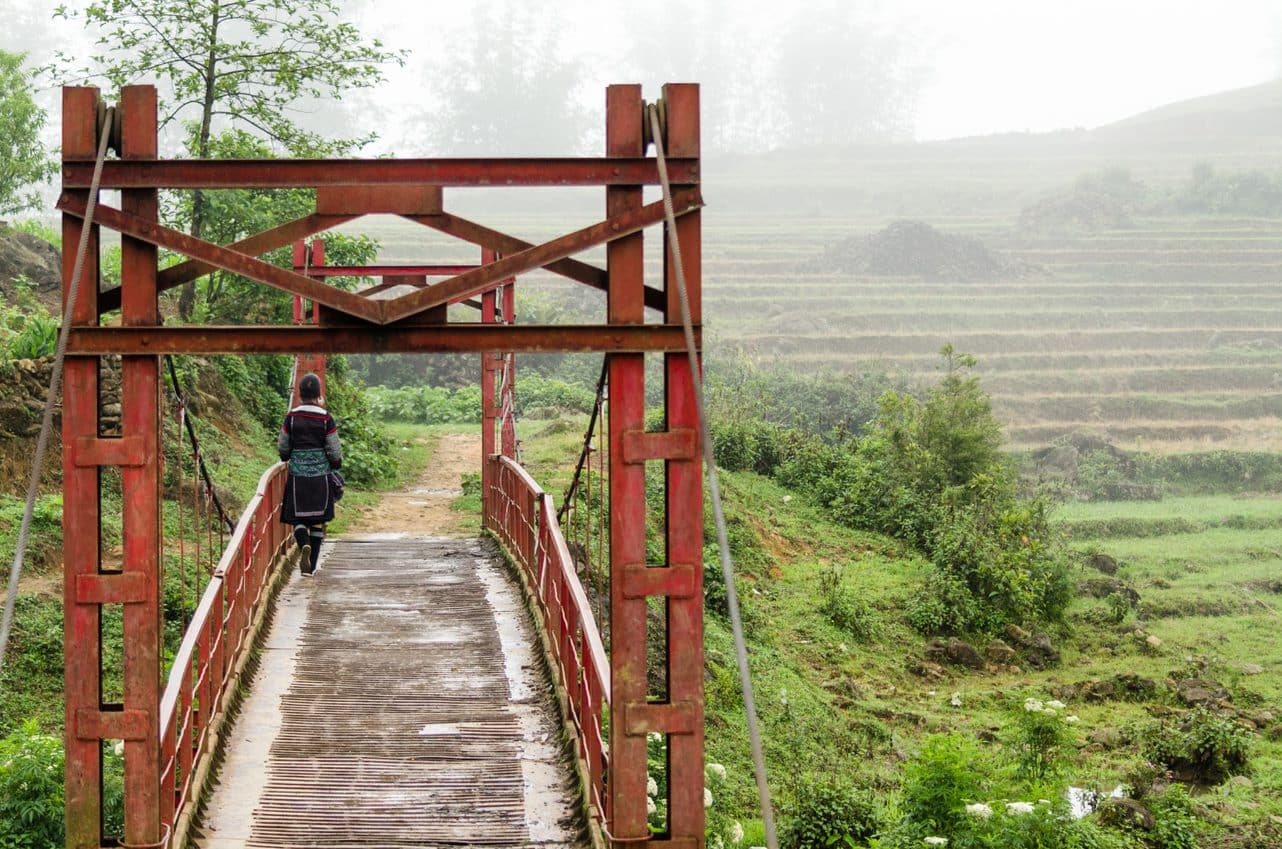 Sapa is a popular destination for many visitors – it's here that travellers are treated with endless views of neat, verdant rice terraces. Head to Sapa for a dose of adventure, trekking to remote villages in the hills and meeting local people with cultures, languages, and traditional dress that seem a world away from Hanoi's hip cafes and modern shopping centres.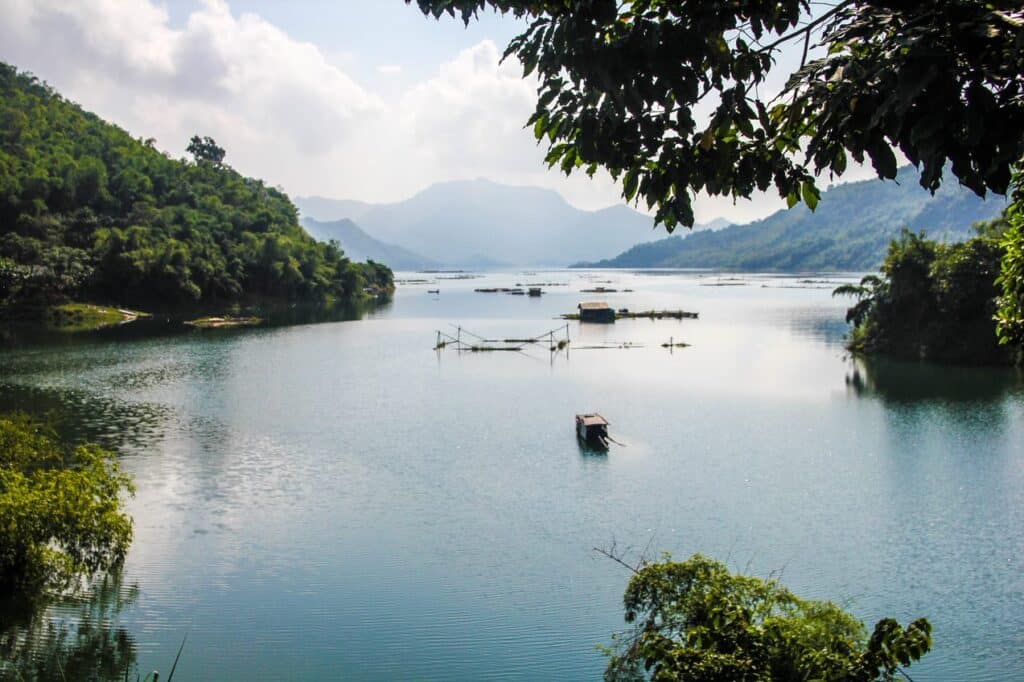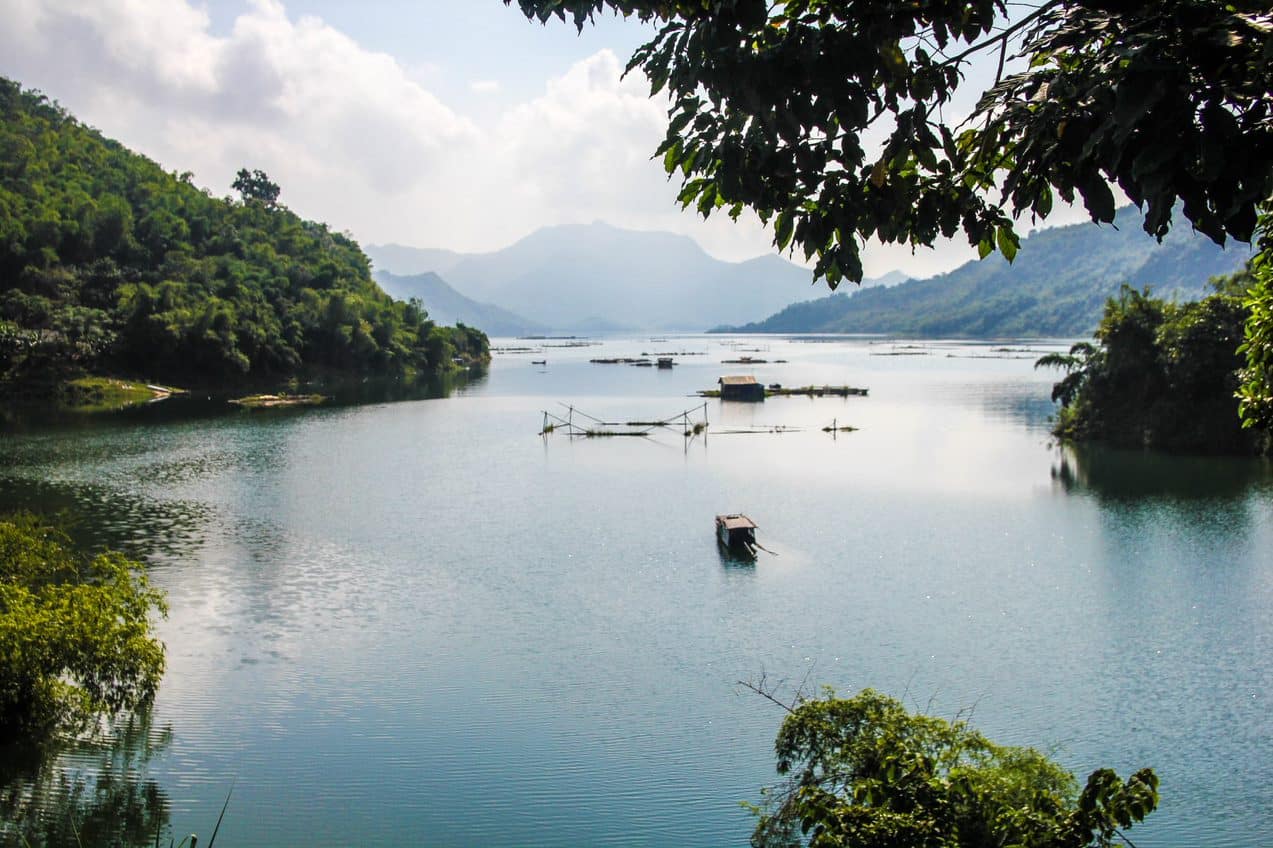 However, if Sapa is a little too far for travellers, Discova recommends exploring the unblemished nature to be found in Da Bac. Our three-day adventure to the remote Da Bac community-based tourism project allows visitors to gain insight into the local customs and traditions at a homestay. Hike, kayak and swim through the natural environment of cascading mountain ridges and shimmering lakes. Leave this scenic region with a relaxed mind, new perspectives and unforgettable memories – the authentic experience that is becoming elusive for travellers in Vietnam.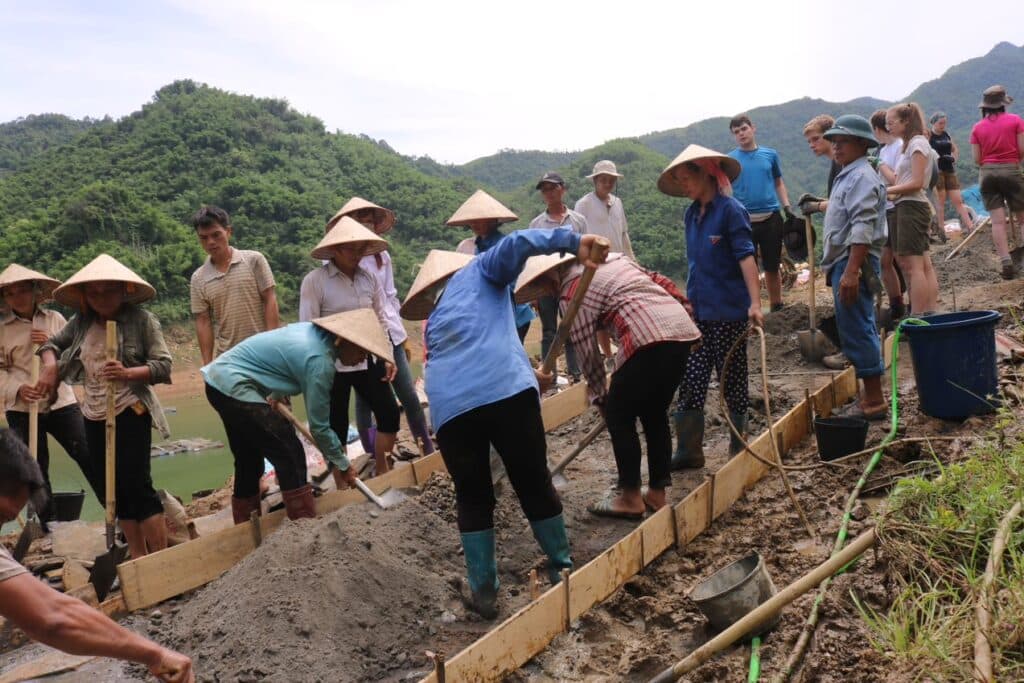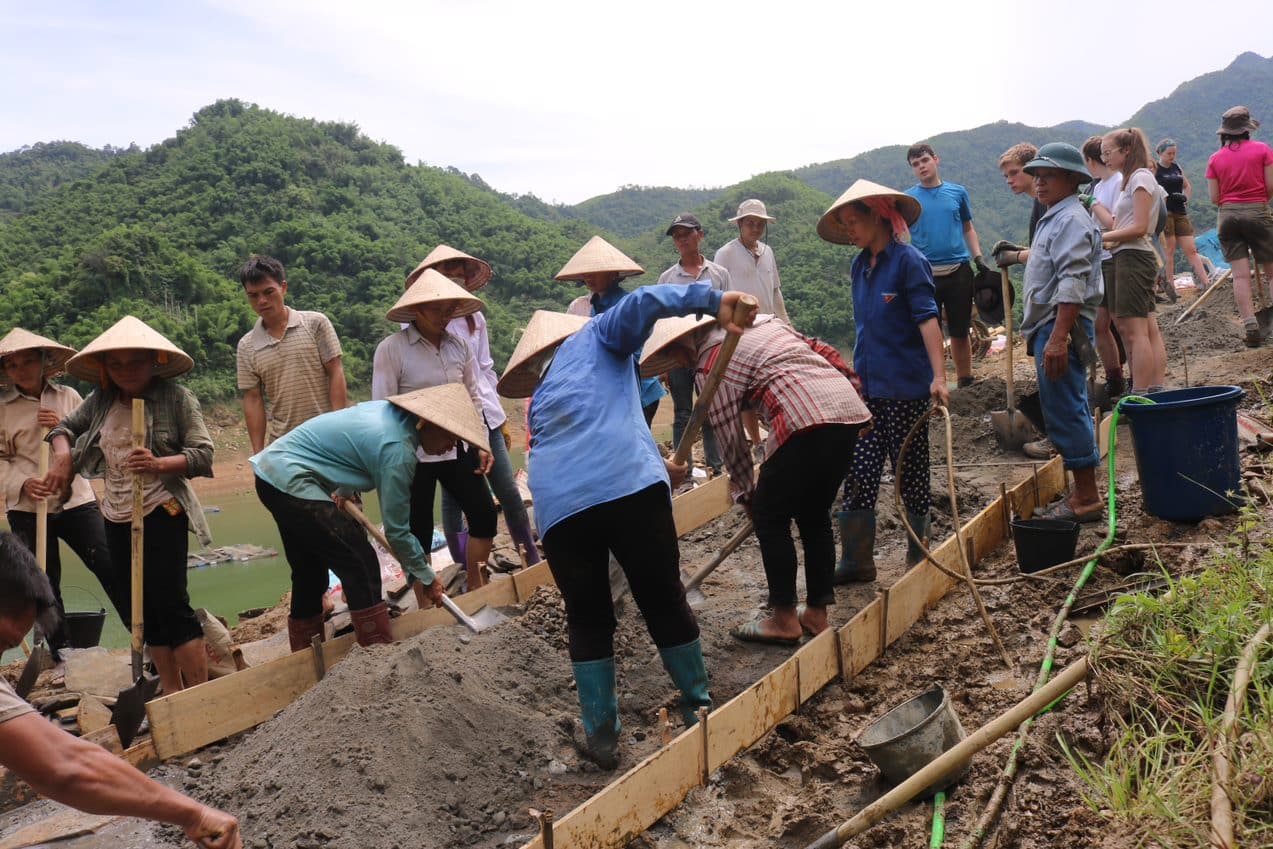 Finally, another alternative we offer travellers is to discover the legend of Ninh Binh. Offering out-of-this-world beauty, Ninh Binh is like Da Bac in that it is a peaceful haven away from the incessant hordes of tourists that have come to typify some of Vietnam's most famous landmarks. Heroic limestone mountains emerge from vivid green rice fields, rivers slice through mysterious mist-shrouded valleys, and underground cave systems are supplemented with crumbling temples like something out of an Indiana Jones movie.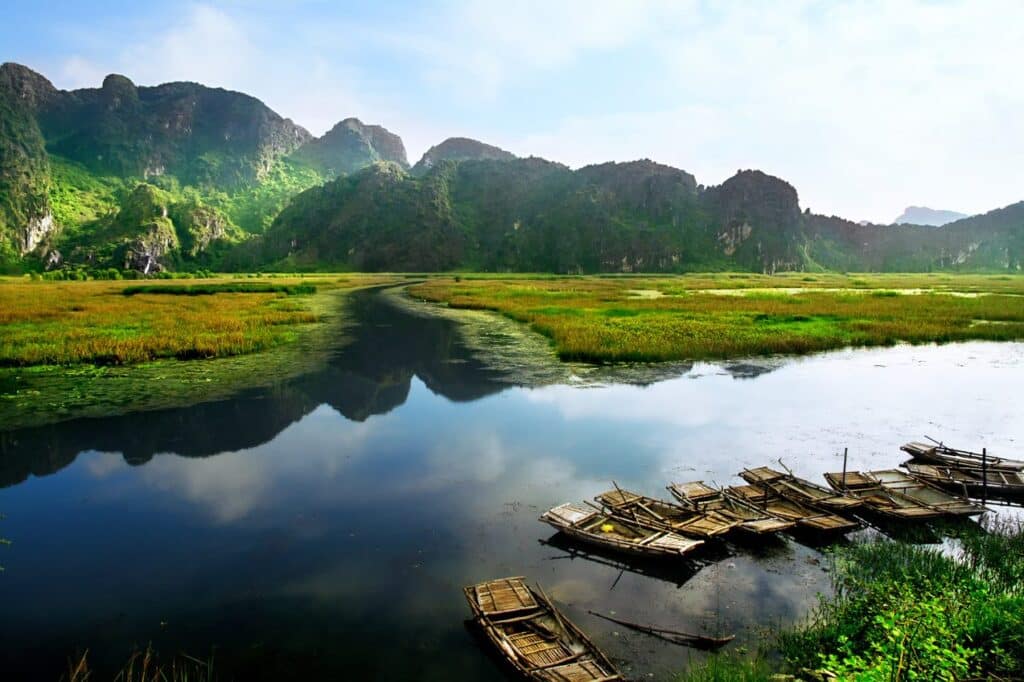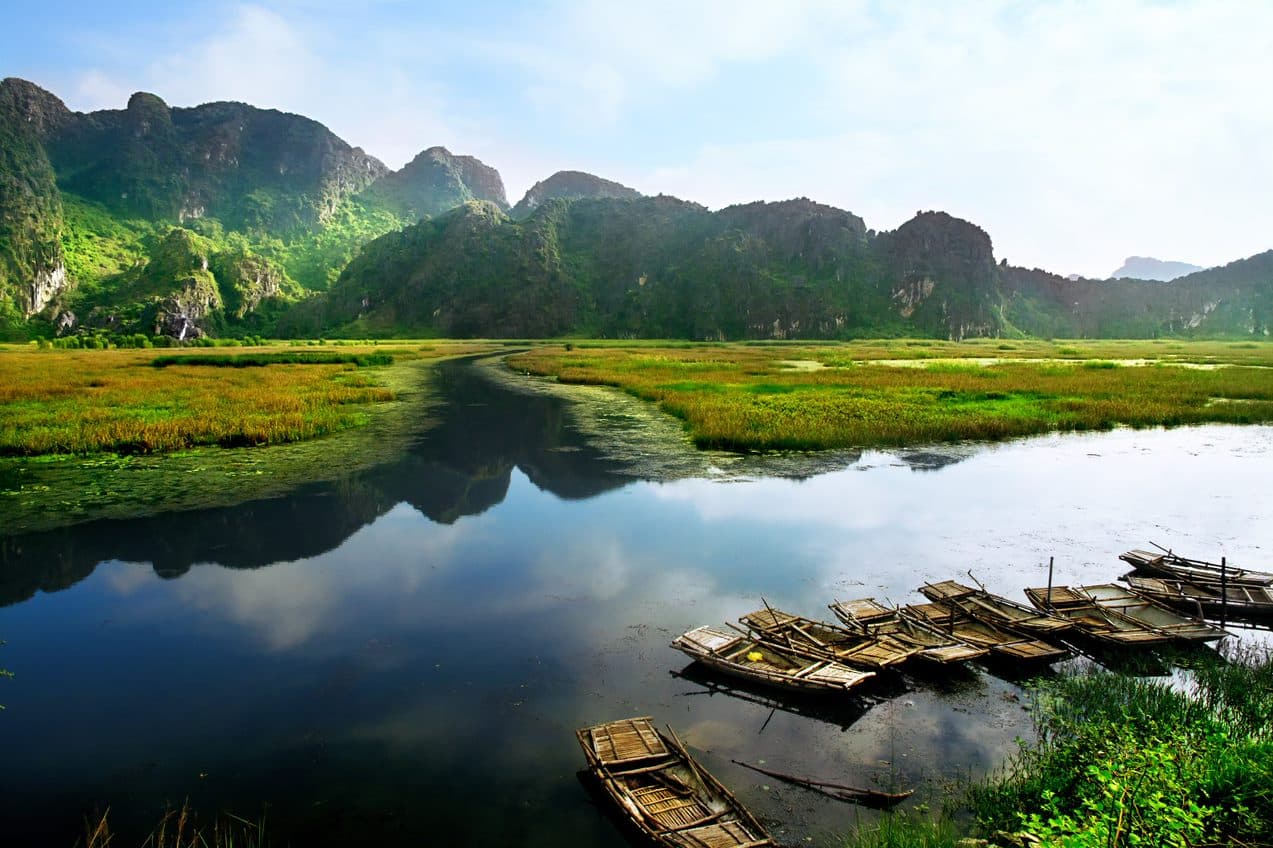 We take travellers on a lazy scenic meandering boat ride along the Ngo Dong river, stopping for the obligatory temples and caves, as well as visiting the village of Van Lam Hamlet and learning about the 700-year-old practice of lace embroidery.
Insight from Quynh on Ninh Binh
"I love visiting Ninh Binh, only a 2-hour drive from Hanoi. Ninh Binh is called Halong Bay on land with the beautiful countryside and iconic karsts-rocks. If I wanted to get out of the city for the day and appreciate nature, this is where I'd go."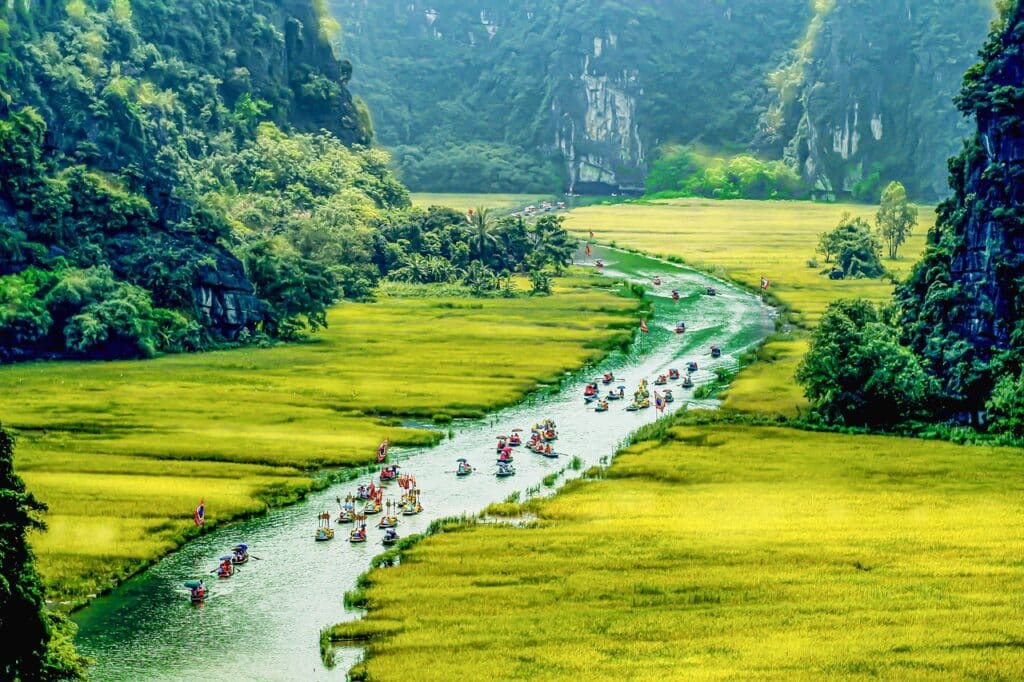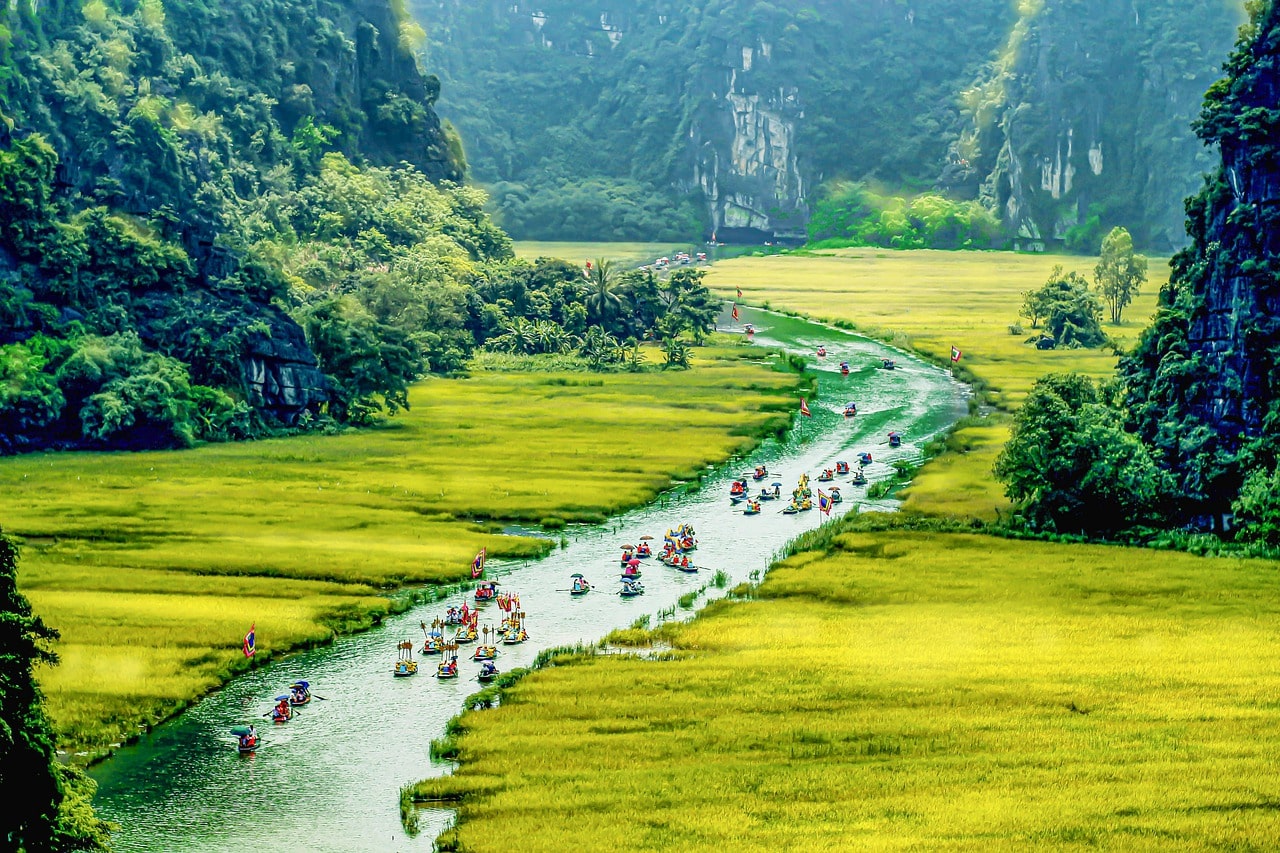 Just within the Northern region of Vietnam alone, ample adventures abound for intrepid explorers. Wherever travellers choose to investigate, they will be given classical Vietnamese countryside scenes involving rice paddies, water buffalo, dramatic mountain formations, and lush vegetation encompassing every shade of green. On the other hand, the North is not just about nature, with Hanoi providing a myriad of cultural experiences that make it attractive to visitors looking for an exotic yet cosmopolitan city destination.
We can't wait to help visitors explore this fantastic region as well as the rest of Vietnam in 2021. If you have any questions or enquiries, don't hesitate to contact our teams.