Openings are on the horizon.
Sandbox experiments in Phuket and Bali are scheduled to begin in July. More broadly, The Thai PM announced this week that Thailand will fully open for vaccinated travellers from October. These are the first baby steps down the path toward a brighter year in 2022 for the travel industry. Therefore, we believe it's time for your customers to start getting inspired.
With Thailand and Indonesia seemingly blazing the way toward renewed travel, we thought we'd shed a little light on what's available in these destinations.
So, what inspires your customers? An intriguing, adventure-filled customed itinerary? A fantastic deal offering value for money? Or how about the promise of a learning experience getting to know a local community?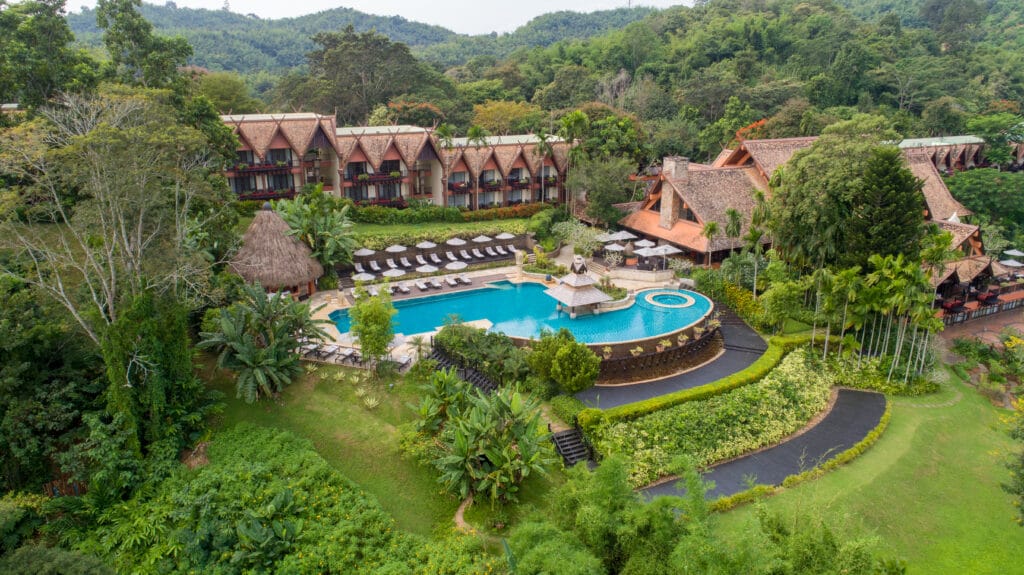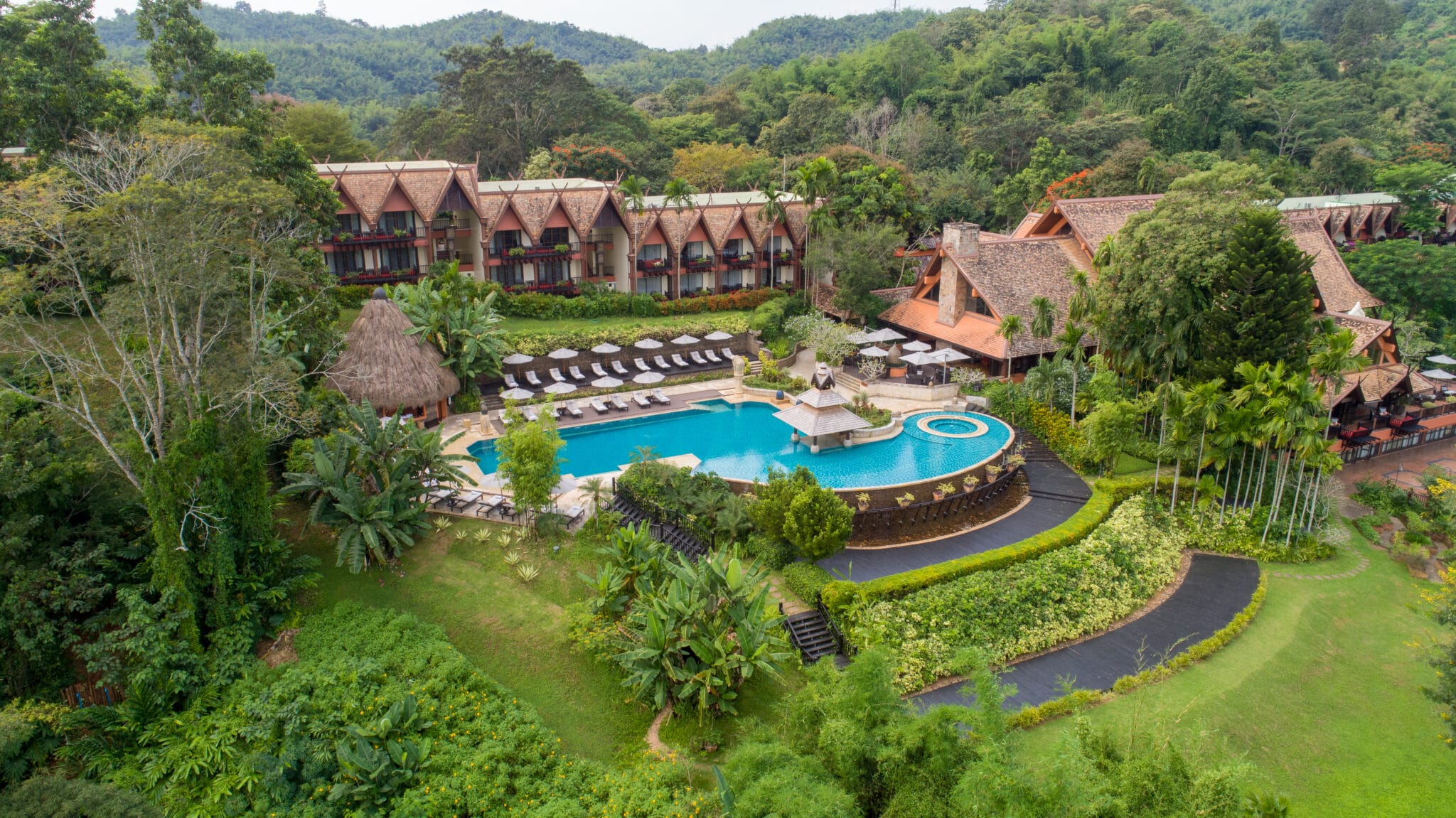 Sure, we can supply all these things at Discova, but sometimes all it takes to spark that desire to travel is to share a sneak peek at some out-of-this-world accommodation.
With this in mind, we put together a list of 7 unique hotels that offer your customers outstanding options for their rejuvenating retreats.
7 Unique Hotels
Thailand
X2 River Kwai Resort, Kanchanaburi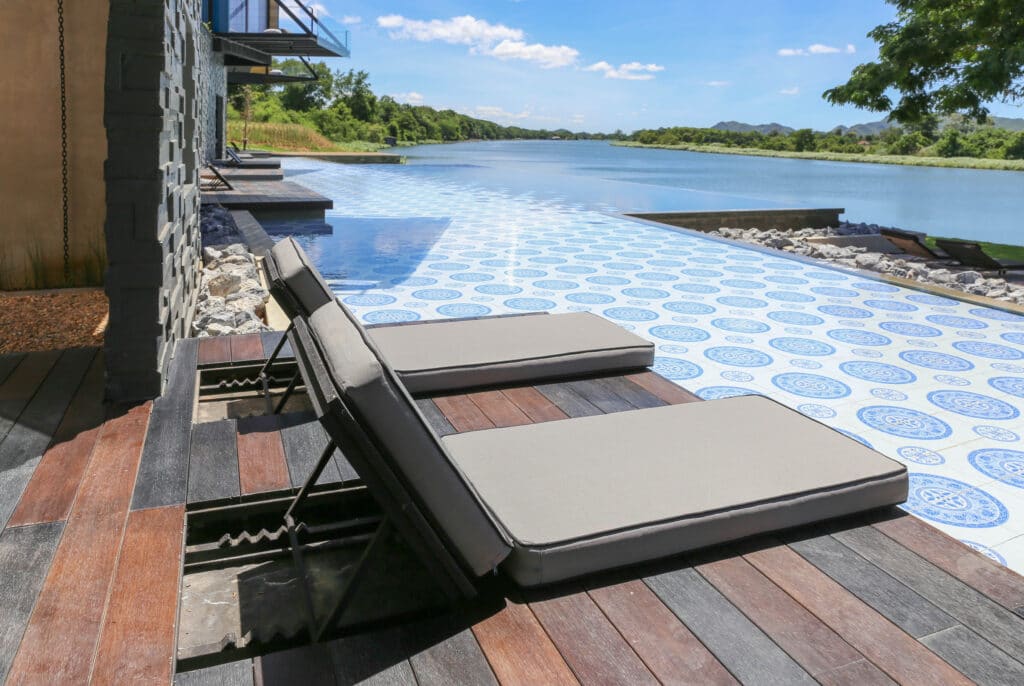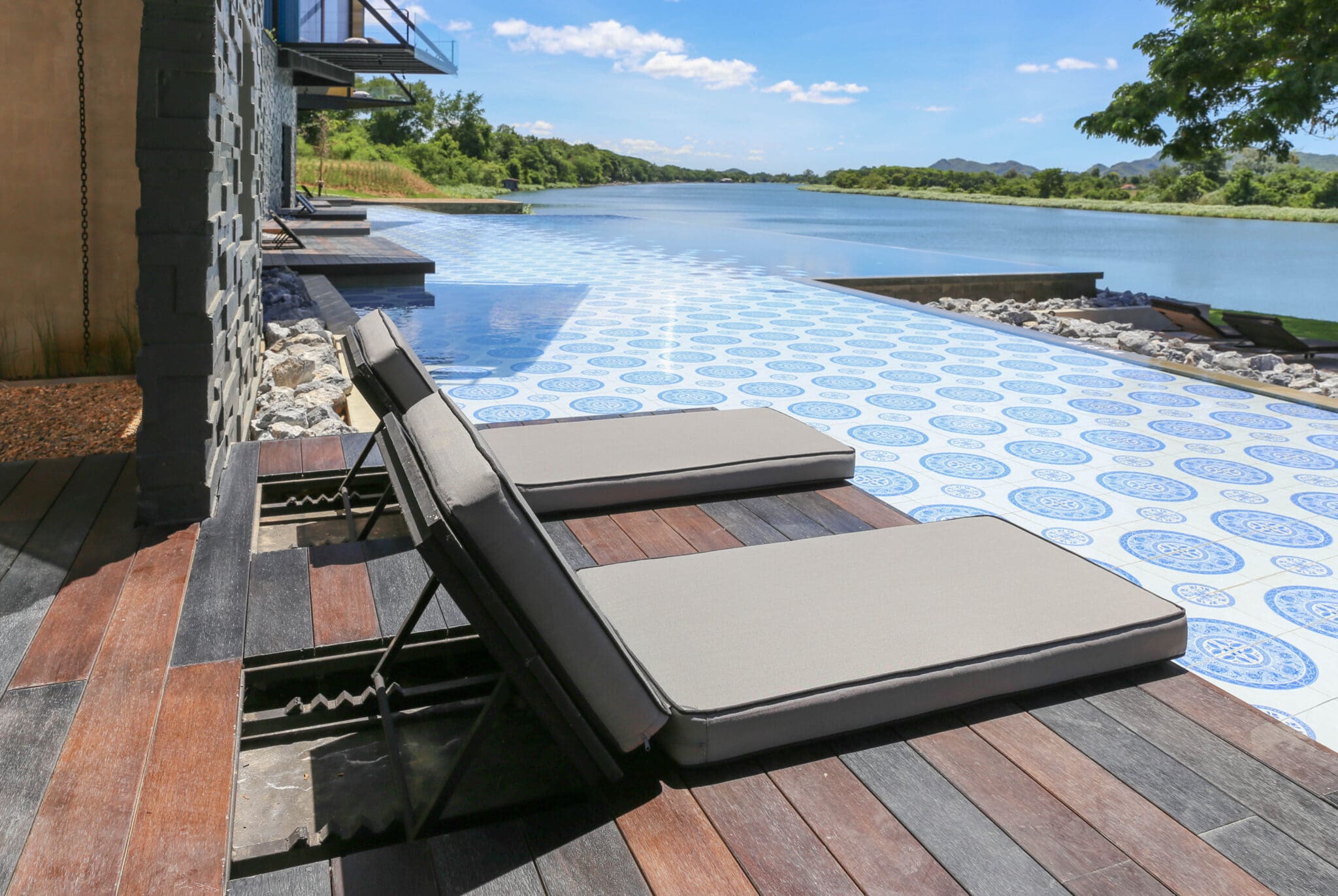 Many western travellers are drawn to Kanchanburi for its historical significance. The river Kwai that runs through the town played a key role during WWII. However, Kanchanburi itself is an area of outstanding natural beauty, offering stunning, luscious mountain landscapes dissected by the meandering river. The area can also be reached easily by a $4 train journey from Bangkok, so it's an excellent escape for city-dwellers.
Situated right on the most picturesque stretch of the Kwai Noi River, the X2 River Kwai Resort is the perfect place for an overnight stay in Kanchanburi. Every room offers panoramic, uninterrupted views over the idyllic countryside – a peaceful setting that still carries that pristine, unblemished feel.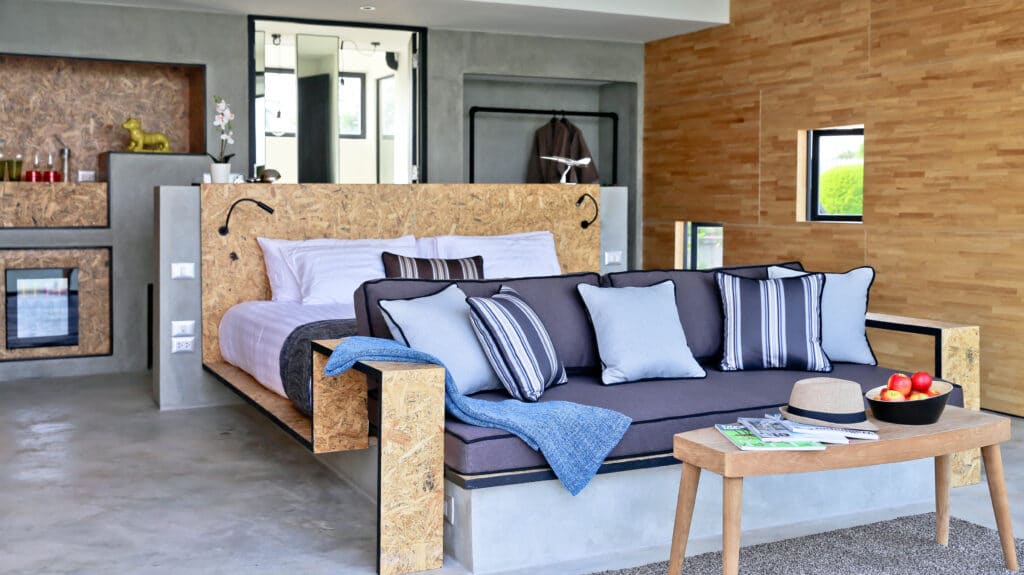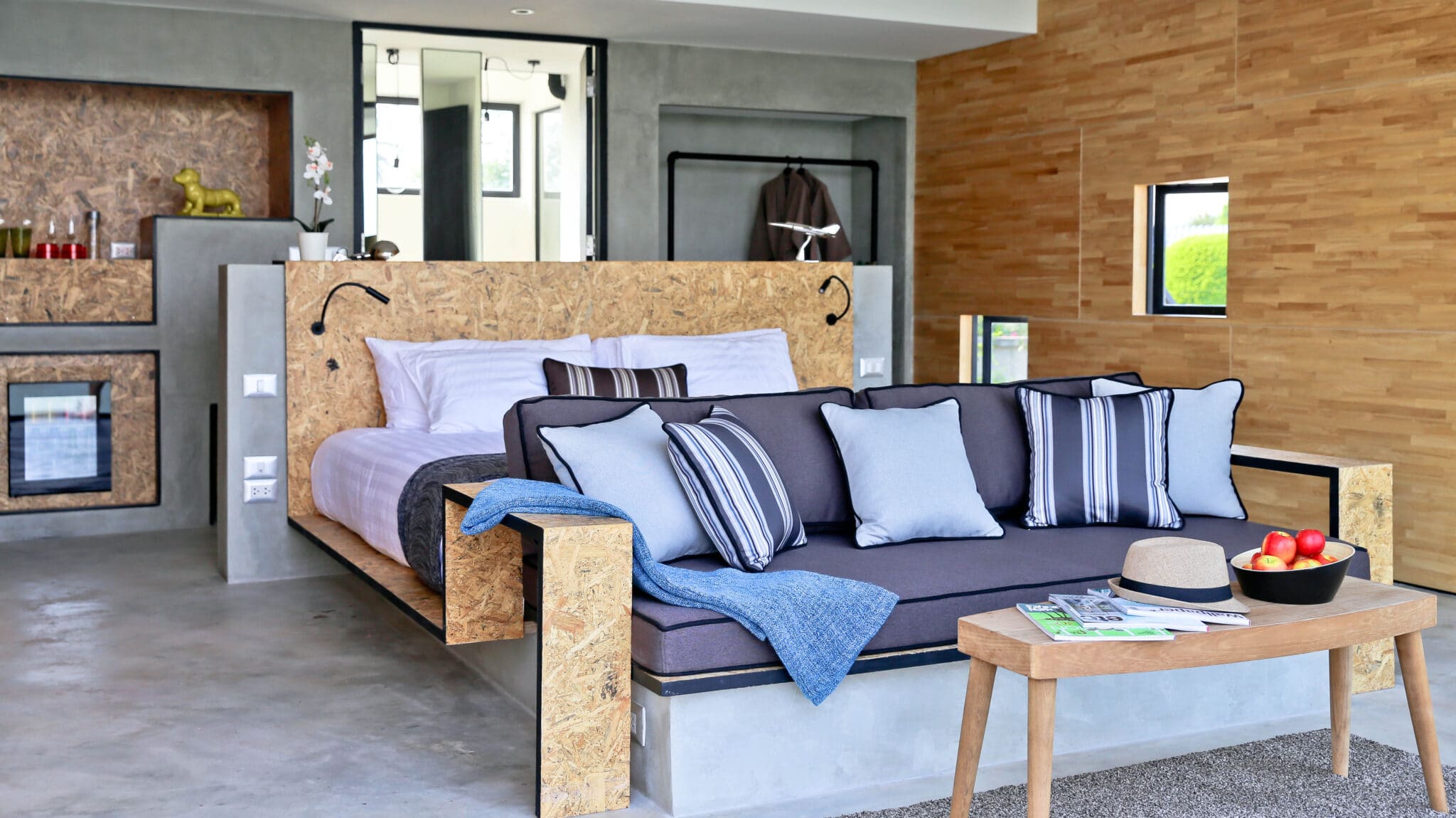 The aesthetic of the hotel is influenced by the industrial loft design trend. The modern, sleek decor offers the perfect understated partnership with the surrounding nature, unpretentiously luxurious yet accompanied by all the expected amenities of a first-class resort.
The on-site bar & Bistro provides a communal hangout area where guests can relax throughout the day to gaze at the riverside scenery. There are also plenty of options for some river-based excursions – kayaking and paddle-boarding at sunrise are particular highlights.
Anantara Golden Triangle Elephant Camp & Resort, Chiang Rai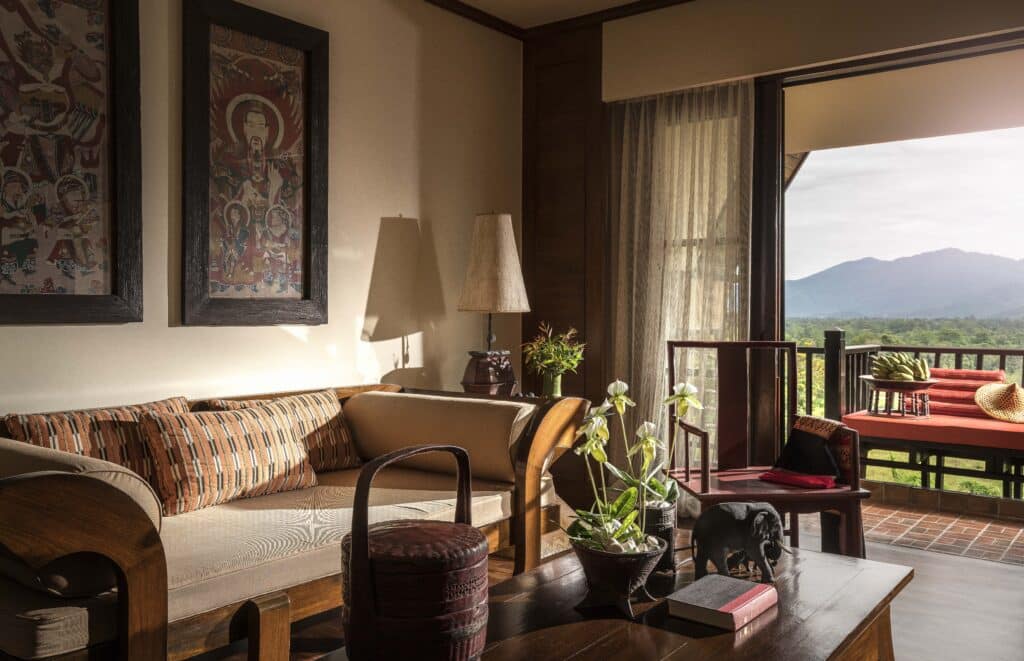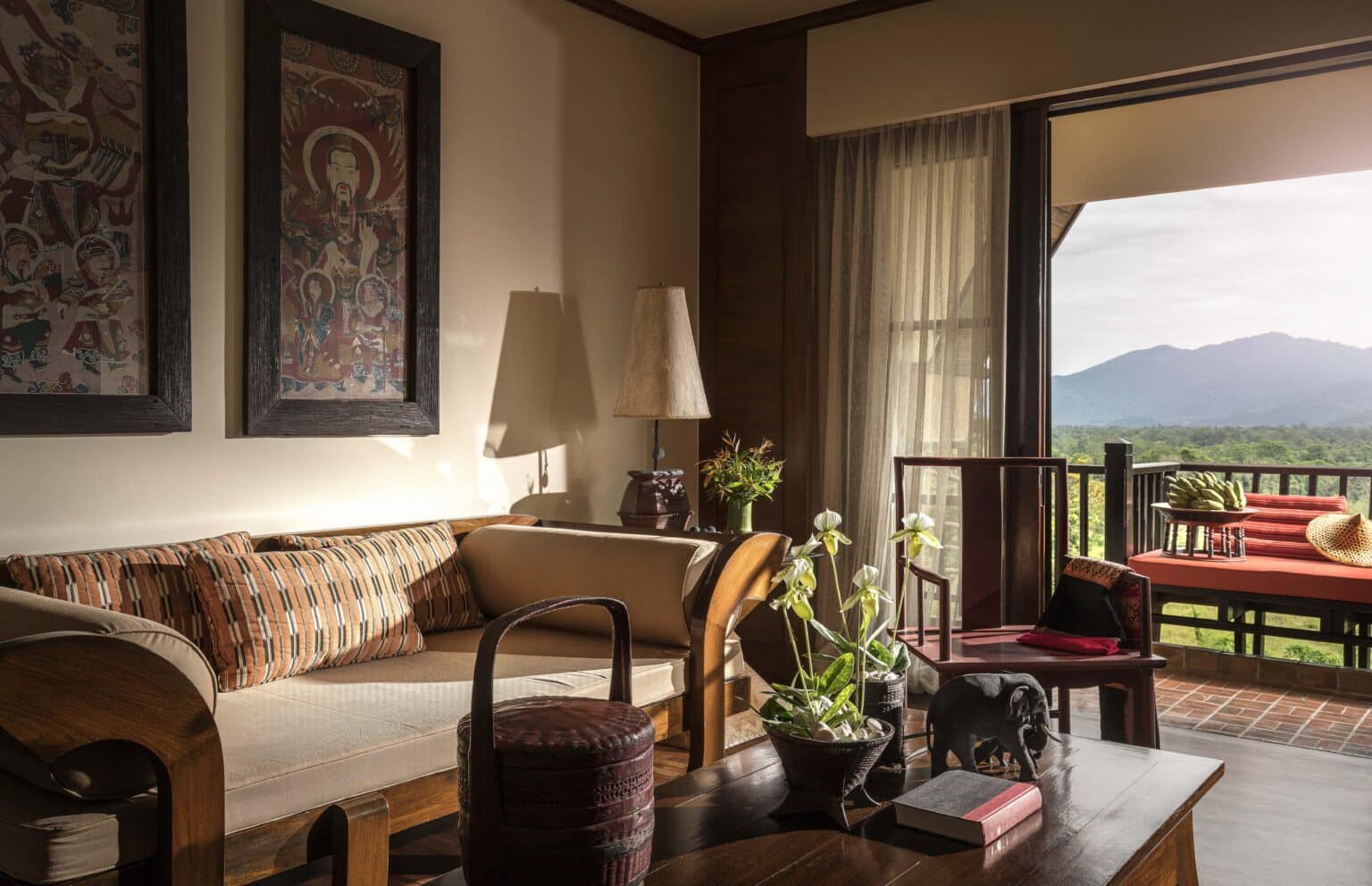 This prestigious hotel is perched on a ridge overlooking the famous golden triangle – the point of convergence of Thailand, Laos, and Myanmar. As such, the hotel provides visitors with stunning 360°views of the mesmerising mountainous surroundings.
Anyone familiar with the Anantara hotel group will know that all rooms are exquisitely designed and equipped with all the amenities and comforts you would expect at a 5-star resort. The rooms are replete with teak furnishings and indigenous artworks celebrating Thai design, yet they still offer plenty of space to relax in style. The hotel also provides discovery packages featuring spa experiences and cultural learning opportunities.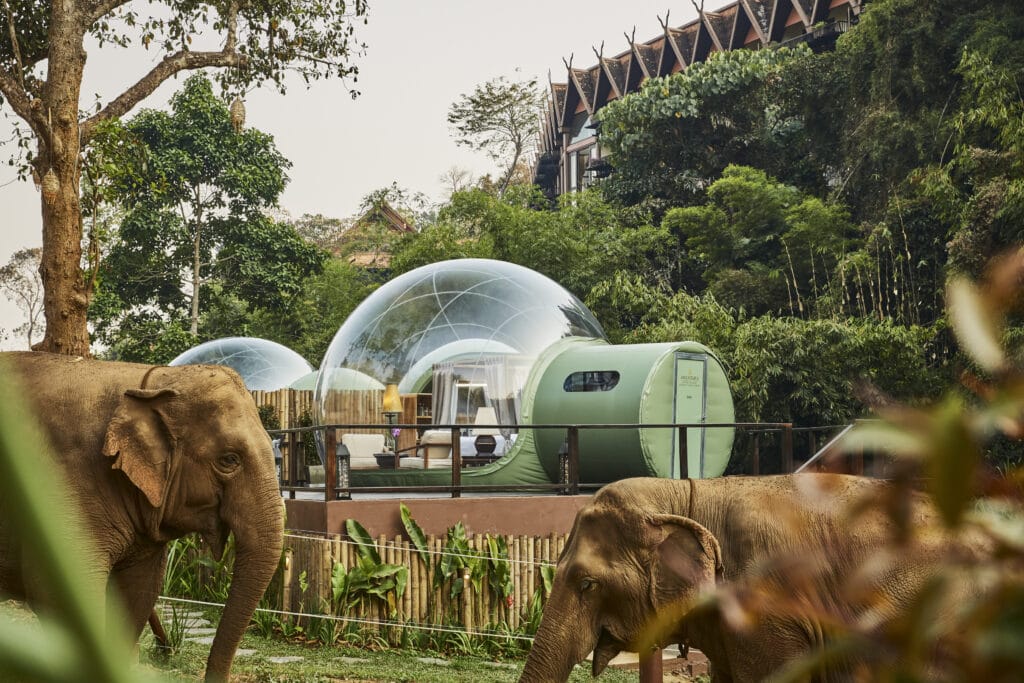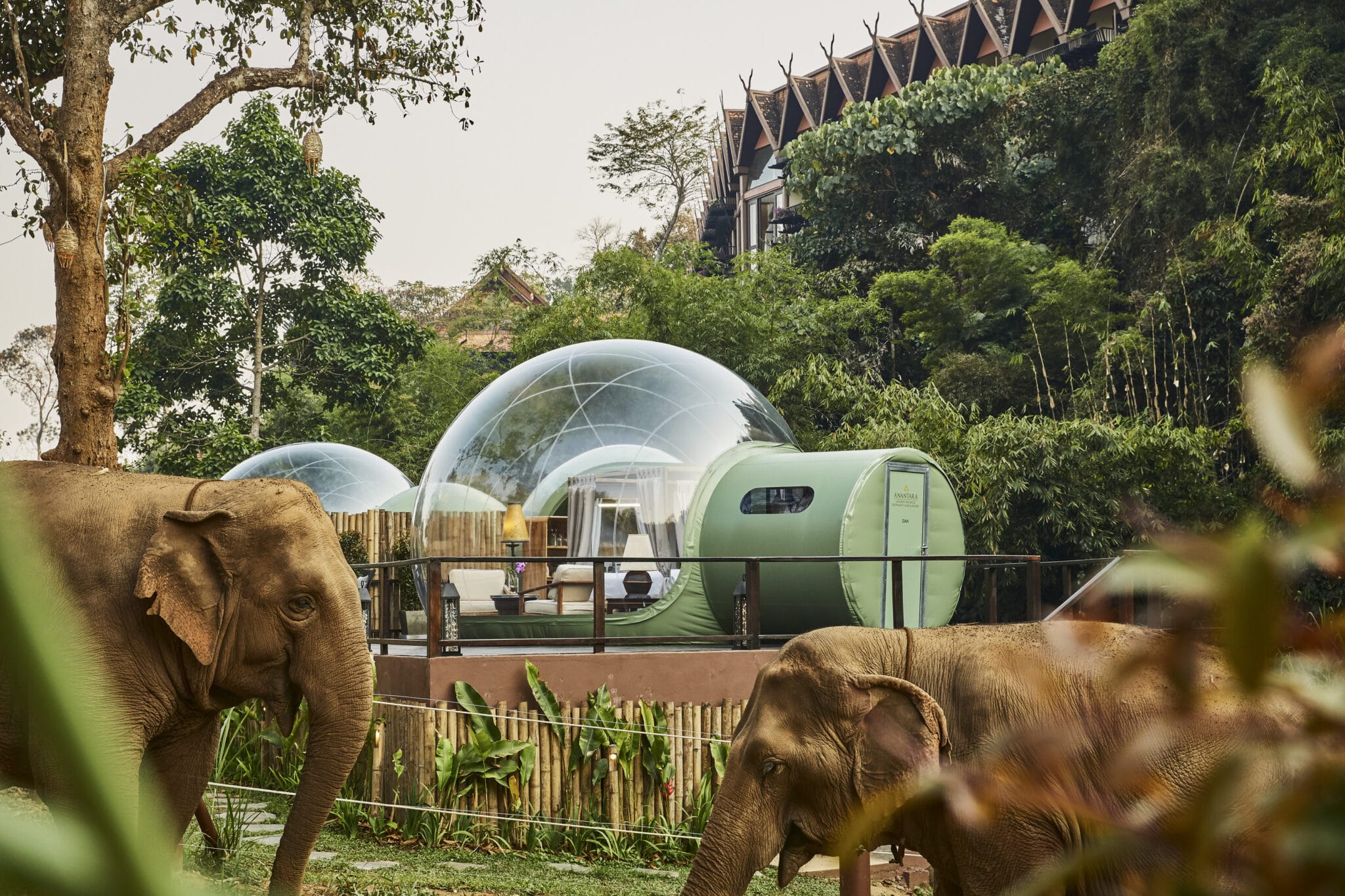 What sets this hotel apart is the on-site elephant sanctuary. The award-winning elephant camp is a centre of scientific research and conservation, offering visitors the chance to speak with expert mahouts to better understand these majestic creatures. The hotel has recently introduced an innovative way to appreciate the animals by allowing visitors to stay in a jungle bubble for a dusk-til-dawn night spent amid the elephants.
Perched on a wooden deck above the forest, the fully-furnished luxurious bubble offers uninterrupted views of the gentle giants, as well as the stunning starlit sky above.
Our Jungle Camp, Khao Sok National Park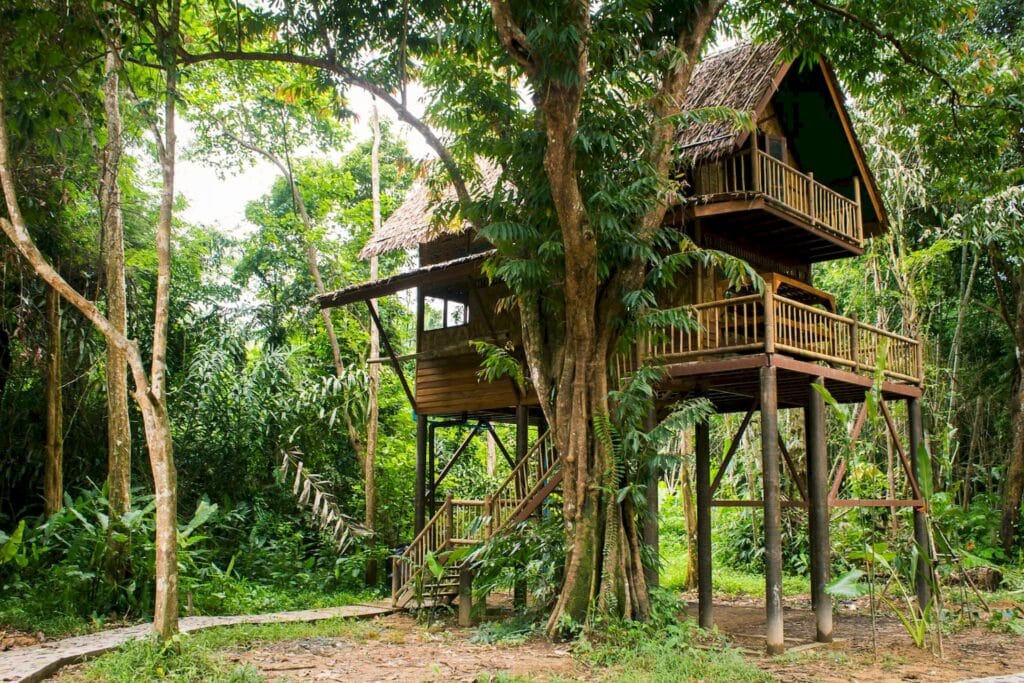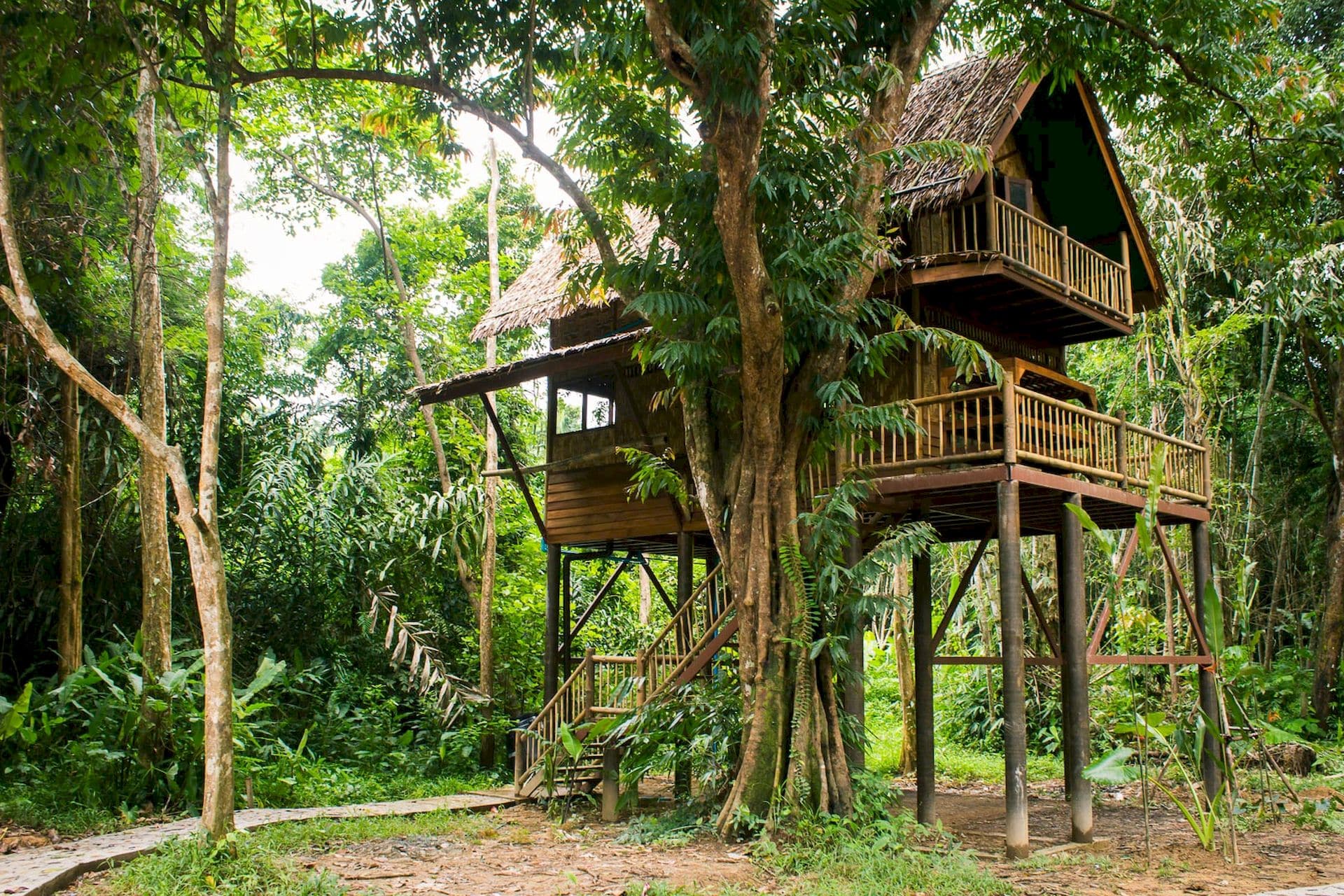 Travellers can get immersed into the wilderness at this treetop jungle camp experience in Khao Sok National Park.
From elegant wooden treehouses and bungalows to bamboo huts, all materials used in the accommodation have been ethically sourced and designed with sustainable practices in mind. The result is a simple, eco-friendly, charming feel without a compromise on comfort.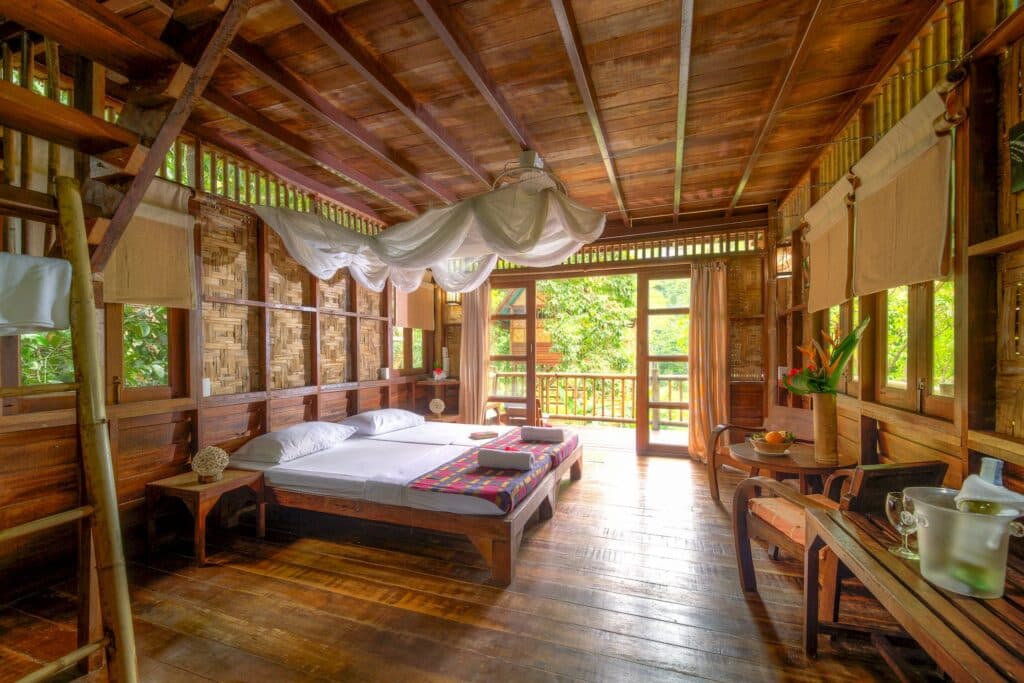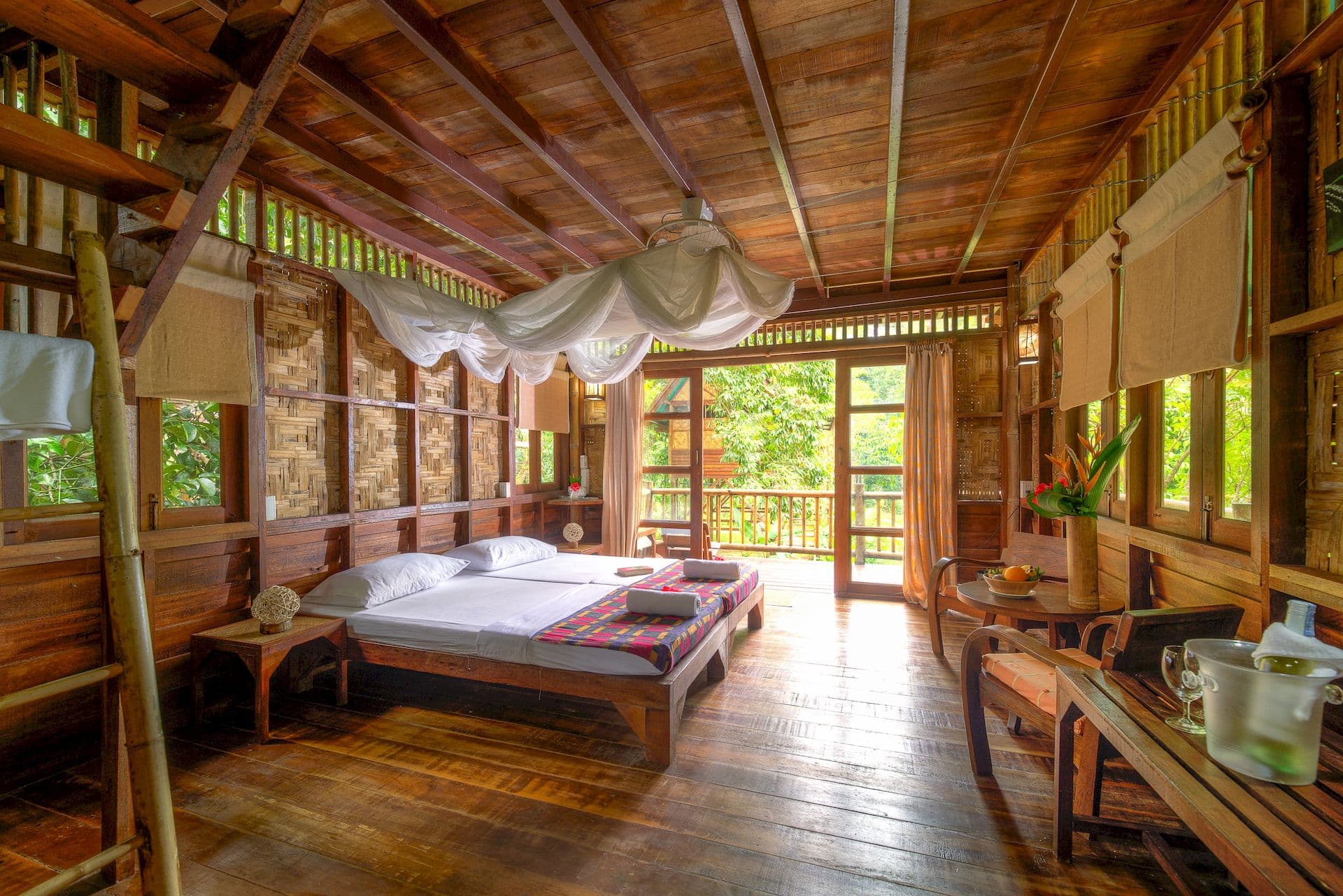 Dining at the hotel's restaurant means connecting with the earth and natural surroundings. The chefs cook traditional handed-down Thai recipes with organic produce locally sourced from the on-site farm. The restaurant itself is a beautiful setting to relax with friends and family – enjoy a cocktail or two while listening to the nighttime jungle soundtrack.
A huge draw for the hotel is its location within the resplendent Khao Sok National Park. Its activity schedule reflects this. Professional guides offer plenty of trekking options, whether to the glorious Cheow Lan Lake or a hike to search for gibbons, monkeys, and exotic bird species. Kayaking and cycling options are also available, as well as elephant trekking experiences and relaxing jungle yoga activities.
This being an eco-village, there are plenty of opportunities for the green-conscious traveller to get involved with conversation efforts and learn more about the work behind the scenes.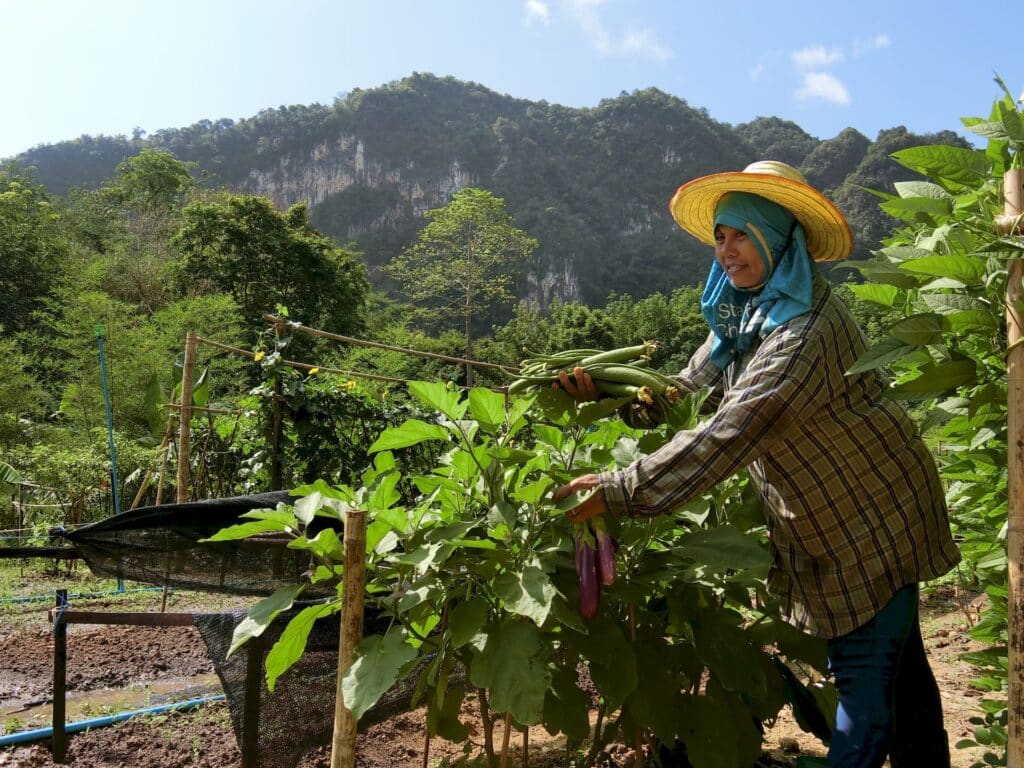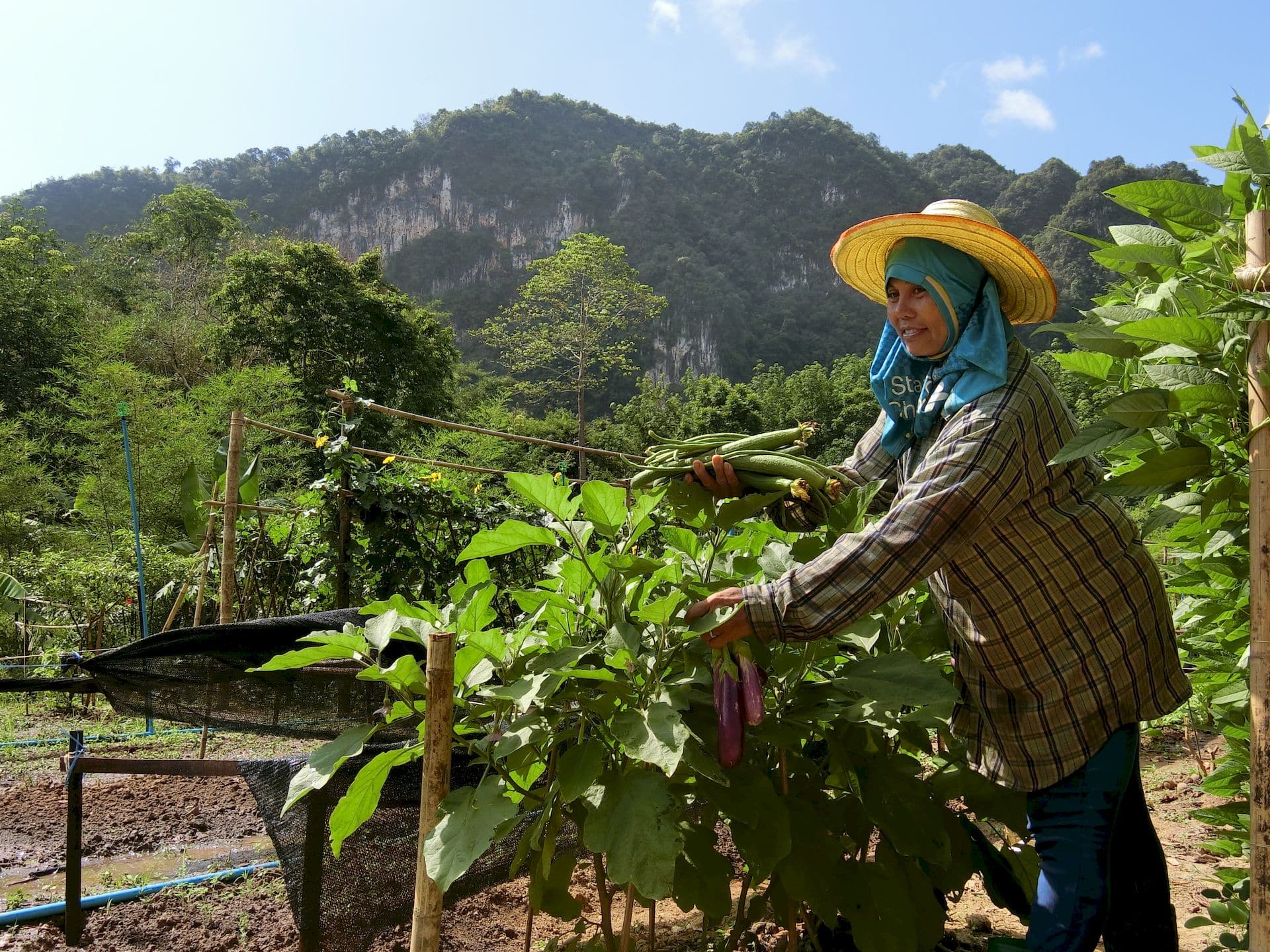 Theatre Residence, Bangkok
This hotel overlooking the Chao Praya river running through Bangkok sits on the Thonburi side, offering visitors views of the Grand Palace and the Royal temple on the far bank.
As the name implies, the hotel has a history in the arts. The Patravadi was Bangkok's first open-air theatre and a centre for contemporary performing arts in Thailand. It has now been repurposed as a lavish, glasshouse riverside residence. There are nods to the buildings' artistic heritage as the owner, actress Patravadi Mejudhon, still seeks to support traditional Thai artforms.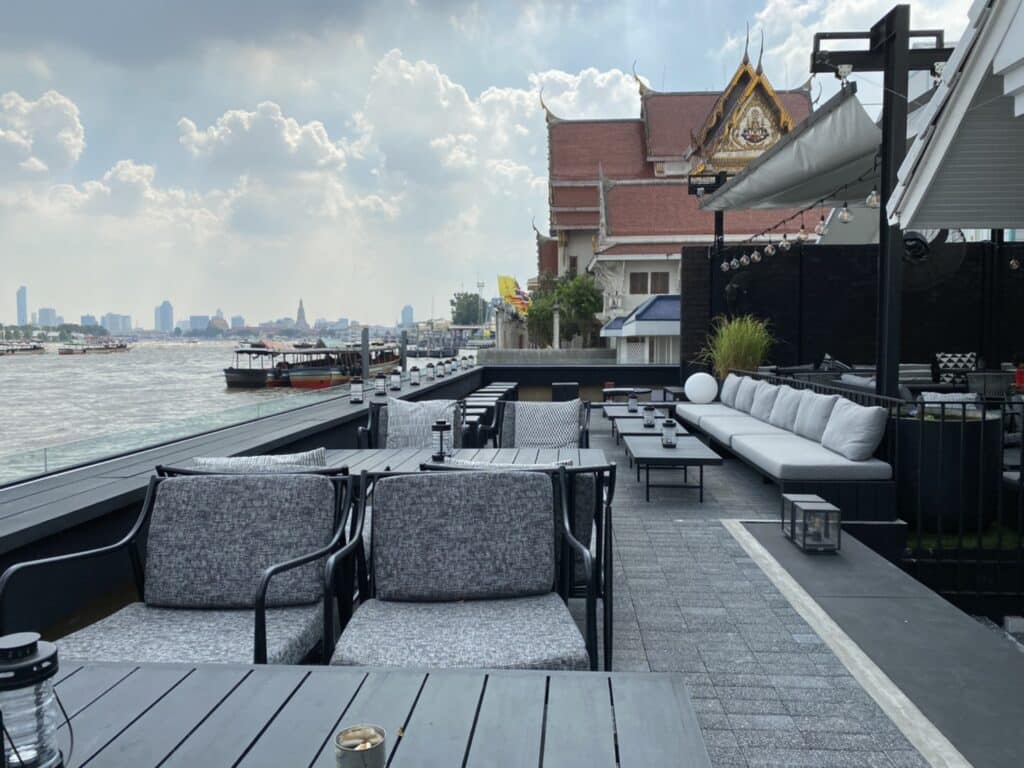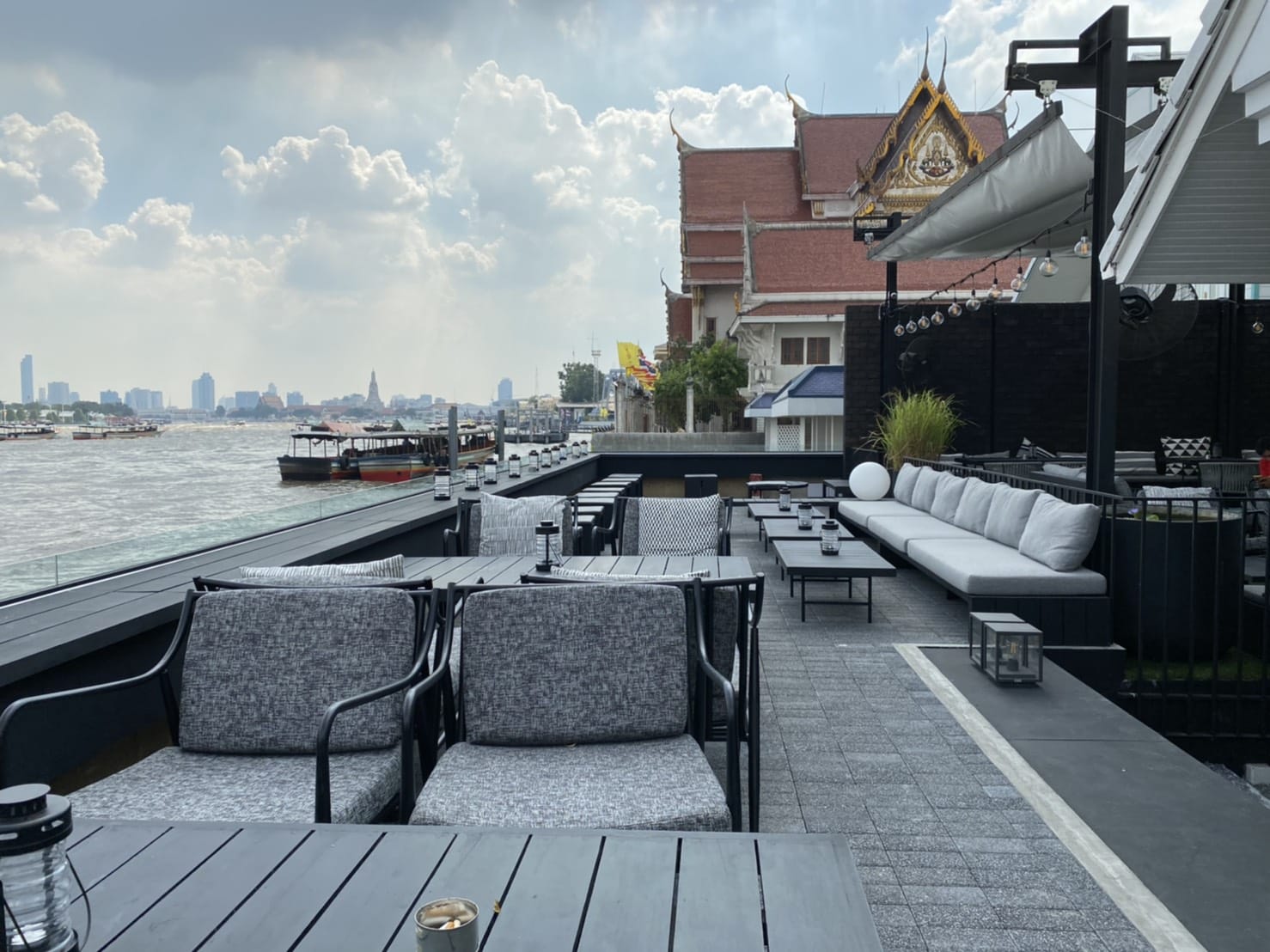 Travellers will enjoy the range of well-maintained rooms. The rooms with river views offer a pleasant opportunity to watch as the evening scene changes and illuminates as the night draws in. The hotel's riverside eaterie, the Theatre Restaurant, features a wide-open terrace to enjoy a sunset cocktail. Visitors can spot the famous landmarks while dining on a feast of tantalising Thai cuisine with international twists.
Indonesia
Bambu Indah, Ubud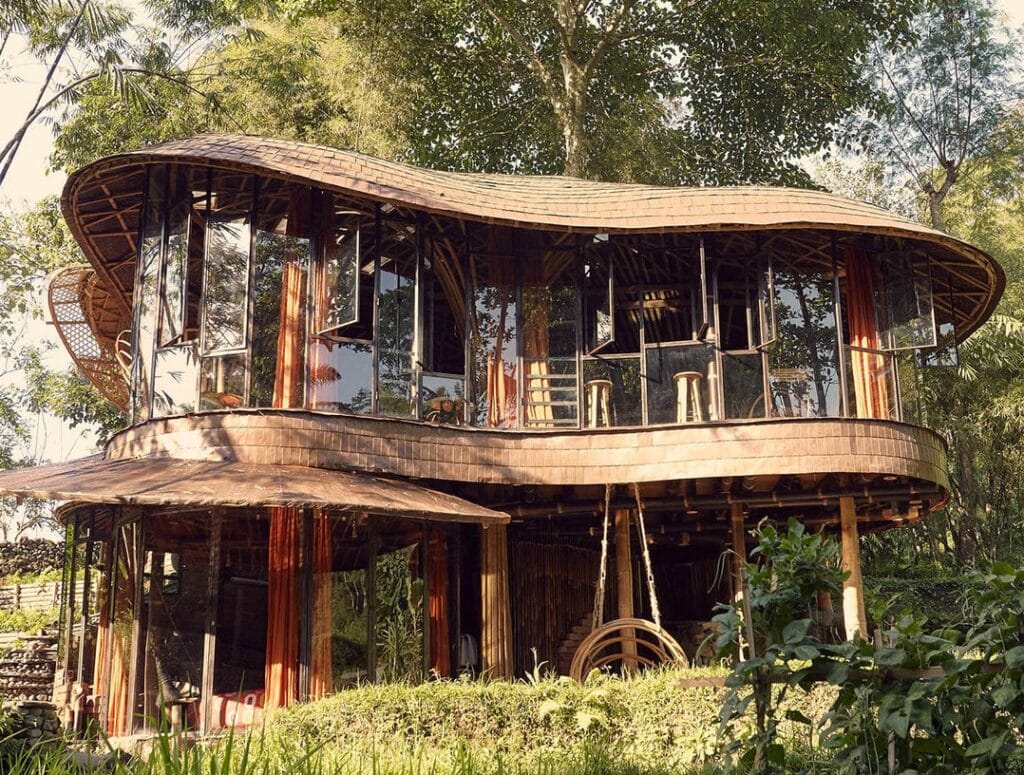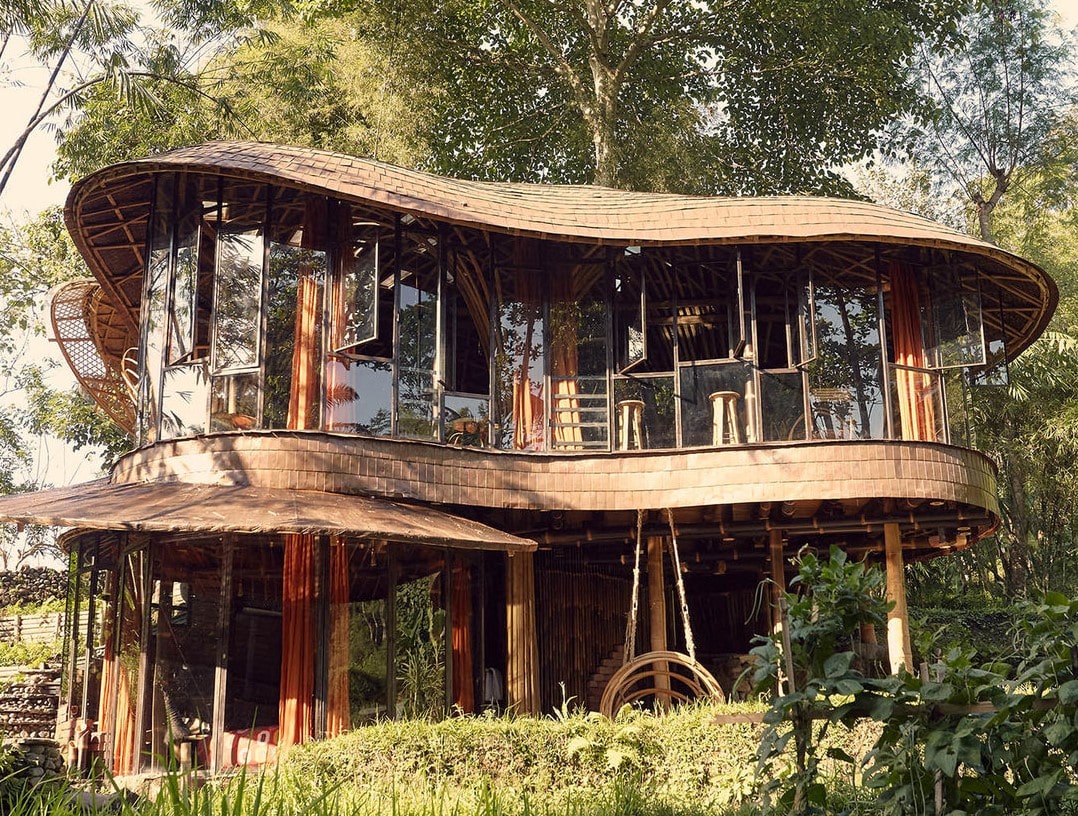 The Bambu Indah Resort in Ubud, Bali, is a tranquil haven that combines natural, lush surroundings with first-class hospitality. The result is a sustainable hotel project that allows visitors to feel close to the environment while still maintaining a luxurious boutique resort vibe.
Each standalone lodge is uniquely designed with local Balinese influences that seek to blur the lines between nature and manmade structures. This way, travellers feel like they are immersed in the natural environment. Yet, there is no shortage of luxury with en-suite bathrooms as standard, as well as plush furnishings, plunge pools and copper bathtubs.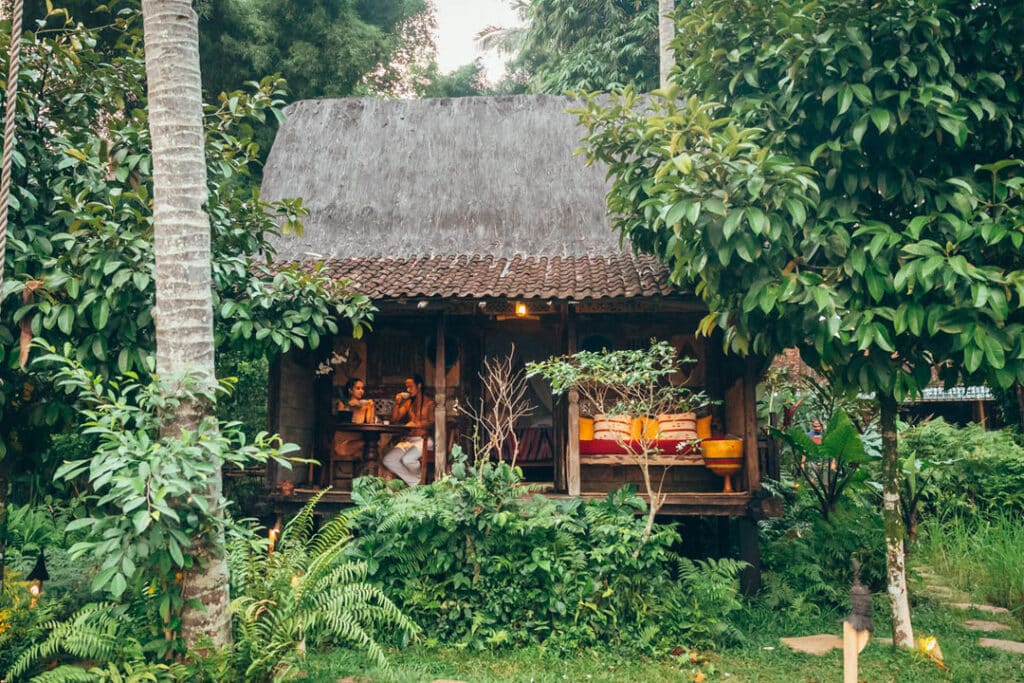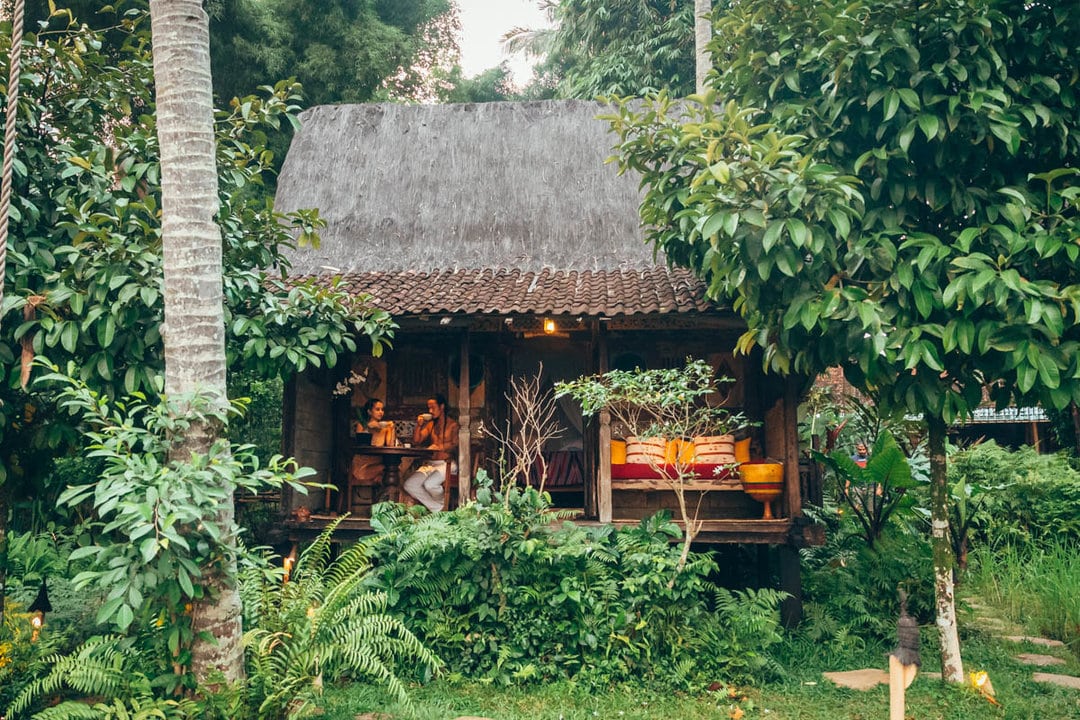 The exemplary hotel service provides visitors with fine dining experiences, bespoke tours to explore the local scenery and surrounding villages, and an on-site spa facility to bask in the soothing serenity of traditional Balinese massage practice.
Ulaman Eco Retreat, Tabanan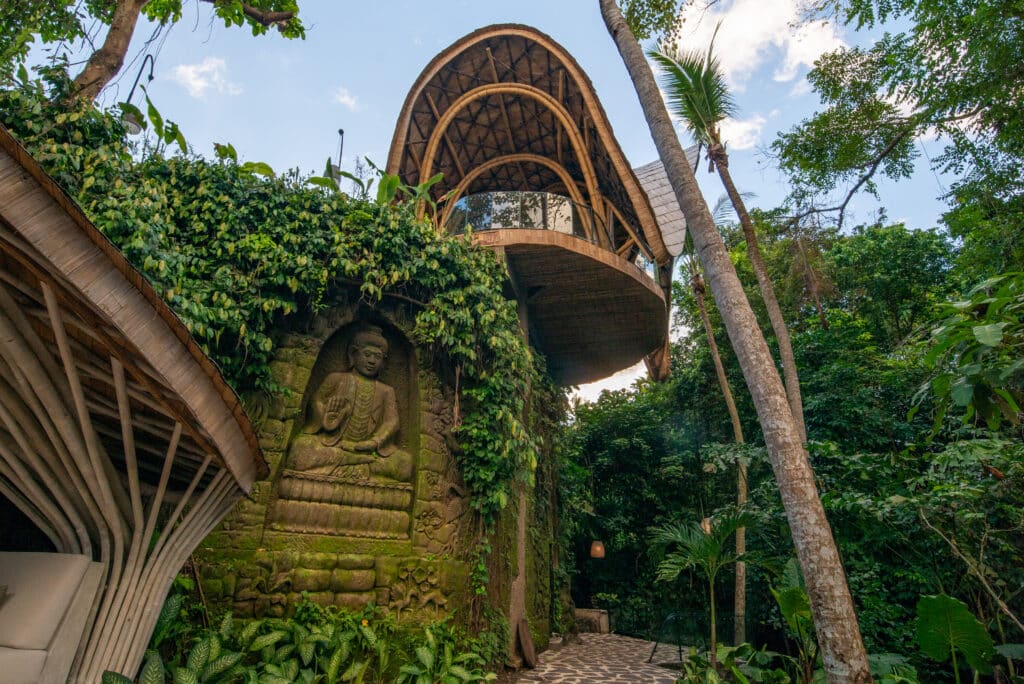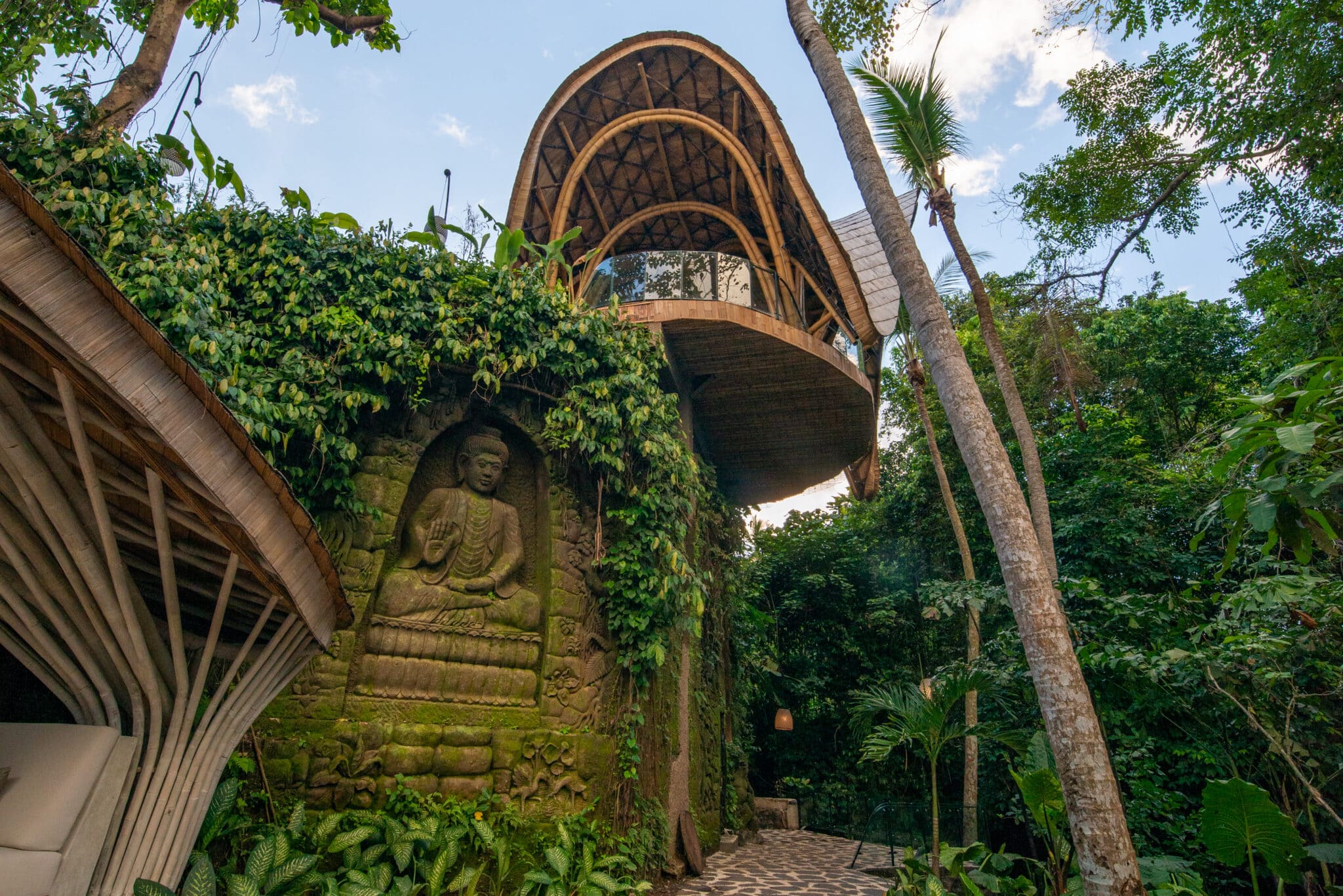 A unique, holistic experience awaits travellers looking for a luxurious retreat that leaves as little an ecological footprint as possible. The aesthetic is typical of natural premium Balinese resorts – think lots of innovative bamboo and wood-based designs that seek to soothe and meld perfectly with the stunning surroundings. Each villa is set within the beautiful untouched forest and includes a private saltwater pool.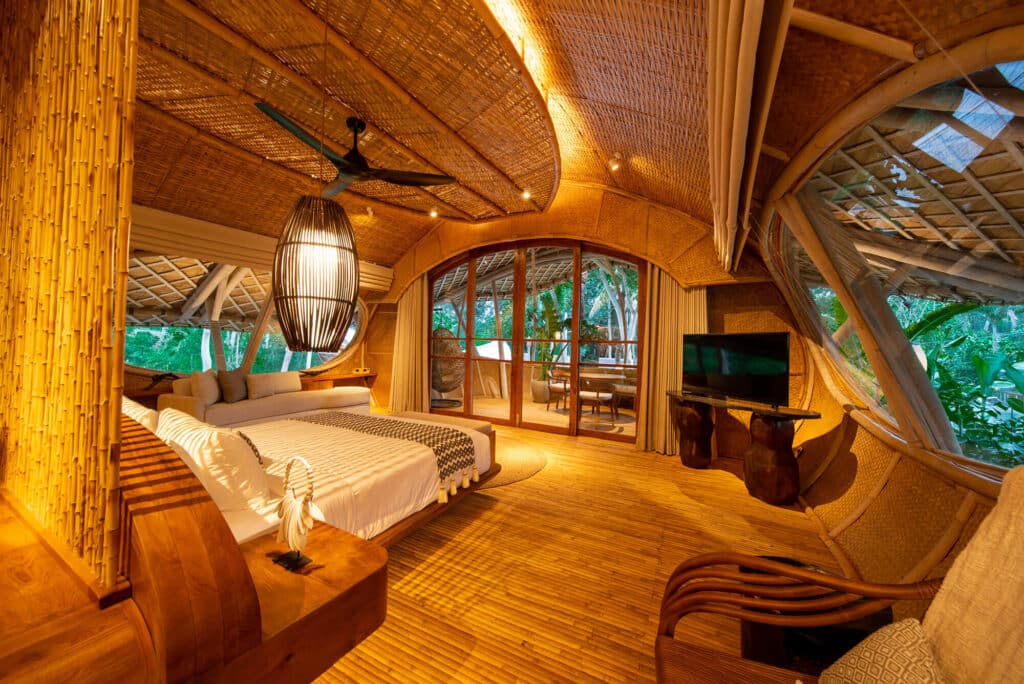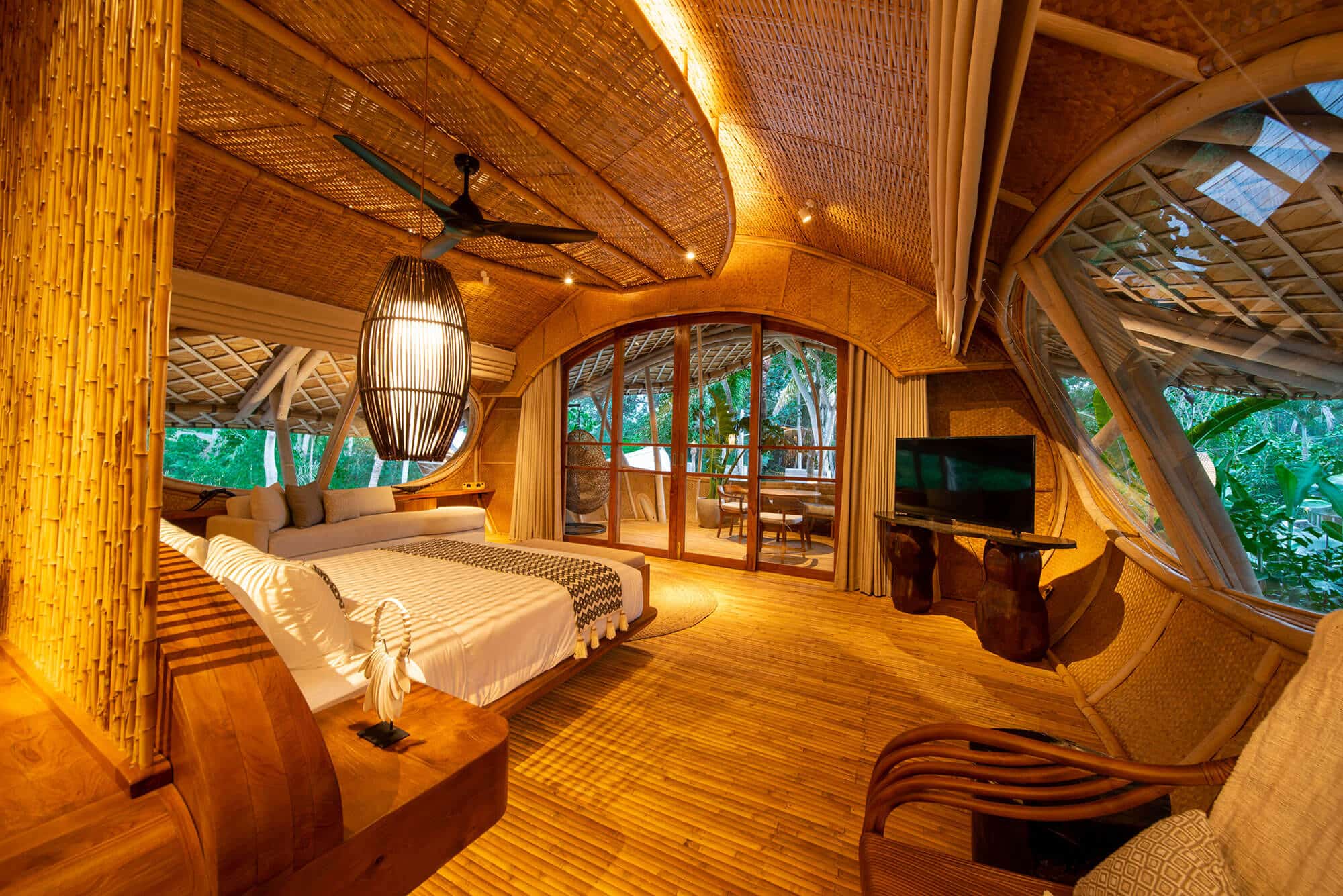 The resort proposes a wealth of wellness-themed activities, including meditation and yoga classes and a spa facility built within a banyan tree. The yoga sala, where the classes take place, is situated on an elevated platform that sees practitioners face the Ulaman in-house waterfall with a bird's eye view of the spectacular scenery – it's the perfect setting to engage the mind, body and soul.
Besides the wellness aspect, the picture-postcard scenery lends itself to romance. The hotel provides loved-up couples with various romantic dining options, with candlelit dinners at particularly picturesque spots in the resort, including atop a wooden bridge or up in the treehouses.
Menjangan Dynasty, Menjangan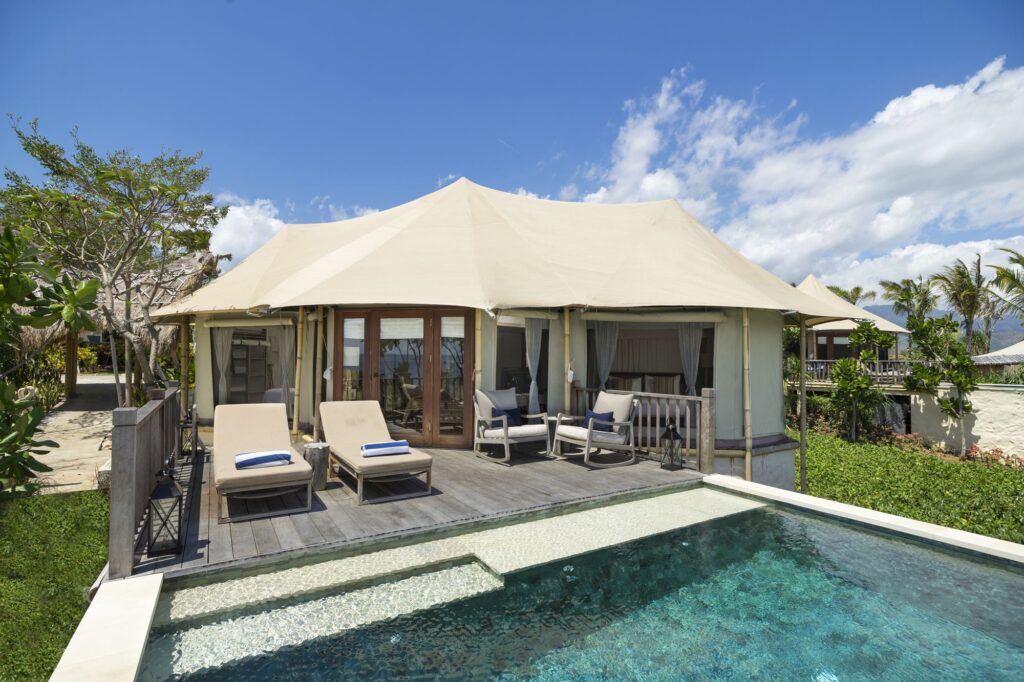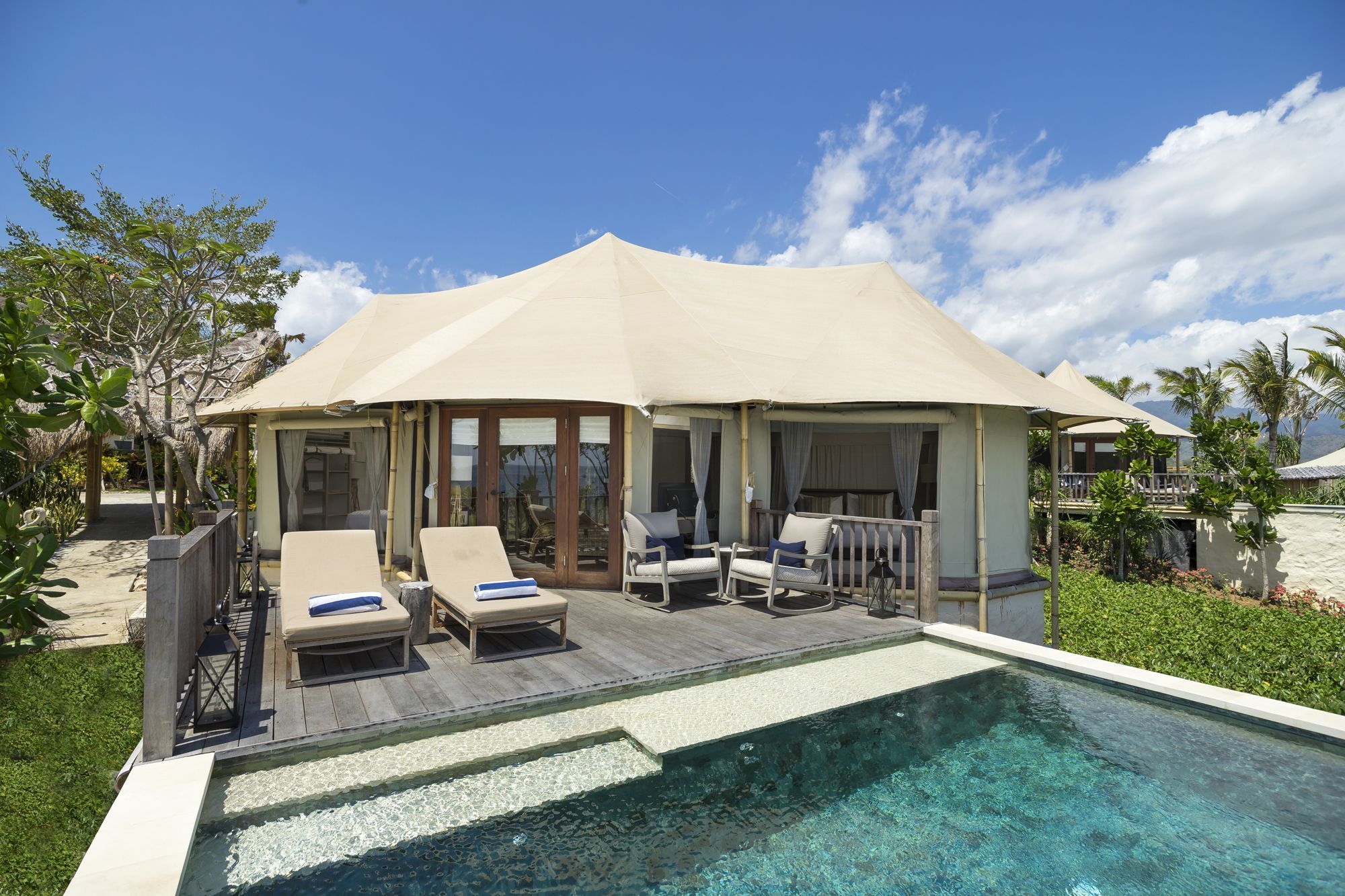 Menjangan Dynasty Resort presents the ultimate luxury glamping resort experience in a world-class diving location within the beautiful surroundings of Northwest Bali.
The resort is decked out with a safari-style aesthetic, with all hotel staff also wearing safari outfits. This refreshingly alternative architectural style makes this hotel stand out as the bamboo and 'alang-alang' thatched rooms, villas, and tents are beautifully intermingled with communal areas across the 16-hectare site.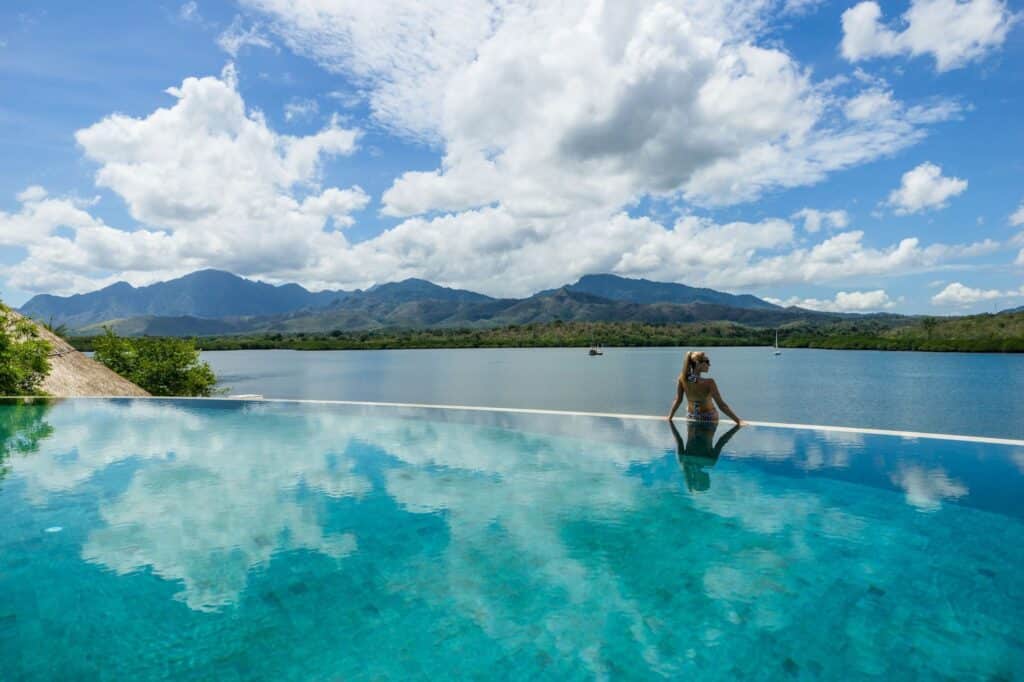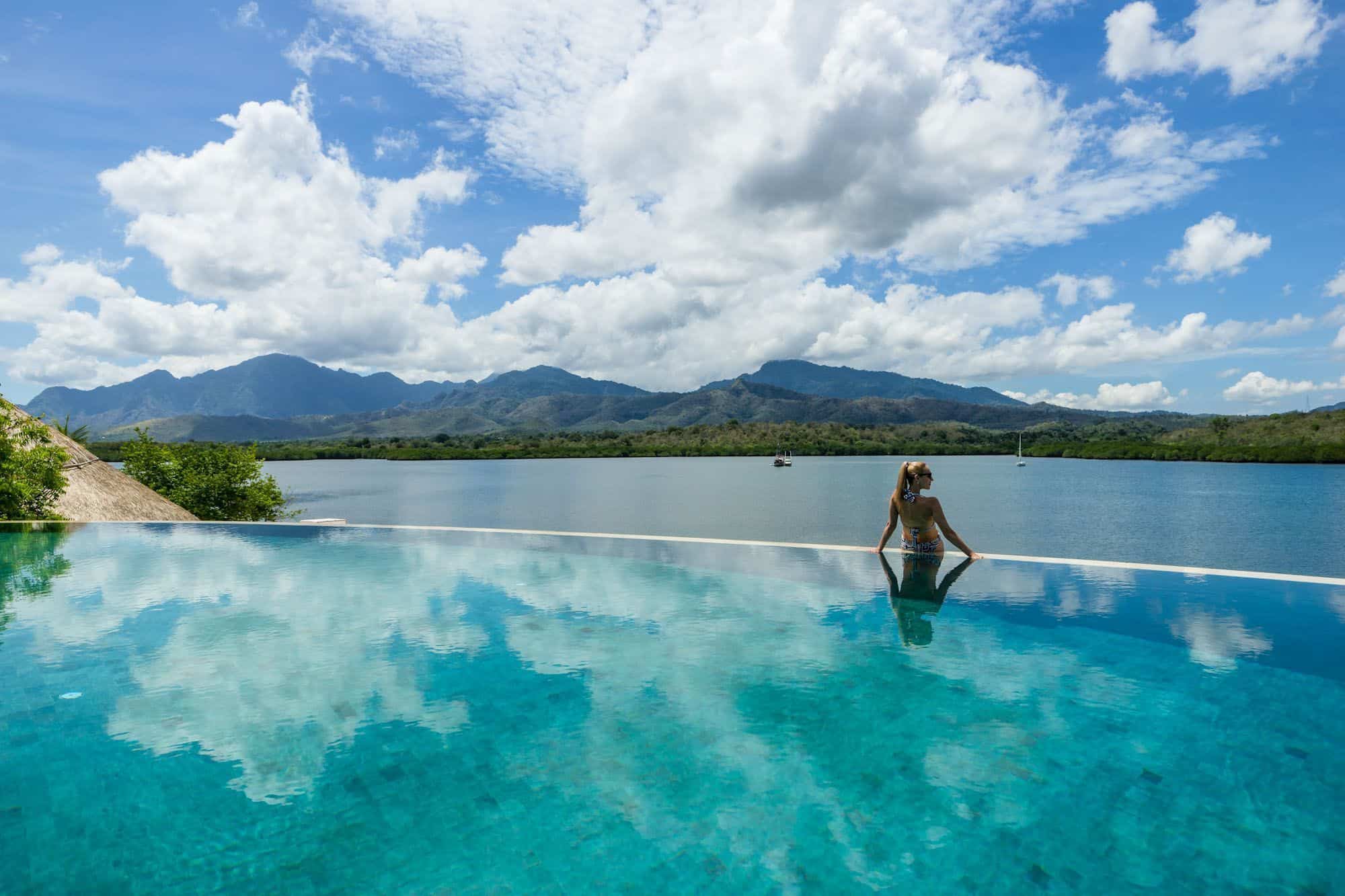 Outdoor adventure enthusiasts are catered for at the Pasir Putih Dive Centre that offers all sorts of exciting water sport activities – a major draw of this part of the Balinese coastline. Those just wishing to relax and be pampered can make use of the renowned hotel beach club offering all-day dining, or can schedule a treatment at the on-site spa.
As we progress into July, it will be interesting to see how the sandbox experiments develop for visitors to Indonesia and Thailand. Though minor steps, they are indicators that brighter times are on the horizon for the tourism industry.
One thing's for sure, these hotels are sure looking forward to welcoming international visitors once again soon, and we're sure your customers are keen to experience their unique services and facilities, too.
To hear more about our outstanding accommodation options in Thailand and Indonesia, don't hesitate to get in touch with our teams.