Trekking in Northern Vietnam is one-part outdoors adventure and one-part cultural exchange experience. North of Hanoi, Vietnam is a whole new world, a landscape of limestone mountains and terraced rice paddies that ripple through clouds and down past rivers, waterfalls, and forest. Extensive networks of trekking trails connect tribal villages throughout the region, passing through extraordinary natural beauty on the way to remote homestays in ethnic minority communities.
This is the real beauty of trekking in Northern Vietnam: spending multiple days hiking with a guide from one ethnic village to another, supporting small-scale local economies while sharing meals and cultures with a variety of friendly families. Here are nine of the best trekking tours in Northern Vietnam that pass through worlds of culture and spectacular nature unlike anywhere else in the country.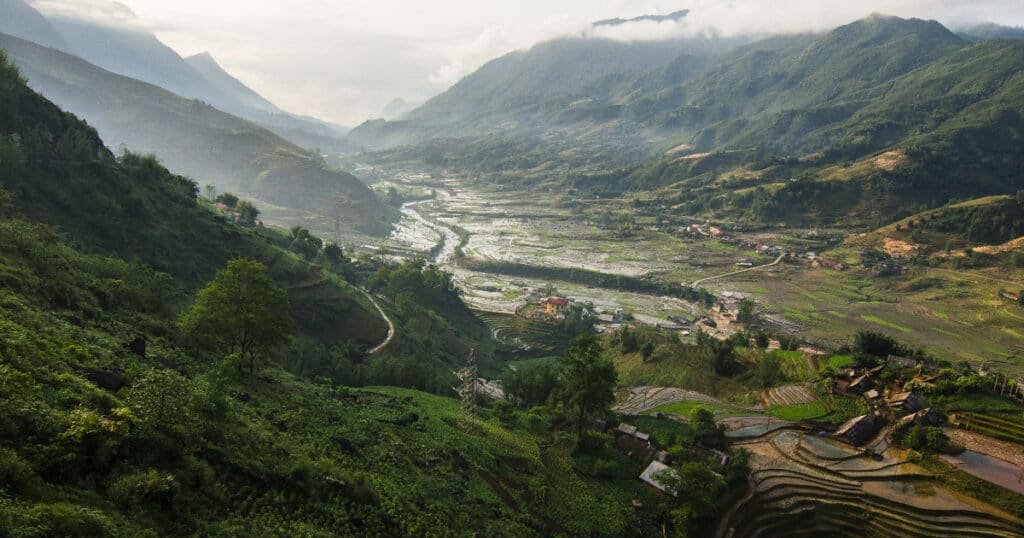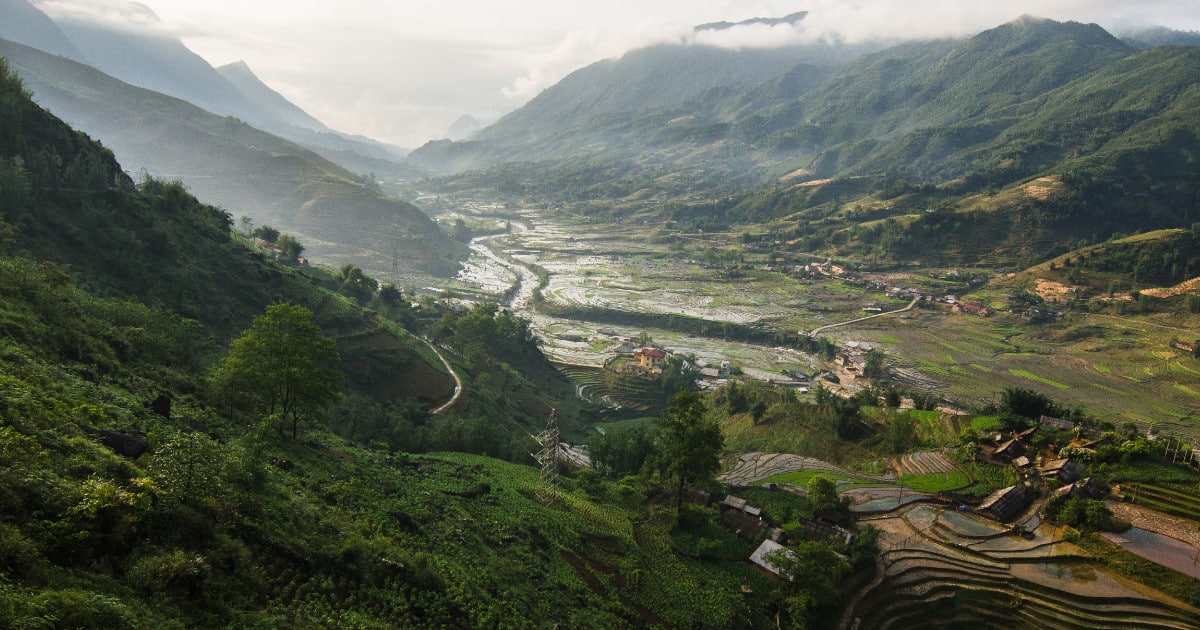 1. Sapa 
Sapa is one of the most popular hiking destinations in Vietnam, a culturally diverse town nestled within the Hoang Lien Son mountain range just shy of the border with China. The town and its surrounding area sit at 1,500 metres above sea level, webbed by an extensive network of trekking trails running through and beyond the terraced rice paddies farmed by the five tribes who live in the region. When the sunbeams filter through the high-altitude clouds to light the rice fields, the world glows golden.
It's possible to do shorter day treks in Sapa, but the most enriching experiences come with multi-day tours that pass through tiny ethnic villages. Spend the morning hiking through rugged valleys and the dense foliage of mountain ranges, then spend the night in a H'mong, Red Dao, Tay, Giay, or Phu La homestay. It's possible to spend days at a time on a trekking tour of Sapa, through the rippling, other-worldly landscapes of the rice fields, and into the homes of hospitable locals to learn about completely unique and colourful cultures.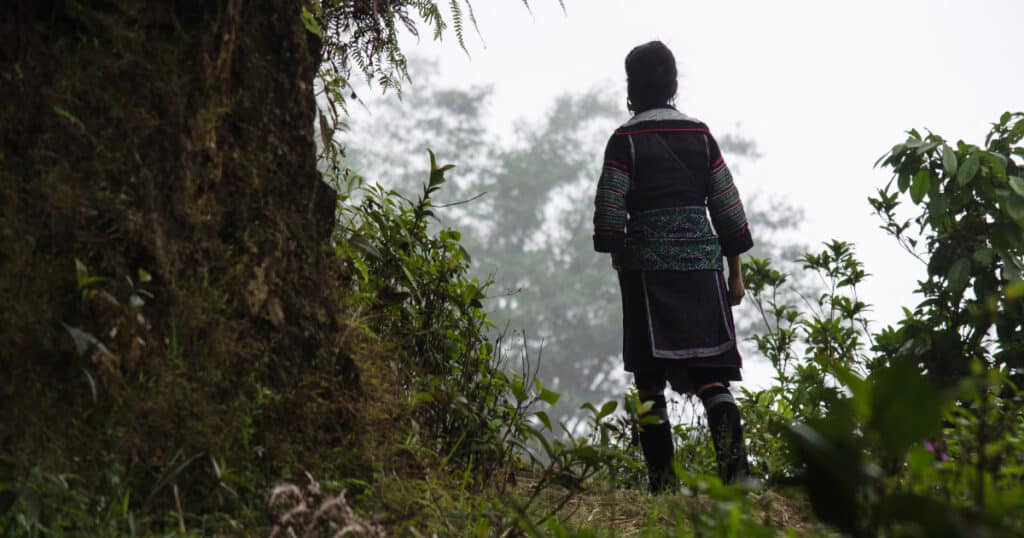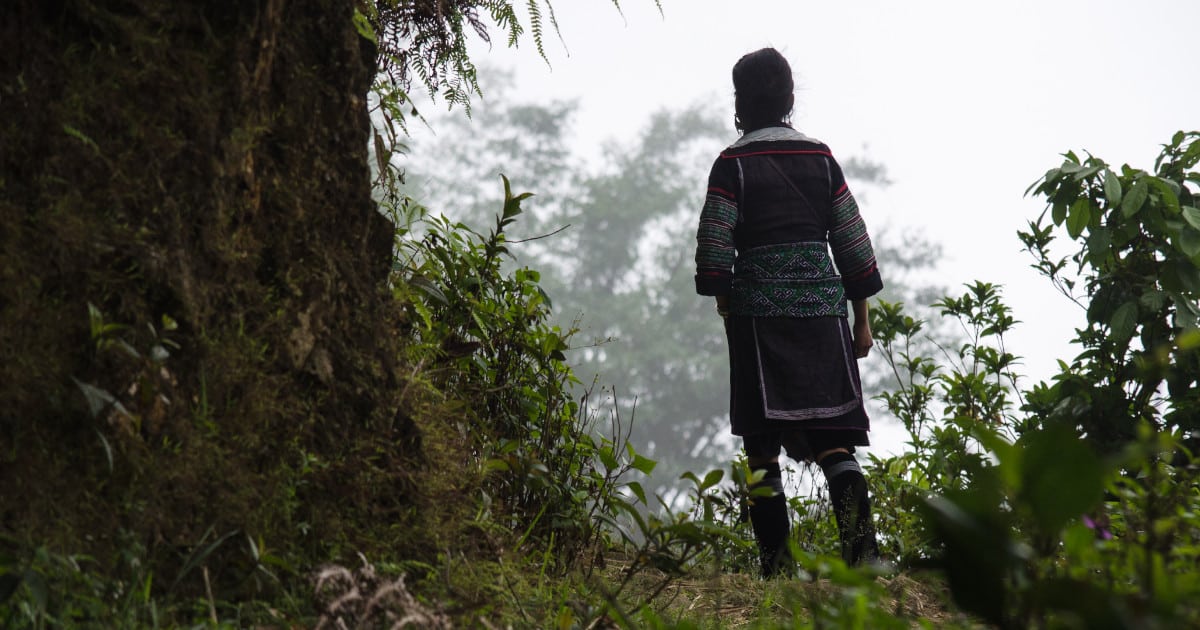 2. Cat Cat Village  
Cat Cat Village sits just 2 kilometers away from Sapa town, at the foot of Mount Fansipan. It's a Black H'Mong village surrounded by terraced rice paddies and pastoral rolling hills, as well as meandering streams and waterfalls further into the village. The primary stream that weaves its way through Cat Cat is actually the confluence of three different streams – Suoi Vang, Suoi Bac, and Tien Sa – which together flow into Cat Cat Waterfall. Walk across the suspension bridge for a view of the surrounding mountains and waterfalls.
The world around Cat Cat Village is mountainous and bedecked with stacked rice terraces and rivers running downhill. Sapa unfolds around the village in forests and valleys, with trails running through the countryside in several directions. One trail out of the village leads to the foot of Mount Fansipan on the most challenging of the three paths up the mountains.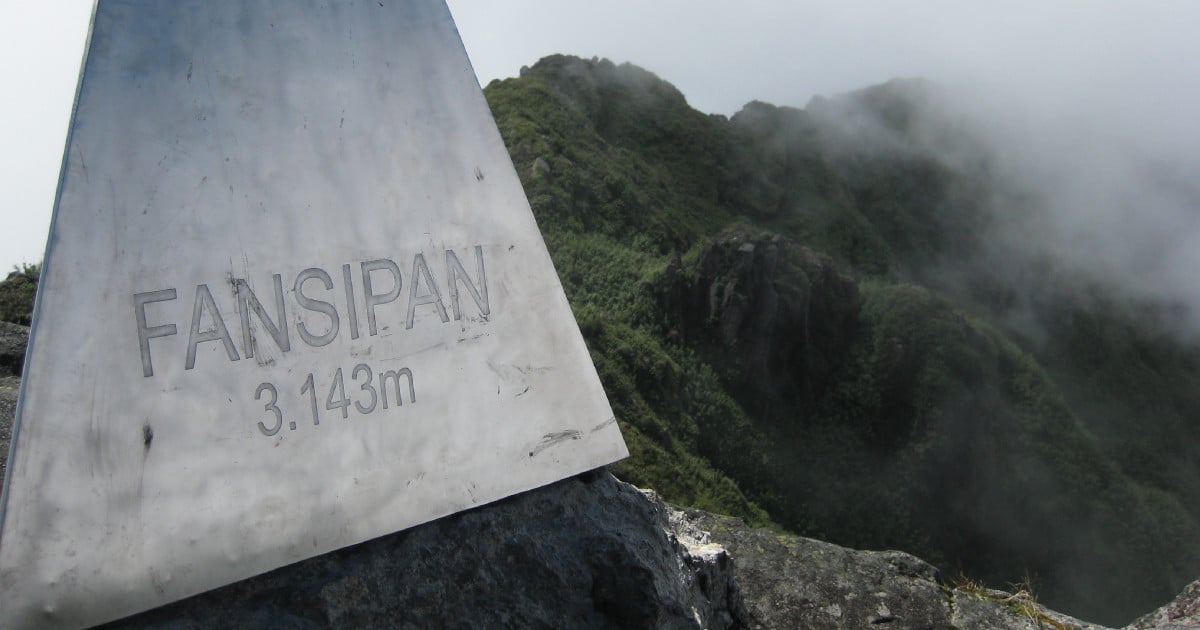 3. Mount Fansipan   
Mount Fansipan is considered the "Roof of Indochina" as it is the highest mountain in the subcontinent at 3,143m. Towering over the hills, farming villages, and wild jungle of Northern Vietnam, Fansipan is an ancient land mass, formed in the same continental collision that created the neighbouring Himalayas.
There are a few different trails that lead up to the peak of the mountain, but only one – the Tram Ton trail – is easy and safe enough to attempt without a guide. This trail can be tackled in just a day by a person in reasonably good shape, but it's much more fun to go with a guide and spend at least two days on the trek, camping overnight at one of several designated sites along the mountainside. The other two trails – Cat Cat and Sin Chai – are longer and more treacherous, respectively, and absolutely require a guide to attempt. The Tram Ton trail begins at Thác Tình Yêu, or "Love Waterfall", and alternates between steeper gradients in the thick of jungle foliage and flattened clearings with views out over the Hoang Lien Son Mountain Range on clear days.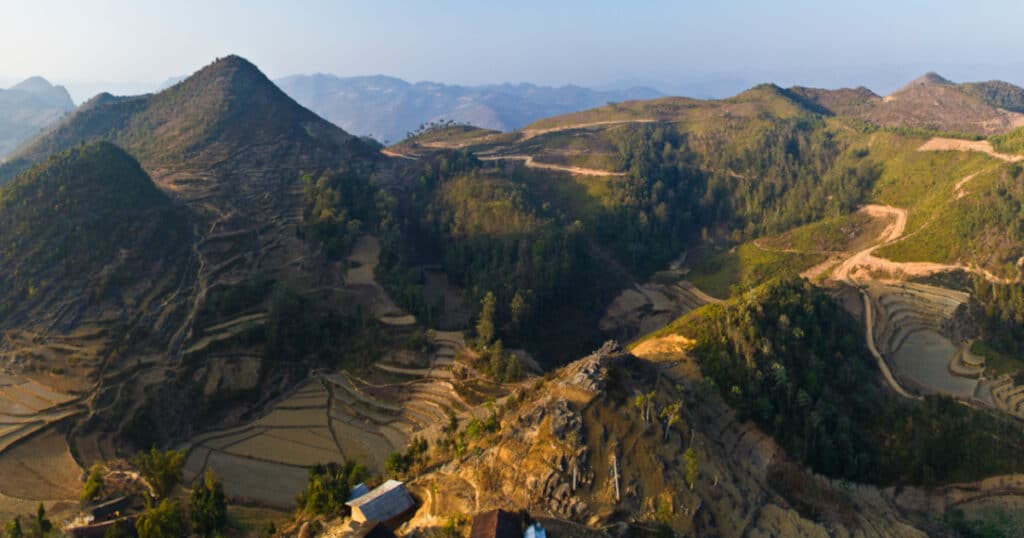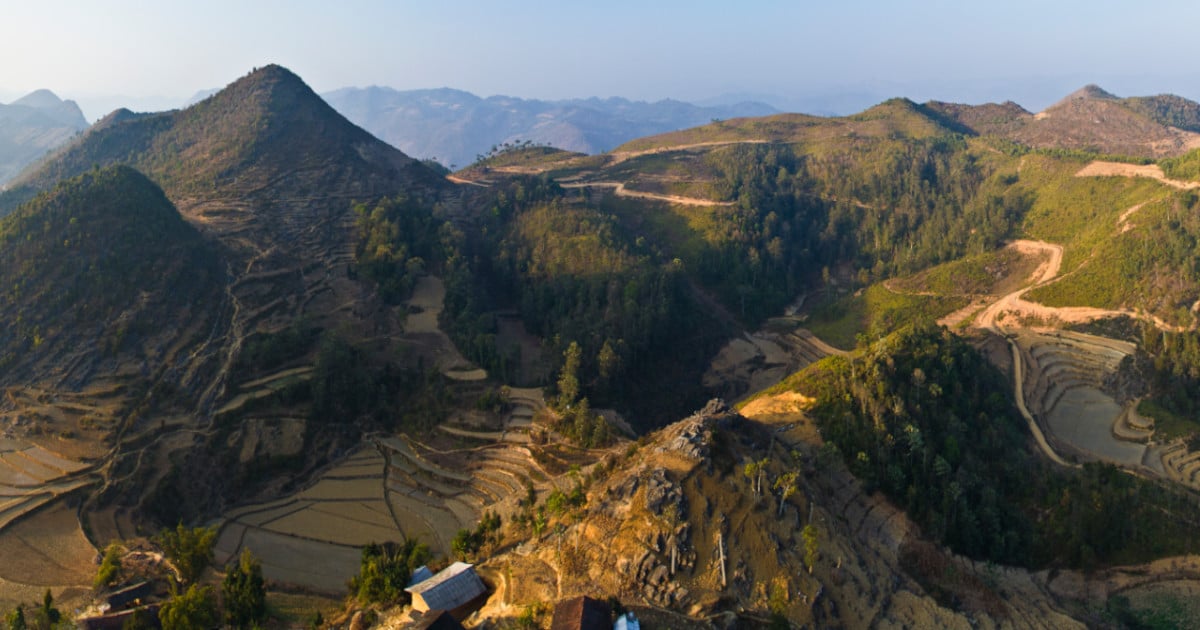 4. Ha Giang  
Ha Giang is a land of awe-inspiring limestone mountains and terraced rice fields tumbling down into fertile valleys. The scale of the landscape is astonishing, with every viewpoint offering panoramas of mountain ranges capped by clouds or the endless green, golden brown, or reflective face of rice agriculture. Like Sapa, Ha Giang is home to many different ethnic minorities, but Ha Giang remains a bit more off-the-beaten-path than its western neighbour.
The spectacular beauty of Ha Giang's natural landscape cannot possibly be overstated, and paintings of the region can be found in guesthouses and hotels everywhere, as well as general promotional materials for tourism in Vietnam overall. Which is to say – Ha Giang is the literal poster child of Vietnamese natural beauty. A network of trekking trails runs along the mountain range, over summits, through canyons, and between dozens of tribal villages.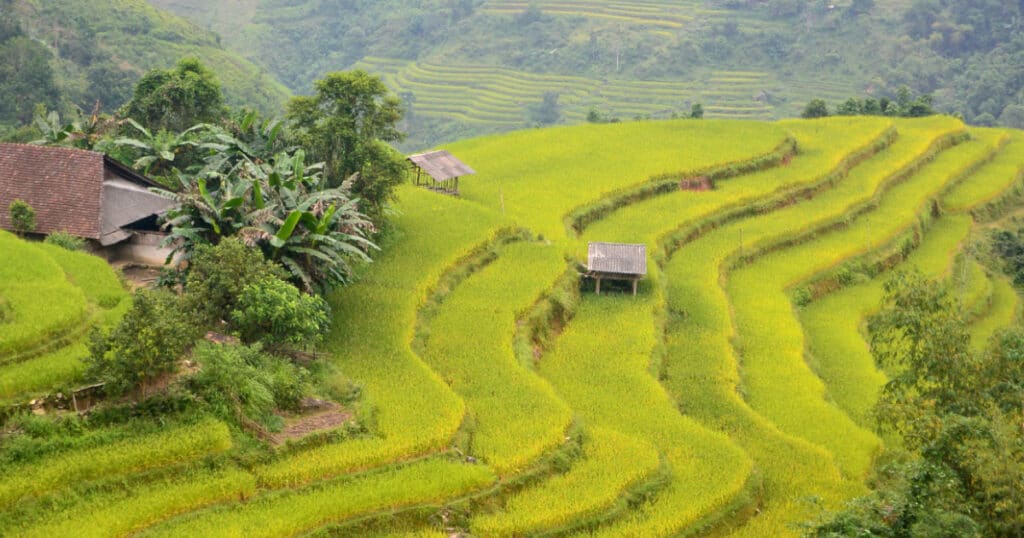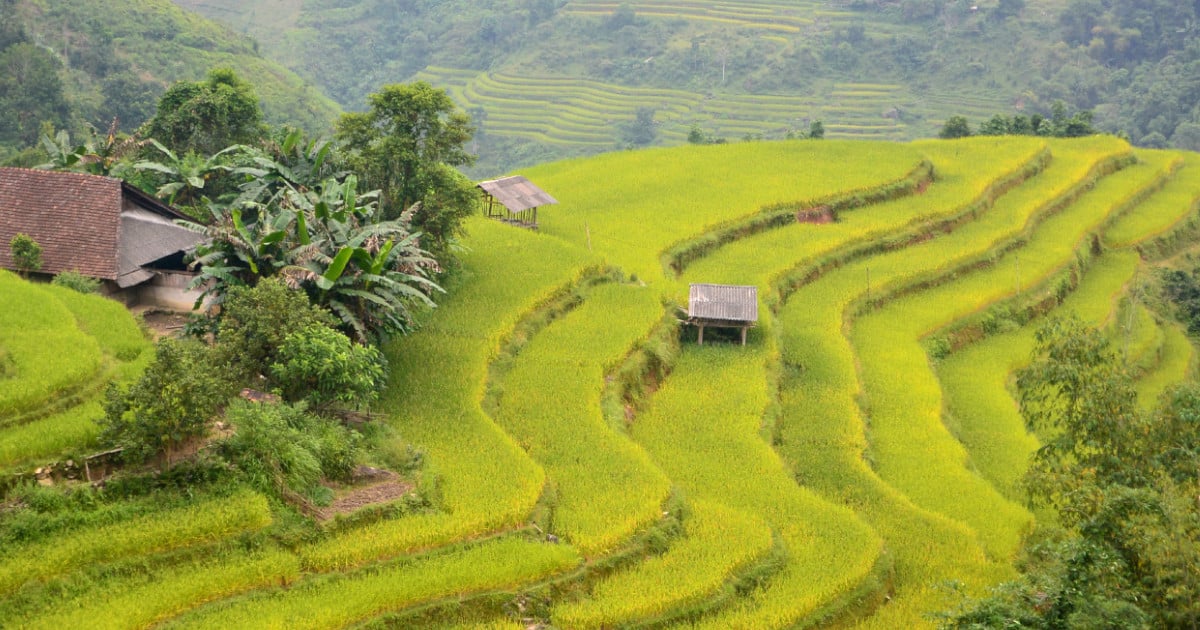 5. Hoang Su Phi  
Hoang Su Phi is known as the "land of the yellow bark tree", named for a La Chi tribal legend that explains the beauty of the district's scenery. When the Great Flood came, everything in the world was submerged but for a single yellow tree, tall enough to shelter humanity in its branches high above the reach of the floodwaters. When the world dried out, the yellow tree was cut down and rebuilt into the wooden houses typical of the La Chi people, and the bark and leaves fell across the lands to grow into rugged mountains.
The floodwaters remained as well, dissipated into the many rivers and streams that divide the steep slopes of the mountains. Twelve different ethnic groups have settled throughout the region. Trekking routes connect many of their villages, passing through terraced rice fields that have been farmed by Vietnamese people and tribal minorities for centuries. These particular rice paddies are so exceptionally beautiful that they have been recognised as a national heritage site by the Vietnamese government, and Hoang Su Phi is considered one of the greatest trekking destinations in Northern Vietnam.
6. Cao Bang  
Hiking in Cao Bang involves routes passing through towering limestone karsts, cascading rice terraces, historic caves, and pretty riverside paths connecting tea plantations and tribal villages belonging to the Nung, Tay, Red Dao, and H'mong people. Cao Bang's crown jewel, however, is Ban Gioc waterfall.
Ban Gioc sits at the border with China, the Quay Son River that feeds it marking the division between the two countries. Visitors can get close enough to China on a raft to literally shake hands with Chinese tourists. The falls themselves are the widest in the country, stretching an expansive 300 metres from end to end. Rather than a single drop, Ban Gioc is a series of rounded terraced falls that each embrace green, circular pools. One pool feeds into the next, a green-water fairy-world misted with water vapour and surrounded with delicate foliage.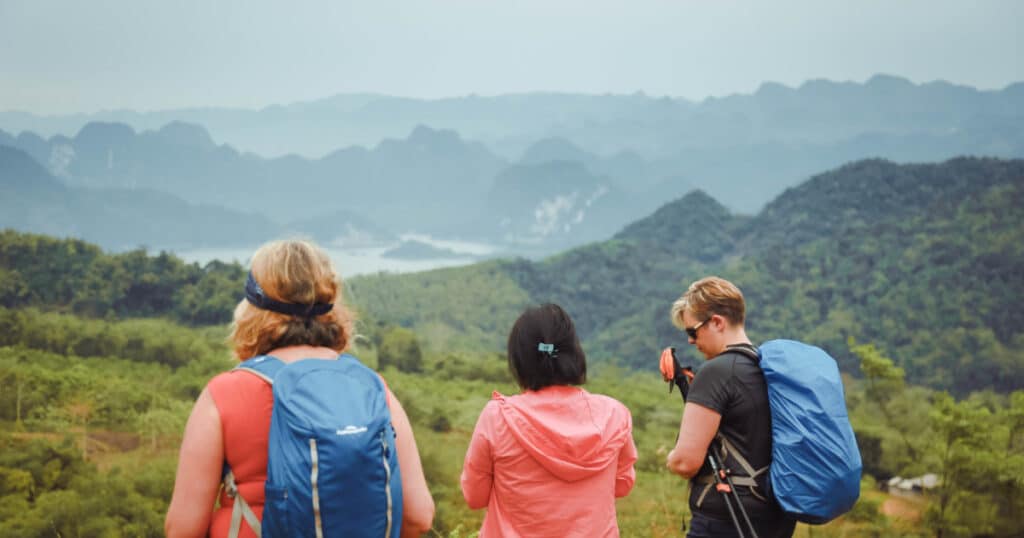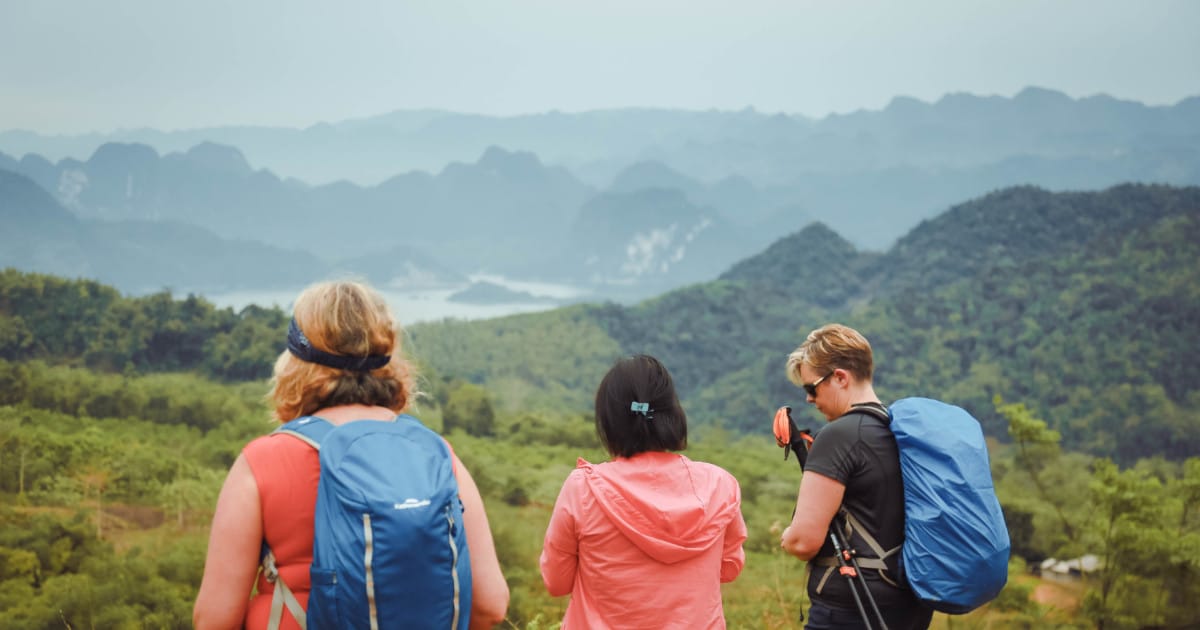 7. Da Bac 
Da Bac is a mountainous district of Hoa Binh Province, neatly bisected by the grand Da River. Though the region is compared to the world-famous Ha Long Bay, with its limestone karsts and mysterious hidden caves, it remains sparsely visited by the outside world. To visit Da Bac is to dive deep into inland Vietnam, immersed in nature and peace — "Hoa Binh", after all, does translate to "peace" in Vietnamese.
Da Bac stands as a role model for other Northern Vietnam destinations because of the community-based tourism (CBT) model it uses. This model combats the negative potential of exploitative tourism by partnering with the community to financially and socially empower locals, especially marginalised people like ethnic minorities.
Trekking routes link Da Bia, Ke, and Sung villages – remote communities where travellers can experience overnight stays with Dao Tien people as part of the "Action On Poverty" NGO initiative. Trek through the jungle and dense bamboo forests, cruise up rivers, and explore caves, stopping overnight in community homes. Dao Tien farmers can take foreigners on tours of century-old Shan green tea plantations that flourish in the mountains' cool climate and demonstrate traditional processing techniques.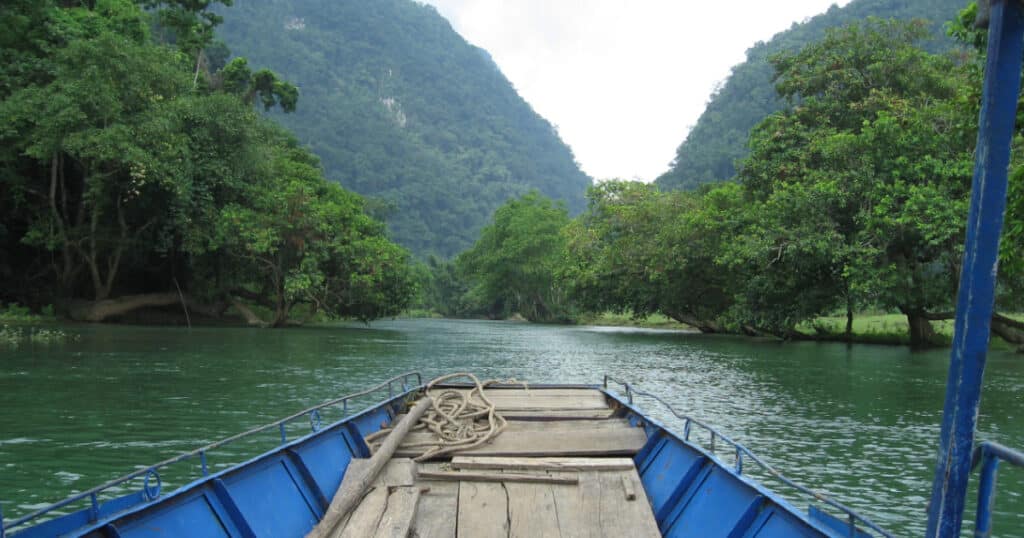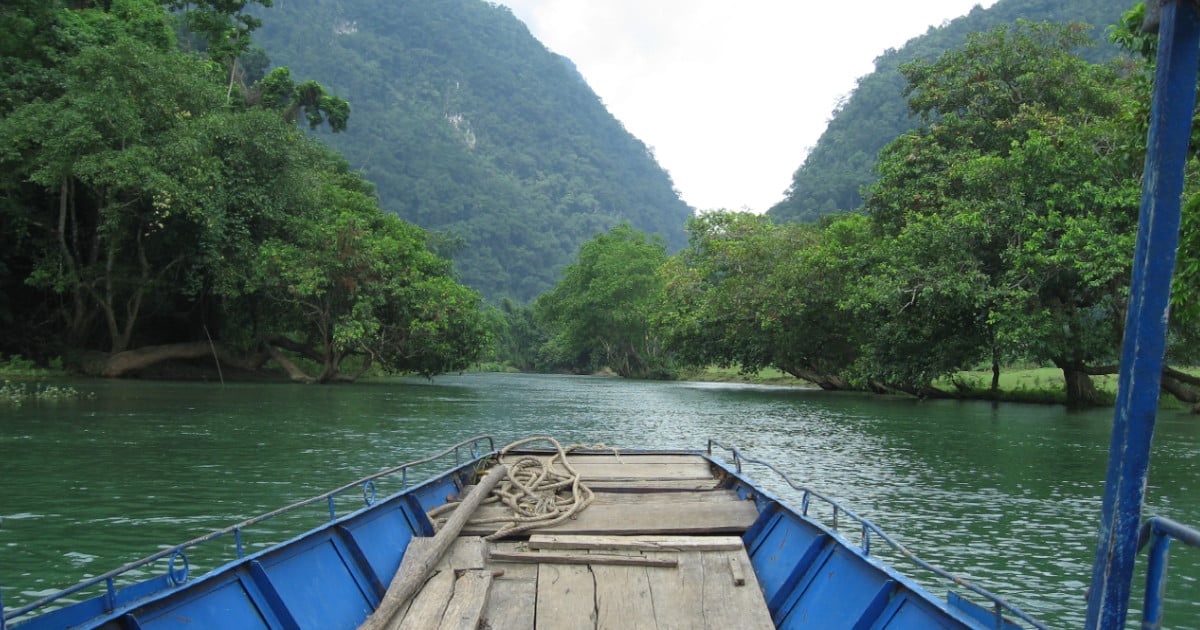 8. Ba Be National Park  
Established and protected as recently as 1992, Ba Be National Park is a sprawling 23,000 hectares of rainforest, caves, waterfalls, and lakes, many of which are still being discovered. The untouched park hosts more than 1200 species of plants and animals, including mammals like bears and macaques as well as birds and hundreds of butterfly species. Head into the 300-metre depts of Puong Cave to see strangely-shaped stalactites dripping downwards from the ceiling surrounded by colonies of hanging bats.
Ba Be Lake is the crown jewel of the park, a 200-million-year-old body of water nestled calmly in the embrace of ancient forest. Rather than one lake, it's actually three smaller lakes connected by long channels, together forming the largest lake in all of Vietnam. Ba Be has been recognised by UNESCO as one of the world's most important wetlands and described as one of the most beautiful freshwater lakes in the world.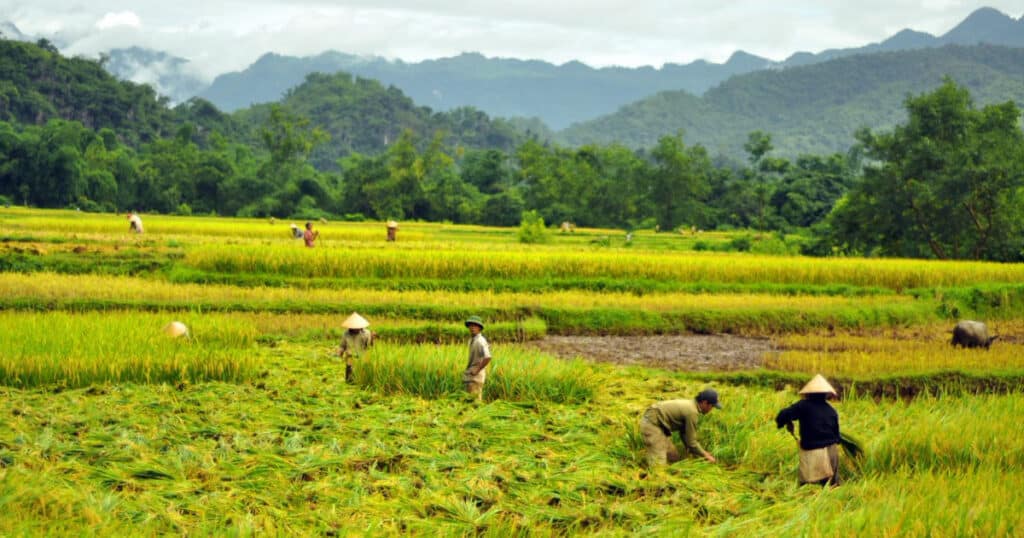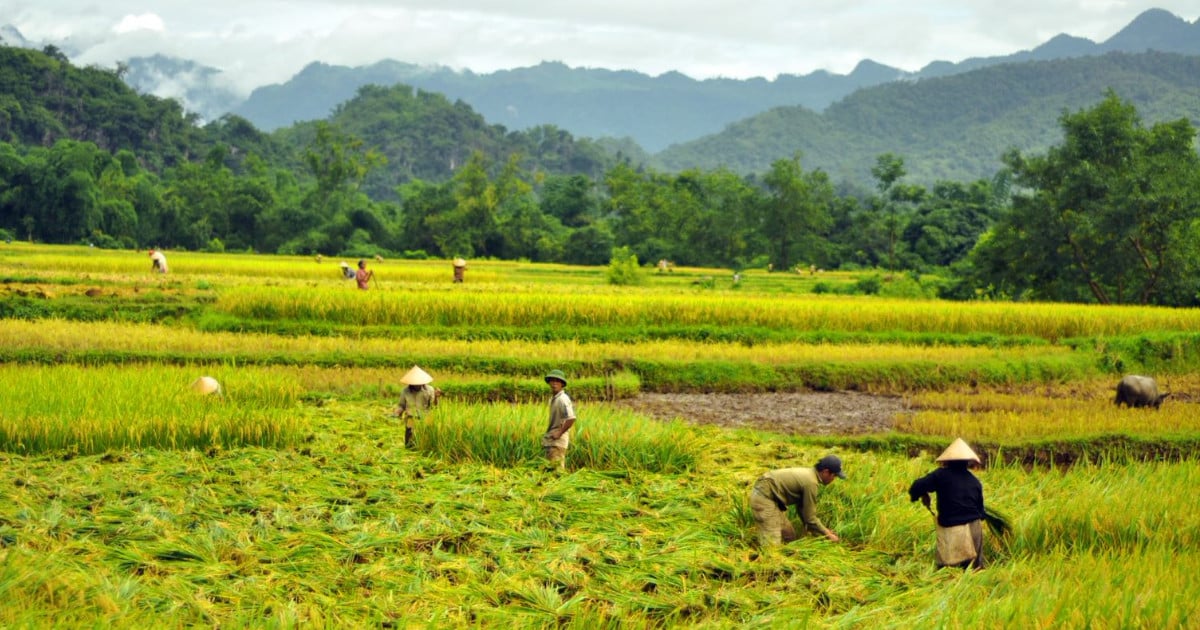 9. Mai Chau Valley 
Mai Chau specialises in cultural immersion, a land of tiny villages scattered across spindling bicycle paths through a patchwork of rice fields. Water buffalo graze in the shade of fruit trees. Artisans weave colourful fabrics on homemade looms in bamboo stilt houses. Caves are carved into the sides of mountains throughout the region, awaiting exploration. Some of these are large enough to fit hundreds of people within their depths. Another can only be reached by way of a set of 1,000 stairs.
Discova offers sustainable tourism opportunities in Mai Chau, partnering with projects that provide healthcare and development to local communities. The homestay owners are trained and paid to provide experiences for guests that contribute to a cycle of economic growth, education, and conservation within the community. This is an opportunity to see Northern Vietnam at its best – the majesty of limestone mountains, the grace of expansive flat green rice paddies, the joyful cultural exchange that comes from immersive experiences with tribal communities – while contributing to the preservation of its nature and the empowerment of its people.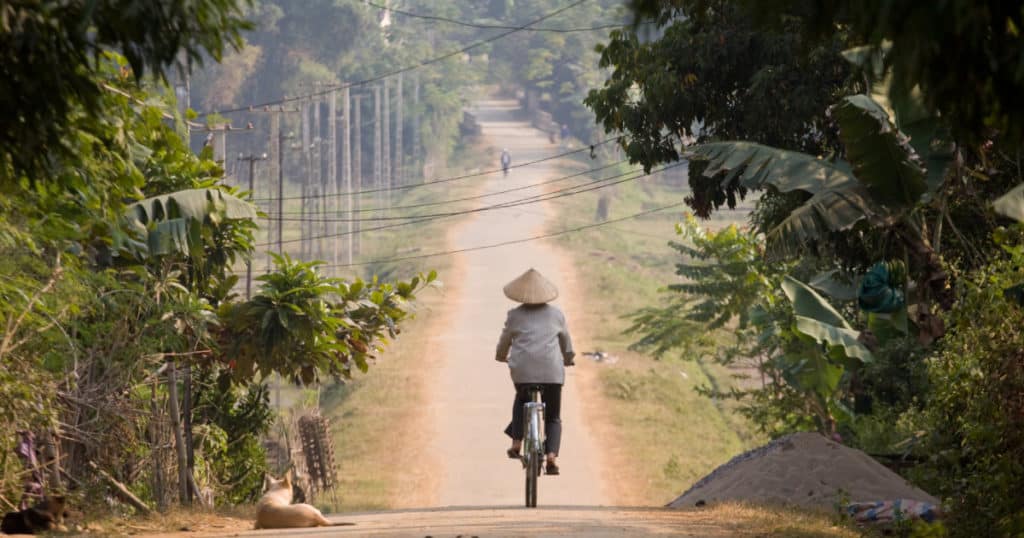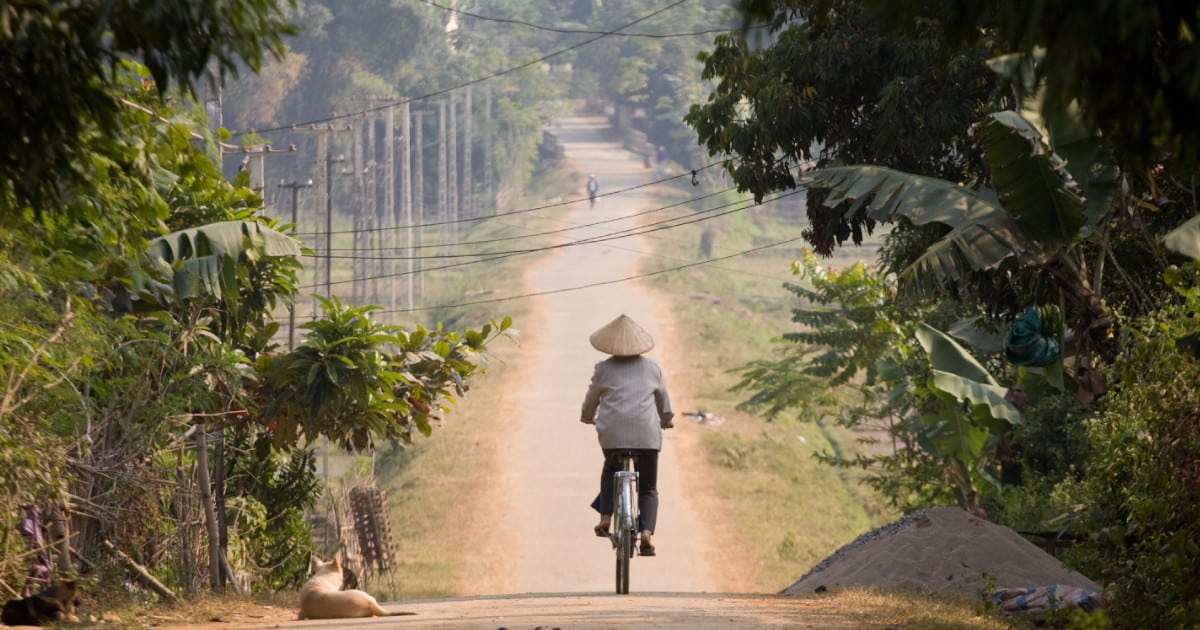 Can't wait to start planning an adventure for the future? Reach out to Discova's experts now to discuss options for trekking in Northern Vietnam!