How does our educational travel team go about setting up a new project? What achievements come out of these projects? How do these experiences benefit both the community and travellers?
To learn all about the work of our educational travel team, check out our Meet Discova brochure to hear about the services they offer.
However, for this dive into the project at Vinh Long, Vietnam, we spoke to a team member, Chi Ngo, to delve a little deeper into her work and shed some light on answers to these questions.
Vinh Long, Vietnam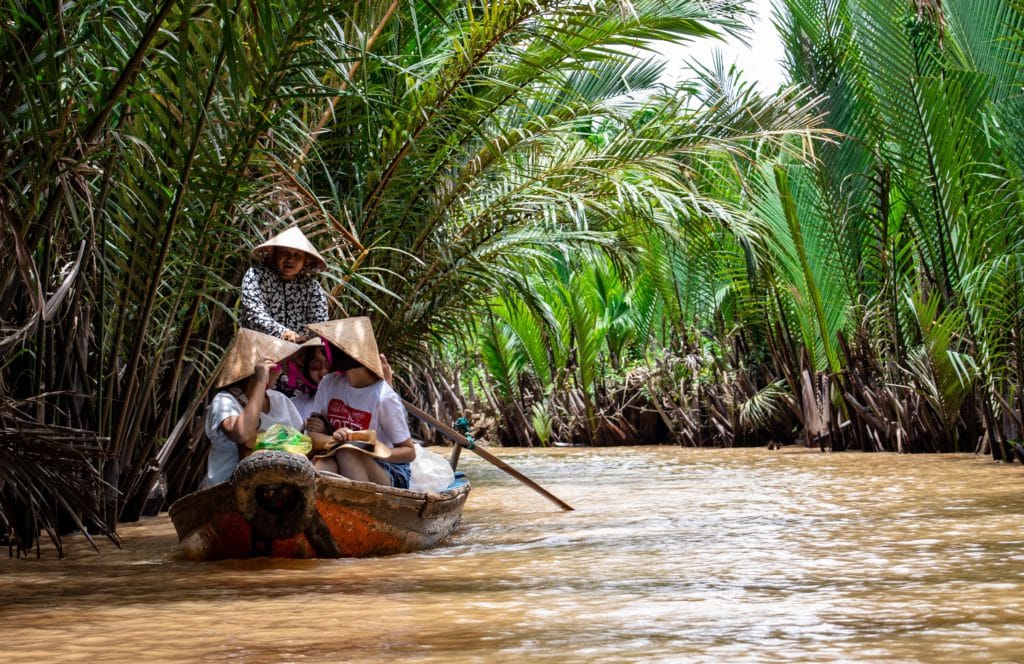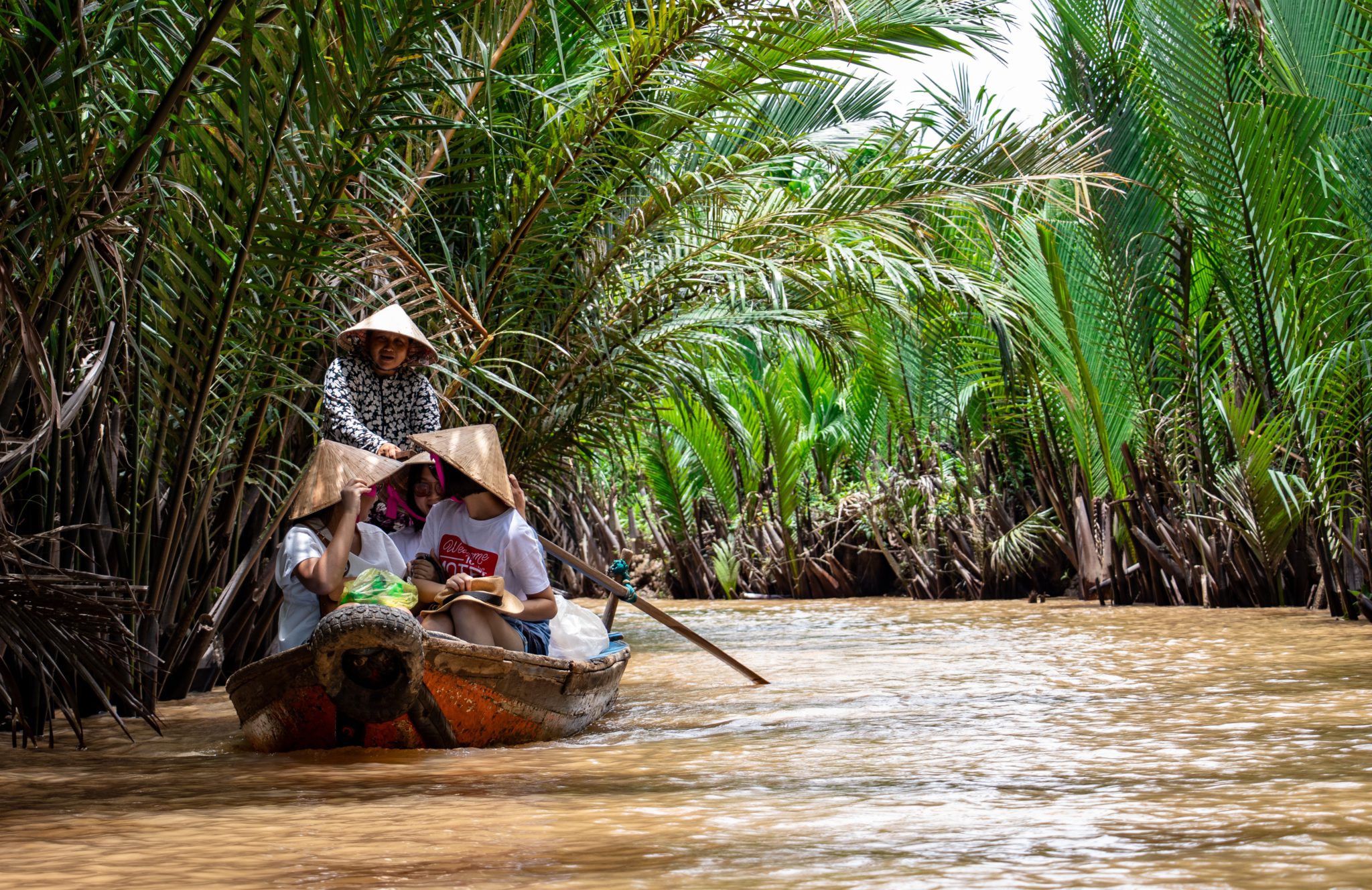 Vinh Long province is an idyllic location for travellers to get a taste of Mekong Delta life. Sleepy, winding waterways traverse the landscape. Beguiling little villages showcase the rural charms of the region. Think captivating floating markets, water buffalo silhouetted against glorious sunsets, and pleasantly peaceful homestay experiences. It's not surprising many visitors are enchanted by the dreamy scenery to be found here.
However, for the local population, there is often hardship. Often dependent upon unreliable farming conditions in rural communities, the average income in the area is very low. The region has an extremely high rate of child poverty, and many children leave school early to work with their families to contribute to the household income.
At Discova, we are deeply invested in our communities, creating community-driven tourism projects and supporting initiatives that directly contribute to the local economy. It's part of our responsible tourism commitments, and the work of the educational travel team supports this.
That's why, as our educational travel team looked to expand their operations into southern Vietnam back in 2015, the Vinh Long region was pinpointed as a potential site to engage in a community-based project.
But how do you go about setting up a project such as this?
Setting up a Project
Chi explains that these projects are founded upon relationship-building with institutions that share the same mindset.
"We were actually approached by businesses to arrange a project – international schools and other clients in the area who were already aware of our work. From there, it is just about choosing who to partner with and what our commitment could be. Then, it's about going through a thorough process that seeks to make sure that a project is set up based on cooperation where all parties benefit."
After a successful project had been implemented in Mai Chau, northern Vietnam, the educational travel team had hired Chi to expand into southern Vietnam. Phuong Doan, whom we already spoke to a few weeks ago, came down south to personally train Chi for three months and help put things in motion.
"They must have seen something in me to put in all that effort!" laughs Chi.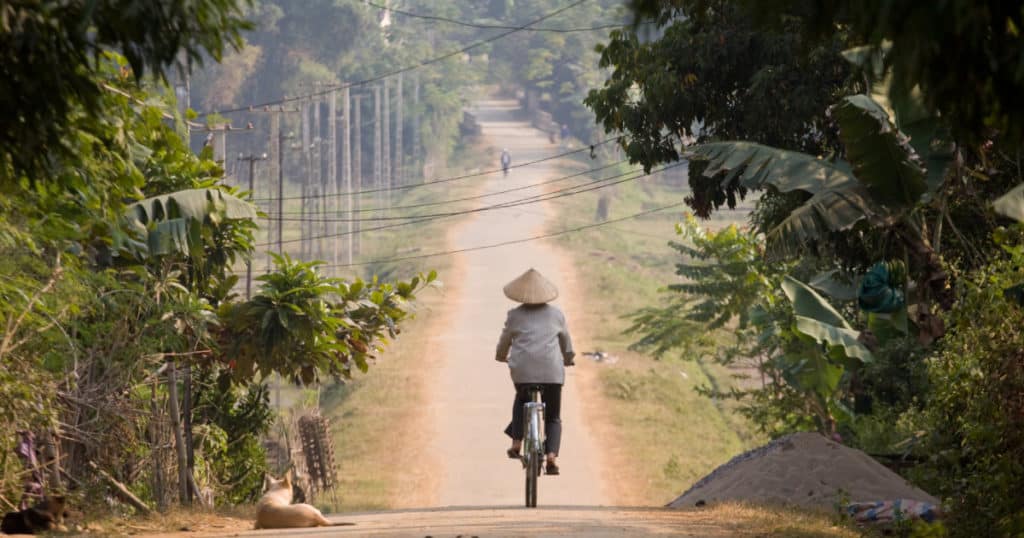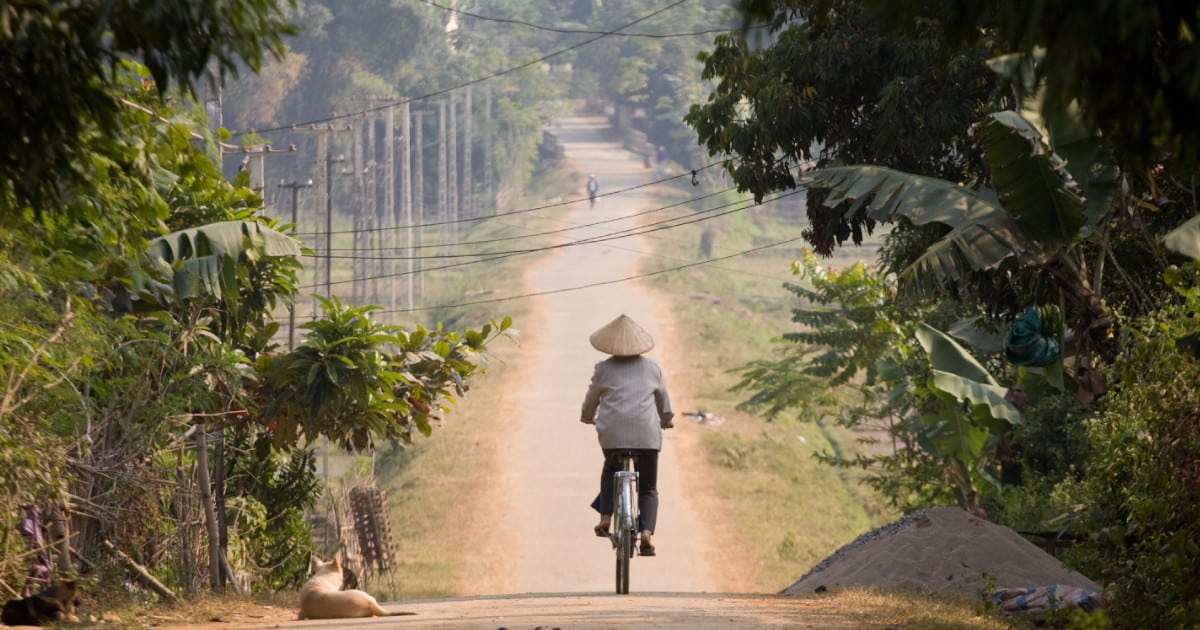 However, it wasn't as simple as replicating a model that had shown success for everybody in the north, as Chi explains.
"So, after we had spoken with the community and established how we could all work together, the time came to get down to all the logistics. This meant arranging for accommodation and meals for visiting groups, setting up the infrastructure for the cultural immersion activities and setting standards for the villagers as hosts, as well as instigating meaningful discussions to support the community with project plans."
"The problem came with differences with local government. Naturally, community-driven projects require collaboration with local councils and officials before being put in place. Whereas the local authorities in Mai Chau had no concerns, the authorities here would not permit the local villagers to provide homestay experiences for foreign visitors."
This was a minor obstacle for Chi, but every cloud has a silver lining. It just meant that things had to be set up slightly differently, with more local relationships with suppliers to come together to provide accommodation, meals, and experiences for travellers.
"This turned out to be a good thing as we continue to build on these relationships, and the visiting groups ultimately benefit from us working together."
Activities
So, let's say you are part of a visiting group coming to stay in Vinh Long for a week – what kind of activities will you get up to?
With the help of the villagers, the educational travel team has put together a variety of entertaining and exciting programmes that help visitors really make lasting connections.
"So, the main activity of the week will be helping out with whatever project is going on. So, that may be assisting with a construction project or something more specialist depending on the group. For example, our midwifery students that head out to the local hospitals."
Over the years, our educational travel team has put together a wide variety of specialist programmes at the request of clients, so the project may vary depending on the expertise of the visiting group. Feel free to contact the team to hear more about our flexible capabilities.
Nevertheless, whatever the nature of the visiting group, they will always take part in learning about the local culture. It's one of the pillars of our Discova experiences to develop those authentic connections through immersive, hands-on activities and experiential learning opportunities.
"The traditional cooking class with the villagers is always a hit. We even make this into a fun Masterchef-style competition that also involves a trip to the local market to source the ingredients. We challenge visitors to overcome the language barrier!"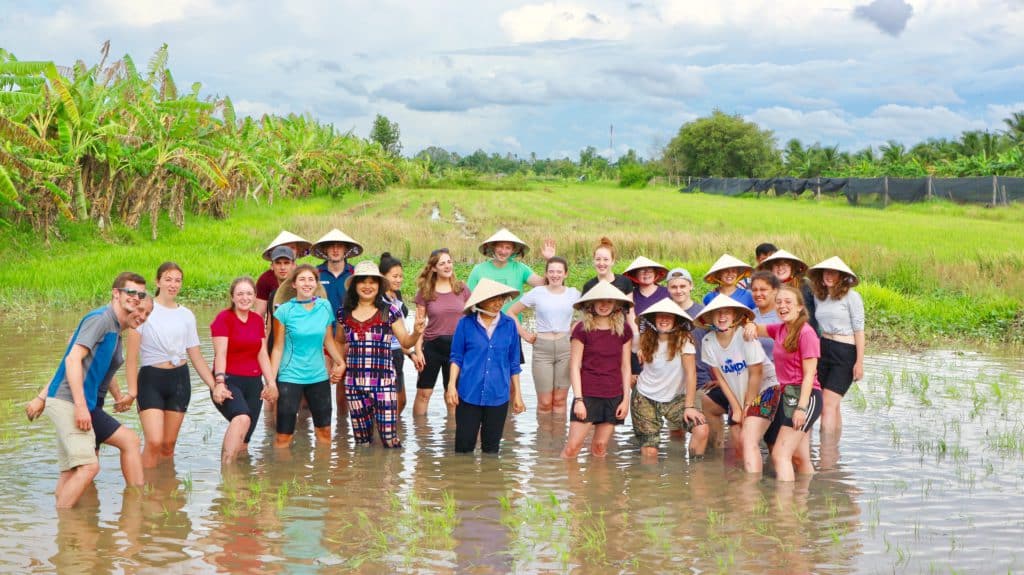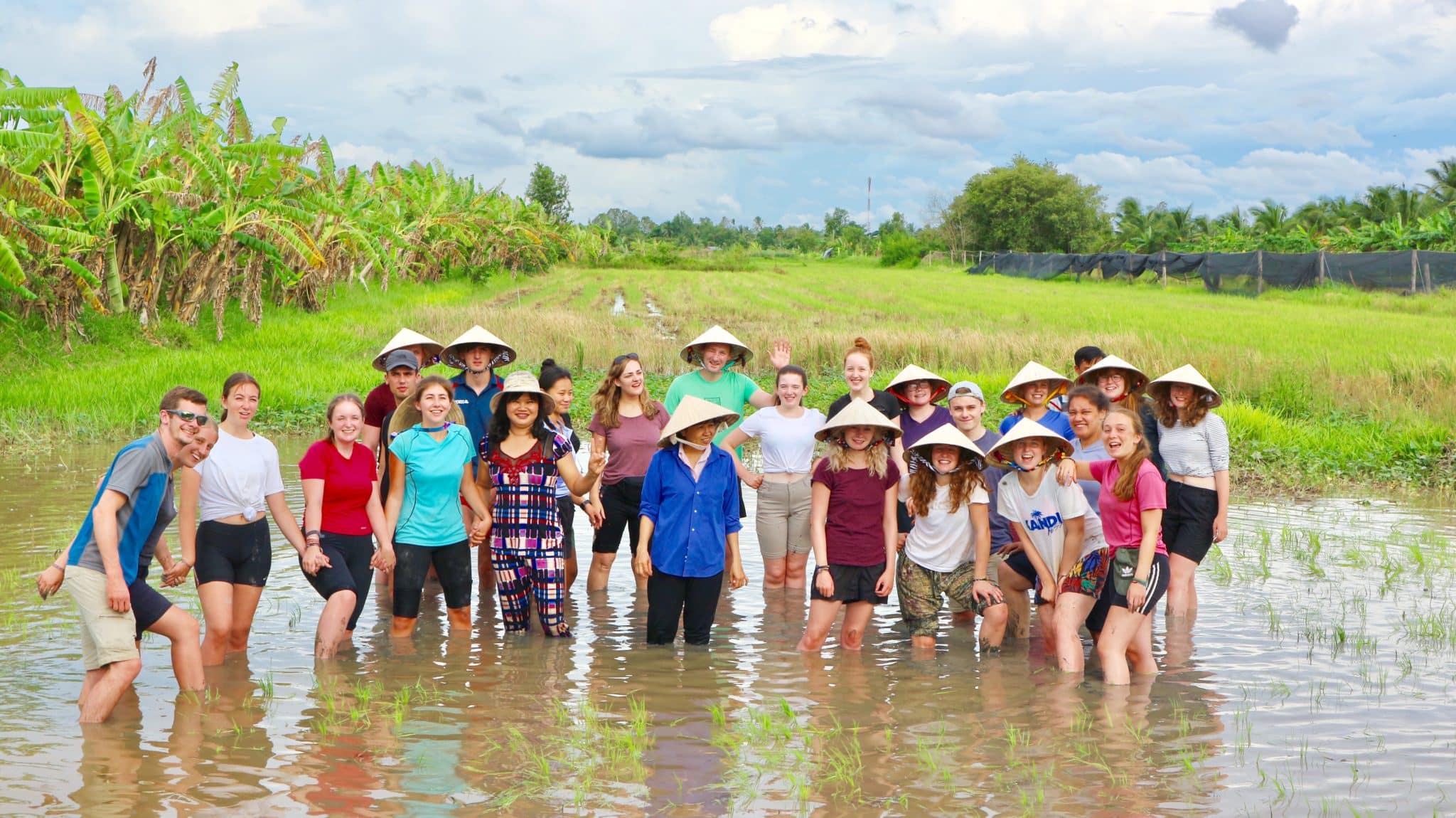 "We get a bit crafty and make the quintessential conical Vietnamese hats that you see farmers wearing out in the fields. We educate visitors on the farming techniques and the rice-planting process – so integral to village life – and also try our hand at the traditional techniques employed by the local fishermen."
"Let's see, what else…" Chi's face lights up at the recollection of another exciting competition, "Ooh, we also do a boat race along the canals! This is always fun – we jump in the sampans and test our skills! Everybody loves a race!"
Over the week, working and mingling together, it's incredible to see the connections that form.
Chi reflects, "Even though there is a language barrier, you can see that friendships develop. There are 2 Vietnamese guides and a facilitator from the team to help out with the language. Yet, as the week progresses, we are needed less and less. It's amazing what spending time together does and how important body language is. When it's time to leave, many of the travellers get very tearful; it's often quite emotional for them."
So, How does the Community Benefit?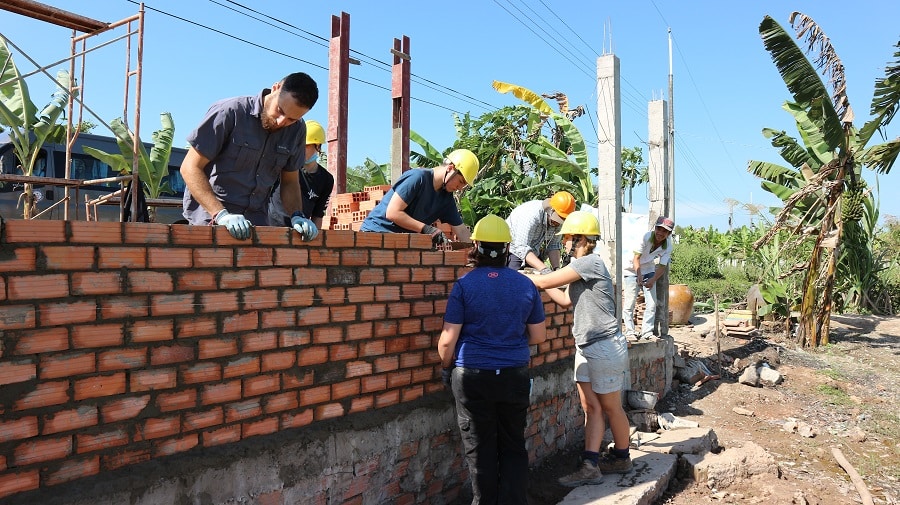 From the outset of our partnership, it's integral that we ensure the communities are aptly compensated for their work. Therefore, a portion of our profits go directly to projects that will improve the lives of the villagers somehow, and this is often supplemented by donations from fundraising. Many visiting school groups undertake fundraising before they arrive but regularly raise extra money back home after spending time in the village.
These projects are decided in conjunction with the community themselves, as we discuss together to prioritise what is needed. This may improve the community's infrastructure, provide healthcare, implement a building project, or perhaps an emergency issue takes precedence.
Whatever the project, the funding process is entirely transparent. Everything – even down to the cost of nails – is accounted for in full.
Through this means of working, the educational travel team have managed to achieve plenty in cooperation with the villagers of Vinh Long, fulfilling the founding principle of 'win-win-win' in which everybody benefits from working together.
Chi reflects on the team's three most significant achievements during her time working in Vinh Long:
Building Houses
"I think one of the most visible achievements was that we were able to build 32 new houses in the community. This was a big priority for us as many of the houses were at risk of flooding. Many of the villagers did not have the funds to protect themselves against this."
"We worked with designers and a construction company to make plans for a suitable house that would cost $3000 to build. It was really pleasing to see these different companies coming together and offering their services more cheaply for a good cause."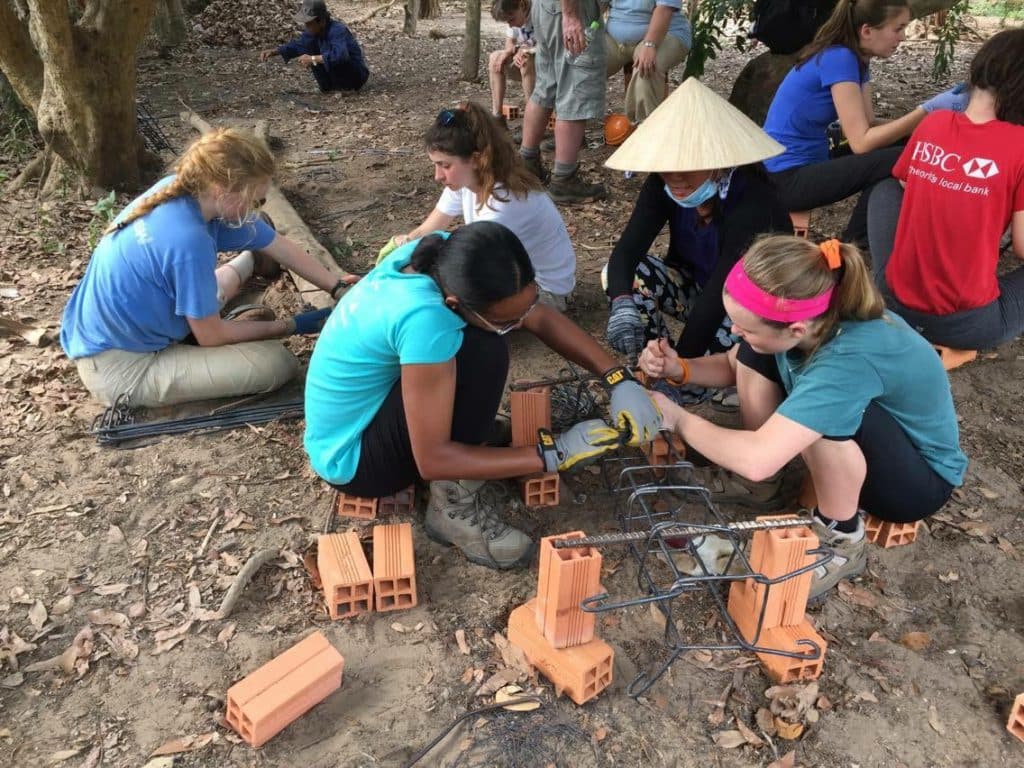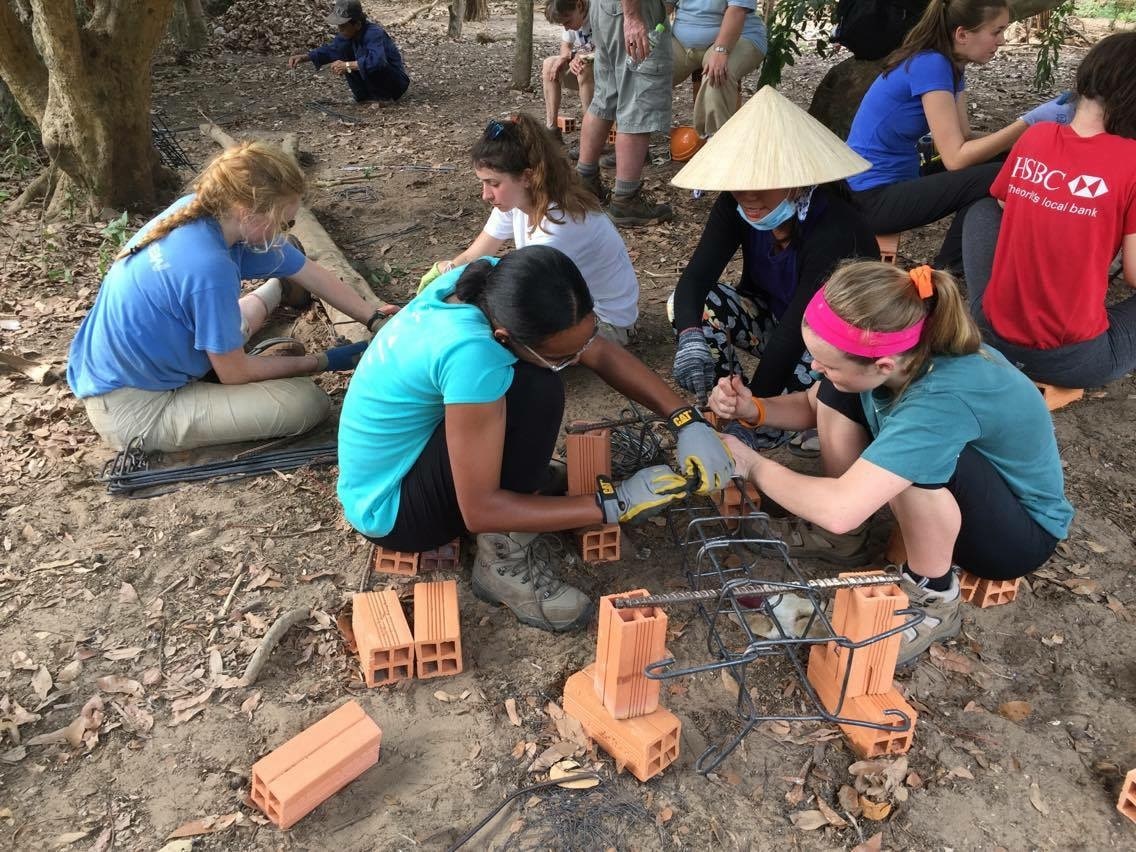 "Even more pleasing was that the construction itself built a kind of trust and community spirit. The first people whose homes were made then helped to build other people's homes too, and so on, meaning the whole project was completed sooner than forecasted, and it felt like a real team effort."
"The only difficulty was that I had to choose from a long list of disadvantaged families – choosing who most needed the assistance at that time. It just shows there is more work to be done if we can."
Bicycles for Pupils
"Some projects are well-planned in advance, and some seem to just spring up. The bicycles came about almost by accident. A villager happened to say that the children walked quite far to school, and it immediately made sense that we could provide some bicycles for them."
"The children often have to walk 2 or 3 km in hot conditions to school, and this takes a lot of time. With a bicycle, they could do this quicker, it would be more convenient for them, plus they could get to play with the bikes too!"
"This is nice because it is something that does not cost so much – around $80 per bike, I think – but it's plain to see that this improved the lives of the kids who received them."
Midwifery Students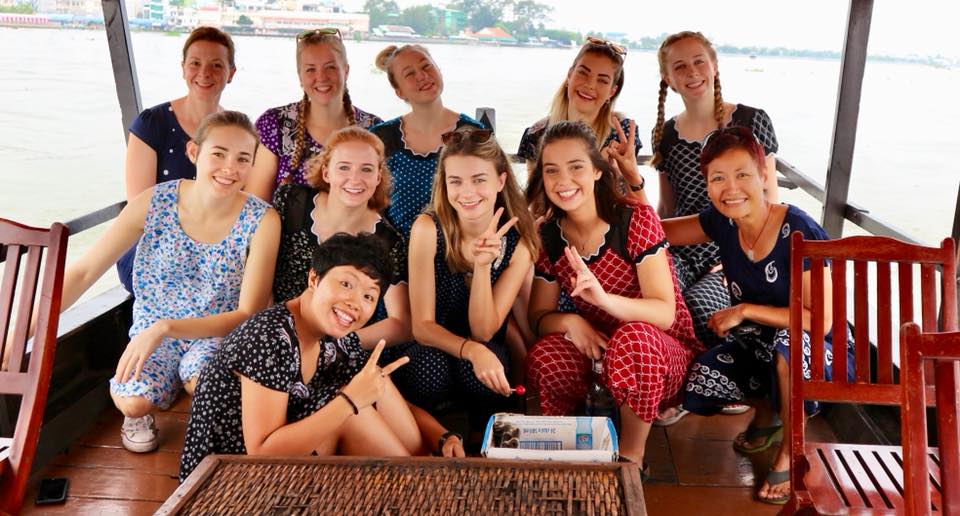 "The third project would have to be the midwifery students that regularly come to open mobile clinics, offer free health check-ups and healthcare education, and support local nurses."
"Not only are the students inspiring to me, but this project really emphasises the benefits of exchange. The Australian students gain valuable insights from adapting to a different environment and working with their Vietnamese colleagues. They always give positive feedback, saying it opened their mind to understand that medical treatment may take different forms in different places and you have to do your best in whatever situation."
"However, the Vietnamese nurses also learn from their Australian counterparts. They discover the latest techniques in workshops given by the students. Also, the midwifery students provide that extra level of care for patients, providing warmth in their bedside manner that can sometimes be lacking in Vietnamese hospitals."
"So, on top of the cultural exchange, it's clear to me there are professional benefits for both sides with this project, not even mentioning the direct benefits to the patients themselves! It's just something nice to be part of – providing the logistics for projects like this."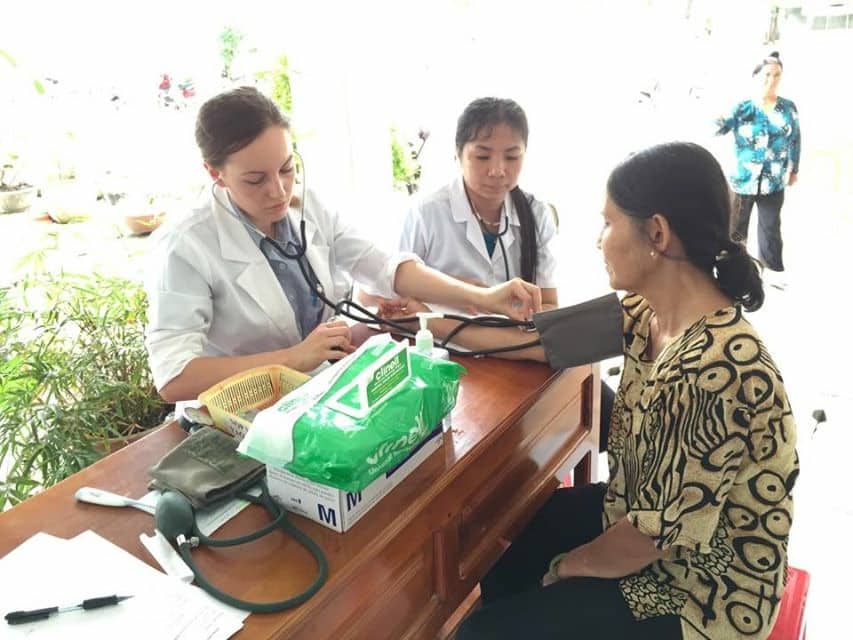 Going Forward with Educational Travel
We have talked elsewhere about the challenges faced by the educational travel team during the pandemic. With traditional revenue sources for these communities having been rendered impossible, the team have had to develop new ways of generating income for the communities.
One way in which they did this was to create a whole new range of virtual training programmes, packaging the usual mix of educational service-learning content and cultural immersion activities into an online experience.
This is ongoing and gaining traction, with more groups scheduling virtual workshops over the summer. Chi explains that, in the future, even when widespread travel returns, these virtual experiences will still be utilised, perhaps as preparation for visiting groups before heading out to the communities.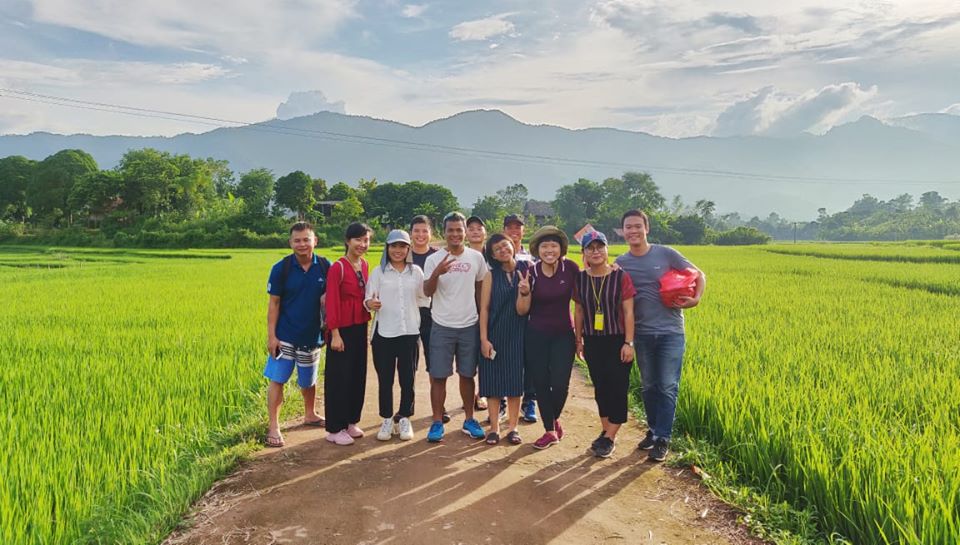 Chi displays a positive attitude characteristic of the whole team.
"It has been challenging, but we have had time to reflect and evolve."
"We have adapted in the creation of the virtual programmes, and for sure, I think the use of technology is something we can improve upon with our services, from generating more video content to advertise our experiences to streamlining virtual experiences into our programmes."
"In the future, I also think we can better align with our sustainable development goals as a business, incorporating these into our educational travel programmes. I look at what our colleague Peter Christiansen has put together in Bali – a farm-to-table project that promotes organic and sustainable farming methods – and this inspires me to create something like this in Vietnam. We can instil in our programmes these responsible travel initiatives that are such vital values to Discova."
As Chi speaks, you get the feeling that it comes from the heart – she certainly looks inspired. There is a sense of relentless energy and wanting to get on with the work ahead. It's a mindset encapsulated in her final sign-off.
"Well, I'm proud of our stance that we have kept our responsibility to our communities, that we have continued to build our relationships even during this time. We'll keep working, that's for sure."