We recently spoke with Rainy and Air, two of our wonderful local travel experts based in beautiful Phuket. Talking about a range of topics, such as competing with Google and the dangers of spicy food, we delved deep into the life of a Discova guide in Phuket, gleaning some valuable insights along the way. We also spoke of the challenges faced during the pandemic – of threatened livelihoods and the hope of returning to normality soon.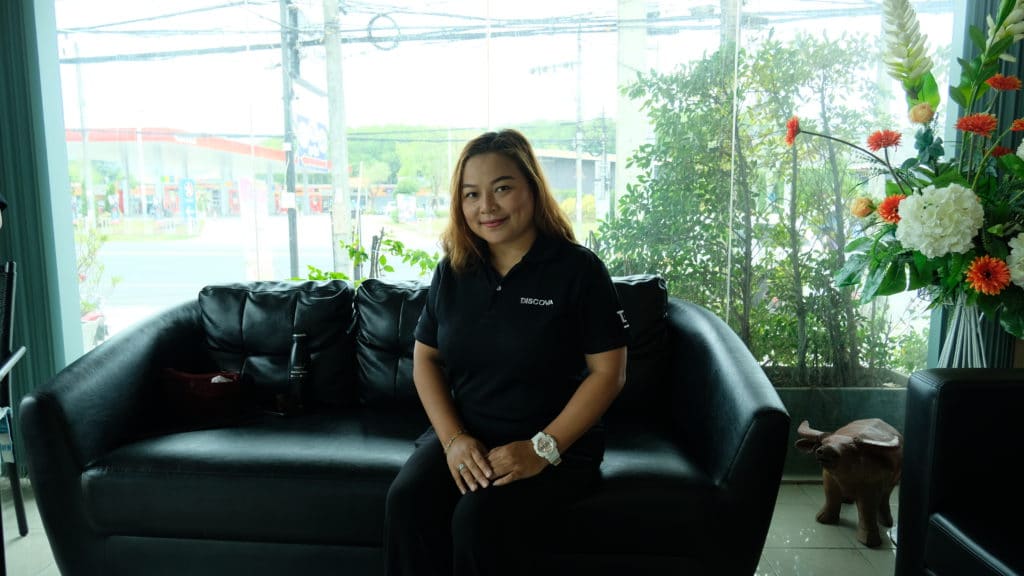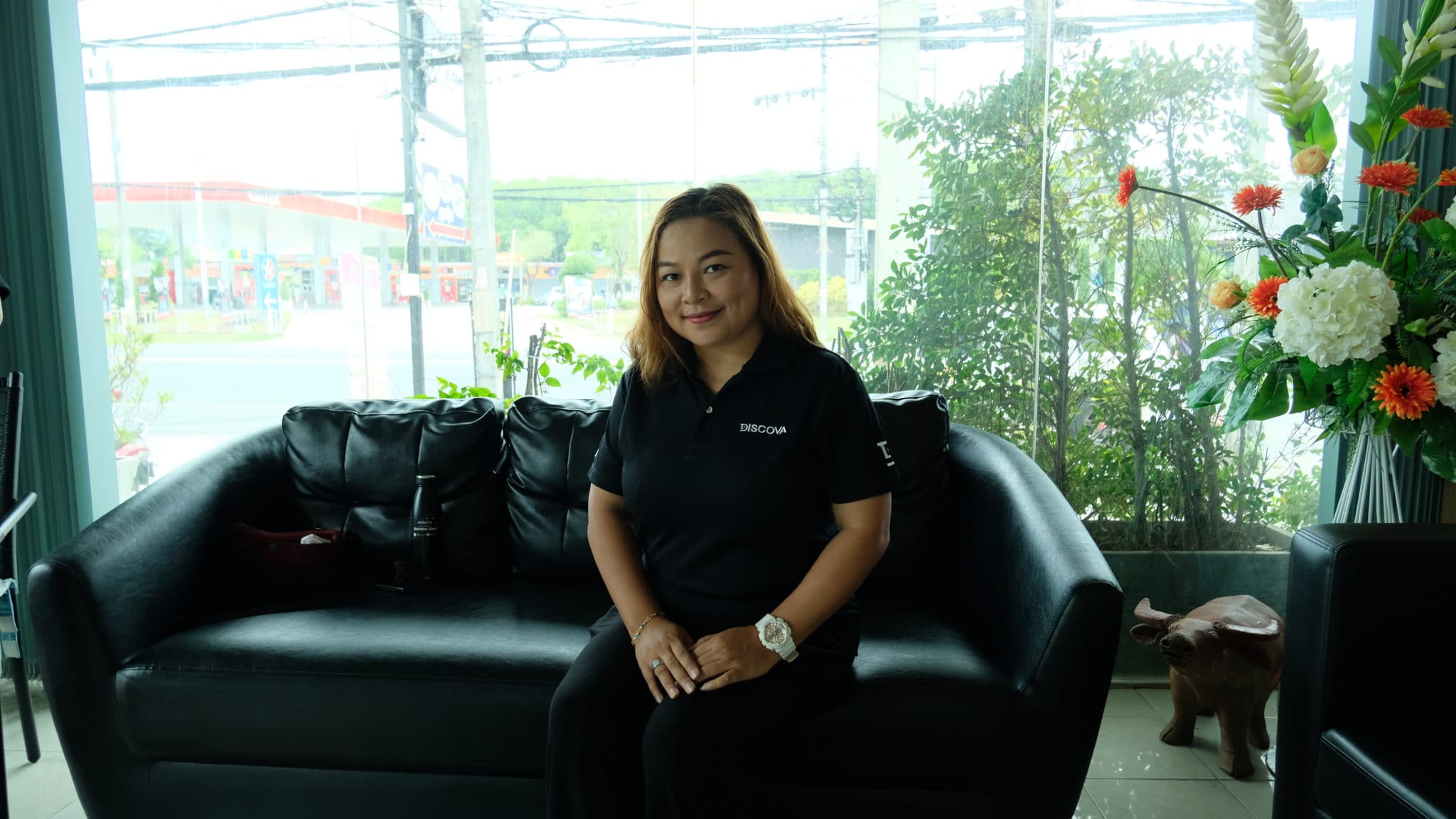 On the Urge to Become a Guide…
As you might expect, an enthusiasm for travel is often a motivation for becoming a travel guide – a keen sense of adventure is a must. Both Rainy and Air clearly show a desire to explore.
"I love to travel", Rainy beams, "though travelling costs money – I had to find another way."
For Air, the same is true, though perhaps her path towards being a guide could best be described as FOMO. Previously, Air had sat behind the desk at a hotel, watching travellers coming in and out, enjoying experiences. "I decided I'd like to get out from behind the desk."
Yet, underneath the urge to explore, there is a passion for presenting their home with pride.
"I am proud of my hometown. I like to present my food, my places, my stories to other people. This is so nice for me", explains Rainy, to which Air nods enthusiastically before adding, "Most people come to Phuket for sea, sand, and sun. I like surprising them by showing them we have great stories to share too. They love it."
On the Challenges…
While from the outside it may seem like being a guide is a carefree, fun-filled existence, Rainy and Air cautioned it's not all a breeze. A lot of effort goes into getting licensed, and a lot of planning goes into the day-to-day job of a local travel expert.
"I had to go to training for a year to get fully licensed and to become confident in everything I needed to know. Without that confidence, I would be lost on tours", admits Rainy. Similarly, Air ruefully remembers having to memorise a whole textbook of information on the history of Phuket to pass her licensing test. Even though, as a local, she knew a lot about Phuket, being ready to be a guide required lots of extra specifics.
Air also highlighted that guides have to always be flexible and quick to improvise a new situation. "There is often something changing in the itinerary: maybe a place is closed, maybe an activity is not possible. This could mess up the whole day. It's our job to make sure that doesn't happen and make everything smooth for the traveller."
Rainy beams again, "We make it look easy! But it takes practice."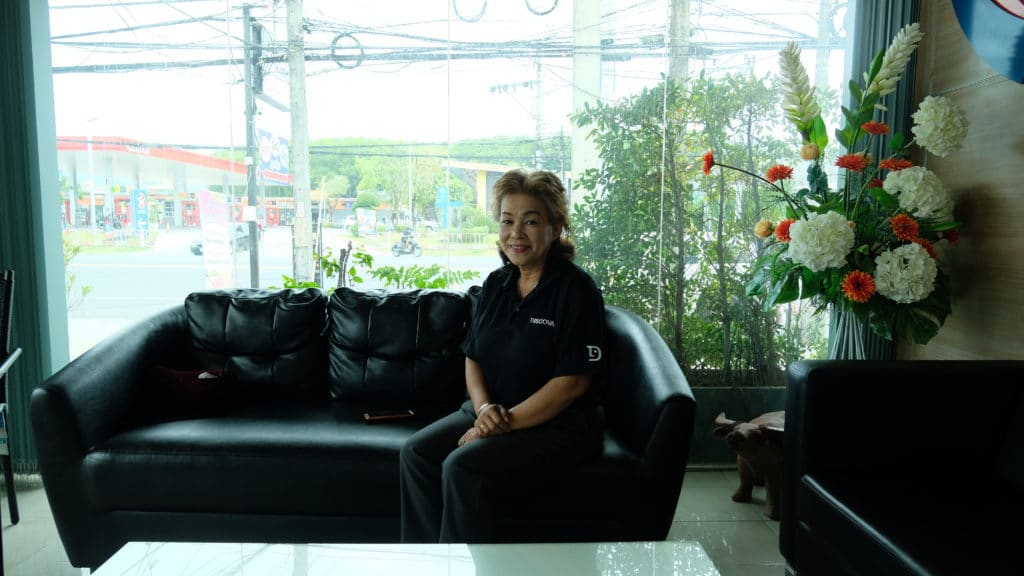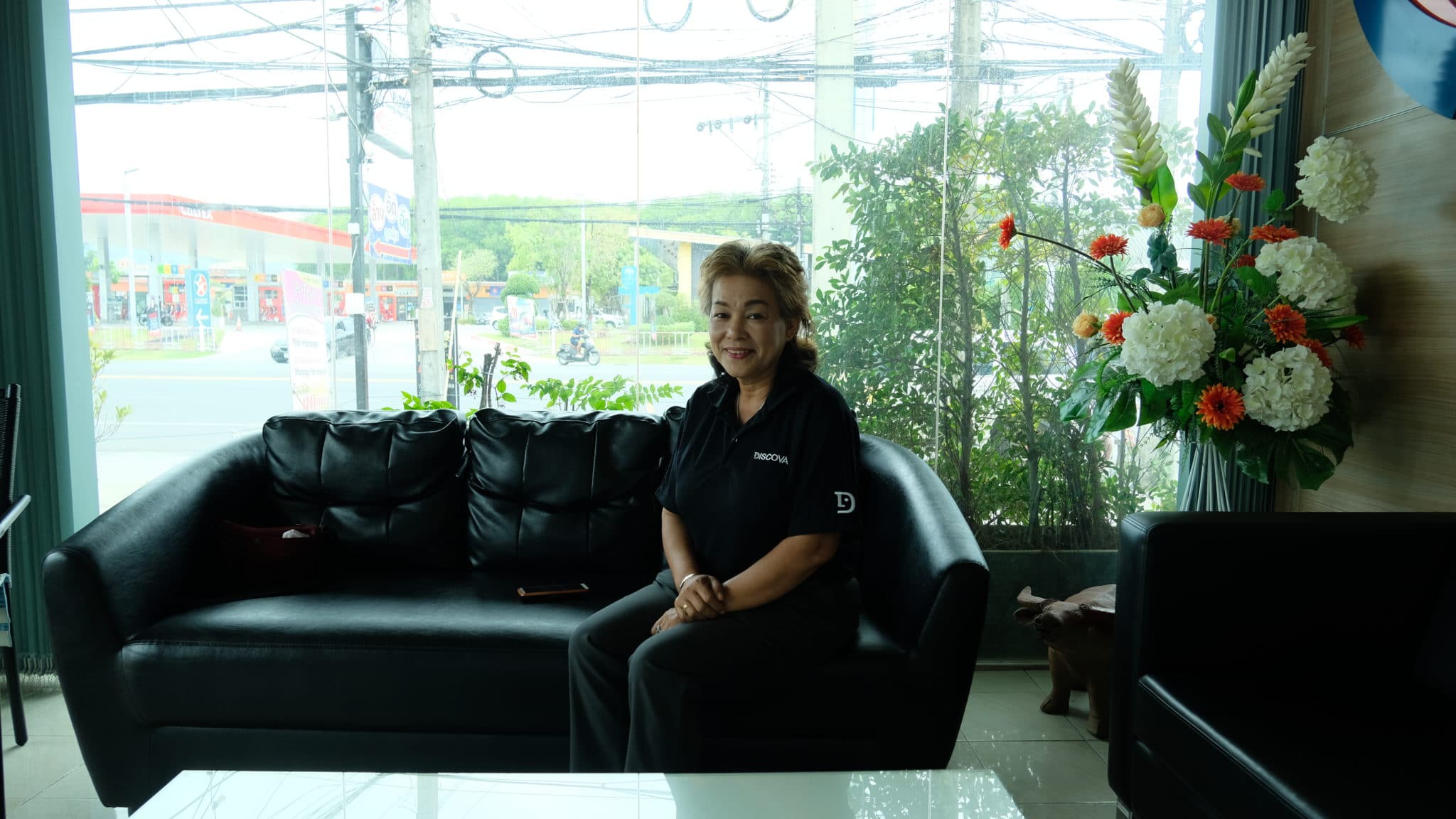 There is also a lot of planning that goes into a trip. Both Air and Rainy receive details about the group before a tour: information about age, nationality, solo travellers, couples, or families, as well as some information about preferences. Then, they adapt their itineraries accordingly, based upon their previous experiences of what different groups are most likely to enjoy.
On Making Friends…
Both women immediately established the one overwhelming bonus of being a guide – they meet new friends all of the time. At Discova, we regularly receive positive feedback from travellers on the warmth of our guides. It seems that the feeling is mutual!
"Whenever we are given a tour, it is at first a job", says Rainy. "However, always, by the end of the tour, I have made new friends. It always just happens like that – it's so great!"
The statement brings a smile to Air's face too, who reflects on the best feedback she gets as a guide. "At the end of the tour, after we have talked and exchanged and became friends, sometimes they say, 'can we book something else with you?'"
For Air, this is the best moment because the travellers are pleased with the experience and want to spend more time with her specifically. It's a real heartwarming moment on the job.
On Phuket Street Eats…
One of the experiences that Rainy and Air have both guided in Phuket is the Street Eats tour. The activity involves touring the street food markets in Phuket Town to give travellers a taste of delicious Thai cuisine. From spicy northern sausage to stir-fried squid, from creamy coconut curries to fiery noodle dishes – there is an enticing array of tantalising treats to try. Our guides expertly craft the tour, customised for each group to ensure everybody is satisfyingly stuffed by the end of the experience.
As Rainy highlights, food is a great way to get to know a place. What's more, it's a universal pleasure. "Whenever anybody starts talking about food, their face lights up, they become happy. Along the way, you have to tell the narrative too. We can tell the story of Phuket, what makes it different and why things are the way they are…just through the food. This storytelling aspect is very popular with travellers."
Air picks up on the theme. "Part of our job is to tell the story of Thai food. In Phuket, the food is different from in Chiang Mai or in Bangkok, and we need to explain this to the traveller. It's because of the mix of cultures in Phuket – Malaysian, Chinese, Thai –  and you can see this in the food."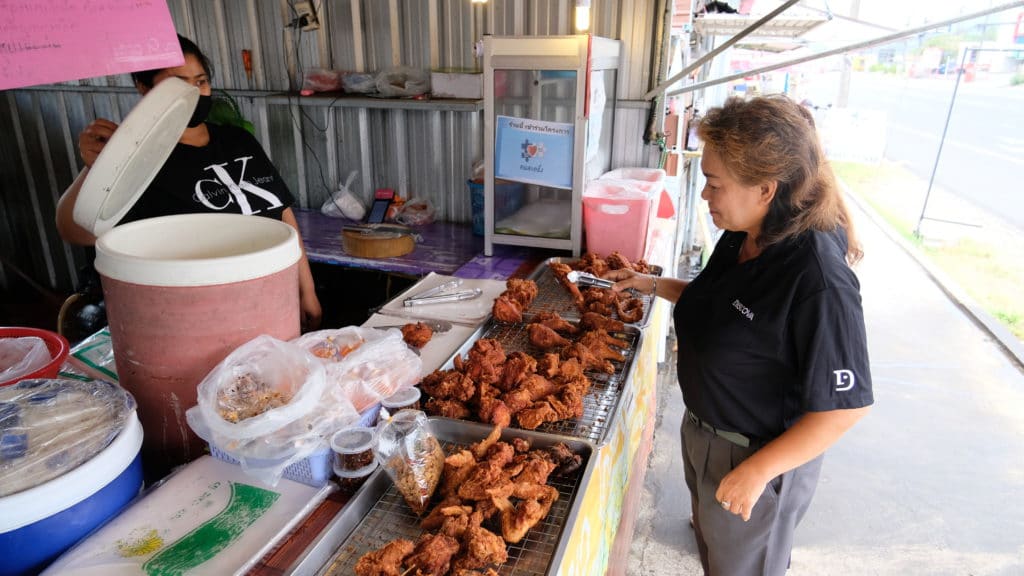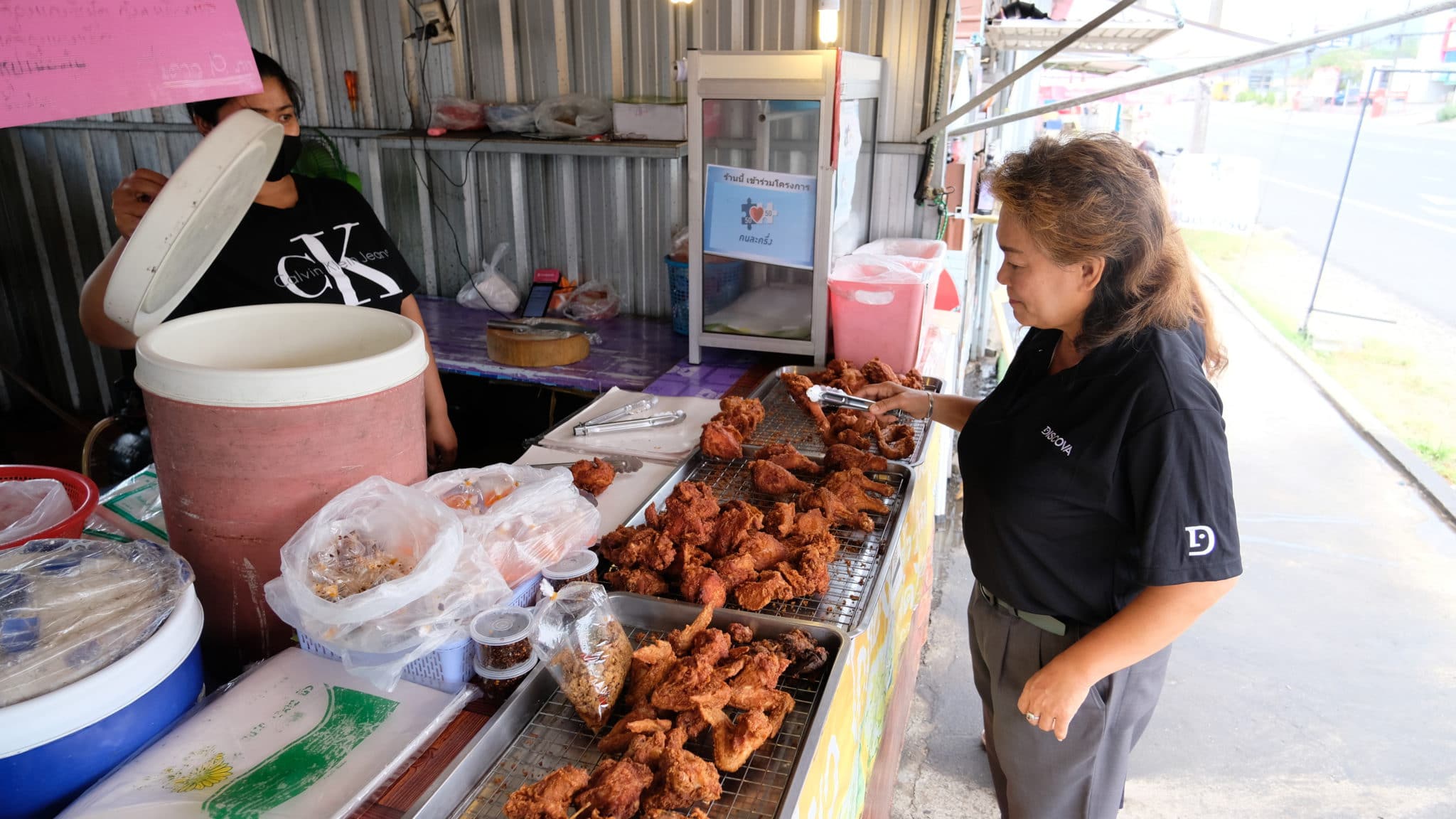 And so, what proves popular with travellers?
"Well, the most important question to ask is – can you handle spice?" Both Rainy and Air laugh knowingly.
Thai food famously packs a punch and can leave even the most fervent spice-seekers red in the face. Rainy and Air explain that it's their judgement to gauge what level of spice would be appropriate for each group – and warn their braver friends about the dangers of sum tam and laab (spicy salads).
Besides these, Air believes one dish to be universally popular. "Phuket-style coconut pancakes are always a highlight for travellers. In Bangkok and elsewhere, they put in taro, pumpkin, shallots – something like that. But in Phuket, we keep it sweet, topped with thick coconut milk."
She also confidently claims that Phuket egg noodles are the best in Thailand, while deep-fried fishcakes are another popular choice, providing they aren't too spicy!
On Phuket Heritage Walk…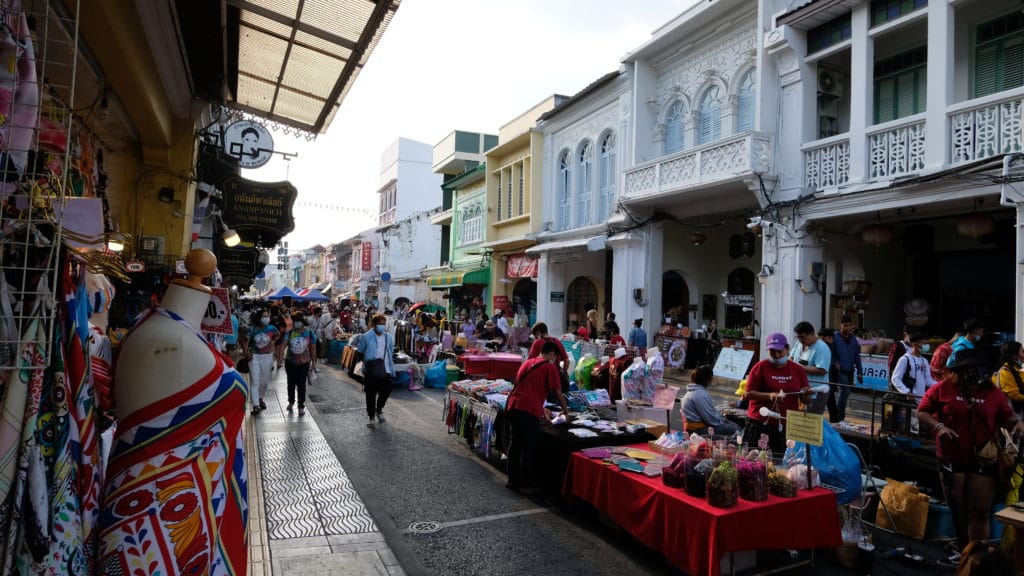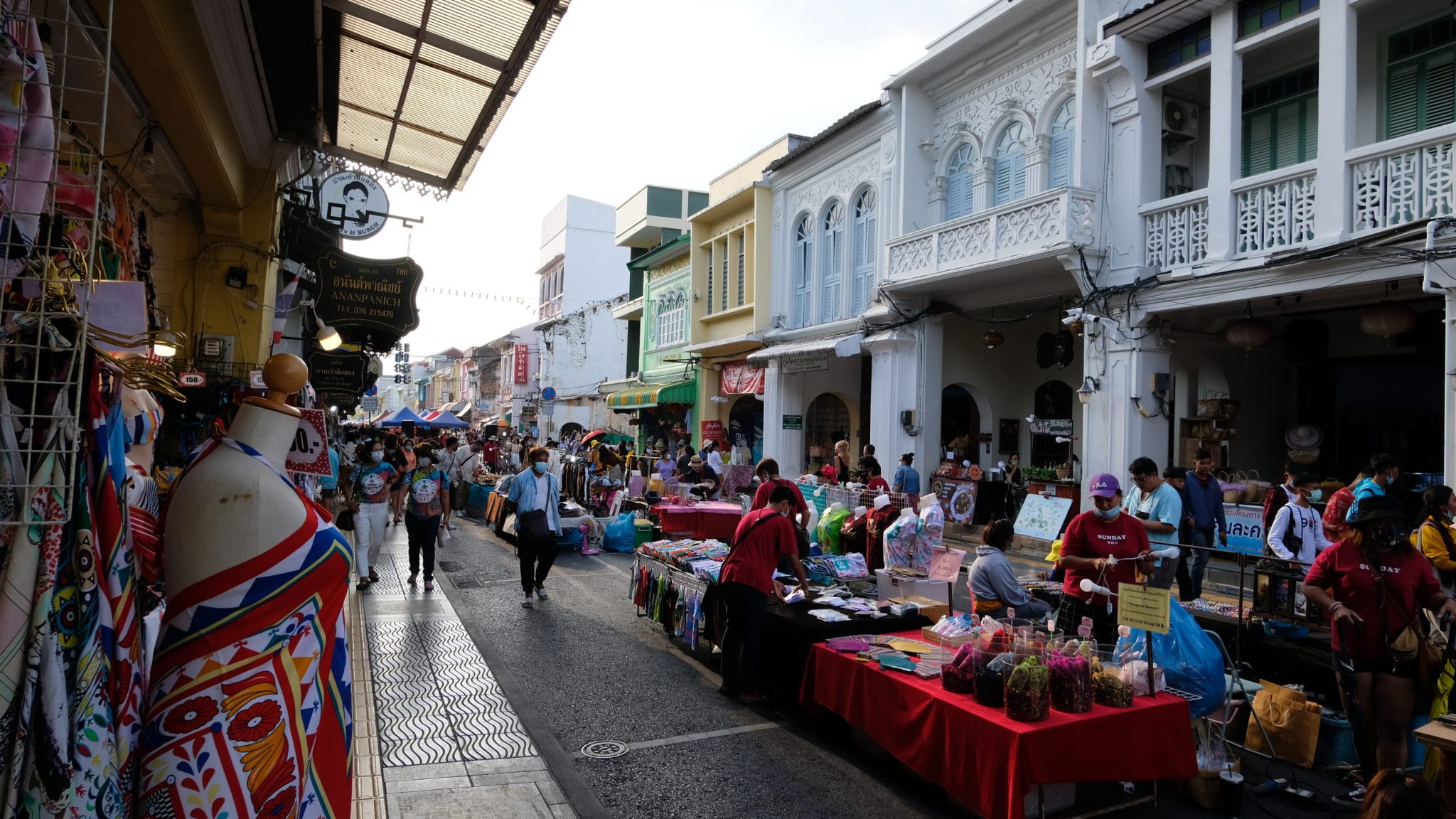 The Phuket Heritage Walk is another opportunity for Rainy and Air to showcase their storytelling talents. The tour is a cultural experience that explores the history of Phuket old town. Journeying through the colonial Sino-Portuguese streets, travellers visit a couple of museums and learn about the island's fascinating past.
"I have to entice the travellers to choose this tour sometimes", explains Rainy. "They often want to go to the beach, maybe see a nice view like at Promthep Cape. But I say…have a try, it will be something special for you because I like to share the buildings' stories in the old town. It's when I really get to be a guide."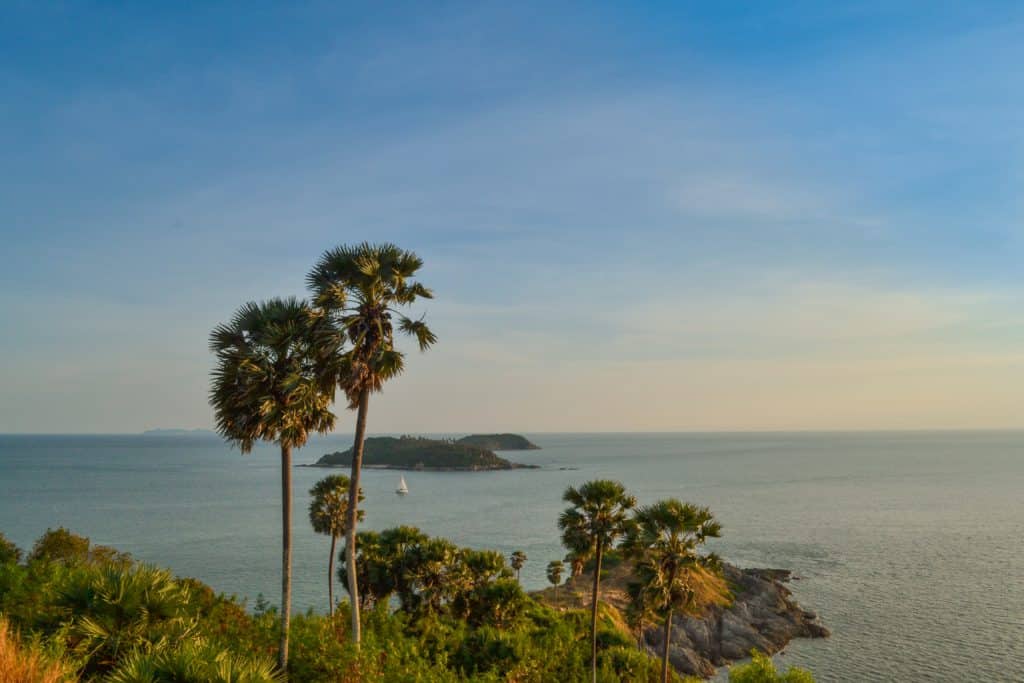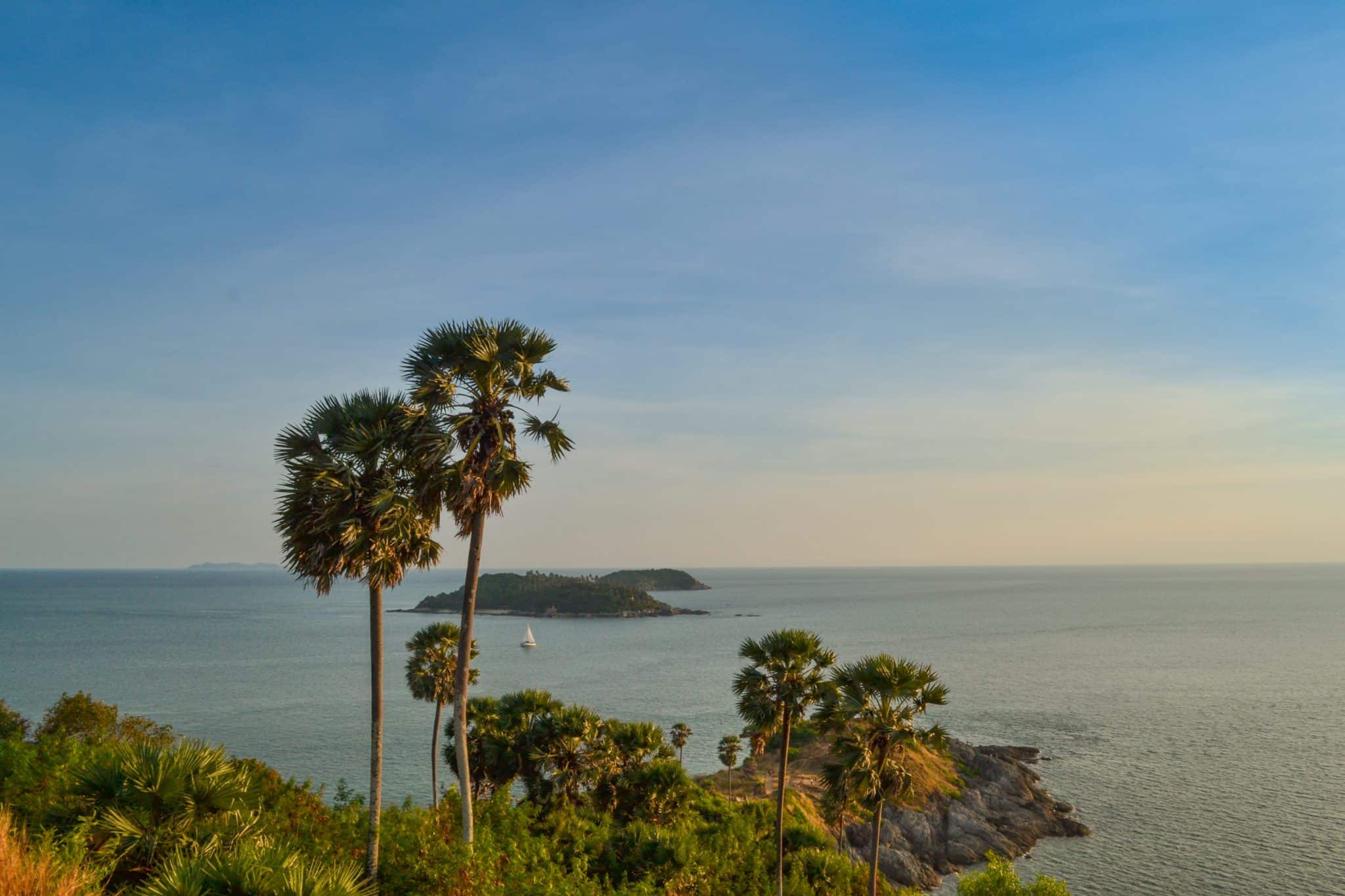 Both Rainy and Air clearly enjoy sharing the stories on this tour. Air says that she is only allocated 30 minutes' talking time in the museum – an allotment she never fails to go over. "I have too much to say", she admits sheepishly.
This enthusiasm finds its way into free time, with Rainy even heading to Phuket old town to speak to the house owners to find new, intriguing stories. Many of the narrow street houses have been home to merchants' or traders' families for a long time, and oral family histories are often rich sources of information for Rainy. "I have to compete with what travellers can research on Google. So, if I can gain some personal tales, this provides something a bit special and unique for travellers."
Air puts it concisely – "The only way you can get the real story is through speaking to the local people."
On Working for Discova…
Both Air and Rainy have worked with Discova for several years, though they have periodically worked with other guide companies and tour operators in the area, too. They both expressed a preference for working with us as they both enjoy the emphasis on explanation within the tours.
"I mean, the focus is on explaining things to travellers. So, that's interesting for me", states Rainy. There is a strong sense that, while both guides admitted they have to do plenty of research to gain their knowledge, they find the opportunities to showcase this the most fulfilling. After all, as experts, they like to show their expertise.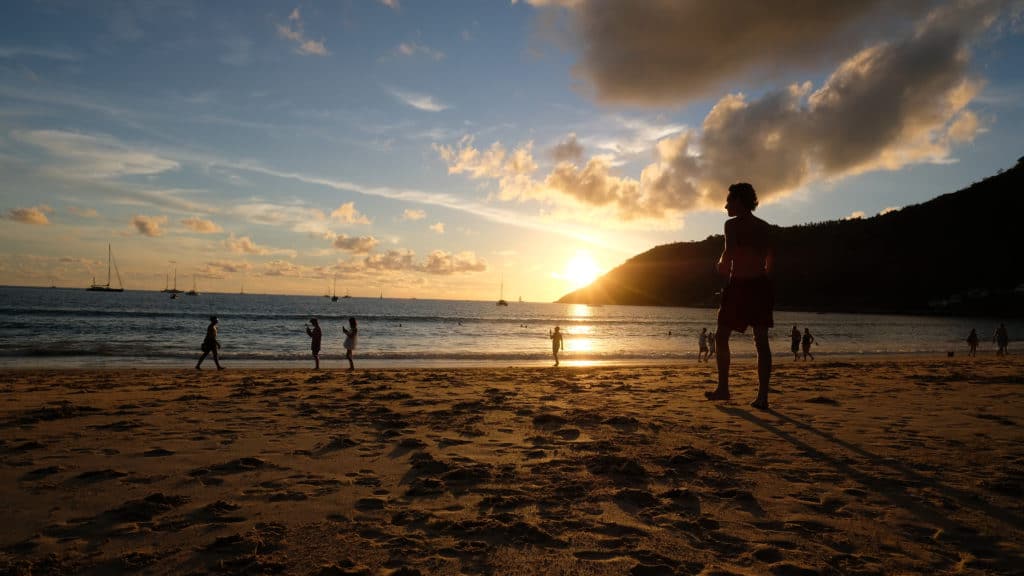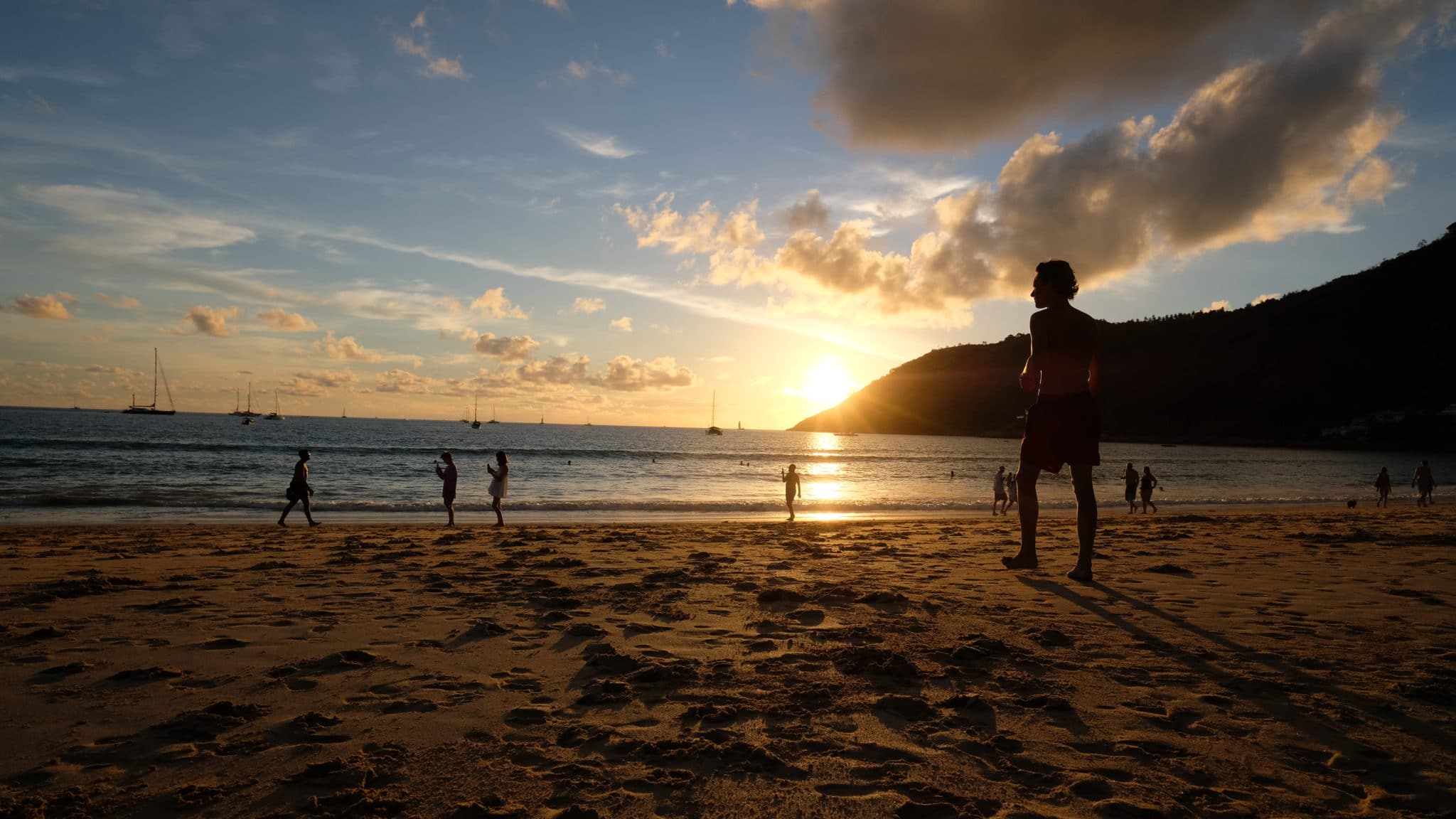 What's more, Rainy was grateful for the consistent investment in their expertise by offering annual training opportunities. "I like working for Discova because they have always trained us. Every year we go to Bangkok to do some training, and that is really helpful. It is also good because of the type of tour that we do. They encourage us to be storytellers, share our knowledge, and give us the skills to do this better. This type of guide work makes me proud."
Air brings us on to the final topic of conversation, finally hinting at the elephant in the room. "Even recently, we were very grateful that Discova has stayed in contact. Not many companies have been as kind, helping us to stay in touch, do some training. It shows they care."
On Hardship During the Break…
Since the downturn in international travel due to the pandemic, we have had to limit our Phuket operations. Obviously, this has meant that Air and Rainy have not been able to do what they love. Although there has been some recent news hinting at a possible opening in Phuket from 1 July, it certainly seems that it will be a few more months before Air and Rainy will be able to share their stories with travellers again.
So, what have they been doing during the enforced break?
Well, it turns out, while there has been hardship and challenges, they have been able to participate in some positive enterprises.
"We set up a programme to go into schools to help teach the children English", says Rainy with her characteristic beaming smile. "We know it will be a useful skill for them to work in the tourist industry. So, we set up little camps for them on special days and during the holidays. We play games and hopefully improve their English confidence. Sometimes we get paid, sometimes it is voluntary work, but it's all fun!"
Air, who also takes parts in the English camps, proudly shared some photos of their work in the classroom. It's clear that the same qualities learned through guiding can come to the fore when dealing with children. Their positivity and caring nature are infectious and, photos of smiling and laughing students aside, there can be no doubt the enthusiasm radiating from these guides would be a welcome addition to any lesson in school.
Other than this, Air has used some of her culinary skills to make ends meet. "Many guides have come together to set up food stalls in the markets in the evening. I have a pad thai stall. It's quiet, but we get by."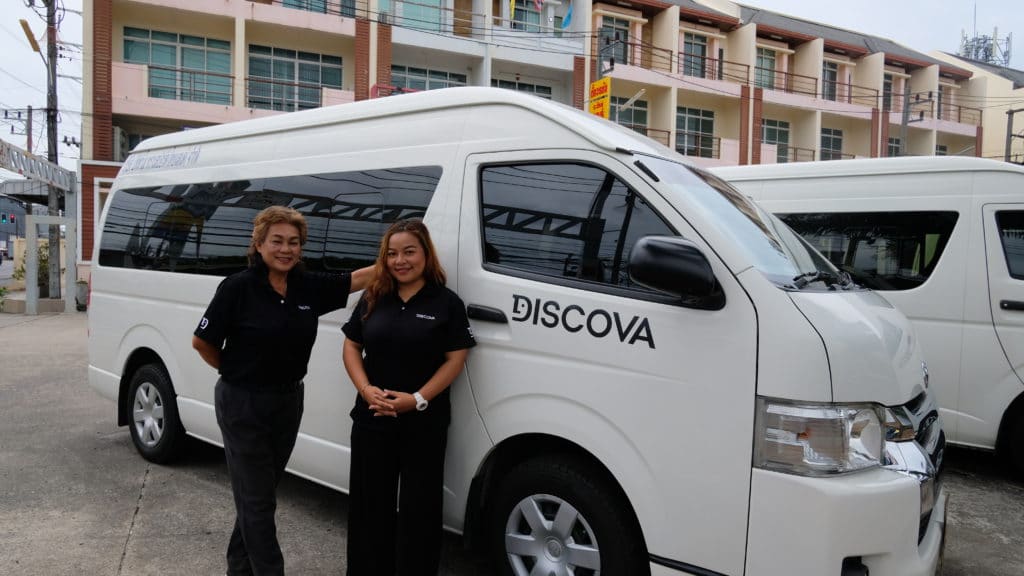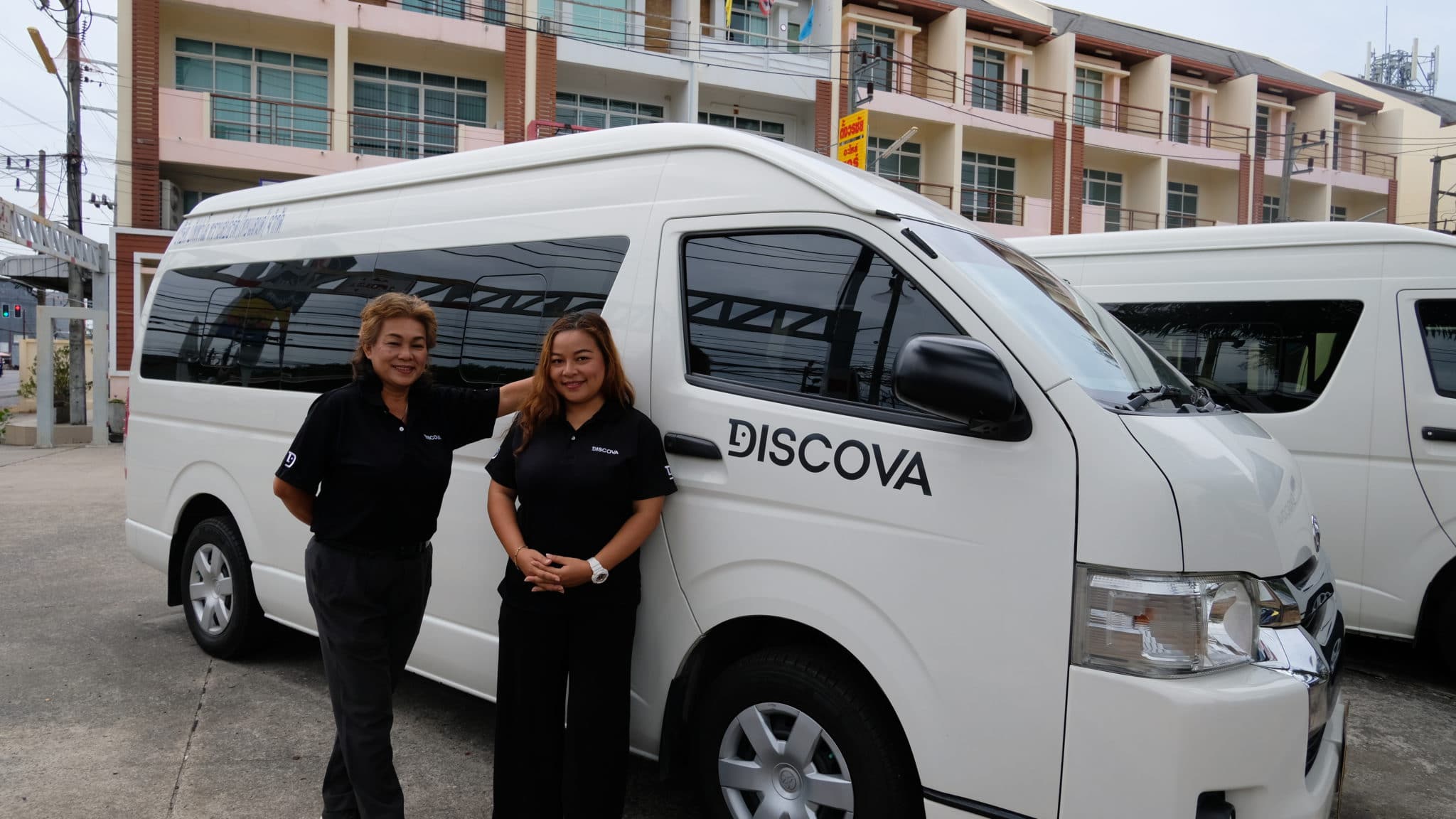 When asked whether they will be returning to guiding, the answer was a resounding yes.
"We all can't wait to get back to doing what we do best and guiding tourists again."
Both women agreed. While there was a hint of sadness at the lost time, both smiled at the thought that a return to guiding may be within sight.
Everybody at Discova has their fingers crossed that Rainy and Air will be guiding tourists again very soon.