The Asian continent offers an eclectic mix of fascinating culture and ancient tradition that culminates, throughout the year and across the region, in colourful, roaring, passionate celebrations – one of which being Tet. Festivals and events offer a unique insight into a country's history, communities and culture, and timing a trip to coincide with one is guaranteed to provide incredible memories.
However, is it necessarily wise to visit at the time of a festival? This week, many of our destinations will be celebrating the Lunar New Year. Although many travellers cannot join in with the festivities this year, and with restrictions in place for scaled-down celebrations, we can look ahead to 2022. We thought we'd dive into what visitors can expect in some of our destinations at this reflective and celebratory time. In this piece, we look at Tet celebrations in Vietnam with a little help from our expert on the ground and Ho Chi Minh resident, Partner Experience Manager, James Duquette.
Tet Celebrations in Vietnam
Tet is Vietnam's multi-day celebration of the Lunar New Year and is a time for family reunions and long-held traditions. Tet takes place on February 12th this year, but the celebrations usually last a week or more. In the week leading up to Tet, locals make the often long journey back to their hometowns and spend time preparing their homes and various labour-intensive delicacies for raucous New Year feasts.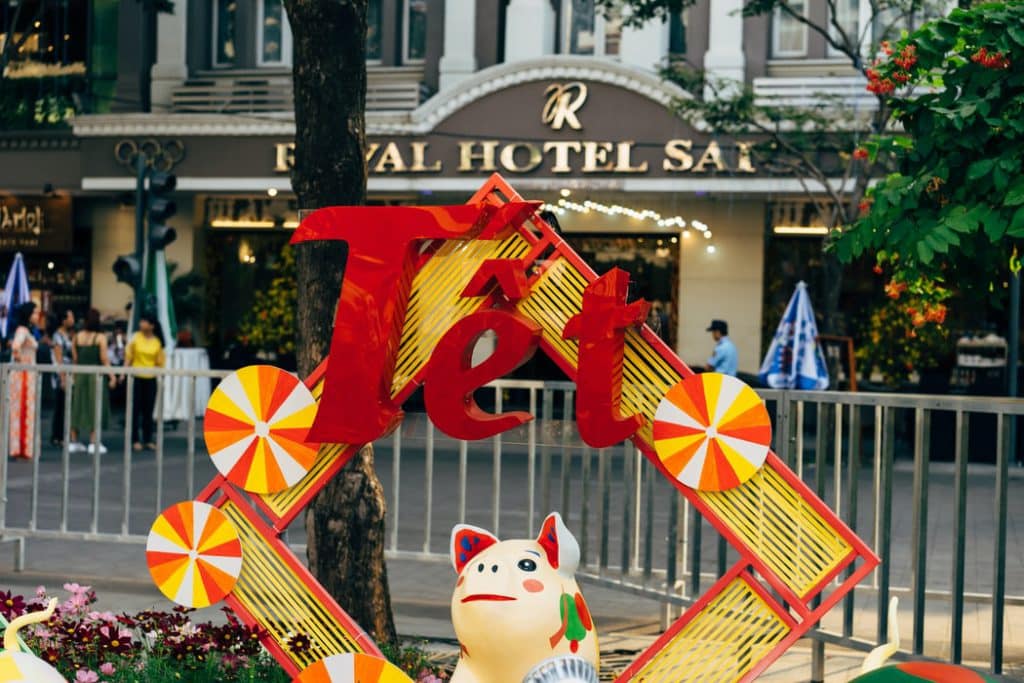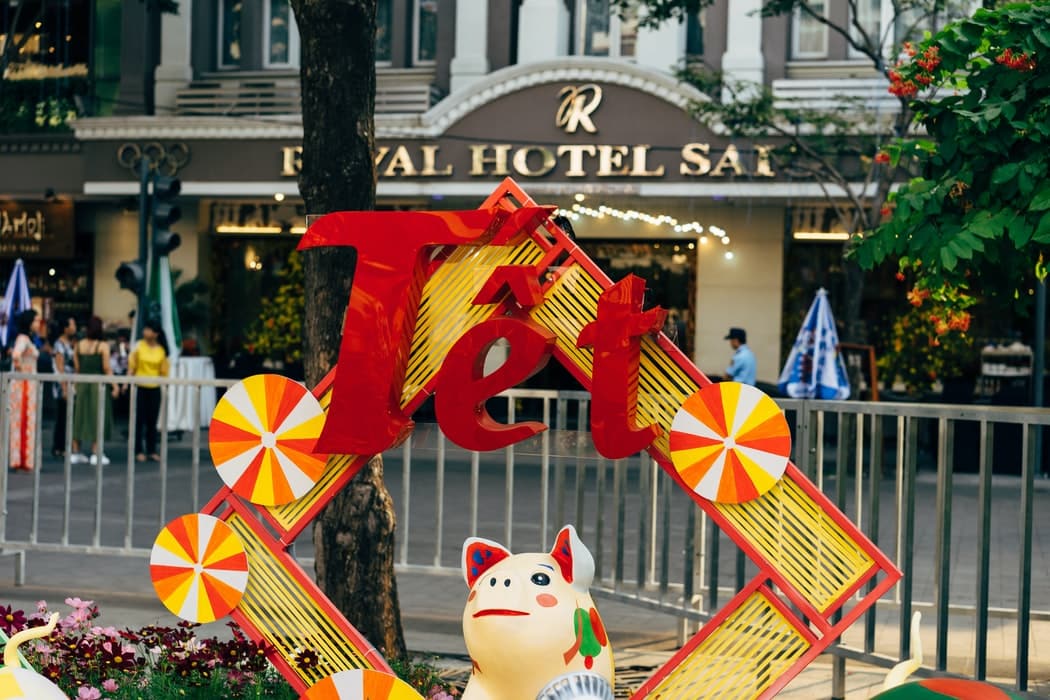 "Vietnam in the run-up to Tet is just like most western countries in the run-up to Christmas. There's a ton of buzz and energy, and there's the typical holiday music (yes! There is even Lunar New Year music!)", explains James.
There is a significant emphasis on the new year being a new beginning – and so Vietnamese take the time to prepare themselves and their houses. "The idea is that you want a sparkling clean house, you want your bills paid, you want to start the new year with the kind of energy you want to take forward with you. Cupboards get stocked with food so that there's an energy of 'abundance' at this auspicious beginning. Every house is sparkling, spotlessly clean."
Hanoi and Ho Chi Minh During Tet
Many Vietnamese city-dwellers still have strong connections to hometowns in the countryside, and so head out of the cities in the run-up to Tet to spend time with their families. Therefore, the usually bustling metropolises of Hanoi and Ho Chi Minh can feel a little deserted.
With many people having left the city, travellers will find that many restaurants, hotels, and other businesses are closed over the Tet holiday. Nevertheless, there are still enough families who call these cities home to cater to tourists and ex-pats. Though travellers may be disappointed to find that well-reviewed restaurant they had their eye on closed, the key is that there are plenty of options still available – an open-mind and a willingness to explore will be beneficial.
In fact, James insists that exploring is never more pleasant than during Tet. "I love to explore the city because it's the best time to see it. I have to admit, the traffic in Vietnamese cities can sometimes be a pain to navigate. During Tet, you don't have a million motorbikes to dodge and weave through, you can just take a walk and see things and gain a real appreciation for the city. Also, every area has its flower street, which has tons of Tet flowers and decorations so that those of us in the city can enjoy a bit of the country spirit."
Travellers will observe the beautiful Tet flowers on show. Flowers are an integral part of the holiday's decorations – with yellow chrysanthemums, peach blossoms, and even kumquat trees ubiquitous across the cities.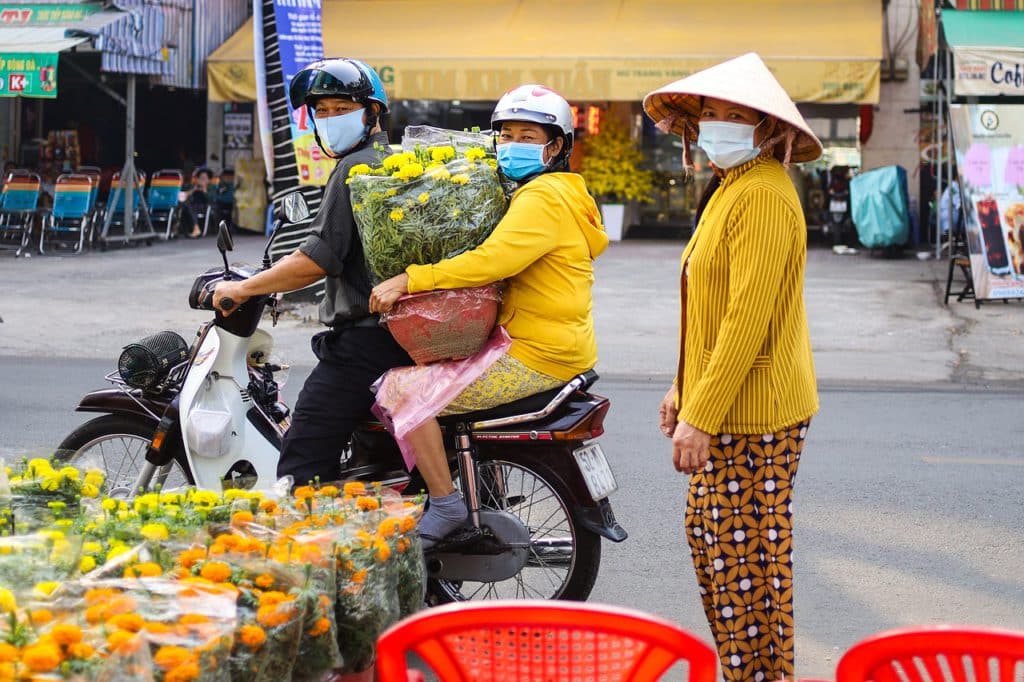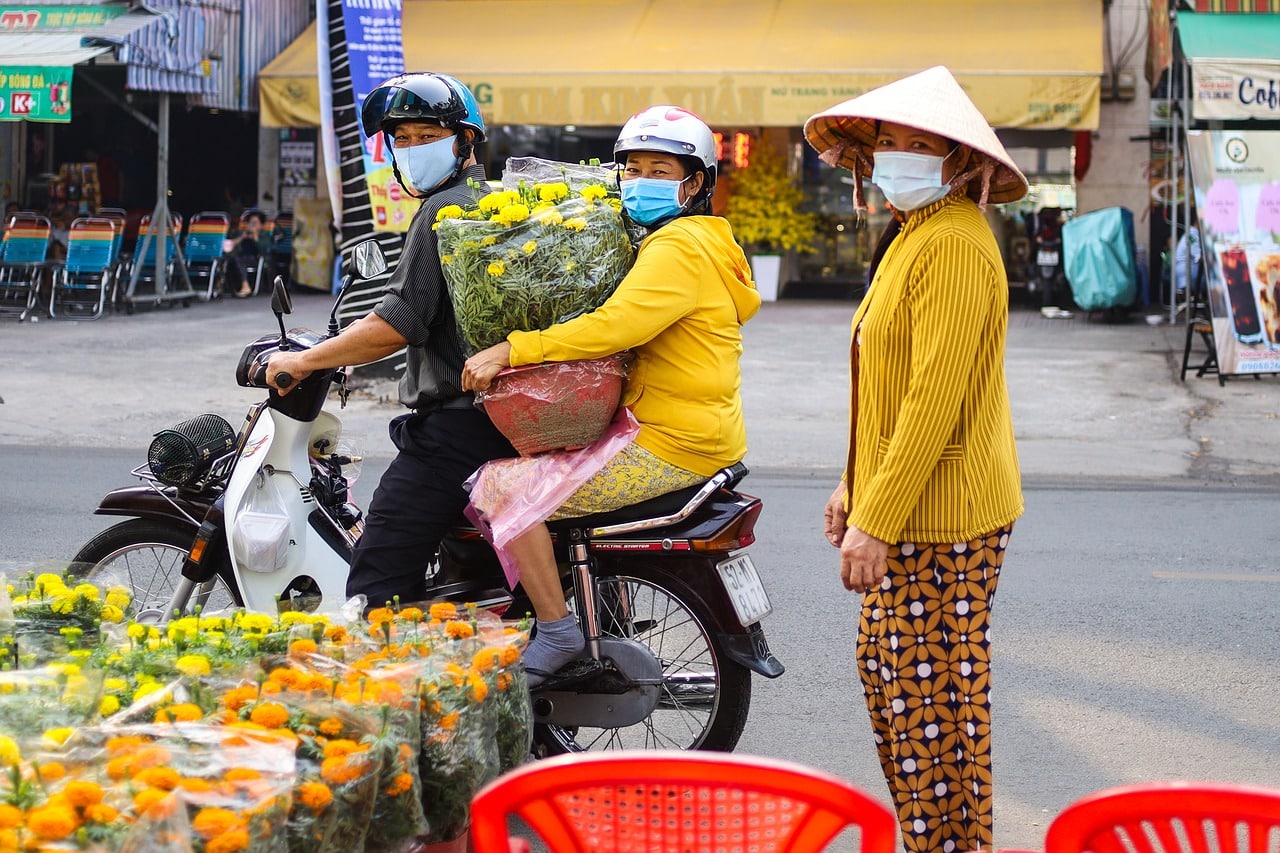 Transportation
Transportation can be difficult as buses and trains are filled will Vietnamese heading home to see their families. Therefore, if travellers want to journey around, it's vital that transportation is booked in advance.
James highlights the issue here: "If travellers were to come to Ho Chi Minh in the few days before Tet, and were planning to take a trip out to the Mekong Delta, this could be quite challenging. With the mass exodus taking place, finding seats on buses and trains isn't easy, and even in private taxis, the traffic can be awful. What's more, everybody travels with special items – think those peach blossom trees filling up overhead space on trains – so it's not always the most convenient experience!"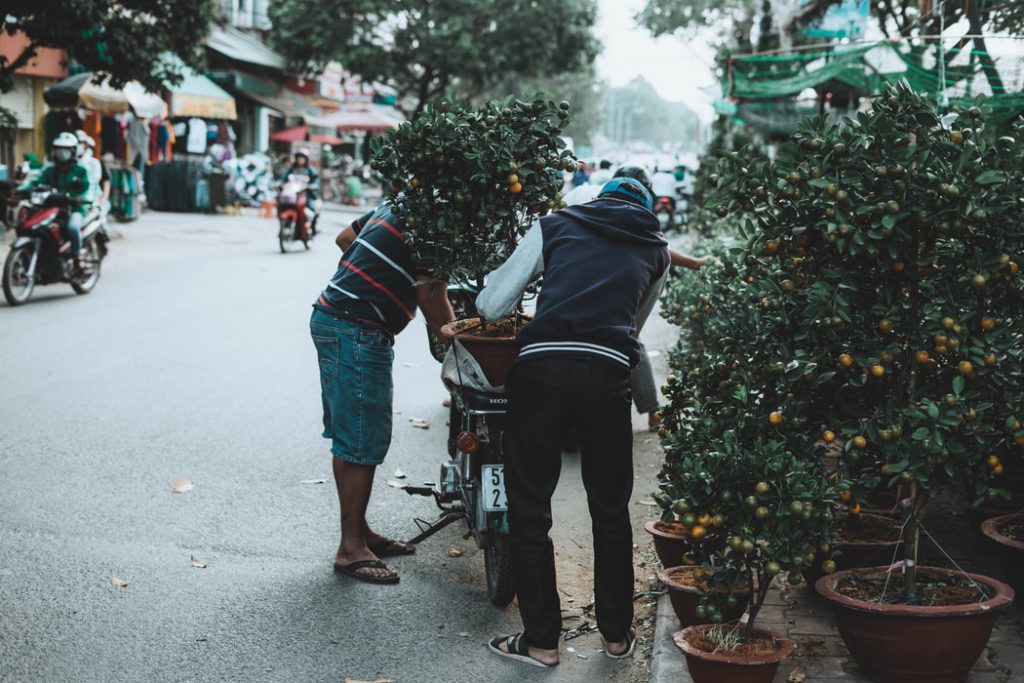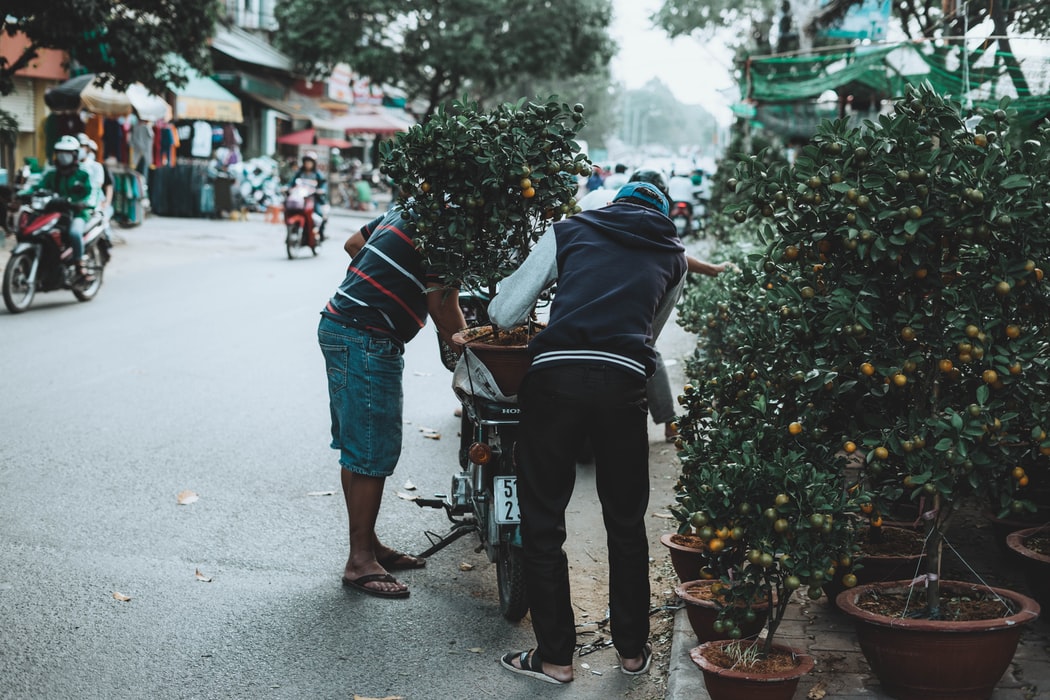 During the 4 main days of Tet in Ho Chi Minh and Hanoi, some museums, galleries, and cultural sites may be closed. However, it is worth checking on this specifically, as most attractions such as the citadel in Hue and the Cu Chi tunnels near Ho Chi Minh remain open. Therefore, a little foresight and planning are required here too.
Embrace the Unexpected
While there are some obstacles to overcome visiting Vietnam during Tet, there are upsides too. Across the country, on the evening of Tet itself, expect firework displays and organised events. In Hanoi, the picturesque setting of Hoan Kiem Lake provides the backdrop for festivities. The overall atmosphere is joyous, and it seems that everybody is smiling and radiating positivity during the whole month surrounding Tet – even more so than usual.
"People are so welcoming and hospitable, this is the perfect time to meet people. I've been invited into many homes by people I've just barely met or come across and had the most amazing experiences."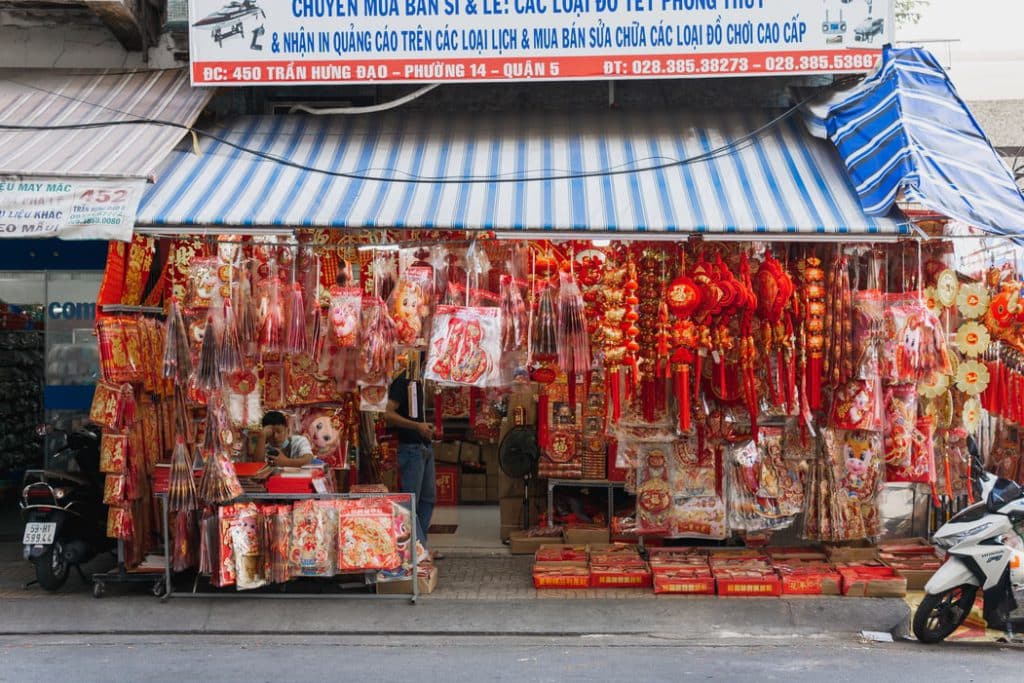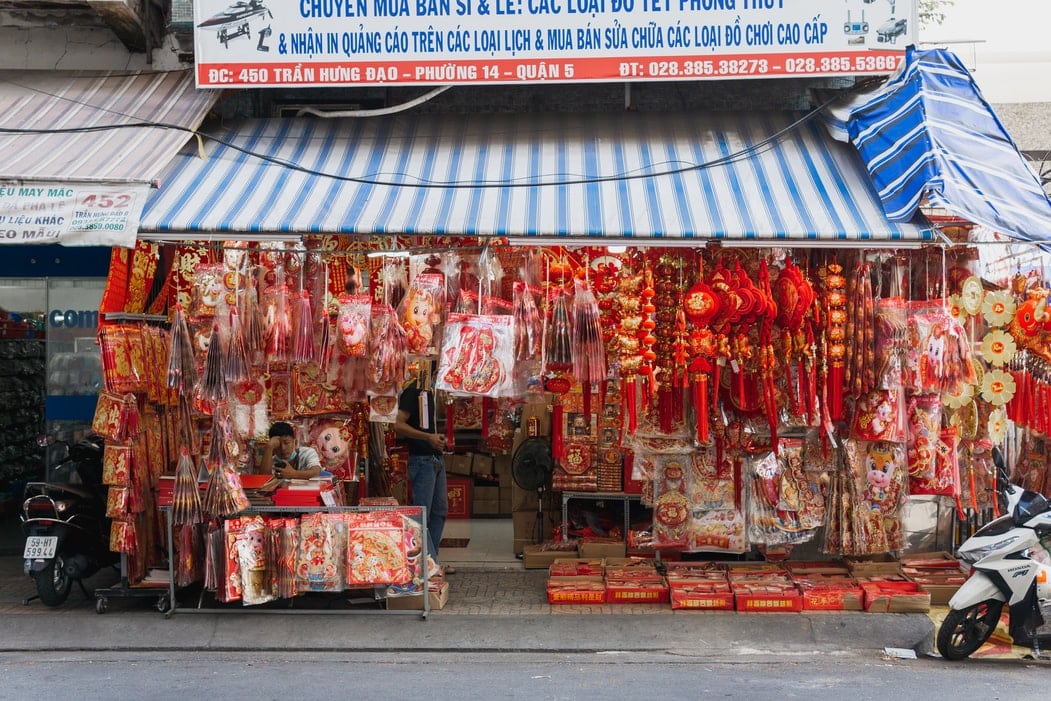 James also recommends that travellers take part in the act of giving "li xi", lucky money envelopes, to the people they meet. "It is not the amount of money that is significant, but the act of giving itself, since this is very auspicious for the year ahead. This is an effortless but effective way for foreign travellers to show their gratitude for services, say after lunch in a restaurant. It's a simple way to engage with local traditions. Trust me, the staff will be extremely grateful." Li xi envelopes can be found everywhere in all of the Tet decoration shops, so there's no need to worry about preparing these beforehand.
If travellers are fortunate enough to get invited to end any official end-of-year party by a new friend, James encourages them to embrace the unexpected and enjoy it. "These events are always so elaborately coordinated and staged, There will be MCs, performances, costumes, and there will plenty of fun games and a prize draw. Once again, everybody is so thrilled – the positivity is simply infectious."
As a traveller, we think that infectious positivity seems a substantial selling-point to any destination. Therefore, we believe it's well worth a visit to experience Vietnam at its most celebratory and see travelling during Tet as a form of experiential travel.
Yes, there are some challenges to overcome involving transport and some closures, but they can be skillfully navigated with a little preparation. Thankfully, at Discova, our agents can help travellers prepare in good time and can offer the latest updates and advice on how to best to experience the festival mood.
Over and above all this, Vietnam is simply a stunning place to visit at any time of the year, with so much to do to suit any traveller type. Check out our tailor-made touring options here, and find out about all there is to do in Vietnam's north and south.