Unfortunately for vegans and vegetarians, the idiosyncratic, much-lauded Japanese cuisine is heavily based on seafood – there's no point trying to avoid this fact. Being a collection of islands in the Pacific, seafood lovers will find a vast array of fish-based dishes to enjoy. With fish-derived seasonings, sauces, and dips, seafood-infused meals can often seem ubiquitous.
Nevertheless, those following a plant-based diet should not give up on Japanese cuisine. Japanese dishes are also heavily based on rice, noodles, soy products, seaweed, mushroom, and an emphasis on incorporating seasonal vegetables – of which there is a rich collection. The result is that, with a bit of care, there are still plenty of options for delicious vegan and vegetarian Japanese food.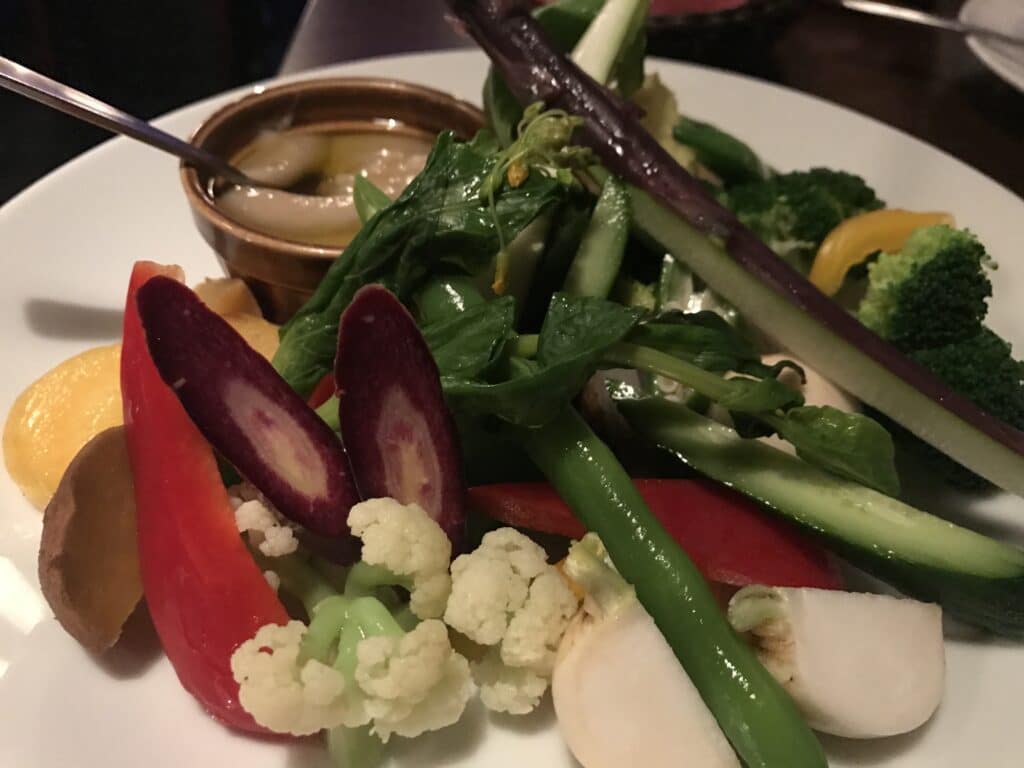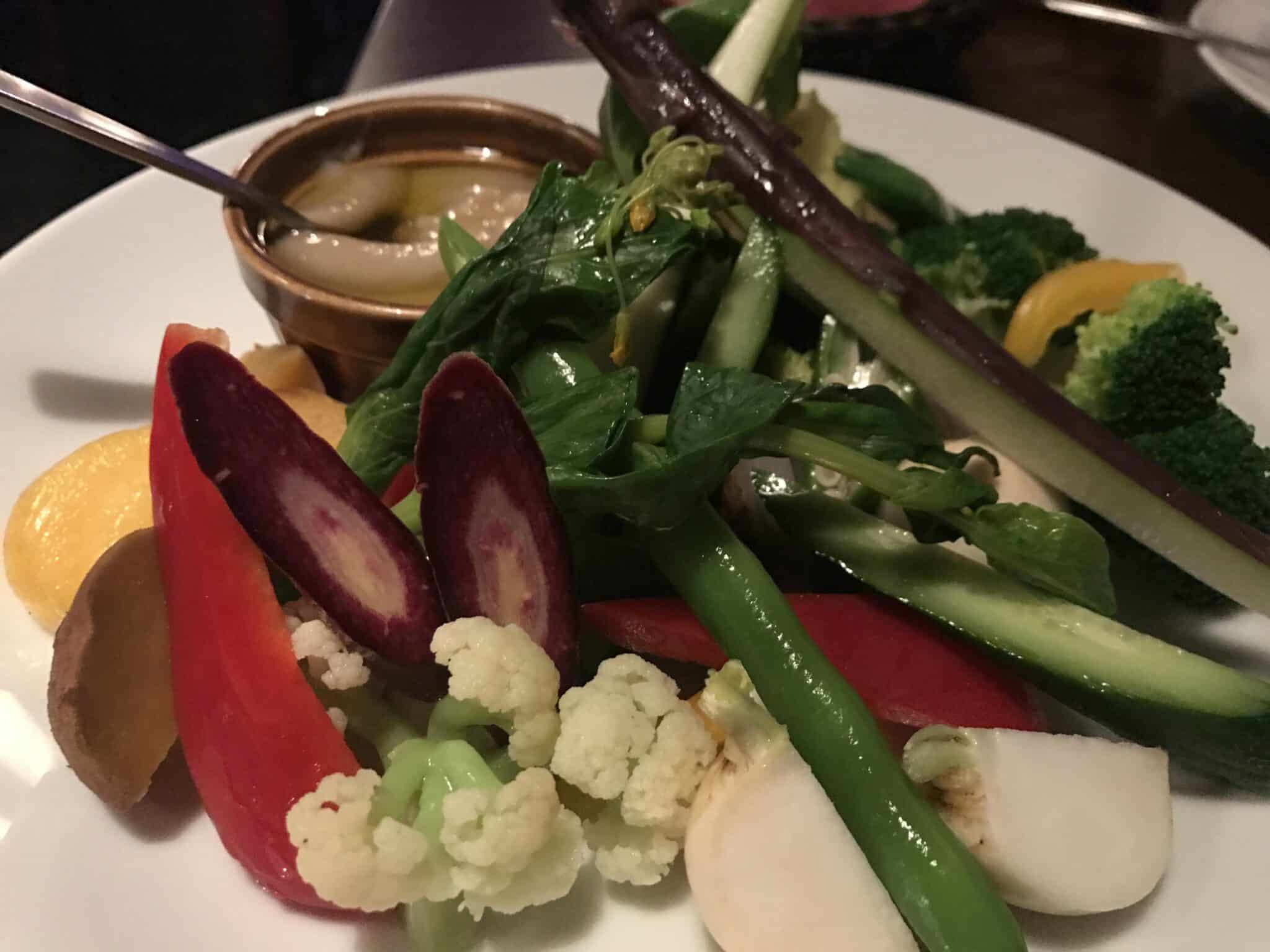 As mentioned previously in this series, there is a worldwide trend toward a better provision for those following plant-based diets. It's a simple supply-and-demand formula, and Japan is no different. We'll take a look at a selection of some of the best vegan and vegetarian restaurants cropping up in our destinations across Japan.
And, at Discova, we can organise customised vegan food tours for travellers in Japan.
But First, A Word to the Wise
Before we get on to the options available, it's worth developing the notion that meals often hide their sneaky seafood ingredients.
It's easy to simply not order a fish-based dish, but it's the seasonings and dips that we need to be mindful of. A seasoning called dashi can seem inescapable at restaurants. Made primarily of fish flakes (bonito), dashi is often added to soups, sushi rice, dipping sauces, dressings, and many other savoury dishes. It provides a distinctive umami flavour.
Furthermore, another condiment that is often liberally sprinkled over dishes is mini-dried fish (chiriko, chirimen, jako). In fact, Japanese chefs have a penchant for habitually garnishing many dishes with these or with the similarly popular pork seasoning. Vegans may also be left frustrated by the tendency to include boiled or raw eggs on top of noodle and rice dishes.
This is something that vegetarians and vegans will have to live with when eating in Japan. Naturally, going to a specifically vegetarian or vegan restaurant will avoid this issue, but being vigilant at the local izakaya or noodle house will help. Learning a few helpful phrases may come in handy at many establishments:
Watashi wa bejitarian/bigan desu = I am vegetarian/vegan
Yasai dake, kudasai = vegetables only, please.
Some key ingredients: Niku = meat; sakana = fish; shiifuudo = seafood; tamago = egg
_____-nuki, kudasai = without _____, please
So: sakana-nuki, kudasai = without fish, please
sakana /niku no dashi mo nuki de onegai shimasu = without fish/meat stock too, please
Vegan and Vegetarian Japanese Food
Stuff on Sticks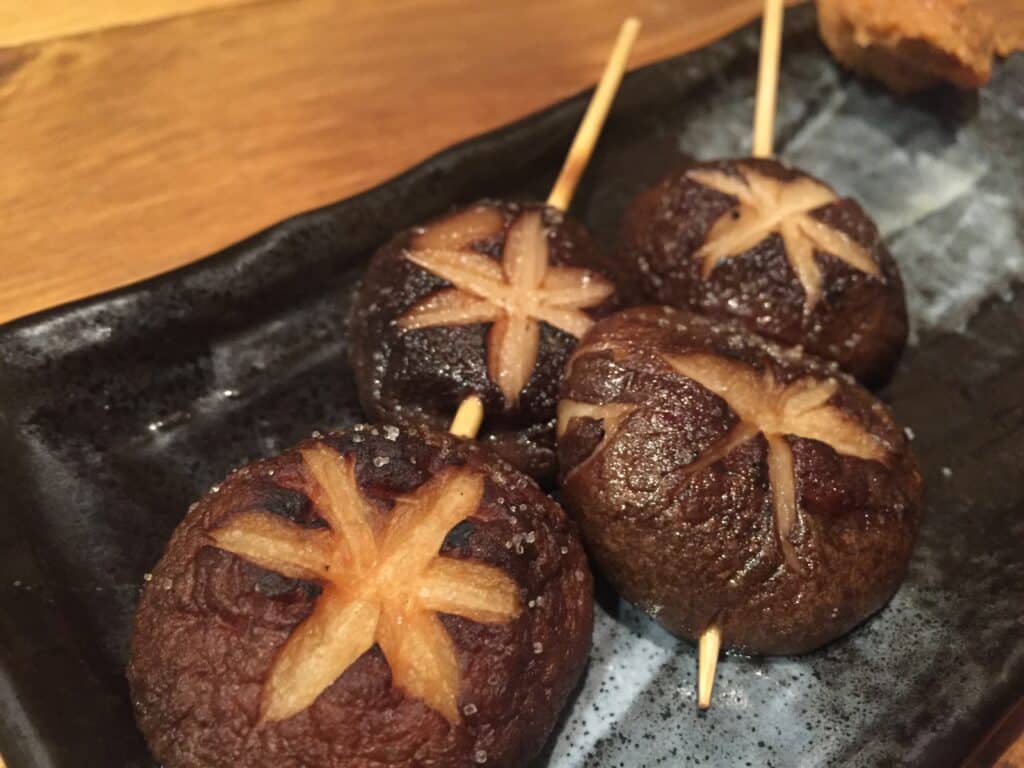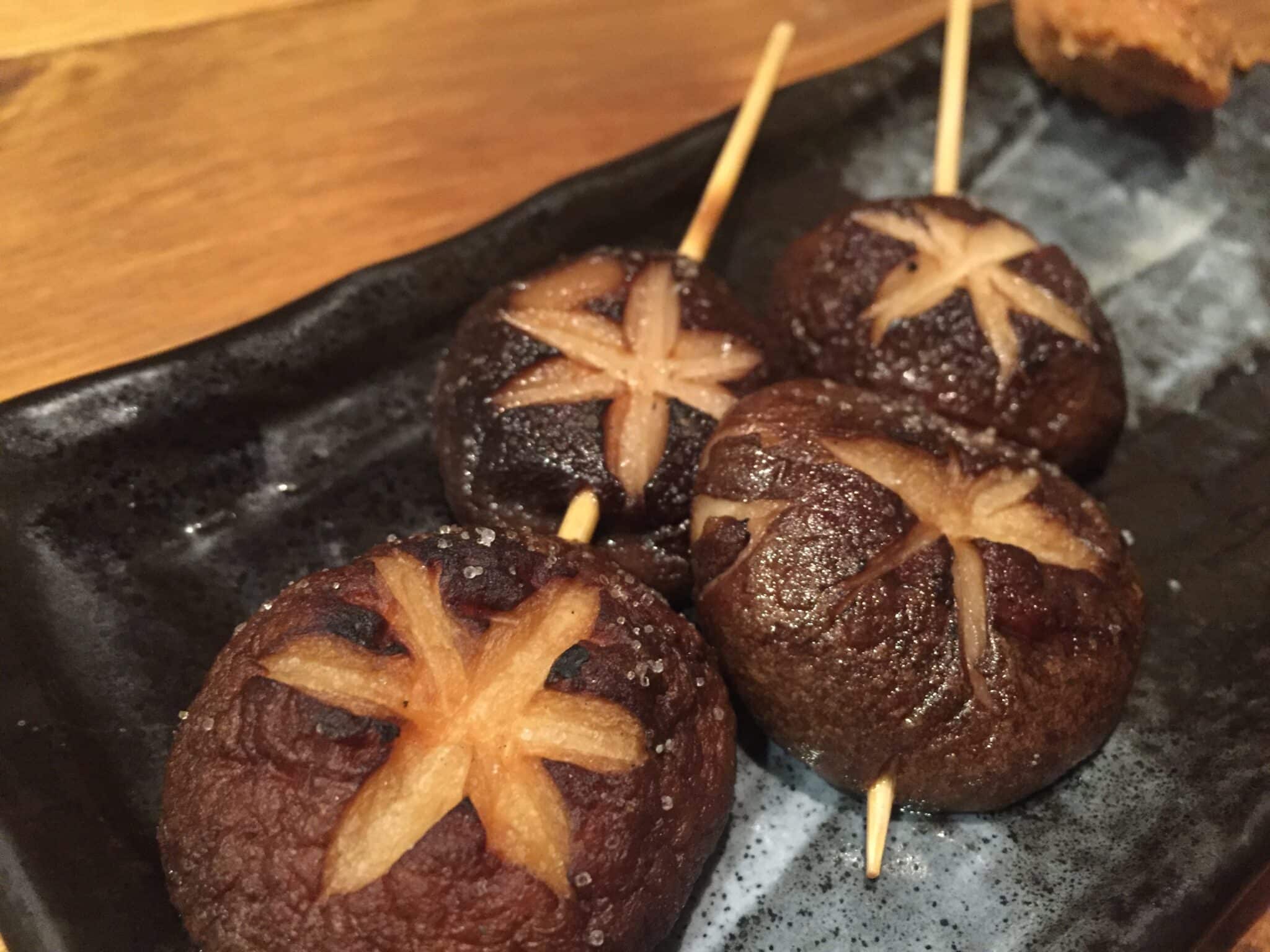 Travellers to Japan will find many street food vendors selling skewers of battered and fried foods. Often, these are meat-based – fried chicken is super popular in Japan. However, a Kushikatsu skewer station will often have crumbed veggies too. There is usually a selection of tasty delights to choose from, including aubergine, mushroom, lotus root, and green pepper. For those on the move who don't mind the whiff of fried chicken, this is a tasty snack.
Sushi – Nori Rolls
Sushi is a highlight for many connoisseurs of Japanese cuisine. And, as the documentary Jiro Dreams of Sushi shows, it can be an intricate and delicate art form. Of course, many forms of sushi incorporate fish elements, but nori rolls are often a good choice that allows vegans and vegetarians to enjoy sushi.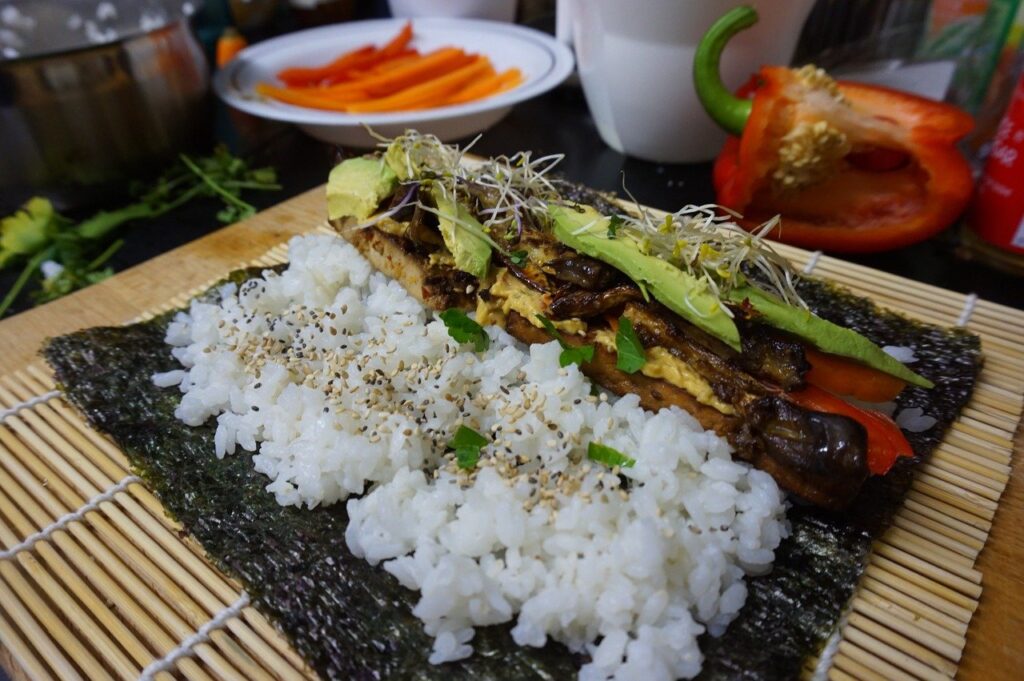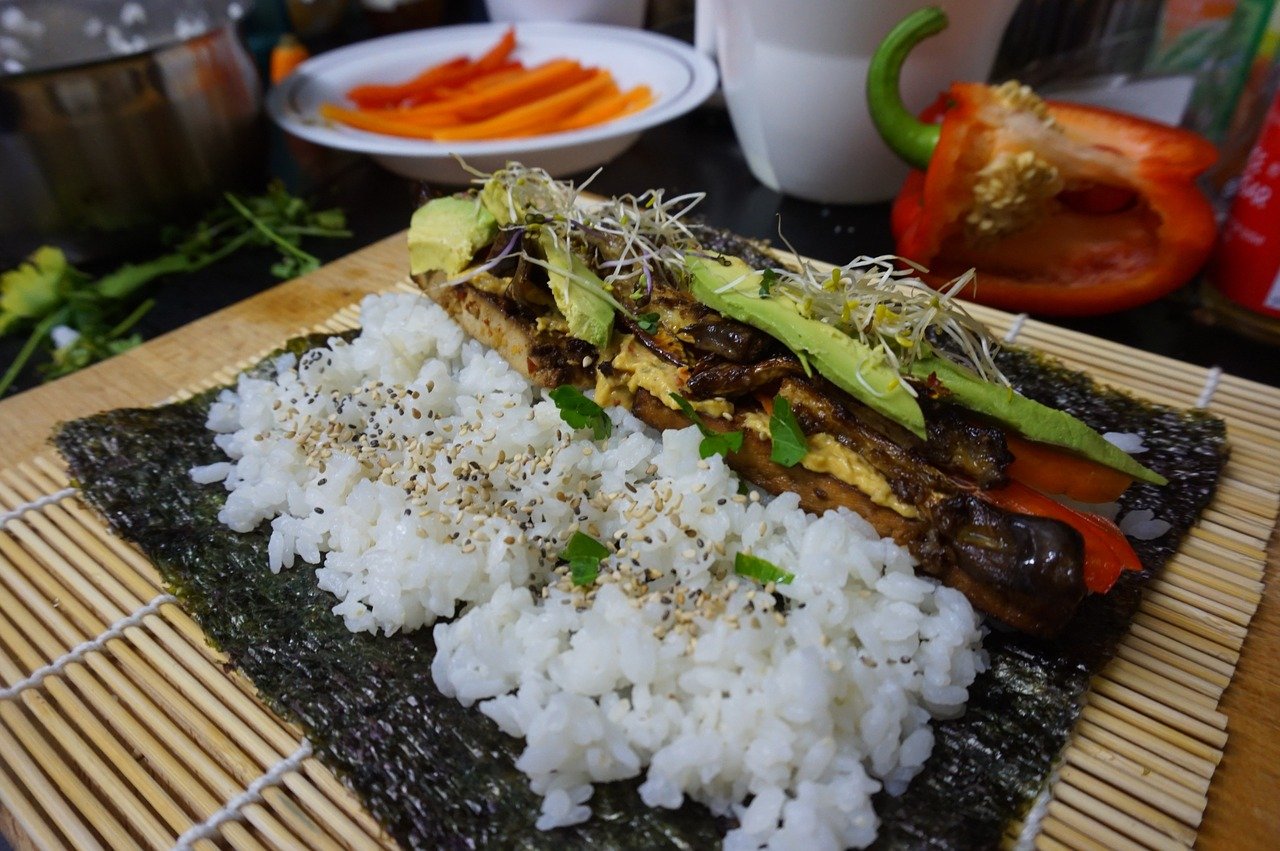 Here are the simple ingredients and steps to make nori rolls: put a sheet of nori on a sushi mat, spread on some sushi rice, put a line of chopped vegetables running across the centre of the sheet, and then use the mat to roll the thing up. Then, all that's left to do is cut up the roll into bitesise chunks. This is what the restaurants do, and the most common types you'll find are avocado, cucumber, roasted pumpkin, and pickled radish.
The one thing to be wary of is to check if the sushi rice has been flavoured with that devilish dashi. This is quite common, so it may be worthwhile to request this to be omitted.
Ramen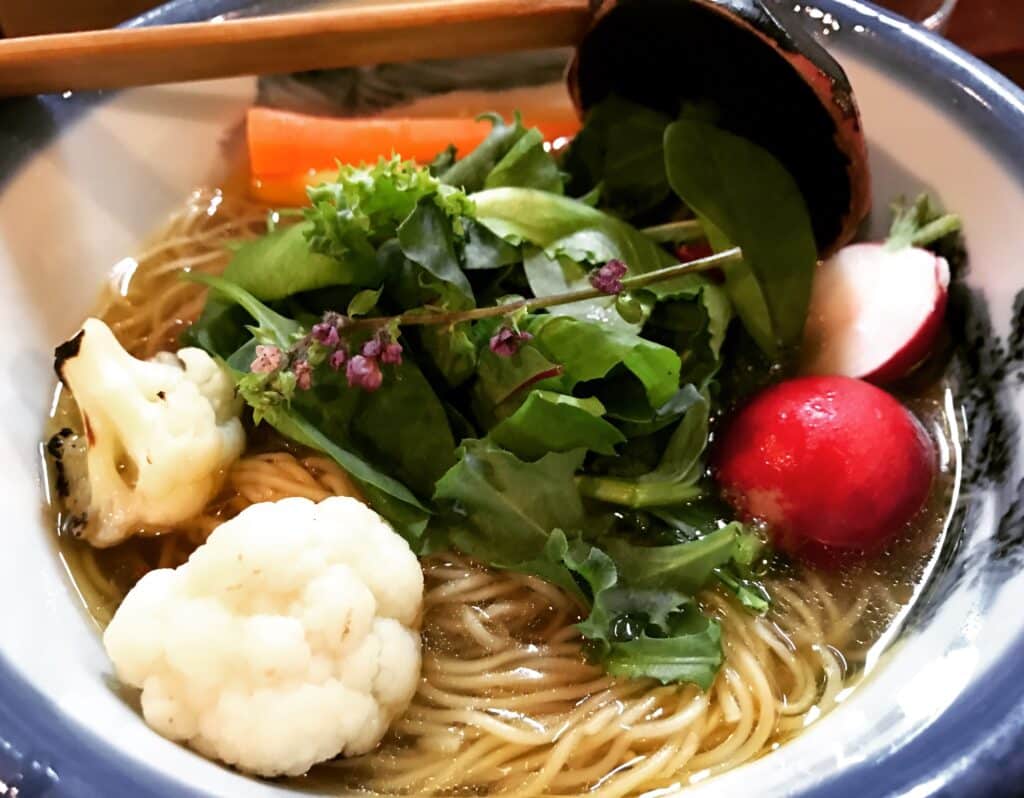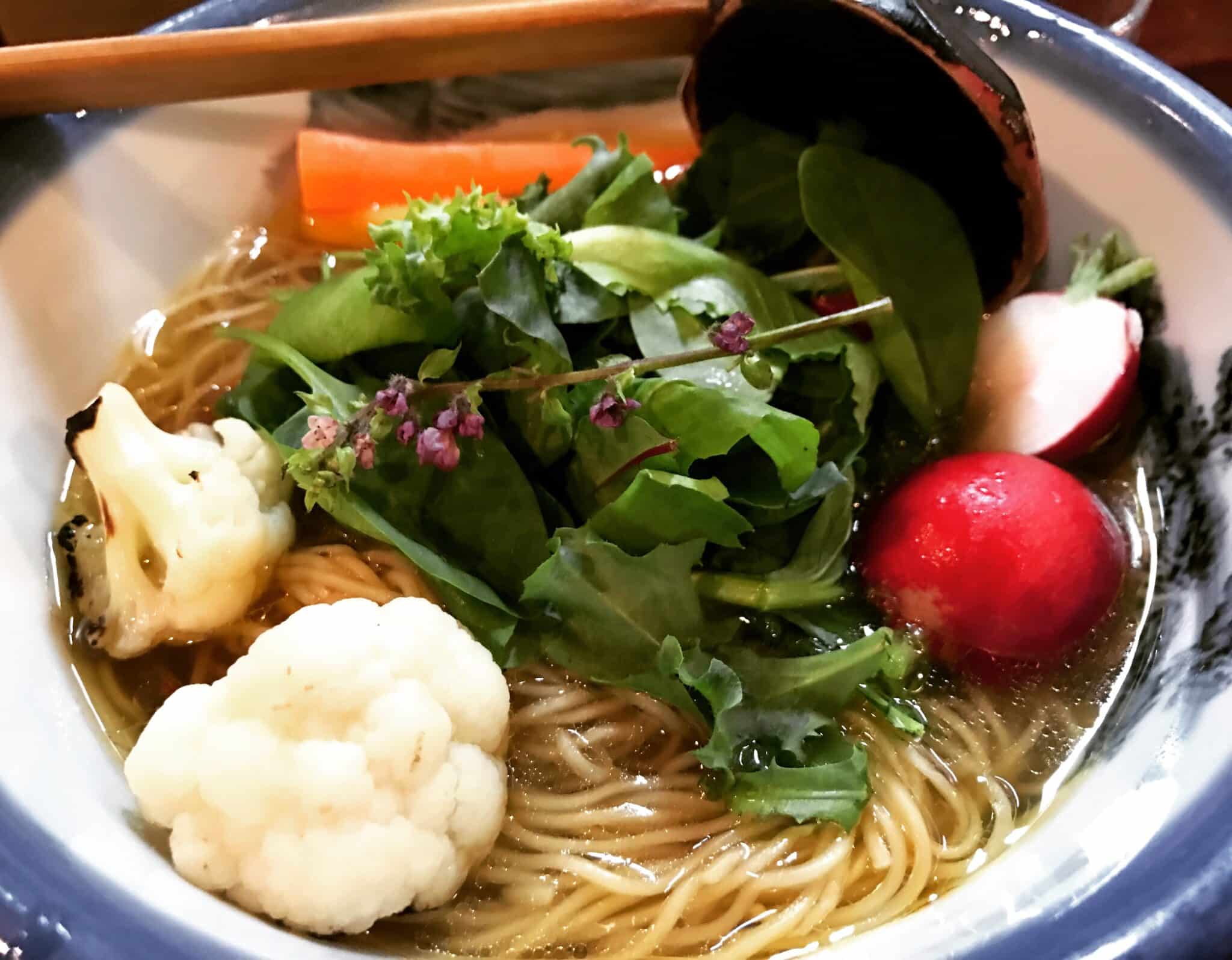 Ramen seems to be enjoying ever-growing popularity worldwide and can range from a cheap eat to a fancy gourmet selection at a high-end restaurant. With its ever-growing popularity, travellers will find that the trendier restaurants will offer vegan or vegetarian-friendly versions of ramen.
The key here is the broth. Even meat-free ramen, packed full with delicious seasonal vegetables and fresh noodles, might be swamped in a flavoured broth with dashi or some other non-plant seasoning.
Miso paste is generally considered to be vegan as it is made from fermented soybean. However, miso soup – the base for miso-based ramen – is often flavoured with dashi. Therefore, as with many other dishes in Japan, it pays to be vigilant if you are vegetarian or vegan.
Shojin-Ryori Cuisine
Shojin-Ryori cuisine is the diet favoured by Japanese zen Buddhist monks. Following the Buddhist precept against killing, the diet is considered to be vegan since meat and fish products are off the menu. Often, a shojin meal consists of soup and three side dishes, like pickles, steamed vegetables, or tofu. It is a straightforward aesthetic that leads to a relatively simple taste, especially when compared with other elements of Japanese cuisine.
Travellers can usually find shojin-ryori restaurants nearby to Buddhist temples.
Tempura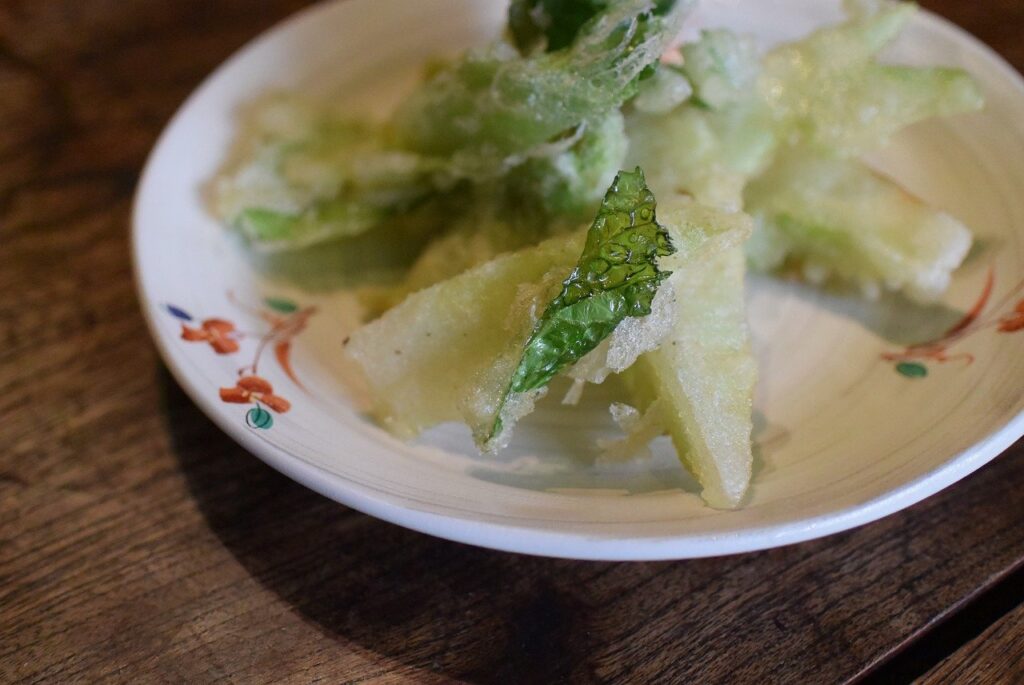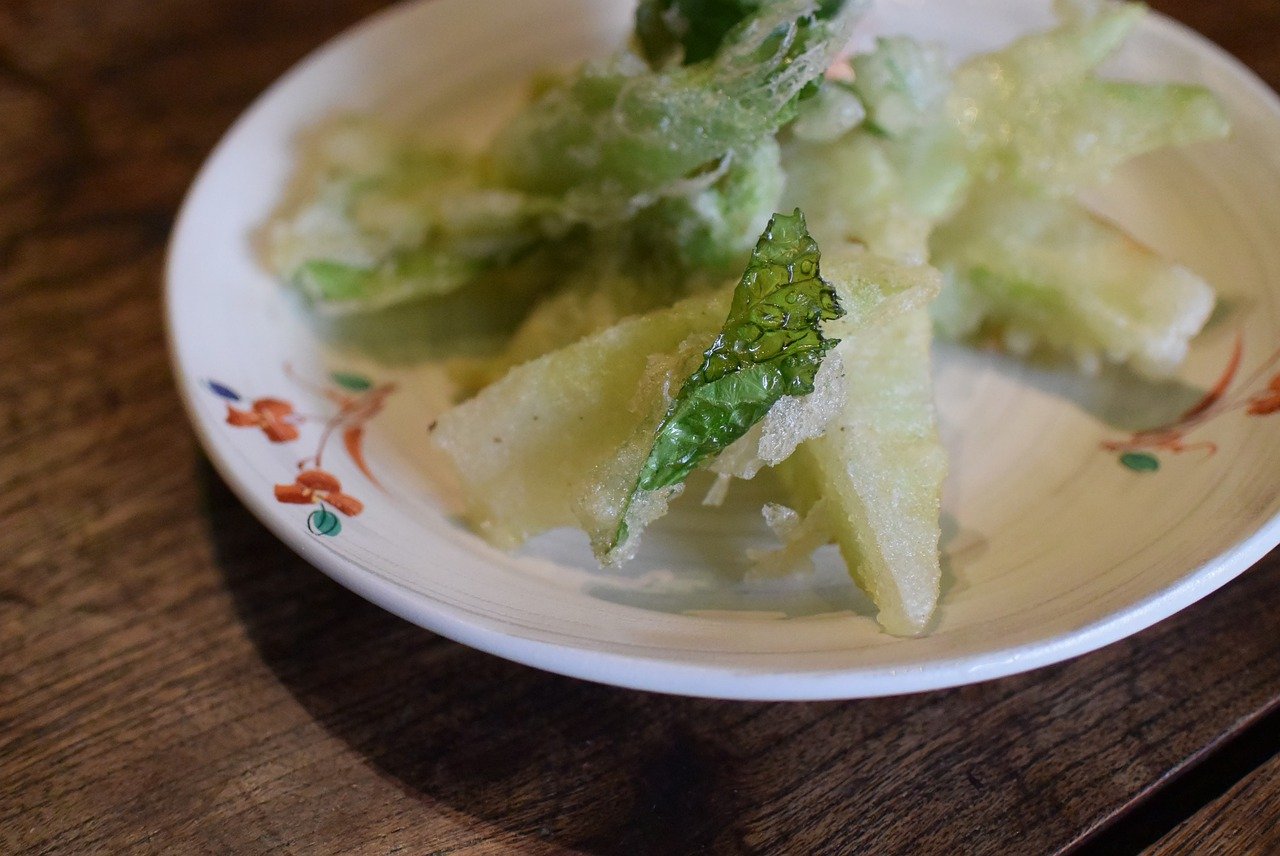 Another popular fried snack! Wherever there is tempura, there will be options for crunchy vegetable offerings. Most often seen are lotus root, pumpkin, green pepper, mushroom, and sweet potato. As always, unfortunately, travellers will need to choose their dipping sauce wisely. Kyoto-style, dipping in salt, is naturally safe, as is a plain soy sauce. However, the usually supplied dipping sauce, tsyuyu, contains dashi -what else!
Macrobiotics
Macrobiotics is a diet concept that focuses on various whole foods, energetically balanced between yin and yang. As a concept, it was created in Japan by George Ohsawa.
For vegans and vegetarians, opting for places that serve macrobiotic meals offers an excellent healthy choice. The meals usually consist of a base of brown rice, accompanied by leafy greens, round vegetables (like pumpkin, cabbage and onion that are literally round in shape), root vegetables, beans, and perhaps a soup of some kind.
The meals appeal to Japanese sensibilities. The meals consist of a little bit of everything for balance in energetics, flavour, nutrition, season, and appearance. The meals are often served in little compartmentalised bento boxes and can usually be picked up at local supermarkets.
A Few Restaurant Recommendations:
The Happy Cow has consistently proved to be an excellent source of information for vegan and vegetarian travellers and always updates their information. They are very thorough in their research and scope of knowledge on all things plant-based cuisine. We spoke with a few of our local destination experts to develop a few of our own recommendations.
Tokyo
The Loving Hut
An earth-friendly café specialising in macrobiotic meals. There are special lunch and dinner buffets on Saturdays to entice travellers to try a plethora of Japanese vegan options. Moreover, this place offers vegan food at affordable prices relative to other vegan restaurants in Japan. An authentic, ethically vegan restaurant.
T's Restaurant
This restaurant advocates for what it refers to as a new concept of eating – 'smile veg'. It aims to celebrate vegan Japanese food options by encouraging groups to come and eat together. As part of this drive, the menu includes many choices that may seem to be comfort foods. Hamburgers, gyoza, katsu curry, and even fried chicken are on offer – all recreated with only plant-based ingredients. Besides Japanese favourites, the restaurant also offers typical western-influenced vegan alternatives like lasagne and pizza.
Osaka
Paprika Shokudo Vegan
A cute, relatively small café that has lovely, welcoming seating areas. The vegan menu is impressive, with many reviewers commenting that they could find dishes they hadn't seen elsewhere in Japan. As well as the usual salads, pastas, and Japanese set menus, customers highlight the delicious soft serve vegan ice cream.
Green Earth
Osaka's oldest vegetarian restaurant was founded in 1991, and it went fully vegan in 2019. Serving typical Japanese set menus at affordable prices, this restaurant consistently gets high praise for its cosy, welcoming feel with friendly, helpful staff.
There are more and more restaurants in Japan that are catering to vegan and vegetarian diets. It can still be a challenge, and the choices are still limited. Hopefully, this is a trend that will continue across the country to allow more opportunities for plant-based meals in Japan.
It speaks volumes that we can now offer vegan food tours in Tokyo – such a tour would not have been possible until relatively recently.
If you want to hear more about vegan and vegetarian food in Japan, or hear more about how our food tours work, don't hesitate to get in touch with our helpful teams.